All Hands Magazine - Ocean Facts - August 1973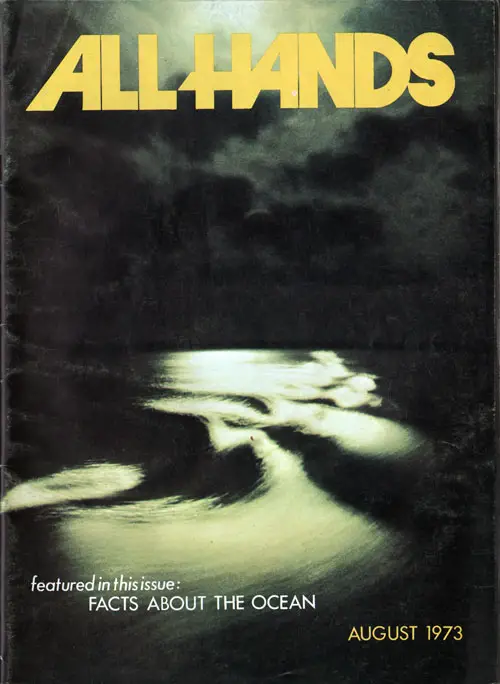 Front Cover: Moonshine on the Water—The Mysteries of the Seven Seas Hove Filled the Imagination of Man Since the Beginning of Time. in This Issue, ALL HANDS Puts Forth Some Interesting, Little-Known Facts About the Waters That Surround Us. See Page 2 for Story. Photo by J01 J. D. Randall. All Hands Magazine, August 1973.
ALL HANDS: THE BUREAU OF NAVAL PERSONNEL CAREER PUBLICATION
AUGUST 1973 Nav-Pers-O NUMBER 679
VICE ADMIRAL DAVID H. BAGLEY, USN
The Chief of Naval Personnel
REAR ADMIRAL WILLIAM R. FLANAGAN, USN
The Deputy Chief of Naval Personnel
COMMANDER RUSSELL F. HARNEY, USN
Spec. Asst. Liaison & Public Affairs
TABLE OF CONTENTS
Features:
Some Facts About the Ocean
Prepare for Typhoon-Refueling for an Emergency
Some Facts About Hurricanes
Defense Mapping Agency-Customer Liaison Visits
Specifications for a Navy Diver
Navy Diving School
Small Boats, Large Craft—Be Your Own Skipper
Military Photographer of the Year
Aiding Underwater Search & Salvage Operations-USS Apache (ATF 67)
"Old Ironsides" to Be Overhauled
Federal Benefits Based Upon Type of Discharge
Navy News Briefs
Gas Turbine System Technician (GS) Rating Approved, Openings Available for Entry into Legalman Rating, 19th Edition of "Bluejackets Manual" Published, ACNP for Women Post Disestablished, Fees for Duplicating Service Record Items Increased, Skylab Went AlNav for Record-Breaking Flight, NESEP now under Chief of Naval Training Command, Booklet Outlining Veterans' Benefits Now Available, Alcohol Abuse Counselors Join Fleet.
Bulletin Board
Close-Up of a Vital Navy Job: Parachute Rigger (Aircrew Survival Equipmentman)
Answers to Questions About the Survivor Benefit Plan
Now a More Efficient Portsmouth Naval Hospital
Drug Detector Dogs
Special Report
The Role of Black Sailors in the Major Wars of America
Departments
From the Desk of MCPON
On the Scientific Front
Letters to the Editor
Navy Humor
ALL HANDS Photo Contest
John A.,Oudine, Editor
Associate Editors
John Coleman, News
Ann Hanabury, Research
Michael Tuffli, Art
E. L. Fast, Layout
Gerald Wolff, Reserve