RMS Titanic Images - Ship's Exterior
Exterior views of the RMS Titanic of the White Star Line from various sources, including newspapers, magazines, photographs, and other sources.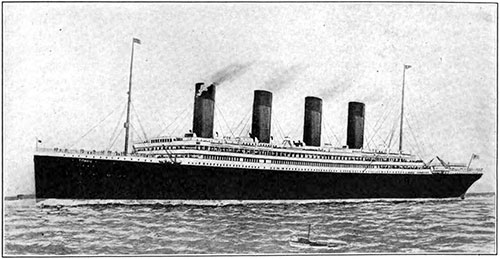 The RMS Titanic. The largest and most luxurious ocean liner in the world. Launched at Belfast, Ireland, May 1911. Length, 882 ft. 6 inches. Displacement, 66,000 tons. On her maiden trip struck a large iceberg on Sunday, April 14th, at 10.25 P. M., 41° 46 minutes, north latitude; 50° 14 minutes, west longitude. Sunk at 2.20 A. M., April 15, 1912, with a loss of over 1,500 lives. American Medicine (May 1912) p. 272.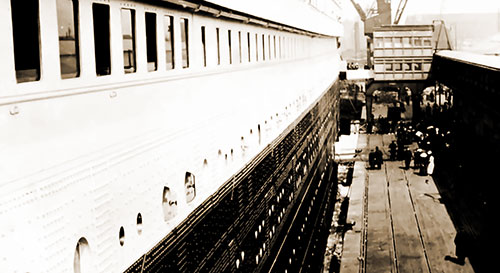 The Titanic Docked in Southampton, Loading Passengers, Luggage, Mail, and Other Cargo Before Beginning Her Journey to New York - 10 April 1912. Father Francis Patrick Mary Browne, SJ, MC & Bar (3 January 1880 – 7 July 1960). Father Browne Titanic Album 1920. GGA Image ID # 10f3df8aff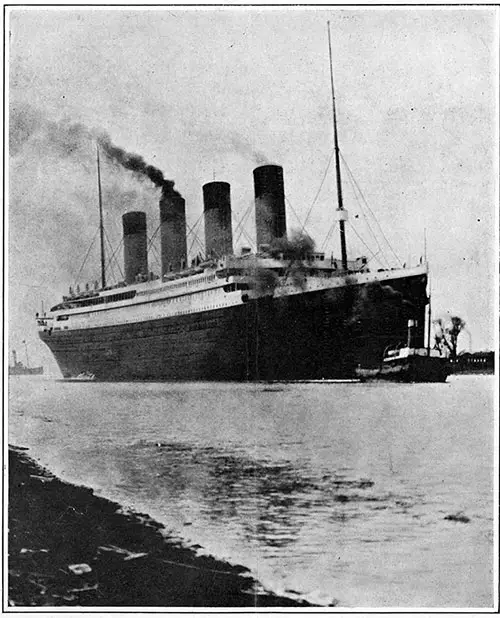 The Lost Titanic - Shown Here at Southampton. The huge steamship, newest and greatest of ocean liners, which sank off the Newfoundland Banks last Monday morning after a collision with an iceberg, carrying down with her more than a thousand souls. Her passenger list was one of the most distinguished ever carried by an Atlantic liner. A full description of this greatest of marine disasters will be found elsewhere in this issue of "Harper's Weekly." Harper's Weekly (20 April 1912) p. 3. GGA Image ID # 1099af7202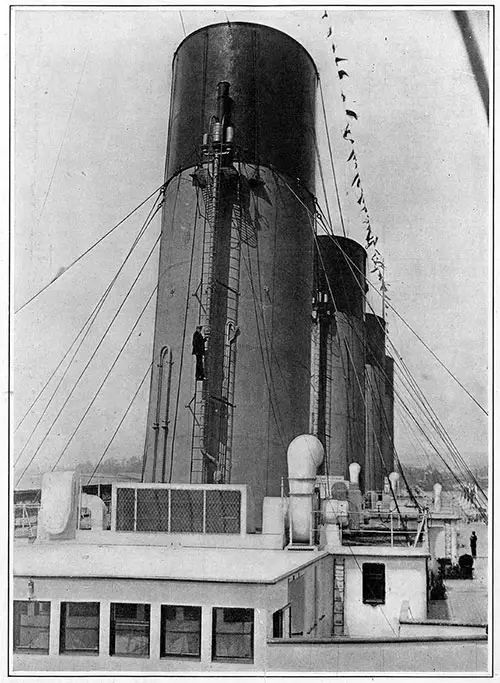 View of the Titanic Looking Aft, Showing Her Gigantic Funnels and Her Upper Decks. Harper's Weekly (20 April 1912) p. 27. GGA Image ID # 1099b9fb1d
Ill-Fated Steamship "Titanic." Leslie's Weekly, 25 April 1912. GGA Image ID # 1be4e40fec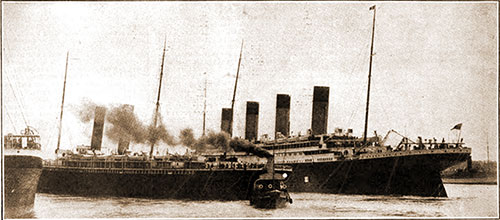 The Ill-Fated Titanic Leaving Southampton. Leslie's Weekly, 9 May 1912. GGA Image ID # 1be49cc664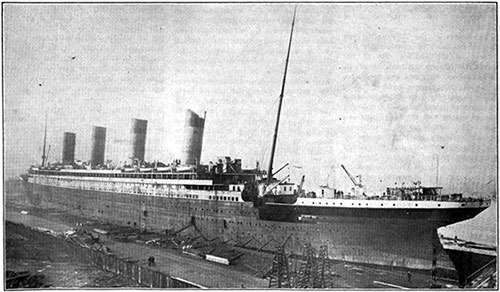 The Titanic in Dry Dock at Belfast, Taken Just Before She Left for Southampton to Proceed on Her Maiden Trip. Marine News (May 1912) p. 156. GGA Image ID # 10ac9015c5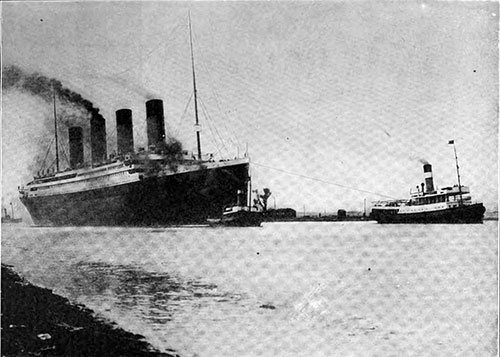 The Titanic Lost at Sea on 15 April 1912. Nelson's Encyclopedia (1907-1912) p. 87. GGA Image ID # 105df14124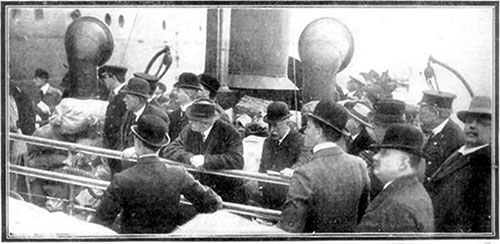 Embarking on the Titanic at Queenstown last Thursday. This was the last port at which the ill-statted vessel called. The Daily Mirror (17 April 1912) p. 1. GGA Image ID # 1108cb1f90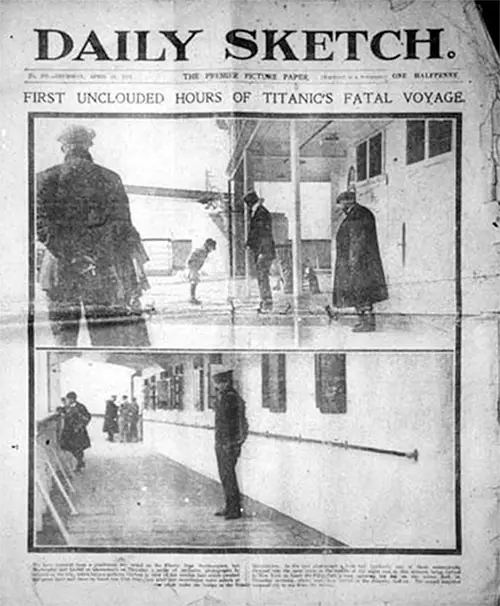 The Daily Sketch for Thursday, 18 April 1912, Page 1. First Unclouded Hours of Titanic's Fatal Voyage.  Top: A boy playing on the saloon deck of the Titanic, watched by 3 adults. Bottom: A sailor standing to attention, with some passengers in the background, in the area under the ship's bridge. GGA Image ID # 1109df21a8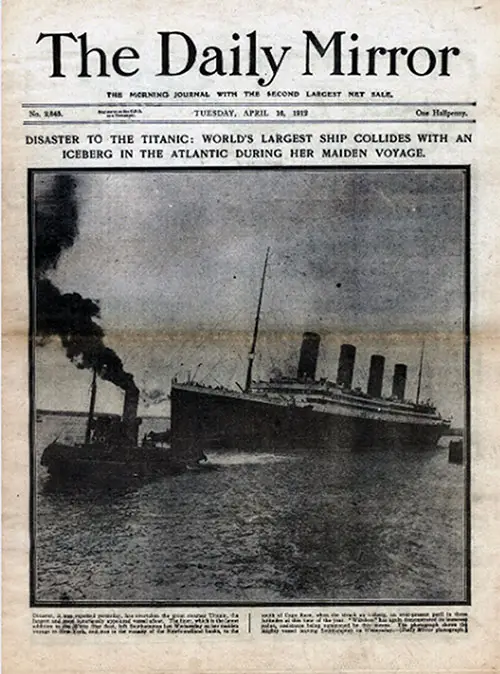 Disaster to the Titanic: World's Largest Ship Collides with an Iceberg in the Atlantic During Her Maiden Voyage. The Daily Mirror: Disaster, it was reported yesterday, has overtaken the great steamer Titanic, the largest and most luxuriously appointed vessel afloat. The liner, which is the latest addition to the White Star fleet, left Southampton last Wednesday on her maiden voyage to New York, and was in the vicinity of the Newfoundland banks, to the south of Cape Race, when she struck an iceberg, an ever-present peril in those latitudes at this time of year. "Wireless" has again demonstrated its immense value, assistance being summoned by this means." The photograph shows the mighty vessel leaving Southampton on Wednesday. -- Daily Mirror photograph. The Daily Mirror: The Morning Journal with the Second Largest Net Sale. No. 2645, Tuesday 16, April 1912, p. 1. GGA Image ID # 110aa2a5e2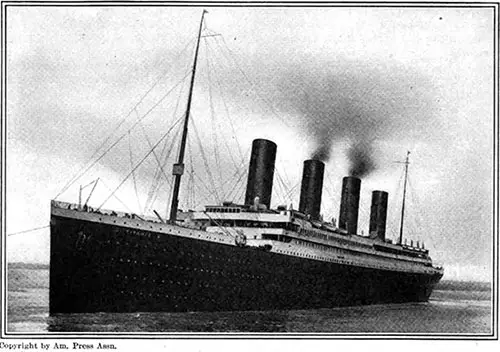 The "Titanic" as She Left Southampton, Starting on Her First and Last Voyage. This Reproduction and That of the "Carpathia," Below, Are Made to Scale, Showing the Comparative Sizes of the Ships. © American Press Association. Popular Mechanics Magazine (June 1912) p. 803-a. GGA Image ID # 1081375cf4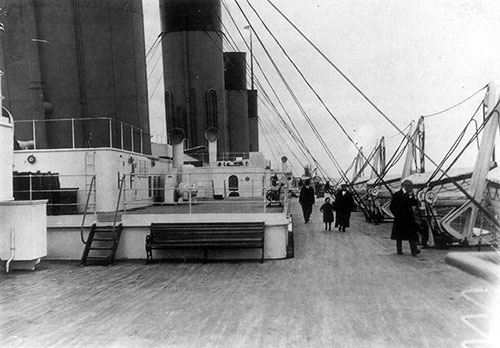 View of the Boat Deck on the Titanic on the Starboard Side. Public Domain Image. GGA Image ID # 10ebf8d929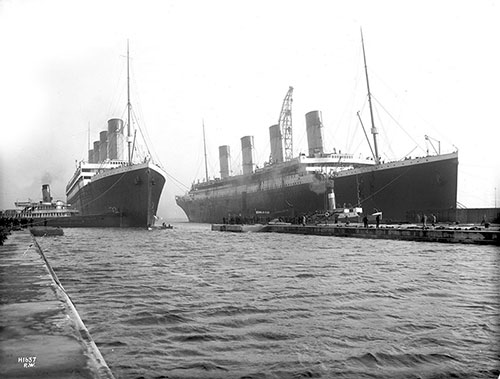 The White Star Liners Olympic and Titanic Side by Side. Public Domain Image. GGA Image ID # 10ed19bff6
The RMS Titanic as She Lay in Belfast Harbor After Launching. The First Photograph Taken of the Great Liner. The American Review of Reviews (May 1912) p. 549. © American Press Association, New York, 1911. GGA Image ID # 10541b4135
Page 7 of the Daily Graphic Titanic in Memoriam Number - Her First and Last Voyage. The Titanic Passing up the Solent on Wednesday, April 10th on Her Departure From Southampton. The Daily Graphic (London, 20 April 1912) p. 7. GGA Image ID # 10f591a97d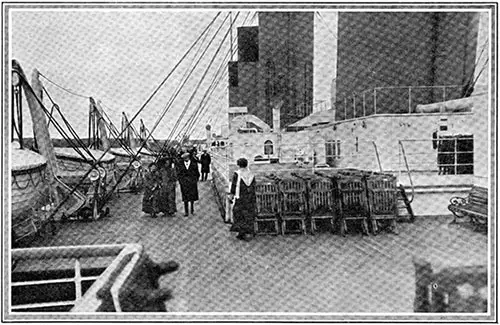 Passing Boats in Which Survivors of the Disaster Subsequently Escaped: Passengers on the Boat-Deck of the "Titanic" in Cork Harbor. The Illustrated London News (4 May 1912) p. 635. GGA Image ID # 1007f31e01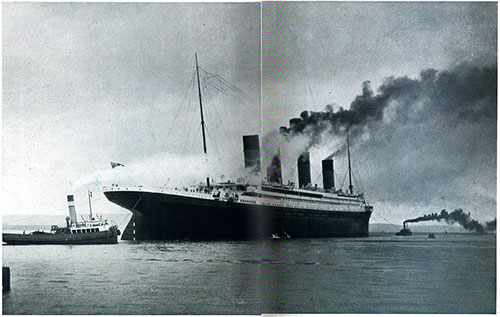 The Biggest Ship in the World Which Met Disaster on Her Maiden Voyage: The £1.500.000 White Star Liner "Titanic" Leaving Southampton for Her First Trip to New York. The Illustrated London News (4 May 1912) p. 656-657. GGA Image ID # 106319cf3e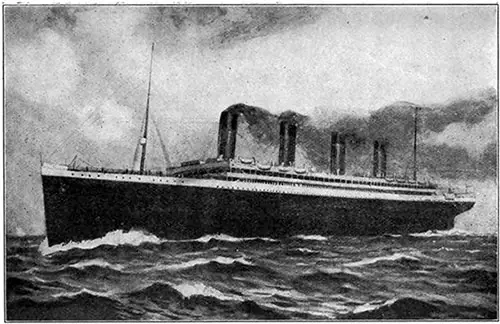 The White Star Liner Titanic. This steamship, which, on April 15, sank about four hundred miles off Cape Race, with most of its passengers and crew, was the largest ever launched, having a tonnage of 45,328, and a length of 882 feet. Her total loss occurred on her maiden voyage. The Independent (25 April 1912). p. 862. GGA Image ID # 10a05cd385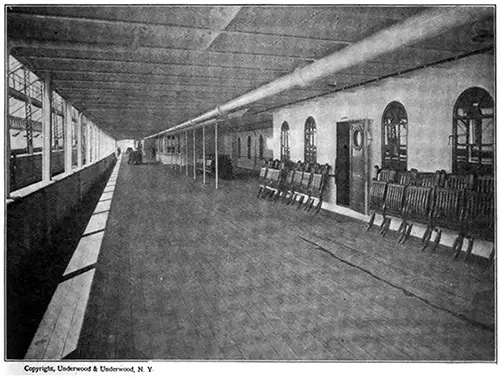 The Spacious Promenade Deck of the Ill-Fated Titanic. © Underwood & Underwood, NY. The Independent (2 May 1912). p. 937. GGA Image ID # 10a19e36da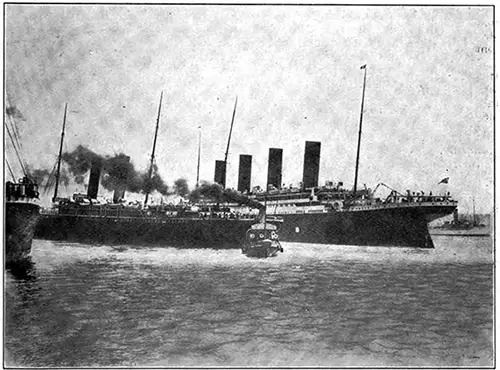 At Southampton, the Giant Titanic Narrowly Averted a Collision with the Steamship New York (On the Left) When Setting out on Her Maiden Voyage. The Independent (2 May 1912). p. 939. GGA Image ID # 10a1b6a6b3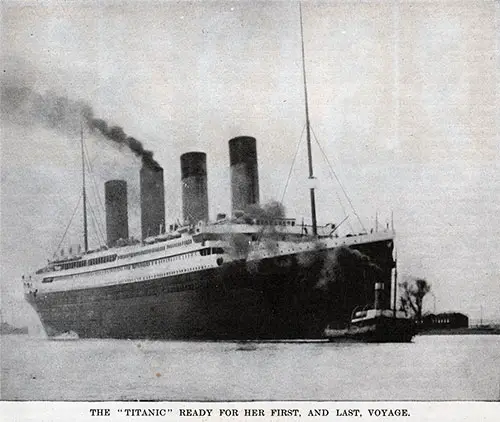 The RMS Titanic Ready for Her First, and Last, Voyage. The Literary Digest (27 April 1912) p. 867. GGA Image ID # 1084c9f3c4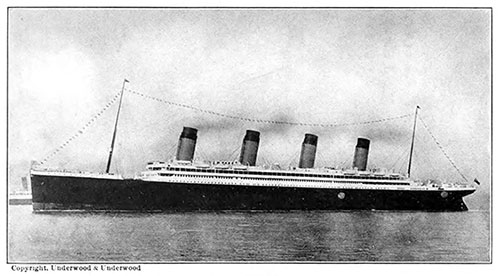 The RMS Titanic at Belfast. The Loss of the S.S. Titanic (1912) p. 00. Underwood & Underwood. GGA Image ID # 105aa608ee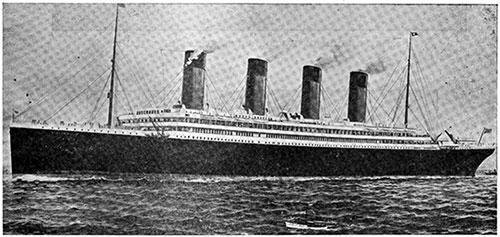 The Titanic and Olympic Cannot at a Distance Be Distinguished Apart. The Nauthical Gazette (10 April 1912) p. 3. GGA Image ID # 10a6875926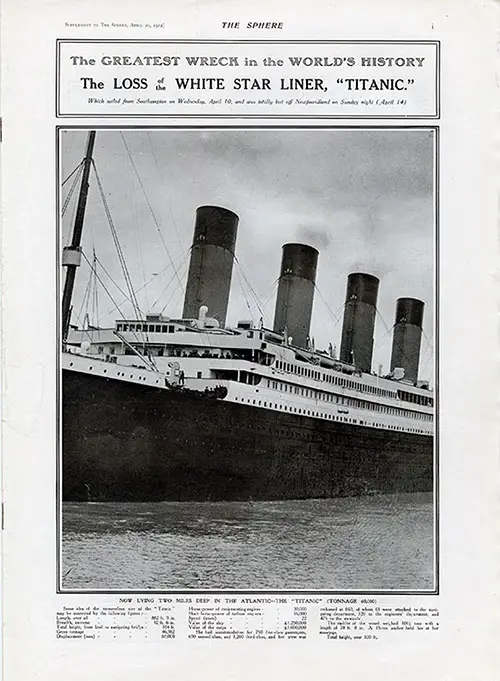 The Greatest Wreck in the World's History: The Loss of the White Star Liner Titanic, Which Sailed from Southampton on Wednesday, 10 April, and was totally lost of Newfoundland on Sunday Night (14 April). The Ship Now Lying Two Miles Deep in the Atlantic. The Sphere (20 April 1912) p. 1 of the Supplement. GGA Image ID # 10f9b9d891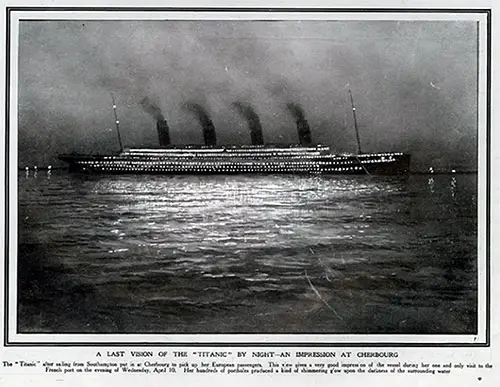 A Last Vision of the Titanic by Night -- An Impression at Cherbourg. The Titanic after sailing from Southampton put in at Cherbourg to pick up her European passengers. This view gives an excellent impression of the vessel during her one and only visit to the French port on the evening of Wednesday, 10 April 1912. Her hundreds of portholes produce a kind of shimmering glow upon the darkness of the surrounding water. The Sphere (27 April 1912) p. 1 of the Supplement. GGA Image ID # 11085e7c87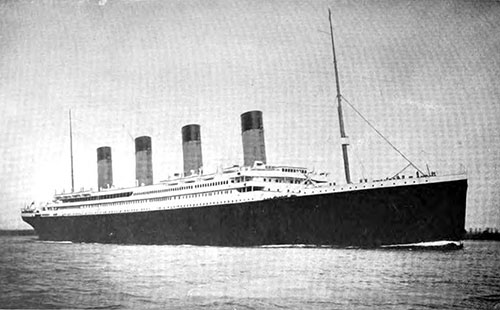 The RMS Titanic at Southampton. The Truth About the Titanic (1913) p. 2. GGA Image iD # 106f56d990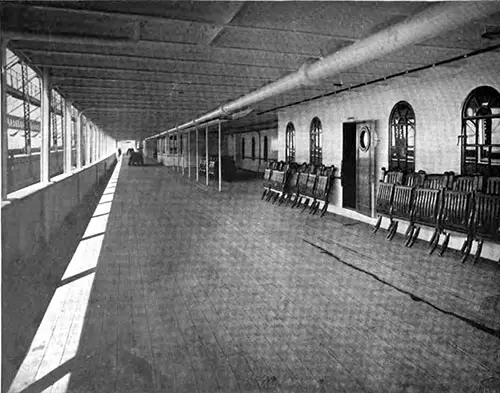 Promenade Deck on the RMS Titanic. The Truth About the Titanic (1913) p. 12. GGA Image iD # 106f7cfd8c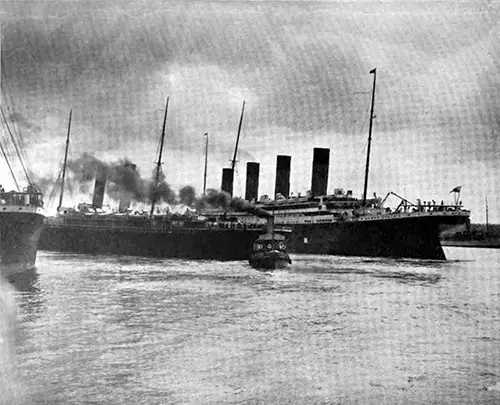 The RMS Titanic Narrowly Escapes Collision at Southampton. The Truth About the Titanic (1913) p. 134. GGA Image iD # 10718f7cf7
The last photograph of the Titanic taken as she was leaving Southampton on her Maiden Voyage. The Unsinkable Titanic (1912) p,. 117. GGA Image ID # 100a8db716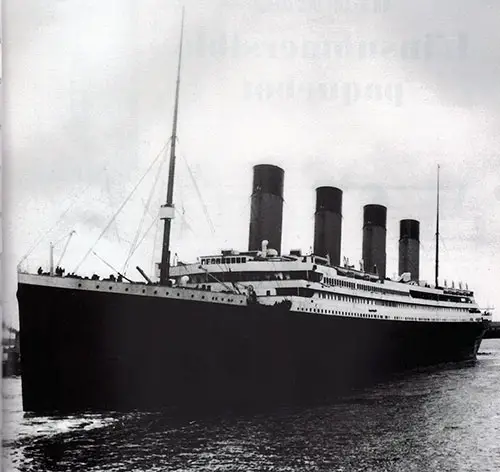 The RMS Titanic 1912. GGA Image ID # 105441494e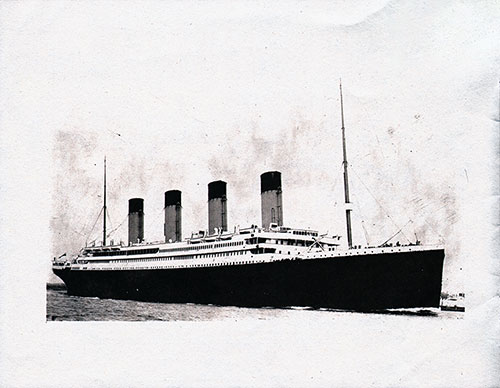 White Star Line Steamships Olympic and Titanic. White Star Line Brochure Olympic & Titanic (1911) p. 1. GGA Image ID # 10a8752ec1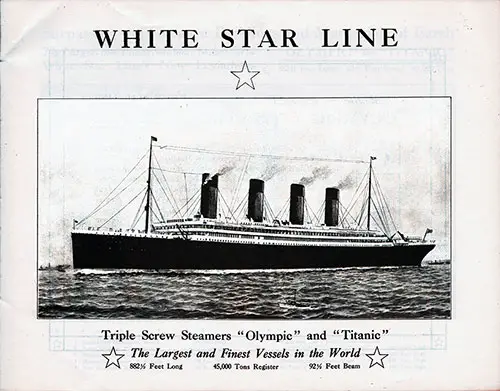 White Star Line Steamships Olympic and Titanic. The Largest and Finest Vessels in the World. 882 1/2 Feet Long, 45,000 Tons Register. 92 1/2 Feet Beam. White Star Line Brochure Olympic & Titanic (1911) p. 2. GGA Image ID # 10a8b7e4e5
Launching the Titanic. Wreck and Sinking of the Titanic (1912) p. 113. GGA Image ID # 108d355fee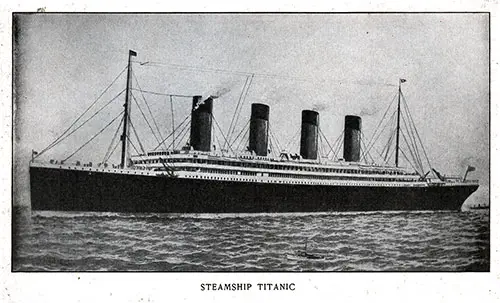 The Steamship Titanic. Wreck and Sinking of the Titanic (1912) p. 242. GGA Image ID # 10944b69e2