Titanic Images - The Daily Graphic
The Daily Graphic, a London morning daily, was launched in 1890, coexisting for 36 years with the sturdy weekly newspaper, The Graphic, that outlived it. It was illustrated with line drawings and woodcuts as photoengraving and halftone was considered too complex a process.
The Daily Graphic published a Memoriam Number about the RMS Titanic on 20 April 1912 with all twenty pages of that issue reproduced here.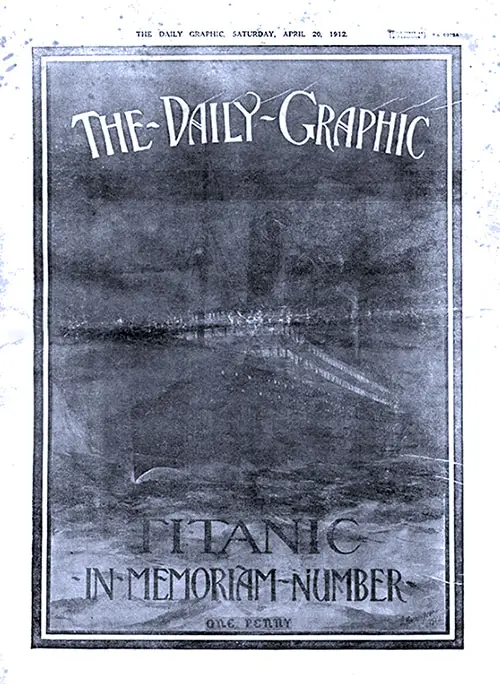 Front Cover, The Daily Graphic - Titanic In Memoriam Number. No., 6979A. GGA Image ID # 10f4394ed6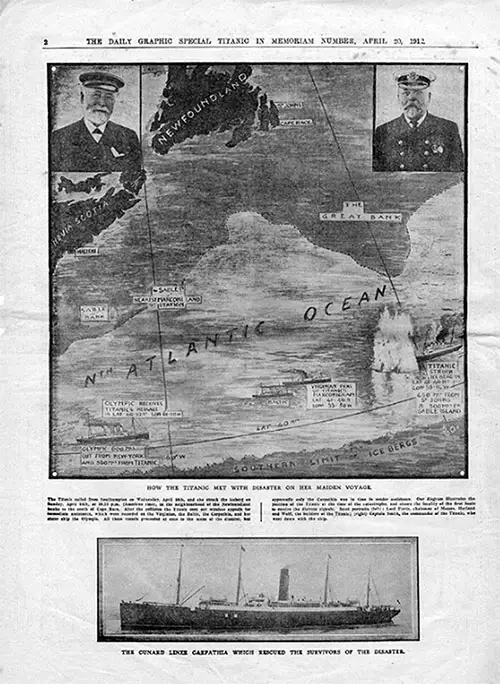 Page 2 of The Daily Graphic Titanic In Memoriam Number Photos Included How the Titanic Met With Disaster on Her Maiden Voyage, and the Cunard Line Carpathia Which Rescued the Survivors of the Disaster. The Daily Graphic (London, 20 April 1912) p. 2. GGA Image ID # 10f479efab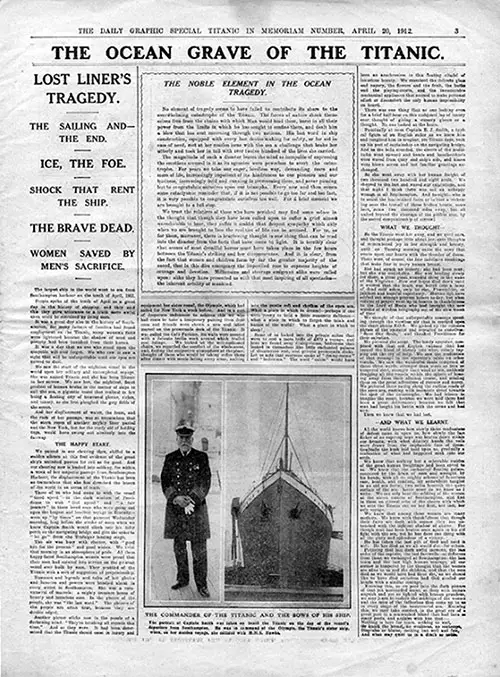 Page 3 of The Daily Graphic Titanic In Memoriam Number Focused on The Ocean Grave of the Titanic. Photo (bottom center) was The Commander of the Titanic and the Bows of His Ship. The Daily Graphic (London, 20 April 1912) p. 3. GGA Image ID # 10f4987a0e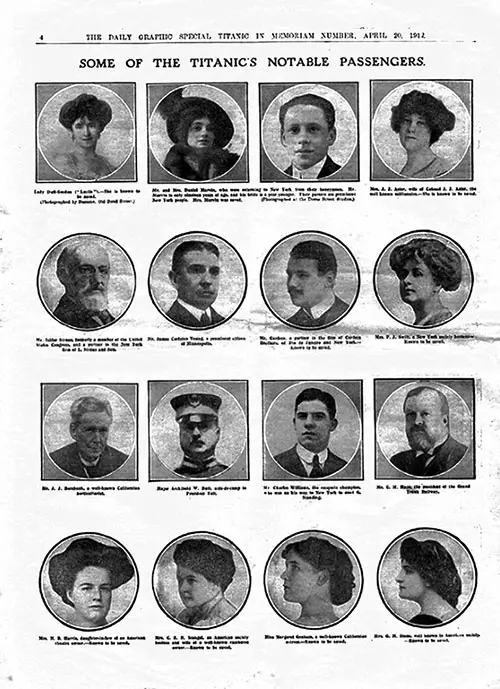 Page 4 of The Daily Graphic Titanic In Memoriam Number Focused on Some of the Titanic's Notable Passengers Including Lady Duff-Gordon, Mr. and Mrs. Daniel Marvis, Mrs. J. J. Astor, Mr. Isidor Straus, Mr. James Carleton Young, Mr. Carders, Mrs. F. J. Swift, Mr. J. J. Borebank, Major Archibald W. Butt, Mr. Charles Williams, Mr. C. M. Hays, Mrs. H. B. Harris, Mrs. C. E. H. Stengel, Miss Margaret Graham, and Mrs. G. M. Stone. The Daily Graphic (London, 20 April 1912) p. 4. GGA Image ID # 10f4b1cef0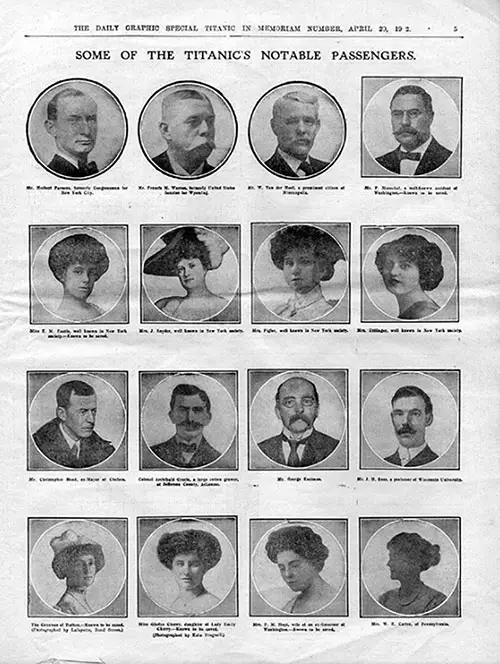 Page 5 of The Daily Graphic Titanic In Memoriam Number Focused on Some of the Titanic's Notable Passengers Including Mr. Herbert Parsons, Mr. Francis M. Warren, Mr. W. Van der Hoef, Mr. P. Marechal, Miss E. M. Eustis, Mrs. J. Snyder, Mrs. Figler, Mrs. Ettlinger, Mr. Christopher Head, Colonel Archibald Gracie, Mr. George Eastman, Mr. J. H. Ross, The Countess of Rothes, Miss Gladys Cherry, Mrs. F. M. Hoyt, and Mrs. W. E. Carter. The Daily Graphic (London, 20 April 1912) p. 5. GGA Image ID # 10f5171dc9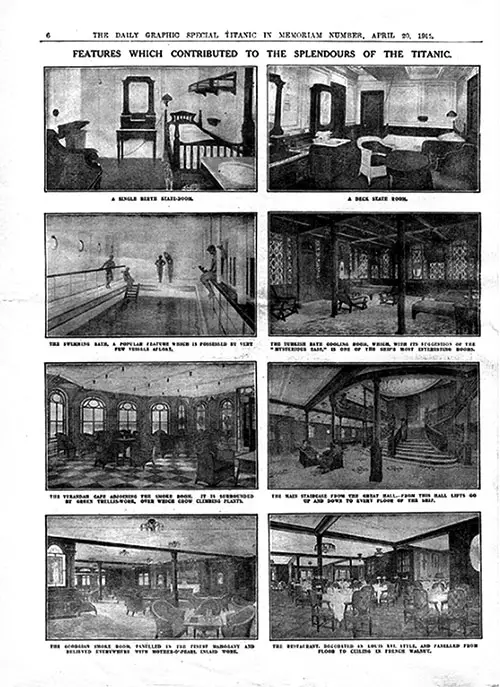 Page 6 of The Daily Graphic Titanic In Memoriam Number Focused on Features Which Contributed to the Splendors of the Titanic. Photos Included a Single Berth Stateroom, A-Deck Stateroom, The Swimming Bath, The Turkish Bath Cooling Room, The Verandah Café, The Main Staircase from the Great Hall, The Georgian Style Smoking Room, and a Louis XVI Style À la Carte Restaurant. The Daily Graphic (London, 20 April 1912) p. 6. GGA Image ID # 10f53a404b
Page 7 of the Daily Graphic Titanic in Memoriam Number - Her First and Last Voyage. The Titanic Passing up the Solent on Wednesday, April 10th on Her Departure From Southampton. The Daily Graphic (London, 20 April 1912) p. 7. GGA Image ID # 10f591a97d
Page 8 of the Daily Graphic Titanic in Memoriam Number Featured the Ocean Grave of the Titanic With a Photo of Mr. G. G. Phillips, the Marconi Wireless Operator. The Daily Graphic (London, 20 April 1912) p. 8. GGA Image ID # 10f591c2bb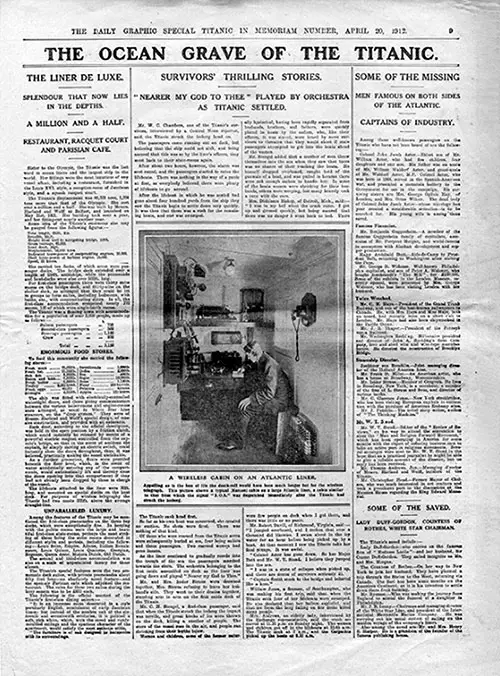 Page 9 of The Daily Graphic Titanic In Memoriam Number Featured the Ocean Grave of the Titanic With a Photo of a Wireless Cabin on an Atlantic Liner. The Daily Graphic (London, 20 April 1912) p. 9. GGA Image ID # 10f5fe7b8b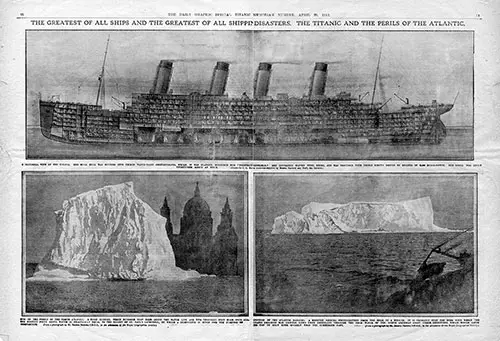 Page 10 and 11 of The Daily Graphic Titanic In Memoriam Number Featured The Greates of All Ships and the Greatest of All Shipping Disaster. The Titanic and the Perils of the Atlantic. The Daily Graphic (London, 20 April 1912) p. 10. GGA Image ID # 10f606d904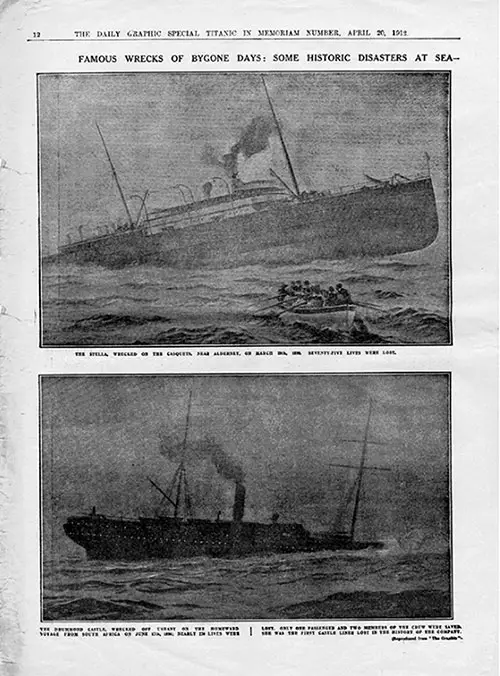 Page 12 of The Daily Graphic Titanic In Memoriam Number Featured Famous Wreck of Bygone Days: Some Historic Disasters at Sea - The SS Stella (1899) and the SS Drummond Castle (1896). The Daily Graphic (London, 20 April 1912) p. 11. GGA Image ID # 10f653d715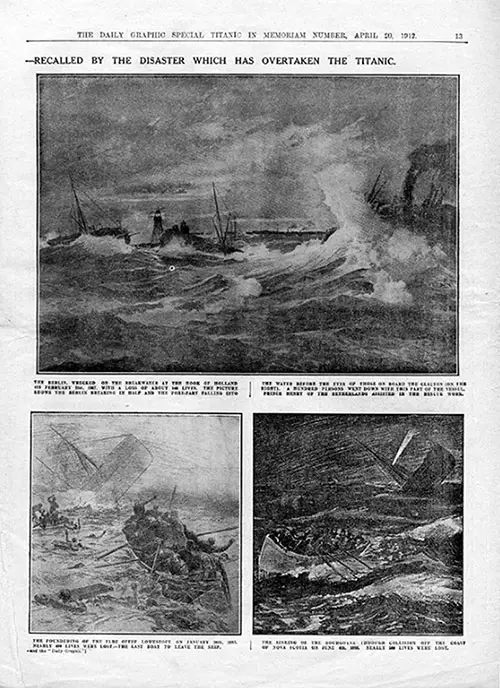 Page 13 of The Daily Graphic Titanic In Memoriam Number Featured Famous Wreck of Bygone Days Recalled by the Disaster which has Overtaken the Titanic. Photos of the SS Berlin (1907), the SS Elbe (1895), and the SS Bourgoyne (1898). The Daily Graphic (London, 20 April 1912) p. 12. GGA Image ID # 10f691c794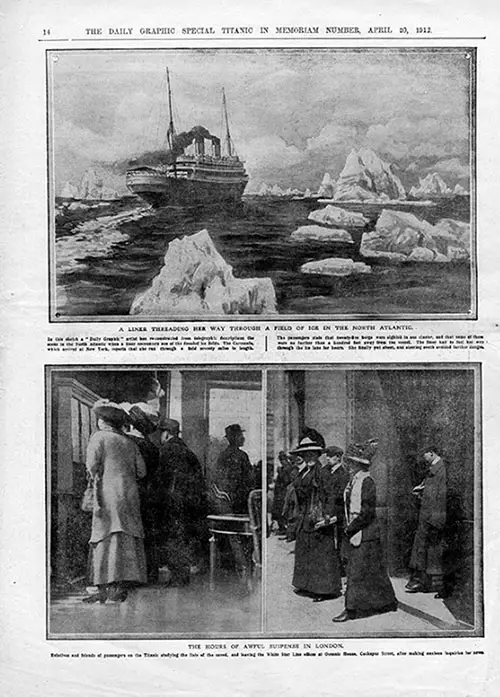 Page 14 of The Daily Graphic Titanic In Memoriam Number Photos Included. The Daily Graphic (London, 20 April 1912) p. 14. GGA Image ID # 10f8ad6392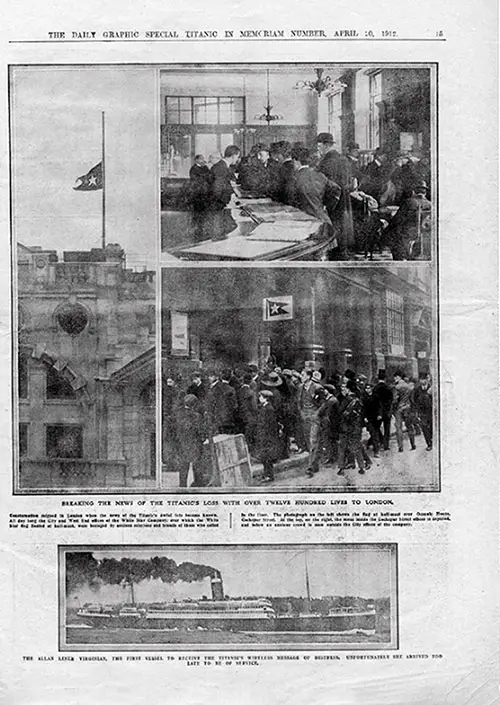 Page 15 of The Daily Graphic Titanic In Memoriam Number Photos Included. The Daily Graphic (London, 20 April 1912) p. 15. GGA Image ID # 10f6dc351a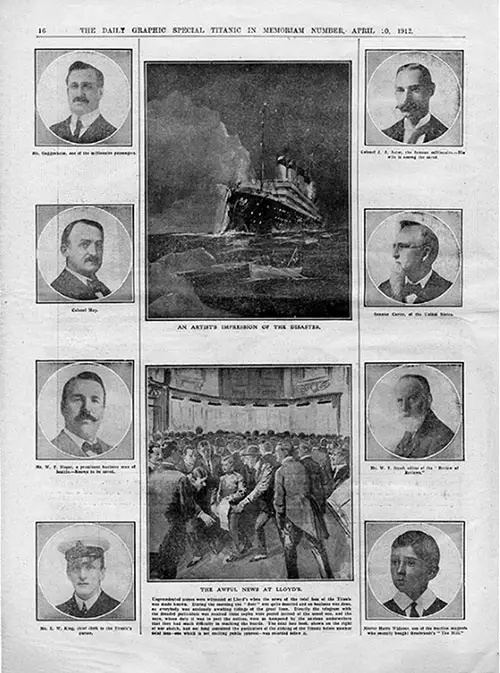 Page 16 of The Daily Graphic Titanic In Memoriam Number Photos Included. The Daily Graphic (London, 20 April 1912) p. 16. GGA Image ID # 10f710af47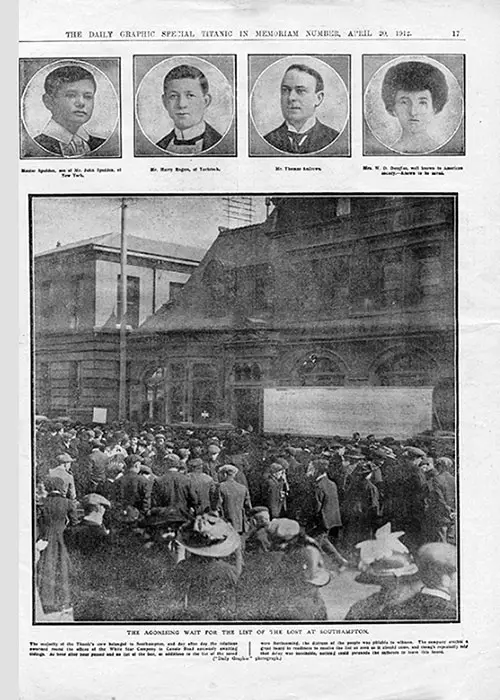 Page 17 of The Daily Graphic Titanic In Memoriam Number Photos Included. The Daily Graphic (London, 20 April 1912) p. 17. GGA Image ID # 10f754becb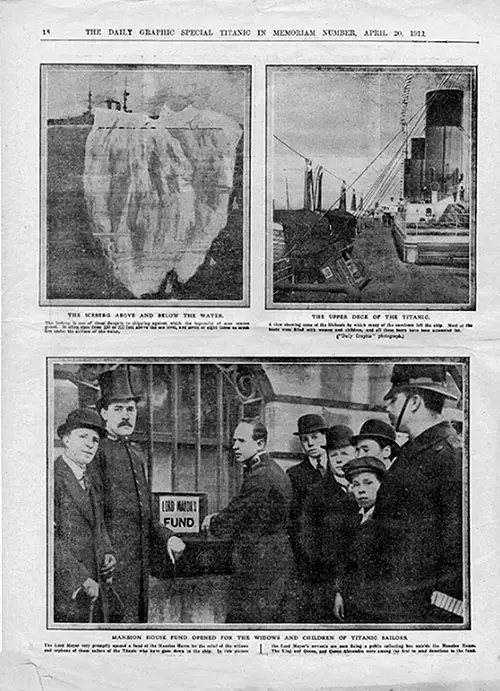 Page 18 of The Daily Graphic Titanic In Memoriam Number Photos Included. The Daily Graphic (London, 20 April 1912) p. 18. GGA Image ID # 10f7c093de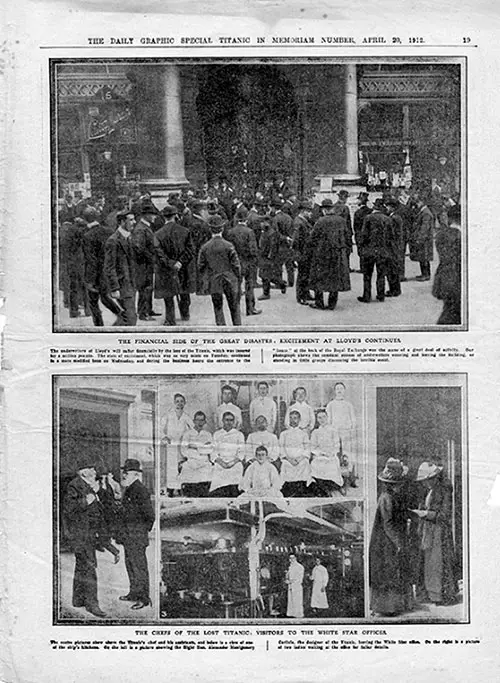 Page 19 of The Daily Graphic Titanic In Memoriam Number Photos Included. The Daily Graphic (London, 20 April 1912) p. 19. GGA Image ID # 10f83891bd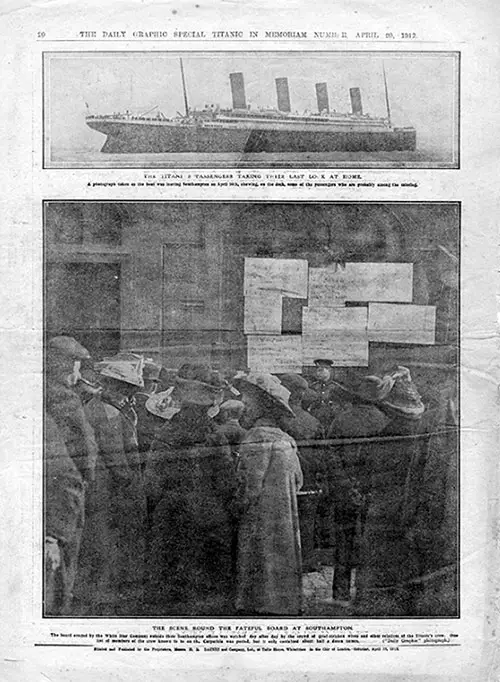 Page 20 of The Daily Graphic Titanic In Memoriam Number Photos Included. The Daily Graphic (London, 20 April 1912) p. 20. GGA Image ID # 10f87cb83f