Titanic Images - How to Save a Big Ship from Sinking (1915)
Many vessels flounder had insufficient pumping machinery on board to deal with the incoming water due to the ship straining in a storm.
In other cases, I believe vessels founder through want of knowledge on the part of the engine, either through only having just joined their ship or through not having studied the question of balancing their vessel and forming a proper course as to how to act in cases of emergency in the matter of closing or opening communicating doors of watertight compartments.
In other cases, vessels have been lost which had on board sufficient power in their auxiliary pumps to save the ship, but owing to the lousy arrangement of same, one couldn't use them. In later chapters, I will deal with these matters more minutely and endeavor to state some actual cases.
Charles V. A. Eley. How to Save a Big Ship from Sinking, Even Though Torpedoed, London: Simkin, Marshall, Hamilton, Kent & Co., Ltd., (1915).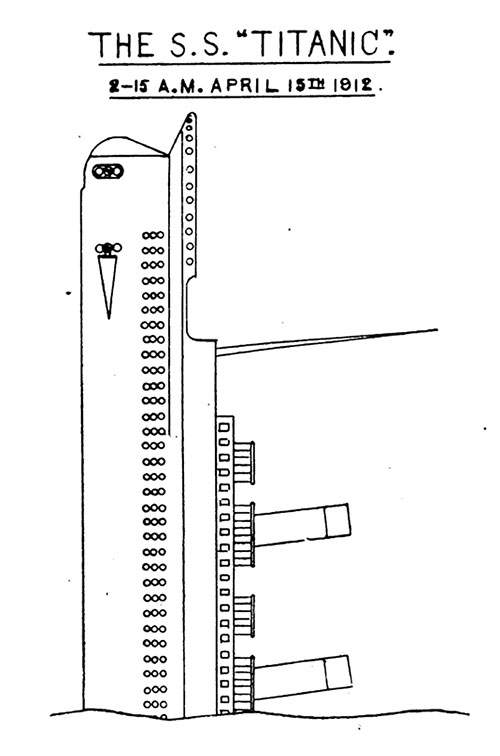 The S.S. Titanic, 2:15 am, 15 April 1912 (Frontispiece). And She Did Eventually Attain the Perpendicular. How to Save a Big Ship from Sinking (1915) p. 00. GGA Image ID # 10a2d3d49b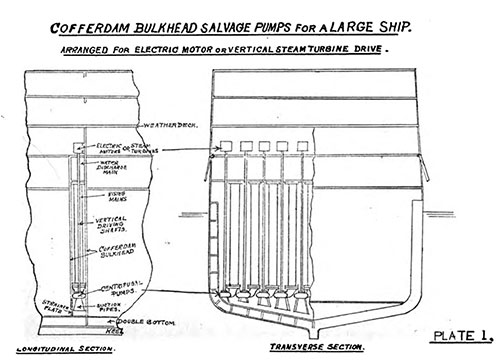 Plate 1: Cofferdam Bulkhead Salvage Pumps for a Large Ship. Arranged for Electric Motor or Vertical Steam Turbine Drive. Longitudinal Secion on Left; Transverse Section shown on Right. How to Save a Big Ship from Sinking (1915) p. 24. GGA Image ID # 10e998eb91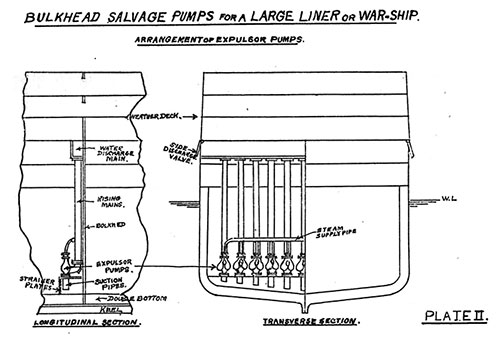 Plate 2: Bulkhead Salvage Pumps for a Large Liner or War Ship. Arrangement of Expulsor Pumps. Longitudinal Secion on Left; Transverse Section shown on Right. How to Save a Big Ship from Sinking (1915) p. 25. GGA Image ID # 10e9d45a81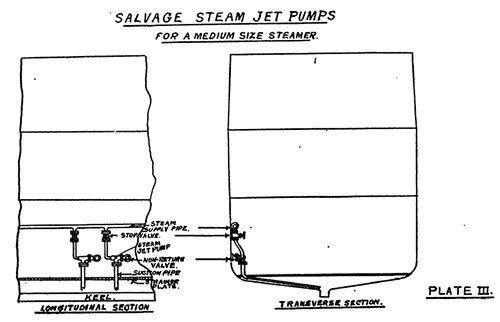 Plate 3: Salvage Steam Jet Pumps for a Medium Size Steamer. Longitudinal Secion on Left; Transverse Section shown on Right. How to Save a Big Ship from Sinking (1915) p. 26. GGA Image ID # 10e9efc425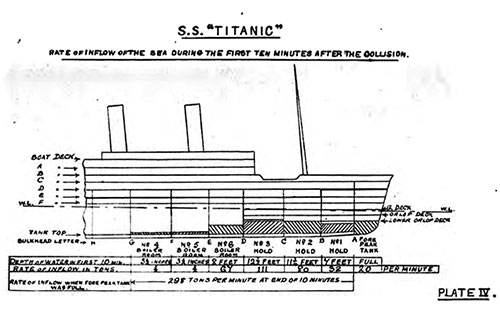 SS Titanic: Rate of Inflow of the Sea During the First Ten Minutes After the Collision. How to Save a Big Ship from Sinking (1915) p. 37. GGA Image ID # 10a2d67377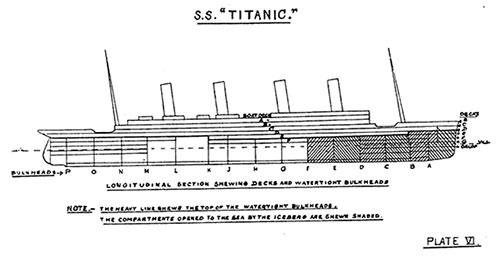 SS Titanic - Longitudinal Section Showing Decks and Watertight Bulkheads. How to Save a Big Ship from Sinking (1915) p. 121. GGA Image ID # 10a2deecbc