Titanic Photographs - The Unsinkable Titanic (1912)
Images pertaining to the Titanic disaster or its aftermath, published in An Unsinkable Titanic: Every Ship Its Own Lifeboat by J. Bernard Walker, Editor of the Scientific American. Published New York: Dodd, Mead and Company, 1912. Published, July, 1912.
Mr. Walker, who is a distinguished engineer and the editor of the Scientific American, advocates and explains certain changes in ship construction, which it is believed will prevent such disasters as that of the Titanic and which have been adopted by the White Star Line.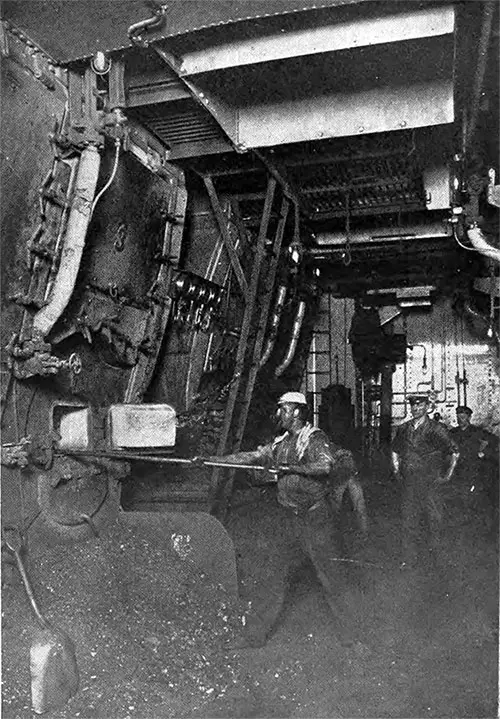 Stoke Hole of a Transatlantic Liner. The Unsinkable Titanic (1912) p,. 00. GGA Image ID # 107378e999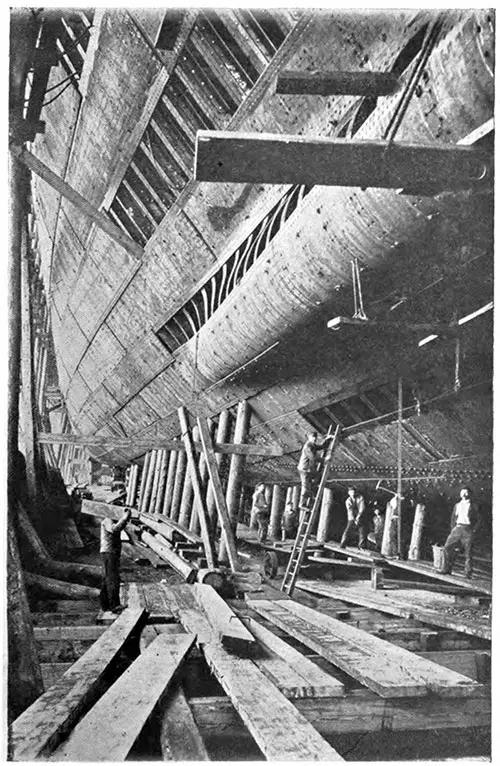 Riveting the Outer Skin on an Ocean Liner. The Unsinkable Titanic (1912) p,. 3. GGA Image ID # 1073adaf04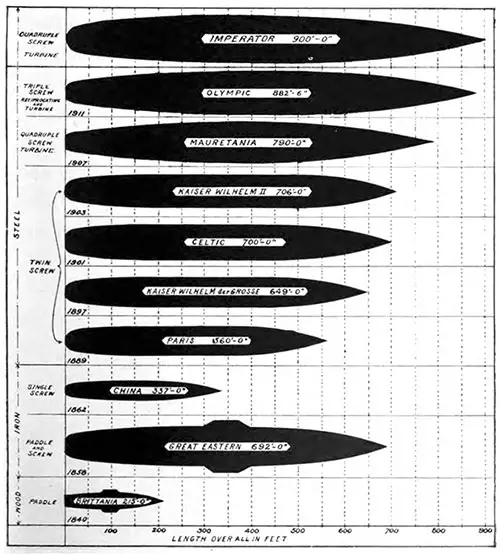 Growth of Transatlantic Steamships, 1840-1912. The Unsinkable Titanic (1912) p,. 7. GGA Image ID # 1073fde953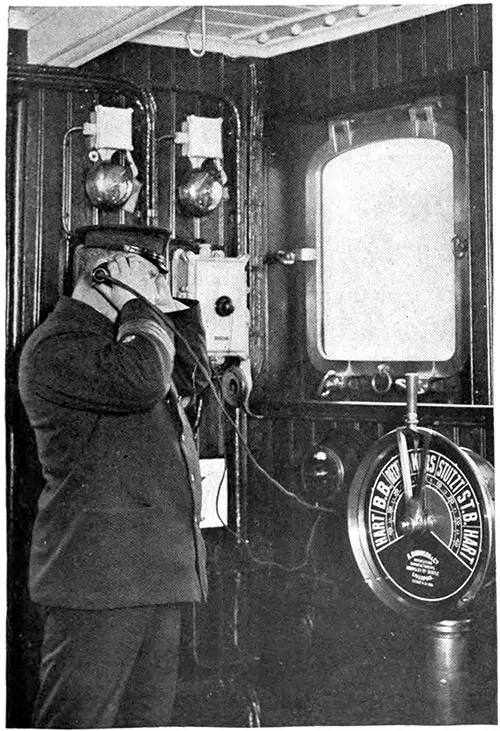 Receiving Submarine Signals on the Bridge of an Ocean Liner. The Unsinkable Titanic (1912) p,. 13. GGA Image ID # 10744f2b68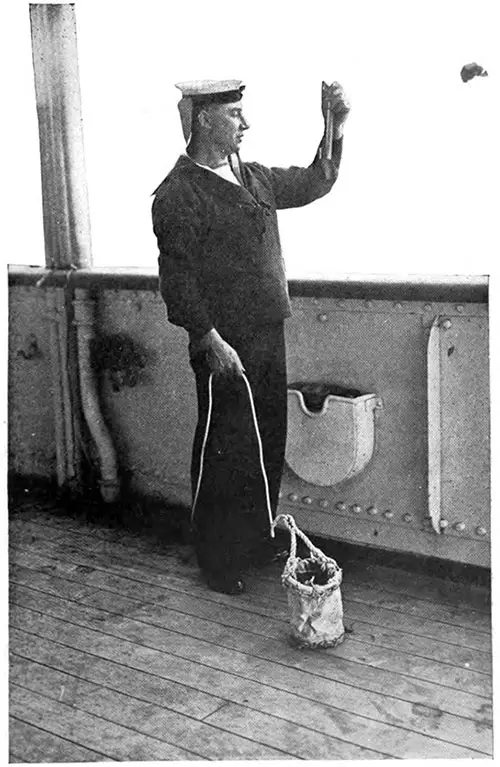 Taking the Temperature of the Water. The Unsinkable Titanic (1912) p,. 17. GGA Image ID # 1074568b29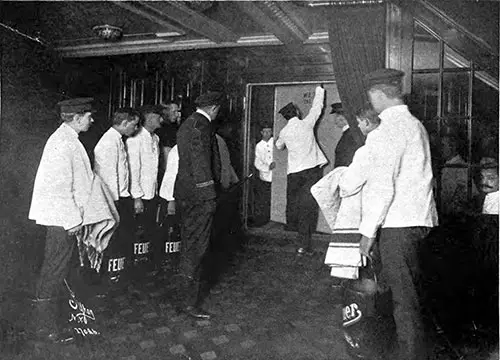 Fire Drill on a German Ocean Liner. The Unsinkable Titanic (1912) p,. 21. GGA Image ID # 1074778492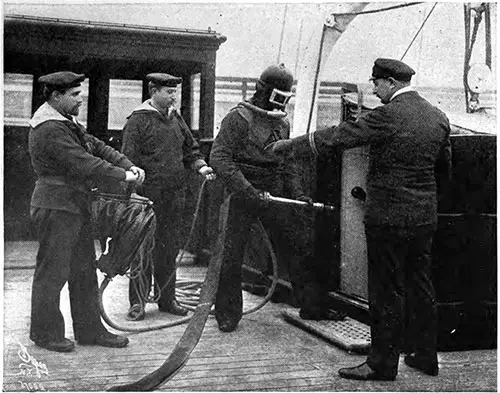 Another Scene of a Fire Drill on a German Ocean Liner. The Unsinkable Titanic (1912) p,. 25. GGA Image ID # 107478a4bd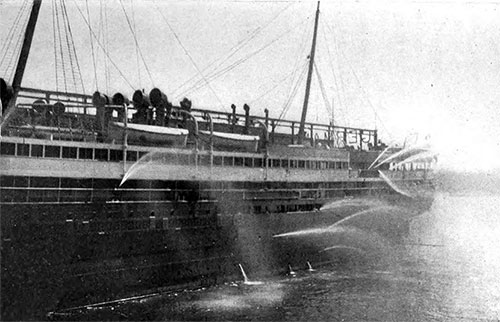 Viewing a Fire Drill on a German Ocean Liner from Another Ship. The Unsinkable Titanic (1912) p,. 29. GGA Image ID # 10747b92bc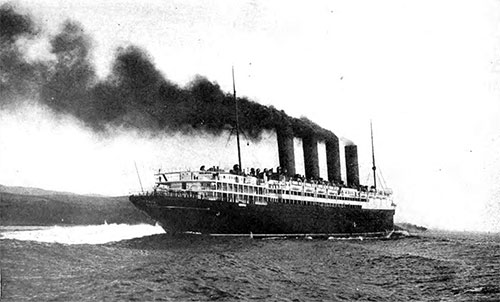 The 44,000 Ton Cunard Ocean Liner RMS Lusitania. The Unsinkable Titanic (1912) p,. 37. GGA Image ID # 1074d5816d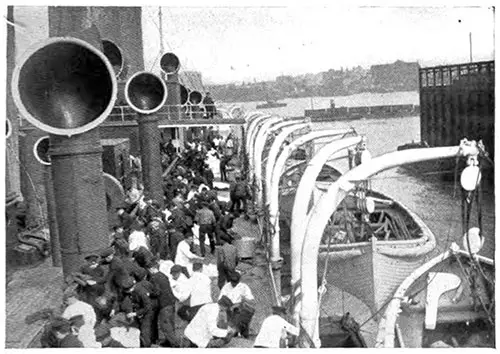 Provisioning the Ship During a Lifeboat Drill. The Unsinkable Titanic (1912) p,. 43-a. GGA Image ID # 1075057dcc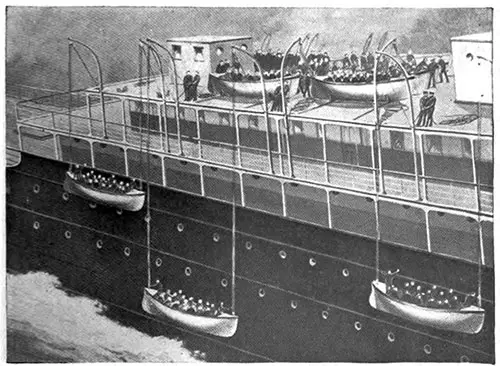 Loading and Lowering Lifeboats During a Drill. The Unsinkable Titanic (1912) p. 43-b. GGA Image ID # 1075178d21

Deck Plan of Boat Deck of the RMS Titanic. The Unsinkable Titanic (1912) p,. 45. GGA Image ID # 10752aaf8d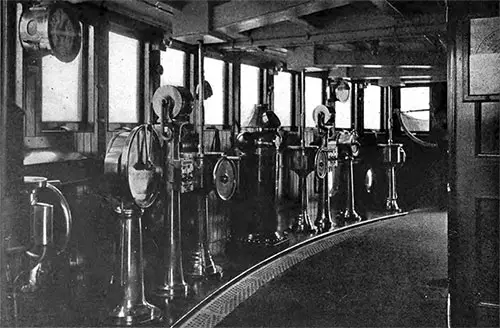 View of the Bridge of an Ocean Liner. The Unsinkable Titanic (1912) p,. 47. GGA Image ID # 1075684a1d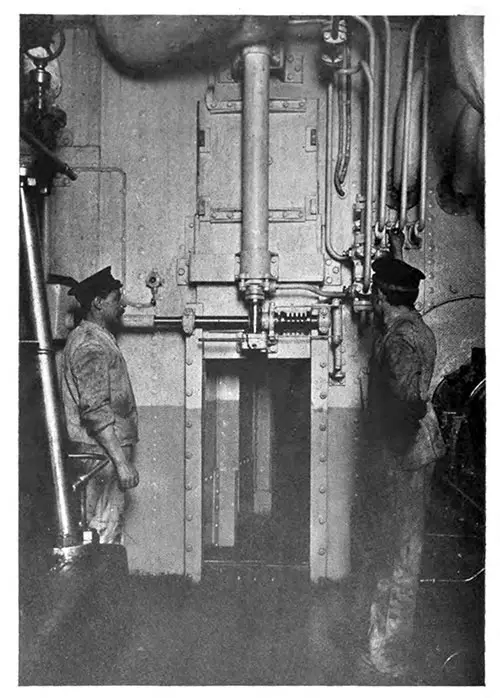 Hydraulically Operated Watertight Door. The Unsinkable Titanic (1912) p,. 54. GGA Image ID # 1076053222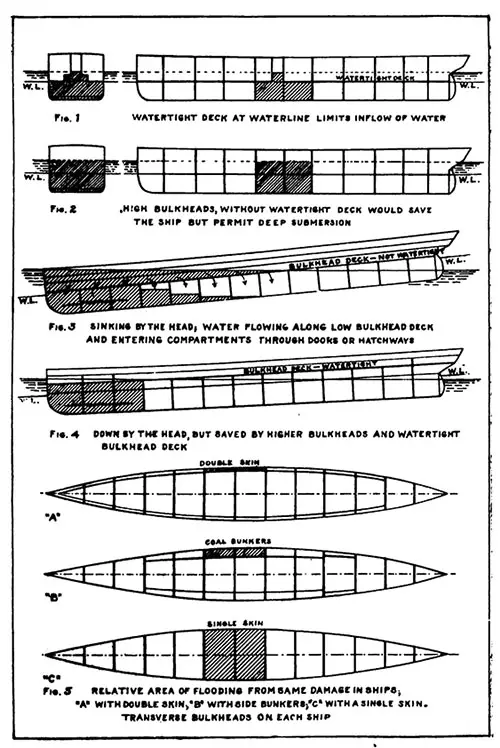 Diagram of Protective Value of the Bulkheads. The Unsinkable Titanic (1912) p,. 57. GGA Image ID # 10764c1502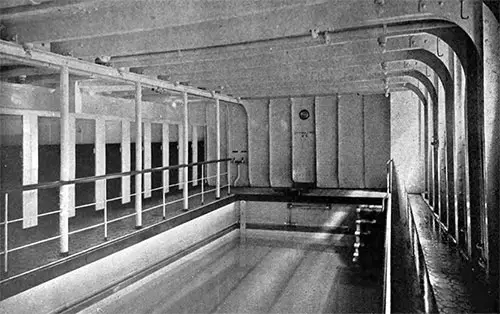 Swimming Pool on the RMS Titanic. The Unsinkable Titanic (1912) p,. 61. GGA Image ID # 107686fcea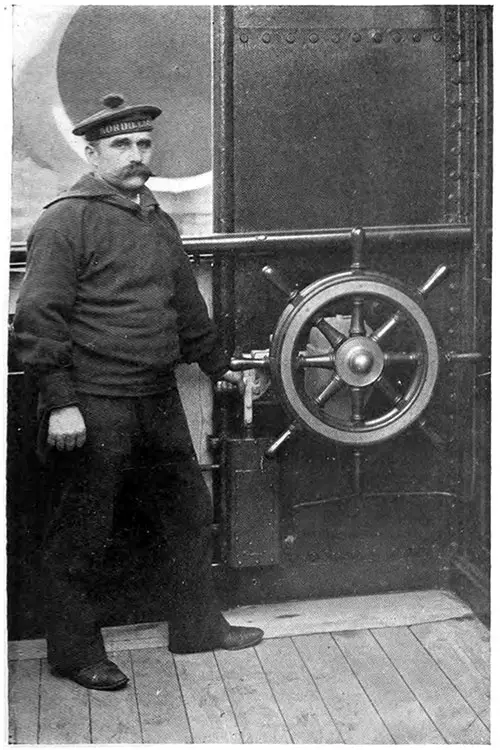 Sailor Closing All Watertight Doors from the Bridge of an Ocean Liner. The Unsinkable Titanic (1912) p,. 63. GGA Image ID # 1076f52d49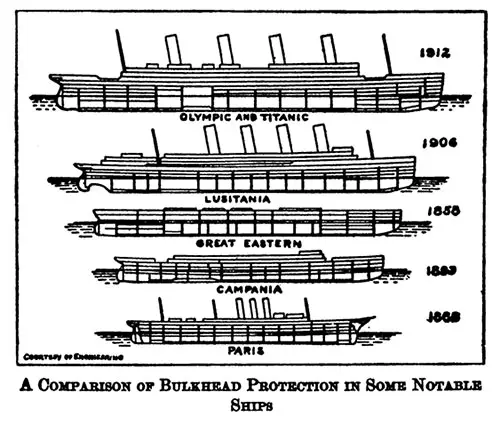 A Comparison of Bulkhead Protection in Some Notable Ships: Olympic and Titanic, Lusitania, Great Eastern, Campania, and Paris. The Unsinkable Titanic (1912) p,. 66. GGA Image ID # 1077aea24f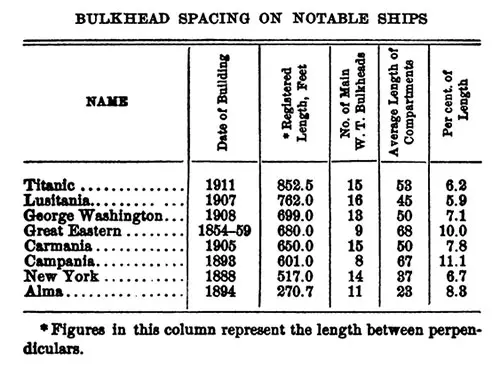 Bulkhead Spacing on Notable Ships: Titanic, Lusitania, George Washington, Great Eastern, Carmania, Campania, New York, and Alma. The Unsinkable Titanic (1912) p,. 67. GGA Image ID # 10780b9b2e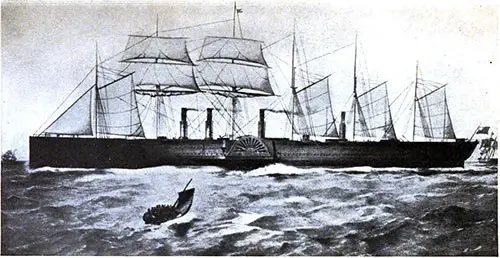 The Great Eastern. The Unsinkable Titanic (1912) p,. 71. GGA Image ID # 10781a7ad2
Diagram of Two Extremes in Protection, and a Compromise, showing the Titanic, Mauretania, and the Great Eastern. The Unsinkable Titanic (1912) p,. 83. GGA Image ID # 1078954479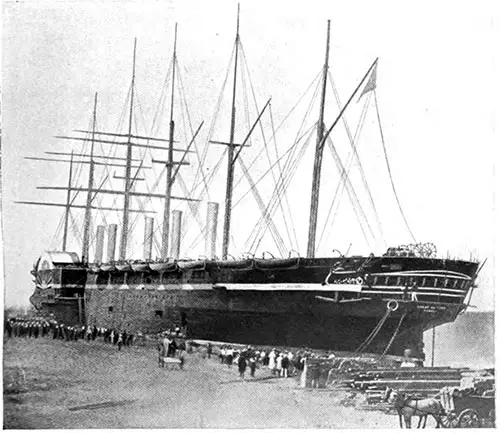 The Great Eastern Docked in New York. The Unsinkable Titanic (1912) p,. 87. GGA Image ID # 107943407a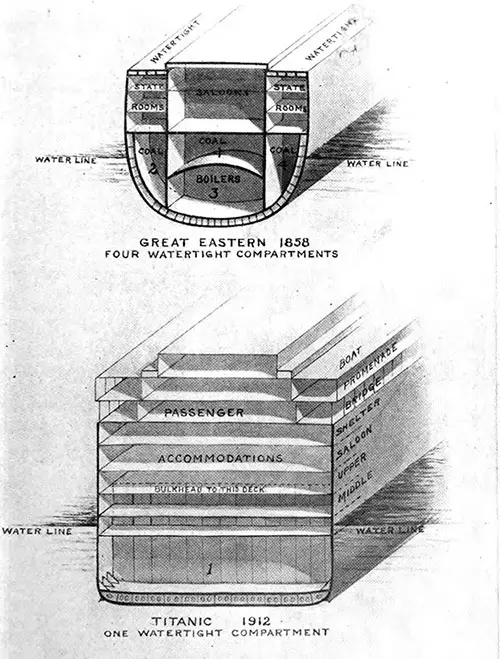 50-Years of a Decline in Safety of Construction in Ocean Liners. Watertight Compartments of The Great Eastern Compared to the Titanic. The Unsinkable Titanic (1912) p,. 93. GGA Image ID # 1079683df4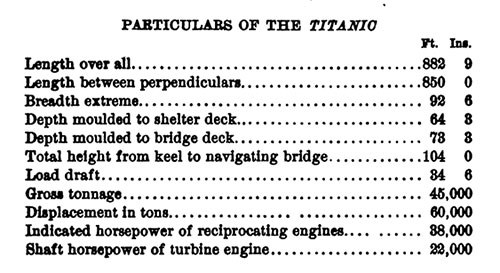 Principal Dimensions and Particulars of the RMS Titanic. The Unsinkable Titanic (1912) p,. 95. GGA Image ID # 1079a228a2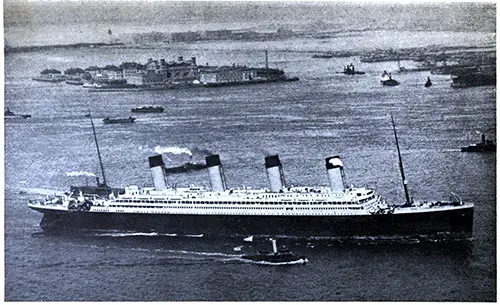 The RMS Olympic Reaches New York on Her Maiden Voyage. The Unsinkable Titanic (1912) p,. 97. GGA Image ID # 1079f986d2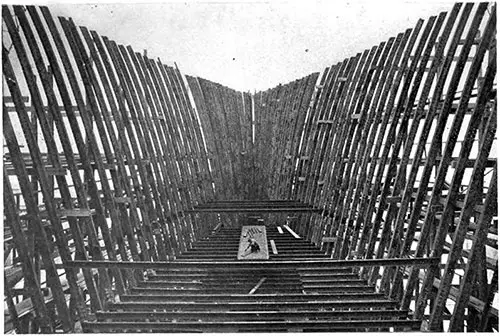 Framing and Some Deck Beams of the SS Imperator. The Unsinkable Titanic (1912) p,. 103. GGA Image ID # 1079fe1546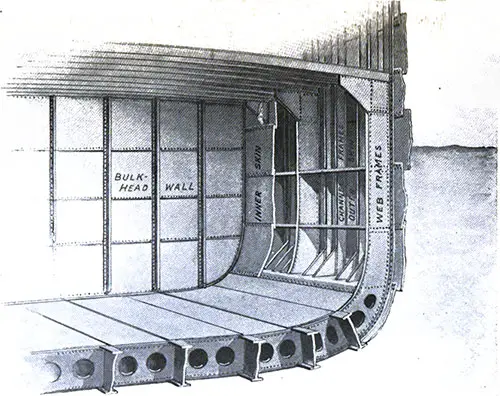 Plating Carried Up the Side Forms Inner Skin. The Unsinkable Titanic (1912) p,. 107. GGA Image ID # 107a18e7ac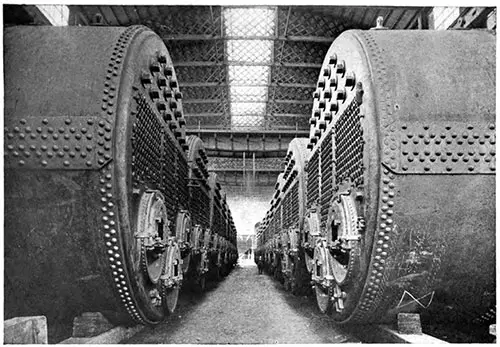 View of the Boilers for the RMS Titanic. The Unsinkable Titanic (1912) p,. 110. GGA Image ID # 107a1cc2bf
The last photograph of the Titanic taken as she was leaving Southampton on her Maiden Voyage. The Unsinkable Titanic (1912) p,. 117. GGA Image ID # 100a8db716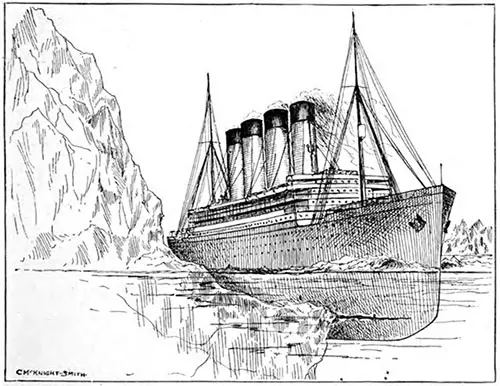 The Titanic struck a glancing blow against an under-water shelf of the iceberg, opening up five compartments. Had She been provided with a watertight deck at or near the water Line, the water which entered the ship would have been confined below that deck, and the buoyancy of that portion of the ship above water would have kept her afloat. As it was, the water rose through openings in the decks and destroyed the reserve buoyancy. The Unsinkable Titanic (1912) p. 125. GGA Image ID # 100a665876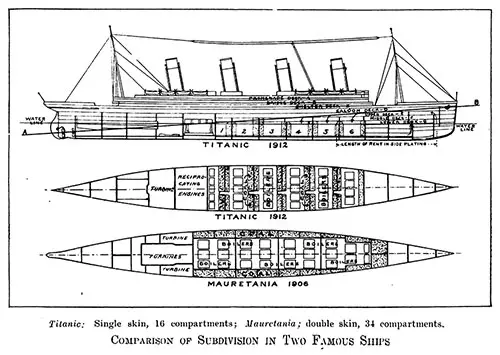 Comparison of Subdivision in Two Famous Ships. Titanic: Single Skin, 10 Compartments; Mauretania: Double Skin, 34 Compartments. The Unsinkable Titanic (1912) p. 130. GGA Image ID # 107a917064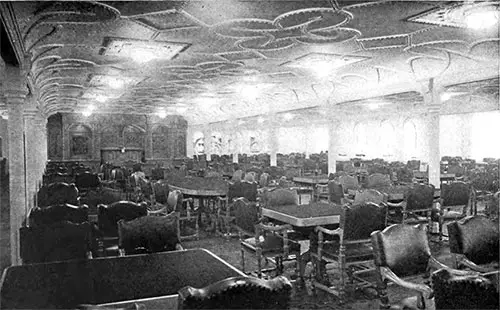 View of the Vast First Class Dining Room on the RMS Titanic. The Unsinkable Titanic (1912) p. 133. GGA Image ID # 107ae473a4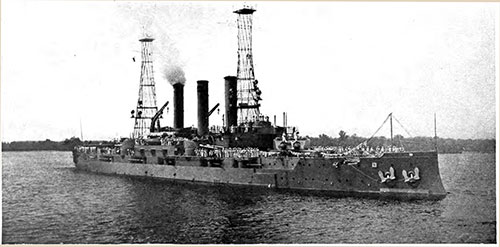 The USS Kansas Battleship. The Unsinkable Titanic (1912) p. 137. GGA Image ID # 107afda2a3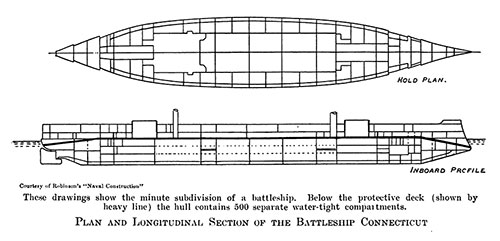 Plan and Logitoudinal Section of the Battleship USS Connecticut. The Unsinkable Titanic (1912) p. 143. GGA Image ID # 107b4570bb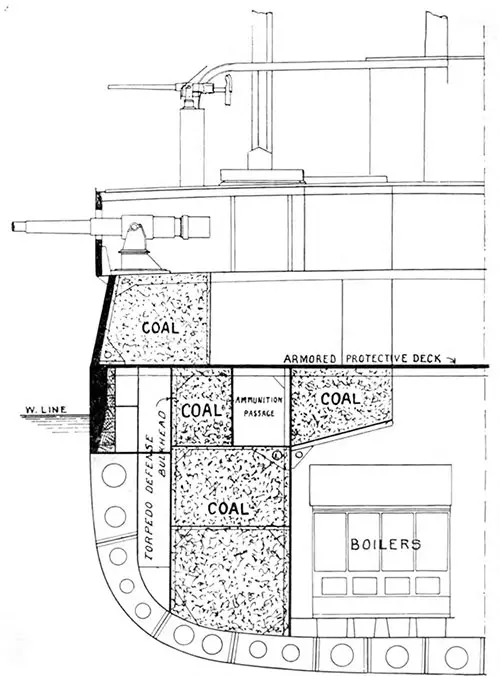 Midship Section of a Battleship. The Unsinkable Titanic (1912) p. 149. GGA Image ID # 107c1960cf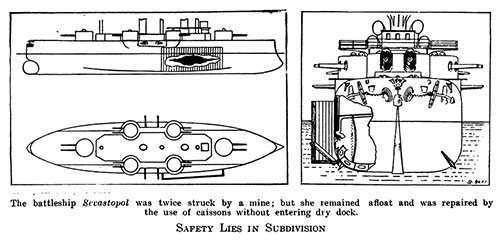 Safety Lies in Subdivision. The Unsinkable Titanic (1912) p. 155. GGA Image ID # 107c398a8c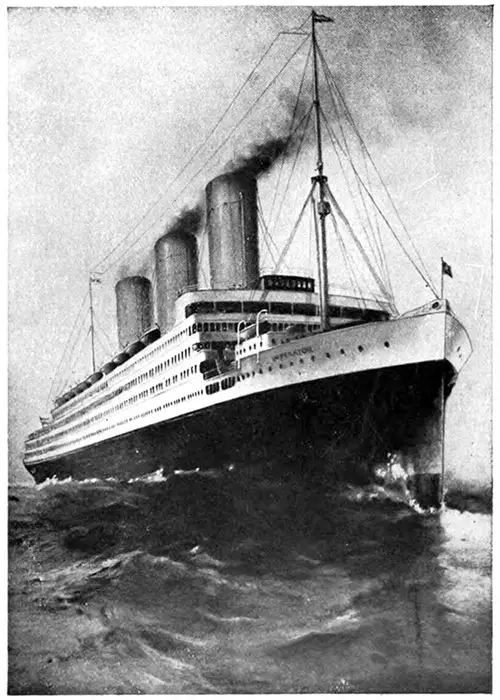 The German Ocean Liner Imperator - Largest Ship Afloat at 65,000 Tons. The Unsinkable Titanic (1912) p. 159. GGA Image ID # 107c472c10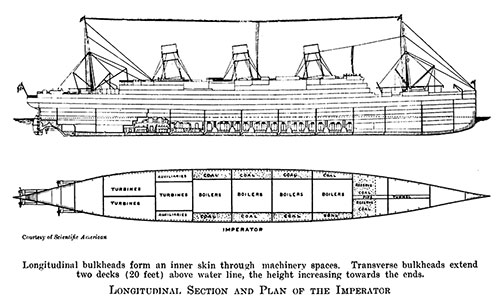 Longitudinal Section and Plan of the Imperator. The Unsinkable Titanic (1912) p. 163. GGA Image ID # 107c66582b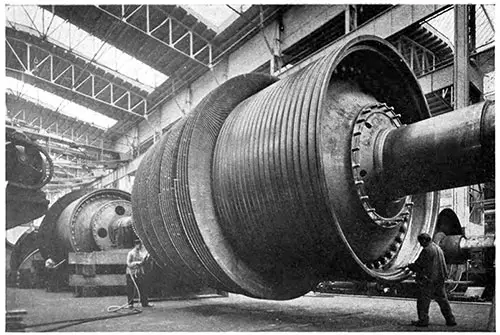 Rotor of Imperator Turbines. The Unsinkable Titanic (1912) p. 167. GGA Image ID # 107cff581f

Hold Plan of Kronprinzessin Cecilie. The Unsinkable Titanic (1912) p. 174. GGA Image ID # 107d2646e0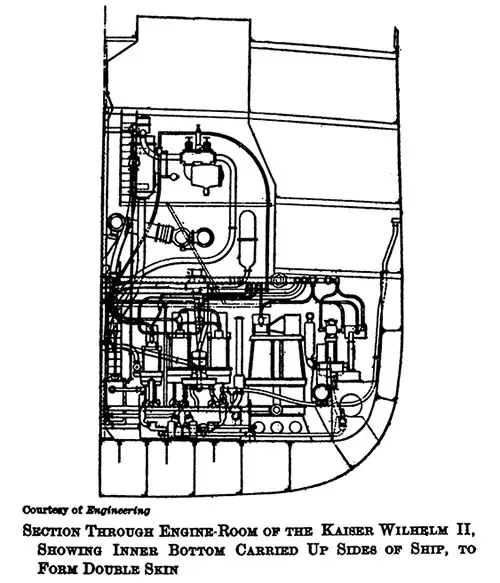 Section Through Engine Room of the Kaiser Wilhelm II Showing Inner Bottom Carried Up Sides of Ship to Form Double Skin. The Unsinkable Titanic (1912) p. 176. GGA Image ID # 107d53622c