Titanic Images - The World To-Day
The World To-day: A Monthly Record of Human Progress started out to be a current encyclopedia, embodies with its original idea many important literary features. Its pictures are valuable for their variety and peculiar distinctness.
Articles routinely combine the readability of the popular magazine with the comprehensiveness of a current encyclopedia. It presents each month a comprehensive record of the world's progress for the preceding thirty days.
Its pages embrace Science, Art, Religion, Literature, and Politics. The contributors to The World To-Day are among the most notable in the land.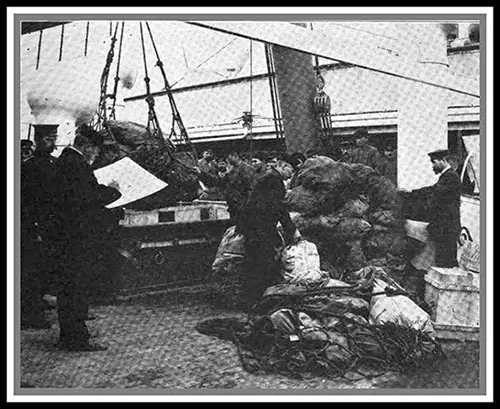 Checking the Mail Sacks on Board a Fast Mail Steamer. The World To-Day (December 1910) p. 1411, GGA Image ID # 1088f35764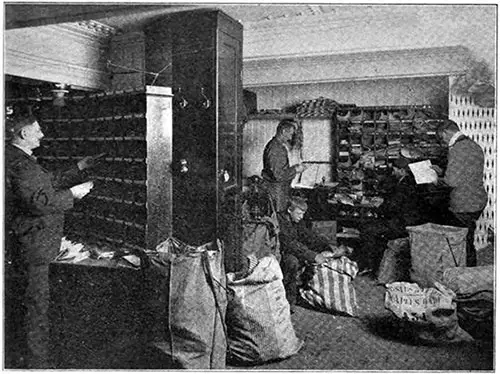 The Sea Post Office. From one to three thousand sacks of mail are sorted here every trip. The World To-Day (December 1910) p. 1411, GGA Image ID # 108903420e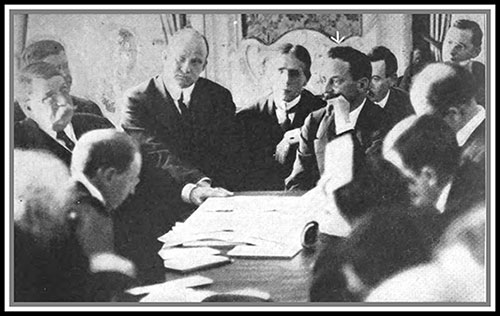 Mr. J. Bruce Ismay Testifies at the Senate Hearings. The first session of the Committee of the United States Senate appointed to investigate the Titanic disaster. The arrow points to J. Bruce Ismay, managing director of the International Mercantile Marine, owners of the White Star Line, who was the first witness. © Underwood & Underwood. The World To-Day (May 1912) p. 2216a. GGA Image ID # 1095d9ae8d

Taking the Titanic's Survivors on Board the Carpathia, Photographed from the Deck of the Carpathia. The World To-Day (May 1912) p. 2216c. GGA Image ID # 10960f75a1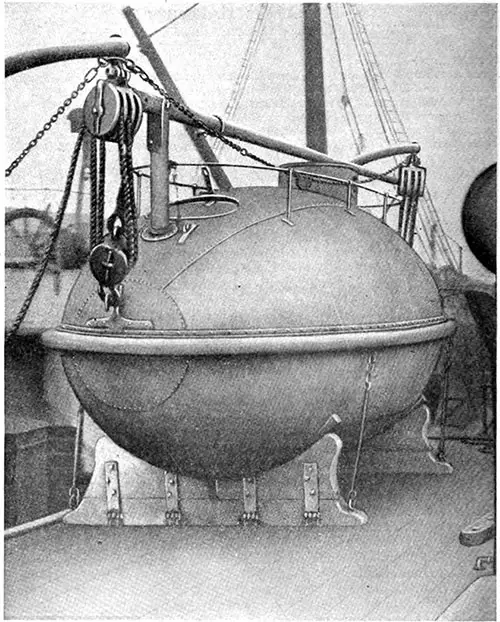 The Unsinkable Lifeboat. The novel lifeboat, the invention of a young Norwegian is actually in use. It can be steered from inside or outside. The ballast tanks are filled with fresh water. The collapsible mast is seen lying horizontally, amid-ship, across the conning tower. Should the sea be too rough for the craft to be launched from davits, the idea is that passengers should be embarked, the latches fastened down, and the lashing undone. Then, if the ship sinks, the lifeboat may go down with it, but will certainly rise to the surface again. The World To-Day (June 1912) p. 2376j. GGA Image ID # 1096389f51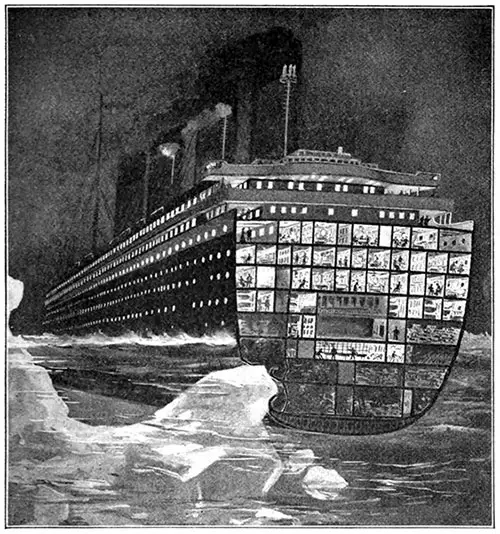 Why the Wound from the Iceberg Was Fatal. The official account of the disaster reads: "Struck berg bluff starboard bow, slight jar, but grinding sound, evidently opening several compartments starboard side." Had the 2-inch steel bulkheads withstood the water pressure the ship would not have foundered. The World To-Day (June 1912) p. 2376k. GGA Image ID # 10972e2b1b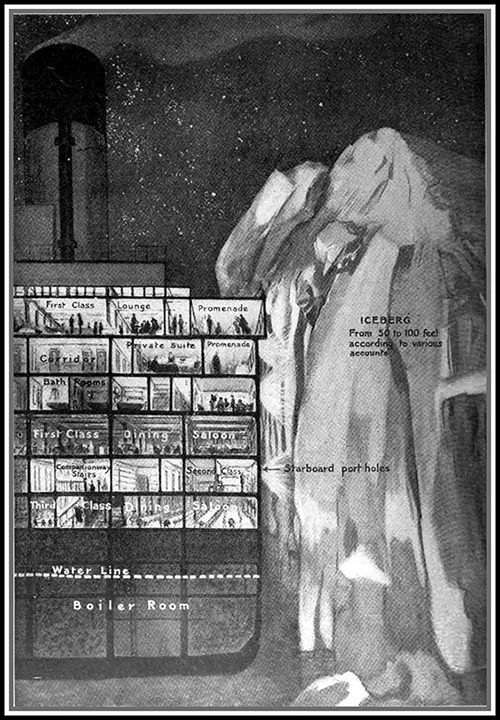 The Titanic Scraping Past the Iceberg. The iceberg was from fifty to one hundred feet high according to various accounts. Passengers in cabins and in smoking rooms report that after the slight jar, they saw the high iceberg go by close to the side of the boat. The World To-Day (June 1912) p. 2376l. GGA Image ID # 109732742f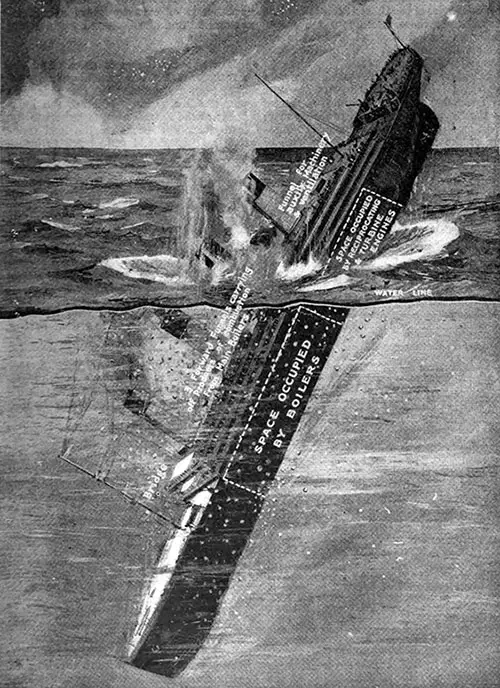 The Titanic Poised Before the Plunge. For fully five minutes, according to a man in a lifeboat, the Titanic hung almost vertical in the water, with the stern towering one hundred and fifty feet above the sea. Then she lunged forward and slipped from sight. The forward bulkheads had given way with a dull thundering report, one after the other, and the inrushing water slowly tilted the ship. The World To-Day (June 1912) p. 2376m. GGA Image ID # 1097378844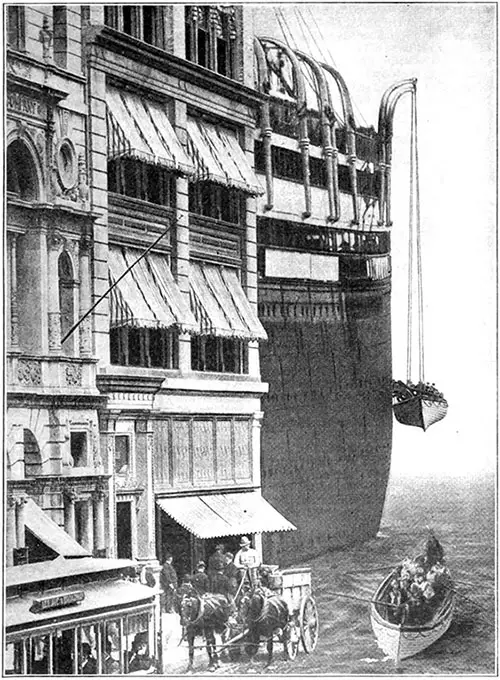 Five Stories Above the Sea. Seventy-five feet from the boat-deck to the sea-level as high as the fifth story of an office building. Imagine a wild sea, instead of the calm at the time of the Titanic catastrophe — and a swinging boat containing fifty or sixty persons, battering the ship's side with every heave of the waters. The World To-Day (June 1912) p. 2376o. GGA Image ID # 109784058e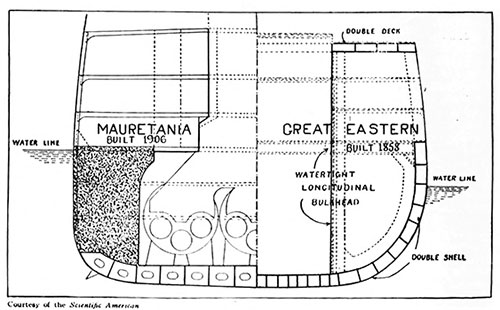 Sectional Views of Famous Ships. Mauretania, 1906. Double bottom; double skin, consisting of an outer skin of the ship and inner skin in the form of a longitudinal bulkhead to enclose the coal bunkers. Great Eastern, 1858. Complete double skin, extending throughout the bottom and up the sides, to 10 feet above the water line. Also, longitudinal bulkheads. © Scientific American. The World To-Day (June 1912) p. 2376r. GGA Image ID # 109786ffcc

The Mauretania Safer Than the Titanic. In the Mauretania (upper plan), a rupture of the outer skin plating would admit water only to coal bunker compartments of limited dimensions. The longitudinal bunker bulkhead would stop the inflow. In the Titanic (below), a rupture of the skin plating admitted water to large compartments, extending clear across the ship. © Scientific American. The World To-Day (June 1912) p. 2376s. GGA Image ID # 1097a55566