Provisions & Cargo on the RMS Titanic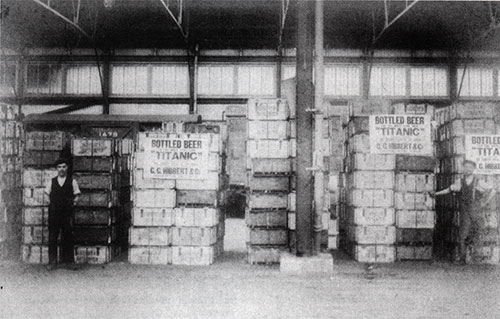 Advertisement for Cases of Bottled Beer Destined for the RMS Titanic - 1912. GGA Image ID # 10dc4f2099
The condition of the food served at sea on the great liner like the Titanic is always prime. Refrigerators that have the capacity for 500 tons of food are freshly filled for each voyage, and they keep everything put Into them in perfect condition.
Cargo Manifest Contents on the RMS Titanic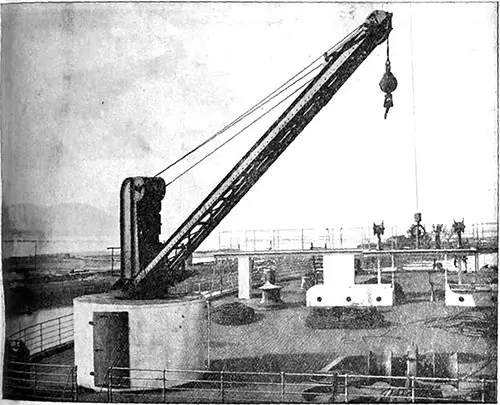 Fig. 12: 2 1/2 Ton Electric Crane. One of the little discomforts sometimes associated with modern ocean travelling is the noise caused by winches and other deck appliances, and although when on the high seas these are not much in evidence, yet when approaching port it is sometimes necessary to use them, as for instance when handling mails or passengers' luggage preparatory to dis embarkation. With a view to avoiding this on the "Olympic," the aid of electricity has again been invoked, with the result that all the winches in the vicinity of the passenger accommodation and the cargo cranes are electrically driven. The latter are made by Messrs. Stothert & Pitt, six having of 50 cwt. each, and two of 30 cwt. each. These cranes are fitted at the three after hatches and at the forward hatch near the passenger quarters. The Electrician (4 August 1911) p. 659. GGA Image ID #
The following goods and services were listed on the Titanic's cargo manifest when it sailed from Southampton. The duplicate listing of some items indicates they were assigned by different companies. The ports of loading were listed as Southampton, Cherbourg, and Queenstown. The port of discharge was listed as New York.

1 case wine, 3 bales of skins, 1 auto, 4 cases of printers blankets, 34 cases of golf clubs, 1 case of toothpaste, 5 cases of drug related sundries, 1 case of brushwire, 8 cases of orchids, 4 cases of pens, 7 cases of cotton, 12 cases of cotton laces, 3 cases of tissues, 4 bales of straw.
4 cases of tulle, 29 cases of cotton, 2 cases of gloves, 1 case of film, 8 cases of bulbs, 28 bags of sticks, 10 boxes of melons, 1 case of china, 1 case of silver goods, 4 cases of straw hats, 1 case of elastic cords, 1 case of leather, 5 packages of skins, 1 case of skins, 61 cases of tulle, 1 case lace goods, 1 case cotton laces, 1/2 case brushware, 1 case brushware, 3 cases of furniture, 3 cases of silk crape, 2 cases of cotton, 1 case of laces.

4 cases of cottons, 25 cases of biscuits, 42 cases of wines, 7 cases of biscuits, 3 cases of soap perfumes, 5 cases of books, 2 cases of parchments, 2 cases of hardware, 2 cases of books, 2 cases of furniture, 1 case elastics, 1 case gramophone, 4 cases of hosiery, 5 cases of books, 1 case of canvas, 3 cases of prints, 1 case rubber goods.
5 cases of film, 1 case of tweed, 1 case of syringes, a quantity of oak beams, 1 case of plants, 1 speedometer, 8 cases of paste, 4 cases of books, 1 camera and 1 camera stand, 1 case of machinery, 15 cases of alarm apparatus, 4 cases of orchids, 30 cases of plants, 2 cases of lace collars, 2 cases of books, 53 cases of straw, 68 cases of rubber, 10 bags of suspenders, 1 case of cotton, 60 cases of salt powder, 6 cases of soap, 17 packages of wool fat, 1 package of candles, 75 bales of fish, 11 bales of rubber, 5 cases of shells, 1 case of film, 2 cases of hat leather.
2 cases of books, 1 case of woolens, 10 cases of books. 1 bale of skins, 1 crate of machinery, 1 case of printed matter, 386 rolls of linoleum, 437 casks of tea, 4 bales of skins, 134 cases of rubber, 76 cases of dragon's blood, 2 cases of gum, 3 cases of books, 95 cases of books, 117 cases of sponges, 12 packages of periodicals, 3 cases of woolens, 53 cases of champagne, 1 case of felt, 8 dozen tennis balls, 1 dozen engine packings, 1 case surgical goods, 1 case ironware, 4 cases printed matter, 1 case of cloth, 4 cases of printed matter, 1 case cloth, 4 cases printed matter, 1 case of machinery, 1 case of books, 1 dozen notions, 1 case of elastics, 2 cases of books, 1 box of golf balls, 5 cases of instruments, 4 rolls of linoleum, 1 case of hats.
3 bales of leather, 5 cases of books, 6 cases of confectionery, 1 case of tin tubes, 2 cases of soap, 2 cases of boots, 3 cases of books, 2 cases of furniture, 1 case of pamphlets, 1 dozen paints, 1 case of eggs, 1 dozen cases of whiskey, 10 packages of periodicals, 1 case iron jacks, 1 dozen bulbs, 1 case of hosiery, 1 case of clothing, 8 cases of hairnets, 1 case of silk goods, 1 case of tissues, 1 case of hairnets, 1 case of silk goods, 2 cases of silk goods, 3 cases of silk goods, 1 case of gloves, 30 packages of tea, 2 cases of books, 5 cases of books, 1 bag of frames.
1 case of cotton, 2 cases of stationery, 1 case of scientific instruments, 1 case of sundries, 3 cases of test cord, 1 case of briar pipes, 1 case of sundries, 2 cases of printed matter, 1,196 bags of potatoes, 318 bags of potatoes, 1 case of velvets, 18 bales of straw goods, 1 case of raw feathers, 2 cases of linens, 3 cases of tissue, 3 cases of rabbit skins, 1 case of auto parts, 1 case of feathers, 3 cases of leather, 15 cases of rabbit hair, 11 cases of feathers, 1 case of tissue, 11 cases of refrigerating machinery, 18 cases of machinery, 1 case of packed packages.
3 cases of tissue, 2 barrels of mercury, 1 barrel of earth, 2 barrels of glassware, 3 cases of printed matter, 1 case of straw braids, 1 case of straw hats, 1 case of cheese, 3 cases of hosiery, 3 cases of silk goods, 1 case of brushware, 2 cases of ribbons, 2 cases of flowers, 1 case of gloves, 6 bales of cork, 75 cases of anchovies, 1 case of liquor, 225 cases of mustard, 190 cases of liquor, 25 cases of syrup, 25 cases of preserves, 12 cases of butter, 18 cases of oil, 2 hogsheads of vinegar, 6 cases of preserves, 19 cases of vinegar, 8 cases of dry fruit, 16 hogsheads of wine, 185 cases of wine, 110 cases of brandy, 10 hogsheads of wine, 15 cases of cognac, 100 cases of shelled walnuts.

70 bundles of cheese, 20 bundles of cheese, 2 cases of cognac, 1 case of liquor, 38 cases of oil, 107 cases of mushrooms, 1 case of pamphlets, 25 cases of sardines. 8 cases of preserves, 50 cases of wine, 6 casks of vermouth, 4 cases of wine, 11 cases of shelled walnuts 100 bales of shelled walnuts, 300 cases of shelled walnuts, 35 bags of rough wood, 50 bundles of cheese, 5 bundles of cheese, 50 bundles of cheese.
190 bundles of cheese, 50 bundles of cheese, 10 bundles of cheese, 50 bundles of cheese, 30 bundles of cheese, 30 bundles of cheese, 10 bundles of cheese, 15 bundles of cheese, 41 cases of filter paper, 22 cases of mushrooms, 15 cases of peas, 10 cases of mixed vegetables, 25 cases of olives, 12 bundles of capers, 10 cases of fish, 25 cases of olive oil, 14 cases of mushrooms.
The Cargo of Titanic Valued at $420,000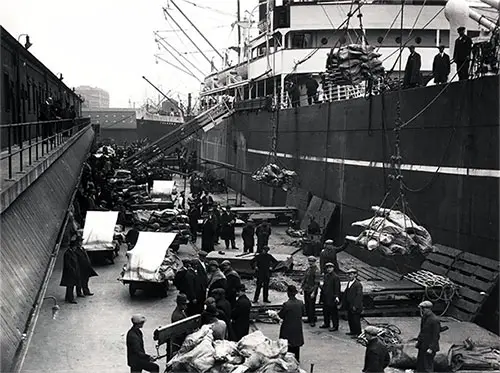 Loading Provisions, Supplies, and Cargo onto a Steamship ca 1915. GGA Image ID # 10dc250179
Merchandise of Every Kind Went to the Bottom with Giant Liner.
ALL HIGH-CLASS FREIGHT
Tiffany, Claflin, Lazard Brothers, the Barings, and the Express Companies Among the Consigners.
The full list of freight and express cargo on the White Star liner Titanic when that vessel went down last Monday morning was received in New York Friday in the registered mail of the Cunarder Mauretania. The manifest shows a cargo, the value of which is conservatively estimated at about $420,000.
The weight of the cargo was about 1,400 tons, not a large amount, all things considered, until it is remembered that cargo was a secondary matter so far as the Titanic was concerned.
That ship was built for high-priced passengers and what little cargo she carried was also of the kind that demanded quick transportation. The Titanic's freight was for the most part what is known as high-class package freight.
Among the consignees of the Titanic's cargo were Tiffany & Co., whose consignment was silver goods; H. B. Claflin Company, Baring Brothers Company, the American Express Company, the United States Express Company, Lazard Freres, Austin Nichols & Co., Acker, Merrall & Condit Co., Alfred Suter, A. G. Spalding & Bro., the Spencerian Pen Company, B. Altman & Co., F. R. Arnold & Co., Adams Express Company, and the cargo consisted of high-class freight, which had to be taken quickly on board and which could be just as quickly discharged. The articles were such as fine laces, ostrich feathers, wines, liquors, and fancy food commodities.
The manifest of the Titanic follows the name of the consignee coming first and the nature and amount of the goods consigned following. 
Acker, Merrall & Condit
75 case anchovies
225 case mussels
1 case liquor
50 cases wine
Adams Express
Adams Express Company
4 rolls linoleum
3 bales leather
1 case hats
6 cases confectionery
5 cases books
1 case tin tubes
2 cases soap
2 cases boots
Aero Club of America
1 case machinery
1 case printed matter
Altman, B. & Company
American Express Company
25 cases merchandise
1 case elastics
1 case Edison gramophones
4 cases hosiery
5 cases books
1 case canvas
1 case rubber goods
3 cases prints
6 cases film
1 case tweed
1 case (? syringe fittings)
oak beams
1 case plants
1 case speedometers
1 package effects
2 cases samples
8 cases paste
3 cases cameras & stands
4 cases books
2 parcels merchandise
1 case packed packages
3 cases tissues
2 barrels mercury
1 barrel earth
2 barrels glassware
3 cases printed matter
1 case straw braids
3 cases straw hats
1 case cheese
18 cases merchandise
30 bundles cheese
2 cases cognac
American Motor Company 0
American Shipping Company
Anderson Refridg, Mach. Company
11 cases refrigeration apparatus
Arnold, F. R. & Company
Arnold & Zeiss
Austin, Nichols
25 cases olive oil
14 cases mushrooms
Bardwill Bros
Baring Bros. & Company
63 cases rubber
100 bgd gutta (percha)
Baumert, F. X. & Company
Baumgarten. Wm & Co
Bernard, Judas & Company
Blechoff, H. & Company
Blum, J.A.
Brasch & Rothenstein
2 cases lace collars
2 cases books
Broadway Trust Company
3 cases coney skins (rabbit)
Brown Brothers & Company
100 bales shelled Walnuts
76 cases dragon's blood
3 case gum
100 cases shelled walnuts
15 cases rabbit hair
Budd, S.
Calhoun, Robbins & Company
1 case cotton laces
1/2 case brush ware
Carbon Machinery Equip. Company
Carter,  W. E.
Cauvigny Brush Company
Claflin, H. B. & Company
Cobb. G. H.
Cohen, M. Bros
Corbett, M J. & Company
Costa, F.
Crown Perfume Company
Downing, R. F. & Company
1 case felt
1 case metal
2 case tennis balls
1 case engine packing
1 case iron jacks
1 case bulbs
1 case hosiery
Dublin, Morris & Kornbluth
Dubois, Geo. F.
6 cases vermouth
4 cases wine
Du Bois, Geo. C.
Dujardin & Ladnick
Engs. P. W. & Sons
190 case liquor
25 cases syrups
First National Bank of Chicago
300 cases shelled walnuts
Flietman & Company
Fouger, E.
Fuchs & Lang Manufacturing
Gallia Textile Company
Gillman J.
Goldster, Morris
Gross, Engle Co
61 cases tulle veil and scarves netting
Haupt & Burgi
Heidelbach, Ickelheimer & Company
Hempstead & Sons
Heyliger, A. V.
Hollander, H.
185 cases wine
110 cases brandy
International News Company
 International Trading Company
1 case surgical instruments
1 case ironware
Isler & Guve
53 package straw
4 bales straw
Johnson, J.G. Company
Judkins & McCormick
Knauth, Nachod & Kuhne
107 cases mushrooms
1 case pamphlets
Kronfeld, Saunders & Company
Kuyper, P. C. & Company
1 case elastic cords
1 case leather
Lasker &k Bernstein
Lazard Frères
25 case sardines
3 cases preserves
1 bale skins
Leeming, T. & Company
Lemke & Buechner
Lippincott. J. B. & Company
Lustig Bros
Mallouk, H.
Maltus & Ware
Maltus & Ware
15 cases alarm apparatus
11 cases orchids
Manhattan Shirt Company
Marshall Field & Company
Mathews, G. T. & Company
Meadows, Thomas & Company
3 cases hosiery
5 cases books
3 Box samples
1 case parchment
Metzger, A. S.
2 cases veil and scarf netting (tulle)
Milbank, Leaman & Company
Mills & Gibb
Moquin Wine Company
1 case liquor
38 cases oil
Munro, J. & Company
22 cases mushrooms
15 cases peas
3 cases beans
10 cases mixed vegetables
10 cases peas
25 cases olives
12 bundles capers
10 bundles fish
20 bundles merchandise
Muser Brothers
Naday & Fleisher
National City Bank of New York
Nicholas, G. S. & Company
Nottingham Lace Works
 NY & Cuba SS Company
12 cases butter
18 cases oil
2 hogsheads vinegar
19 cases vinegar
6 cases preserves
8 cases dried fruit
10 bundles of 2 cases wine
NY Motion Pic. Co.
Oelrichs & Company
Pape, Chas. & Company
Park & Tilford
1 case toothpaste
5 case drug sundries
1 case brush ware
Peabody, H. W. & Company
Percival, C.
Petry, P. H. & Company
10 bundles cheese
1 case veil and scarf netting (tulle)
Phoenix Cheese Company
Pitt & Scott
4  cases printed matter
1 case machinery
1 case pictures
1 case books
1 case merchandise
1 case notions
1 case photos
Prost. G.
Rathenberger & Company
Rawstick Trading Company
Reynolds & Dronig
Richard, C.B.
Rosenthal, Leo J. & Company
Rusch & Company
Rush & Company
Rydeman & Lassner
1 case veil and scarf netting (tulle)
Sanger, R.  & Company
Sauer, J. P. & Company
Schall & Company
Sheldon, G.W. & Company
1 case machinery
1 case elastics
2 cases books
1 box golf balls
5 cases instruments
Sheldon & Company
Sherman Sons & Company
Shieffelin & Company
Simon, A. I. & Company
Snow's Express Company
Spaulding & Brothers
Spencerian Pen Company
Spielman Company
Spielman Company
Stechert, G. E. & Company
Stern, S.
Sterns, R. H. & Company
Stone, C.D. & Company
Strohmeyer & Arpe
Suter, Alfred
Thomas & Pierson
2 cases hardware
2 cases books
2 cases furniture
Thorburn, J.M. & Company
Thorer & Praetorius
Tice & Lynch
5 cases books
1 bag frames
1 case cotton
2 cases stationery
Tiedeman, T.  & Sons
Tiffany & Company
Tolson, A. M. & Company
Uchs & Hegnoer
US Export Company
1 case scientific instruments
1 case sundries
3 cases test cords
1 case briar pipes
1 case sundries
2 cases printed matter
Vandegrift, F. B. & Company
Vandegrift, F. B.
Van Engen E.H. & Company
Van Ingen, E. H. & Company
Van Renssaller, C. A.
10 hogsheads wine
15 cases cognac
Victor & Achiles
 Wakem & McLaughlin
6 bales cork
1 case wine
25 case biscuits
42 case wines
Wells Fargo & Company
2 cases books
2 cases furniture
1 case pamphlets
1 case plants
1 case eggs
1 case whiskey
Wilson, P. K. & Sons
Wimpfheimer, A. & Company
Witcombe, McGrahm & Company
Wright & Grahm Company
Young Bros.
On Order
14 cases factice
13 cases gum
14 casks gum
285 casks tea
8 bales skins
4 cases opium
3 cases window frames
8 bales skins
8 packages skins
1 case skins
2 cases horsehair
2 cases silk
8 bales raw silk
4 packages hair nets
200 packages tea
246 cases sardines
30 rolls jute bagging
1,963 bags potatoes
7 cases raw feathers
10 cases hatters fur
3 cases tissues
1 case rabbit hair
31 packages crude rubber
7 cases vegetables
5 cases fish
10 cases syrups
2 cases liquors
150 cases shelled walnuts
15 bundles cheese
8 bales buchu
2 cases grandfather clocks
2 cases leather
Holders of original bills of lading
79 goats skins
16 cases calabashes
5 bales buchu
4 cases embroidery
3 barrels wine
12 cases ostrich feathers
4 cases feathers
3 bales skins
33 bags argols
3 bales sheepskins
In 2018, the relative values of $420,000.00 from 1912 ranges from $8,040,000.00 to $228,000,000.00. Samuel H. Williamson, "Seven Ways to Compute the Relative Value of a U.S. Dollar Amount, 1790 to present," MeasuringWorth, 2019.
The Provisions for the Maiden Voyage of the Titanic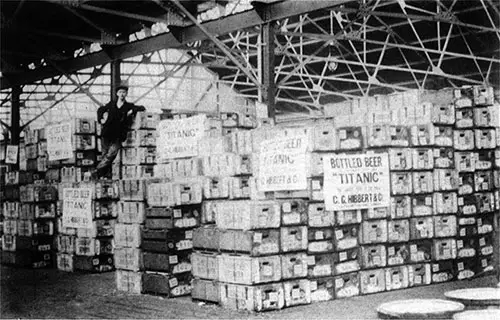 Bottled Beer for the Titanic from White Star Line supplier C. G. Hibbert & Co - 1912. GGA Image ID # 10dc23ccf3
A tremendous amount of provisions were loaded onto the Titanic in order to accommodate all passengers and crew during the voyage.  The following is believed to be the list of supplies laden prior to departure.
For the kitchen pantry and saloons:
Bacon and Ham: 7,500 Pounds
Beer and Stout: 20,000 Bottles
Cereals: 10,000 Pounds
Coffee: 2,200 Pounds
Condensed Milk: 600 Gallons
 Fresh Asparagus: 800 Bundles
Fresh Butter: 6,000 Pounds
Fresh Cream: 1,200 Quarts
Fresh Eggs: 40,000
Fresh Fish: 11,000 Pounds
Fresh Green Peas: 2,250 Pounds
Fresh Meat: 75,000 Pounds
Fresh Milk: 1,500 Gallons
Grapefruit: 50 Boxes
Grapes: 1,000 Pounds
Ice Cream: 1,750 Quarts
Jams and Marmalades: 1,120 Pounds
Lemons: 50 Boxes (16,000)
Lettuce: 7,000 Heads
Mineral Waters: 15,000 Bottles
Onions: 3,500 Pounds
Oranges: 180 Boxes (36,000)
Potatoes: 40 Tons
Poultry and Game: 25,000 Pounds
Rice, Dried Beans, Etc.: 10,000 Pounds
Salt and Dried Fish: 4000 Pounds
Sausages: 2,500 Pounds
Spirits: 850 Bottles
Sugar: 10,000 Pounds
Sweetbreads: 1,000
Tea: 800 Pounds
Tomatoes: 2.75 Tons
Wines: 1,500 Bottles
For the dining and entertaining service:
Asparagus Tongs: 400
Beef Teacups: 3,000
Beef Tea Dishes: 3,000
Breakfast Cups: 4,500
Breakfast Plates: 2,500
Breakfast Saucers: 4,500
Butter Dishes: 400
Butter Knives: 400
Celery Glasses: 300
Champagne Glasses: 1,500
Claret Jugs: 300
Cocktail Glasses: 1,500
Coffee Cups: 1,500
Coffee Pots: 1,200
Coffee Saucers: 1,500
Cream Jugs: 1,000
Crystal Dishes: 1,500
Cut Glass Tumblers: 8,000
Dessert Plates: 2,000
Dessert Spoons: 3,000
Dinner Forks: 8,000
Dinner Plates: 12,000
Dinner Spoons: 5,000
Egg Spoons: 2,000
Entrée Dishes: 400
Finger Bowls: 1,000
Fish Forks: 1,500
Fish Knives: 1,500
Flower Vases: 500
Fruit Dishes: 400
Fruit Forks: 1,500
Fruit Knives: 1,500
Grape Scissors: 100
Ice Cream Plates: 5,500
Liquor Glasses: 1,200
Meat Dishes: 400
Mustard Spoons: 1,500
Nut Crackers: 300
Oyster Forks: 1,000
Pie Dishes: 1,200
Pudding Dishes: 1,200
Salad Bowls: 500
Saltshakers: 2,000
Salt Spoons: 1,500
Soufflé Dishes: 1,500
Soup Plates: 4,500
Sugar Basins: 400
Sugar Tongs: 400
Table & Dessert Knives: 8,000
Teacups: 3,000
Tea Pots: 1,200
Tea Saucers: 3,000
Teaspoons: 6,000
Toast Racks: 400
Vegetable Dishes: 400
Water Bottles: 2,500
Wine Glasses: 2,000
For the linen closet:
Aprons: 4,000
Bath Towels: 7,500
Bed Covers: 3,600
Blankets: 7,500
Cook's Cloths: 3,500
Counterpanes: 3,000
Double Sheets: 3,000
Eiderdown Quilts: 800
Fine Towels: 25,000
Glass Cloths: 2,000
Lavatory Towels: 8,000
Miscellaneous Items: 40,000
Pantry Towels: 6,500
Pillow Slips: 15,000
Roller Towels: 3,500
Single Sheets: 15,000
Tablecloths: 6,000
Table Napkins: 45,000
Refrigeration and Provisions on the Titanic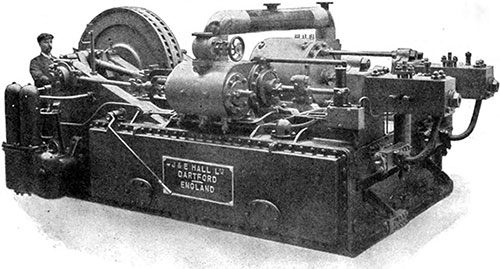 One of the Refrigerating Machines on the 'Titanic,' Built by J & E Hall Ltd. in Dartford, England. Ice and Cold Storage (July 1911) p. 159. GGA Image ID # 104b2e00b9
The launch of the new White Star liner the Titanic, which, like her sister ship the Olympic, has a gross tonnage of 45,000 tons, took place most successfully on May 31st at the yard of Messrs. Harland and Wolff, Belfast. On the same day, the Olympic underwent her trials with equal success in Belfast Lough.
Both vessels have been fitted with a very complete refrigerating installation by Messrs. J. and E. Hall. Ltd. In addition to cooling the insulated cargo chambers and ship's provision chambers, there are a large number of cold lockers in pantries, larders, etc., to be cooled, and cooled drinking water has to be supplied at several points throughout the first, second, and third-class accommodation.
The insulated cargo chambers and the provision chambers are situated in the after' tween decks, the provision chambers being of a very elaborate character and fitted up following the standard requirements of the White Star Line. A separate set of rooms is provided for the restaurant.
The cooling duty is performed by two duplex C02 machines, each half of either device being capable of independent working so that there are actually four refrigerating units on each of these vessels. The plant has a total ice making capacity of eighty-four tons.
The machines are of Messrs. J. and E. Hall's standard horizontal marine type, each having a pair of CO2 compressors bored from solid blocks of high carbon steel and driven off the tail rods of a compound steam engine.
The crankshaft is in two pieces with flanged couplings, and the steam connections are arranged so that either half of the machine may be run independently of the other if necessary.
The CO2 condenser coils, of solid drawn copper tube, are contained in the cast-iron box bed which carries the compressors and the steam engine, a separate set of coils being provided for each half of the machine, and the box bed divided in the center to form two different condenser casings.
Each machine has its own steam surface condenser and a water-circulating pump of gun-metal, and air and feed pumps are driven off its crankshaft. A separate water-circulating pump of the duplex type is also provided as a stand-by for either machine. The two devices are arranged at the port side of the reciprocating engine room at the starting platform level.
The evaporators, which are divided into four units, are placed in an insulated room above the machine, at the orlop deck level, and three brine pumps of the vertical duplex type are also placed on this level. The brine return tanks are placed at a higher level immediately above the evaporators.
The brine circulation is on the open return system with separate flow and returns on each circuit. The brine pipes for cooling the insulated chambers and the various cold lockers, etc., are of wrought iron electrically welded into grid form and galvanized externally.
The circuits in the chambers are of moderate length and are interlaced to ensure an even distribution of the cooling effect, even in the remote contingency of one section becoming blocked. The brine connecting piping is also externally galvanized.
There are two ice-making tanks fitted with rocking gear driven by an electric motor. The cooling accessories consist of a large number of water coolers, bottle coolers, cold cupboards, and larders in the pantries, bars, etc., in different parts of the vessels.
Provisions on the Titanic
The complete arrangements made for refrigeration in the ship were necessary to solve the huge problem of catering for something like 3,500 persons daily, it is estimated that for every voyage to the United States 75,000 lbs. of meat alone will be carried, in addition to enormous quantities of other provisions.
And including 35,000 eggs. about 10,000 lbs. of wet fish. 7,500 lbs., dried fish, 20,000 head of poultry, 2,000 to 3,000 head of game, 2,000 lbs., hot-house grapes, 200 boxes of apples, 200 boxes oranges, and about 50 tons potatoes.
The dairy produce carried will consist of over 5,000 lbs. of butter, 1,500 gallons fresh milk, over 1,000 quarts of fresh cream, while of ices of various flavors over 1,000 quarts will be provided, the mineral water list totaling 120,000 bottles.
The White Star liner Titanic, which was launched at Belfast with so great éclat on May 31st, will have a very elaborate provision of rooms and equipment for accommodating the stores of food products which will be carried regularly to supply the wants of the large companies of passengers and of the vessel's own staff.
Water used for drinking and the wine and beer provided in the bars will, as far as may be requisite, be cooled by the appliances provided. Chambers for carrying beef as cargo have been fitted with systems of brine pipes. As primary refrigerating machines, two horizontal duplex C02 machines of J. and E. Hall's standard type have been installed.
Each device and its auxiliaries combine two complete units of independent working, four independent units of refrigerating machinery being in this way provided
The elaborate and adequate provision of means for cooling the large chambers on the Titanic and her sister ship the Olympic, which are to be used for carrying beef as cargo, and the smaller rooms which will contain stores of food, are noteworthy.
It has emphasized the fact of the significant place which refrigeration now fills in the economy of the larger steamers of the principal passenger services of the United Kingdom.
How To Ship An Automobile Abroad - 1908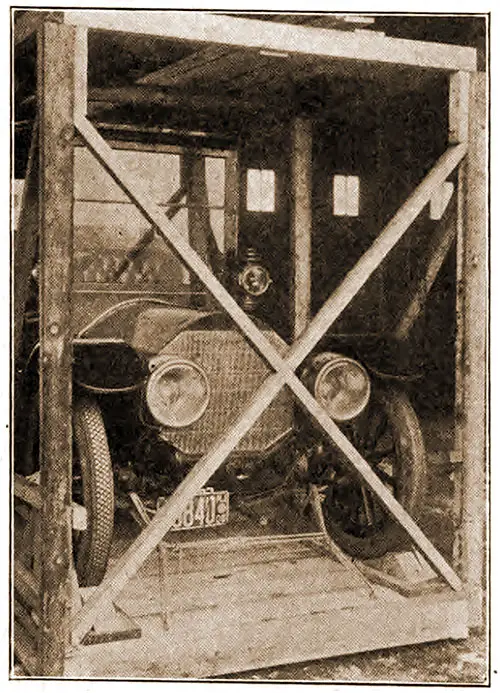 Boxing an Automobile for Shipment on an Ocean Liner. The Scientific American Handbook of Travel, 1910. GGA Image ID # 1627b56510
Nothing could make a trip to Europe more attractive to the motorist than the pleasure of taking his own motorcar with him. Most men retreat before the unknown possibilities of entanglements that would result from the efforts to carry an automobile across the Atlantic, through foreign lands and home.
Enthusiasts will be glad to know that all the difficulties are ended. An enterprising New York firm of steamship agents have prepared a pamphlet giving straightforward directions for the various steps to be taken, and whoever follows the advice they give will find it as easy to take an automobile abroad and back as it is to make the trip across the Hudson.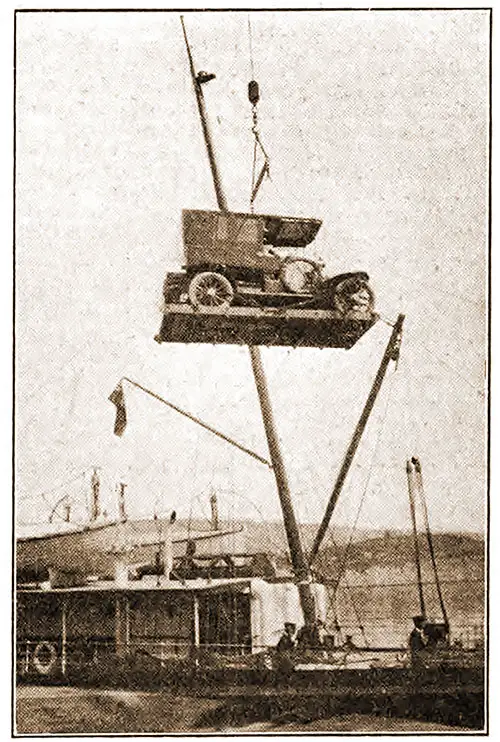 Swinging a Touring Car on Board at Folkestone. The Scientific American Handbook of Travel, 1910. GGA Image ID # 1627f1c500
None of the transatlantic steamship lines carry automobiles uncrated; therefore, the first step taken by the shipping agents to facilitate the forwarding of automobiles was to arrange for the necessary boxing at the pier.
Carpenters exceptionally skilled in this sort of work build the boxes for the automobiles on the steamship pier, and tourists are thereby enabled to run their cars directly to the docks under their own motive power, thus avoiding the jolting that a vehicle receives while being carted across New York, besides saving the cost of such drayage, varying from $15 to $20.
Another convenience offered by this arrangement is the fact that the passenger may thereby use his automobile up to the day before sailing, as the car can be delivered in the morning to the carpenters, and is then immediately boxed and placed on the ship.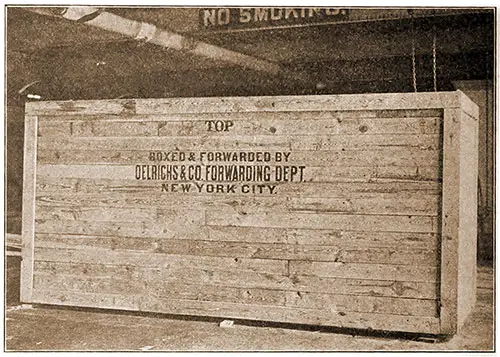 Crated Automobile Ready for the Cargo Hold of an Ocean Liner. The Scientific American Handbook of Travel, 1910. GGA Image ID # 16283171b7
The crates or boxes are built in such a manner that they may be taken apart on arrival abroad and used again for the return shipment of the automobile, saving thereby the cost of a new box that is otherwise required.
This arrangement applies primarily to those passengers whose cars are returned from the same port where they were landed, as, when the automobile is returned from a different port, it may prove more economical to build a new crate rather than to strip the lumber of the old box from the port at which it is landed to the port whence the automobile is to be returned. The motorist has to pay these charges:
Boxing at the pier, custom-house service in New York, charge for lifting automobile into the steamer, ocean freight, charge for lifting automobile out of the ocean liner, unboxing of car, customhouse formalities at port of debarkation, storage of lumber (empty case), insurance of lumber (empty case), reshipping of lumber to another port if necessary, refund of duties paid, reboxing of car, ocean freight to New York, United States customs entry at New York.
The United States Treasury Department holds that, upon reimportation, a car previously exported is, under the rule, liable to duty at its full value if repairs amounting to more than ten percent, of its original value have been made while the ear was abroad. Under this ruling, it is quite immaterial whether the repairs were necessitated by accident or otherwise.
It is advisable, though not essential, to procure a passport. This is issued by the State Department at Washington, D. C, upon the payment of a fee of $1.
The roads in France are kept in splendid repair by a large force of caretakers. The Touring Club of France has a fund for the benefit of disabled road-makers, and it would be a graceful action to contribute to this fund.
If driving in a country where the rule is to keep to the right, remember to place the tail-lamp on the left side, and vice-versa.
It is essential to give complete information on the following.
items to procure licenses and "triptiques" (frontier pass) in France, and which is useful for similar purposes in Italy and Germany:
1. Kind of vehicle; automobile, motorcycle.
2. Maker:
3. Mark:
4. Model and date:
5. Style; touring-car, runabout (with top or hood); limousine, Landau, landaulet.
6. Number of car:
7. Color: body, chassis:
8. Number of wheels:
9. Make of tires:
10. Number of springs carrying body:
11. Number of seats:
12. Weight: lbs. __________ kilograms: ___________
13. Value: $
14. Mark of motor:
15. Number of motor:
16. Motive power; gasoline, alcohol, electricity.
17. Number of cylinders:
18. Horsepower:
19. Speed on level:
The Automobile Club of America. Fifty-fourth Street, west of Broadway, New York, has affiliations with the foreign touring clubs of Europe, with whom they also have reciprocal arrangements; such as the use of their clubhouse, the securing of "triptiques" (frontier pass).
The Secretary. Bureau of Tours. Mr. A. L. Westgard will give information about the above. The dues of the Automobile Club are $50 per year, initiation fee $1()0 for members residing within a radius of fifty miles of New York: $25 per year, initiation fee $50 for members living outside of a fifty-mile radius of New York.
In shipping an automobile, it is essential to give the following information:
• Passenger's Name.
• Per S. S ____________ sailing ______________
• Ship car to:
• Chauffeur's name:
• Make Bills of Lading in name of:
• Consign car to:
• Value of the car for U. S. Custom-house clearance: $
• Insure automobile against marine risk for: $
• The make of my car is:
• The motor number is:
• The chassis number is:
• The measurements of my car are, length: ____ width: ____ height: ____
• The weight of my ear is _____ lbs.
• If a foreign car, please fill in the following too:
• The ear was imported on S. S. ________________________
• Custom-house entry was effected by:
• Entry No:
• All charges are to be paid at:
Please state if the car is to be returned to the United States. In shipping automobiles that are boxed from inland points of the United States the same should be consigned. Passenger's name. Port of shipment.
It is imperative that a consular invoice is procured from the United States Consul at the port from which the automobile is returned to the United States.
Bibliography
"Cargo of Titanic Valued at $420,000: Merchandise of Every Kind Went to the Bottom with Giant Liner," The New York Times, 21 April 1912, p. 5 c. 1+.
"Refrigeration on the Titanic," and "Notes from the North," in Ice and Cold Storage: An Illustrated Review of the Ice-Making, Cold Storage, and Refrigerating Industries, London, Vol. XIV, No. 160, July 1911, p. 159-160.
"How to Ship an Automobile Abroad," in Harper's Weekly, New York: Harper & Brothers, Vol. LII, No. 2670, 22 February 1908, p. 30.