Titanic Images - Scientific American
The Scientific American is not a technical journal. It is a journal that simplifies science. It tells its readers about everything taking place in electrical, mechanical and civil engineering; aviation, steamship, railroad and general transportation; chemistry, foodstuffs, and natural history; new ideas and inventions; and so on.
Contrary to the prevailing opinion among writers, everyone is eligible as a contributor to its columns.
The Doctor of Science and the mechanic are placed on exactly the same basis, if their stories are of equal interest to our readers. The rate of payment for accepted material is better than the average for such class of contributions. Photographs are particularly welcome.
The Scientific American Supplement Publishes technical accounts of the scientific and industrial progress of the world, together with reprints from scientific magazines of a less popular nature. Photographs should accompany manuscript when the story is one which can be illustrated.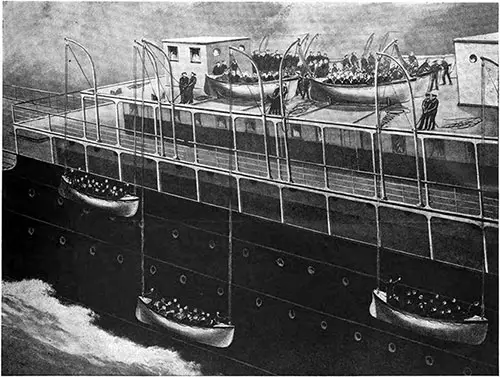 Suggestion for Handling a Full Complement of Lifeboats. The Boats are loaded Amidships and Moved on Tracks to the Davits. Scientific American (27 April 1912) p. 373a. GGA Image ID # 10a2e6c20f

Boat Deck of Titanic Showing 20 Lifeboats Carrying About 1000 Passengers and Crew. Scientific American (27 April 1912) p. 373b. GGA Image ID # 10a3017960

Plan of Boat Deck Showing Suggested Accommodations for 56 Lifeboats Carrying About 3100 Passengers and Crew. Scientific American (27 April 1912) p. 373c. GGA Image ID # 10a307d1f6

Longitudinal Section of Titanic Showing in Heavy Lines the Transverse Bulkheads. Suggested plan by which suflicient boats could be carried to accommodate the ship's full complement. Boats carried amidship on tracks on which they can be moved to either side of the ship. Scientific American (27 April 1912) p. 373d. GGA Image ID # 10a3617b52

The Size of an Iceberg Varies. A berg from 60 to 100 feet to the top of its walls, whose spires or pinnacles may reach from 200 to 250 feet in height and whose length may be from 300 to 500 yards, is considered of ordinary size. Scientific American (27 April 1912) p. 377a. GGA Image ID # 10a36b77ae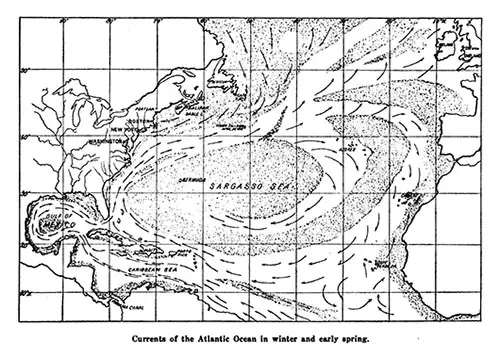 Currents of the Atlantic Ocean in Winter and Early Spring. Scientific American (27 April 1912) p. 377b. GGA Image ID # 10a37f032d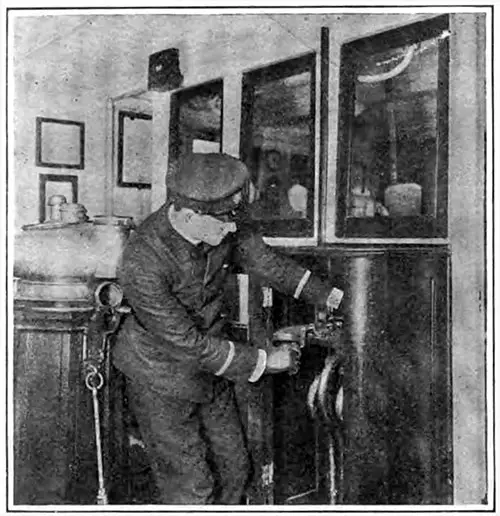 Closing All Hydraulically Operated Doors from the Bridge. Scientific American (27 April 1912) p. 380a. GGA Image ID # 10a3aee16b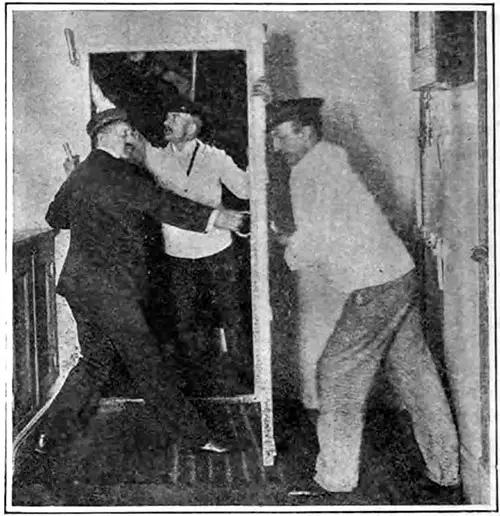 Closing Water-Tight Door, Above the Water Line, by Hand Power. Scientific American (27 April 1912) p. 380b. GGA Image ID # 10a407741a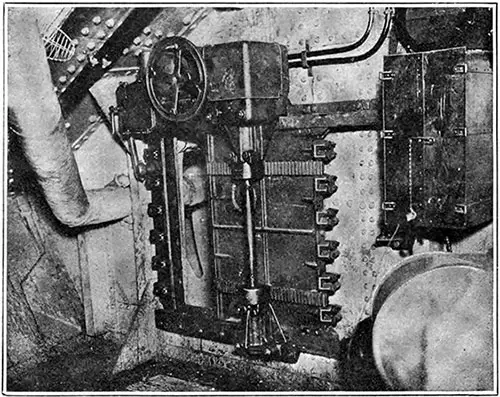 Electrically Operated Bulkhead of the General Type Installed on the Titanic. Scientific American (27 April 1912) p. 380c. GGA Image ID # 10a419ff45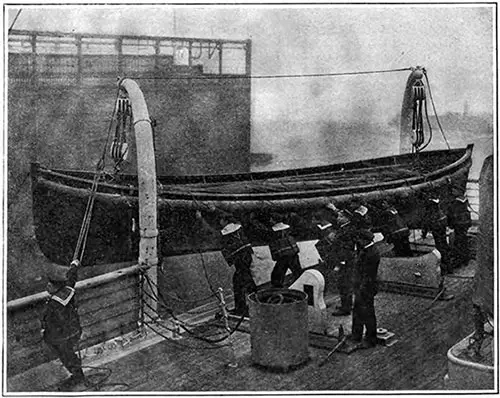 Lifeboat Drill on a German Liner. Note Cork Jackets on the Crew. Scientific American (27 April 1912) p. 380d. GGA Image ID # 10a49c7fcb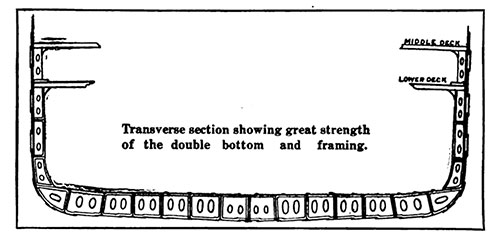 Transverse Section Showing Great Strength of the Double Bottom and Framing. Scientific American (27 April 1912) p. 381a. GGA Image ID # 10a4a1ce59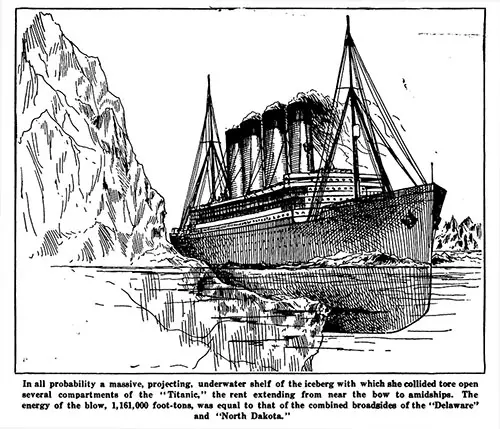 Illustration of the Damage Done to the Titanic Caused by an Iceberg. ln all probability a massive, projecting, underwater shelf of the iceberg with which she collided tore open several compartments of the Titanic, the rent extending from near the bow to amidships. The energy of the blow, 1,161,000 foot-tons, was equal to that of the combined broadsides of the Delaware and North Dakota. Scientific American (27 April 1912) p. 381b. GGA Image ID # 10a4a3ccf2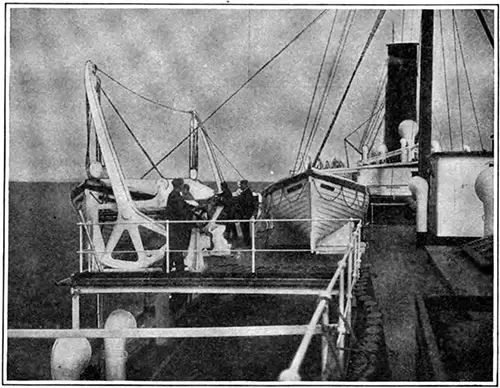 The Swinging Davit is Designed to Handle Two Rows of Boats Expeditiously. Scientific American (4 May 1912) p. 404a. GGA Image ID # 10a4a6e36d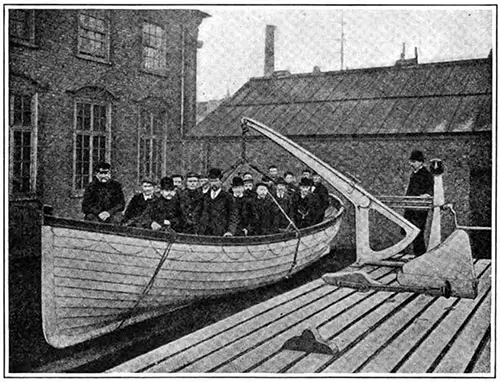 Testing a davit before delivery. Scientific American (4 May 1912) p. 404b. GGA Image ID # 10a4adcc2c

Arrangement of Lifeboats on the Deck of the Titanic, as Originally Planned. On its actual maiden trip the ship carried only a single row of boats on each side, and four extra, twenty in all. Scientific American (4 May 1912) p. 404c. GGA Image ID # 10a544fd39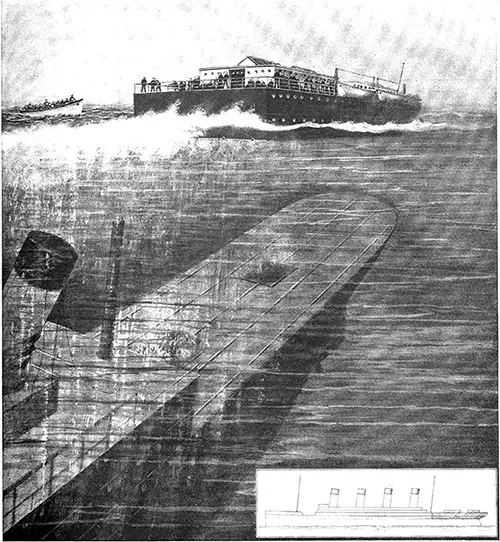 Could a Pontoon Section Prevent Titanic Loss of Life? Shaded portion shows detachable pontoon section. It has frequently been suggested that a portion of a vessel's upper works might be so constructed, that it would remain afloat, in the event of the ship's going to the bottom. Scientific American (11 May 1912) p. 414. GGA Image ID # 10a554ff4b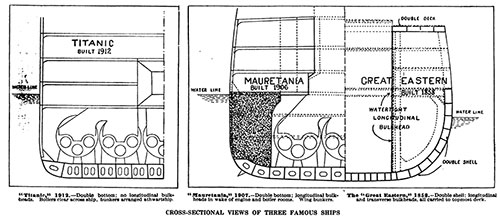 Cross-Sectional Views of Three Famous Ships. Titanic 1912.—Double bottom; no longitudinal bulkheads. Boilers clear across ship, bunkers arranged athwartship. Mauretania, 1907—Double bottom; Longitudinal bulkheads in wake of engine and boiler rooms. Wing bunkers. The "Great Eastern" 1858—Double shell: longitudinal and transverse bulkheads, all carried to topmost deck. Scientific American (11 May 1912) p. 417a. GGA Image ID # 10a56bf6a3

Relative Protection Against Flooding in Mauretania and Titanic. A rupture of the shell plating of the Titanic admitted water to large compartments extending clear across the ship. In the Mauretania, the inflow would be checked by packed coal and confined to small bunker compartments. The Mauretania was built to Navy requirements, and this construction was required to prevent sinking by a torpedo, should she be taken over as an auxiliary cruiser. It Is questionable if the berg which struck the Titanic would have sunk the Mauretania. Scientific American (11 May 1912) p. 417b. GGA Image ID # 10a5ab9679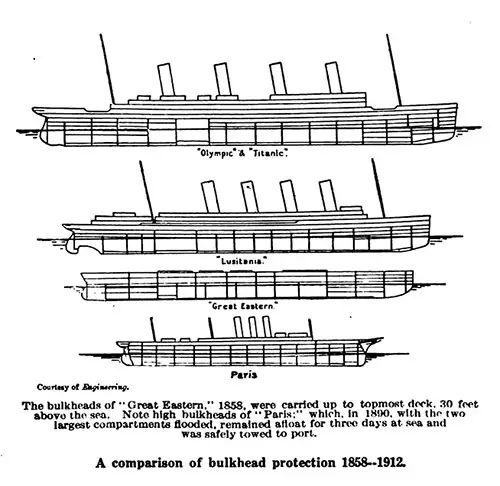 A Comparison of Bulkhead Protection 1858-1912: Olympic & Titanic, Lusitania, Great Eastern, and Paris. The bulkheads of " Great Eastern." 1858, were carried up to the topmost deck, 30 feet above the sea. Note high bulkheads of " Paris:" which, in 1890, with the two largest compartments flooded, remained afloat for three days at sea and was safely towed to port. © Engineering Magazine. Scientific American (11 May 1912) p. 418a. GGA Image ID # 10a5c0fdd3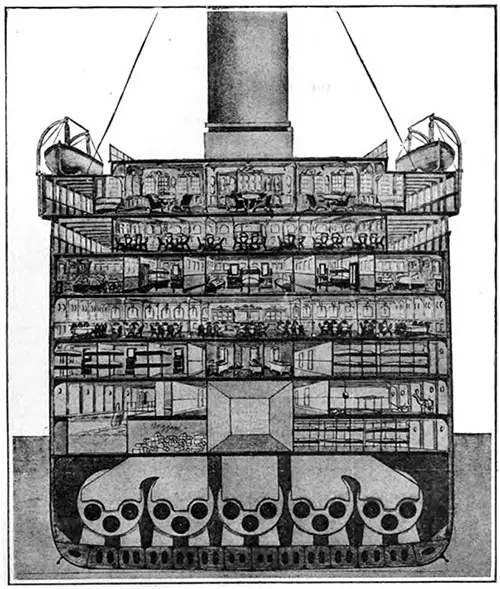 Cross-Section, Drawn to Exact Scale, Through the Titanic. Scientific American (11 May 1912) p. 418b. GGA Image ID # 10a5c11e1a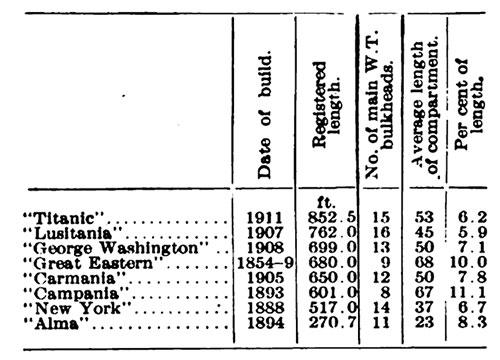 The table shows the character of the bulkhead subdivision on the Titanic, the Lusitania, the Great Eastern, the Paris, and other notable ships. In the matter of height of bulkheads above load water-line, the Great Eastern stands first, followed by the Paris, the Lusitania, and the Titanic. © Engineering Magazine. Scientific American (11 May 1912) p. 418b. GGA Image ID # 10a5d7d63e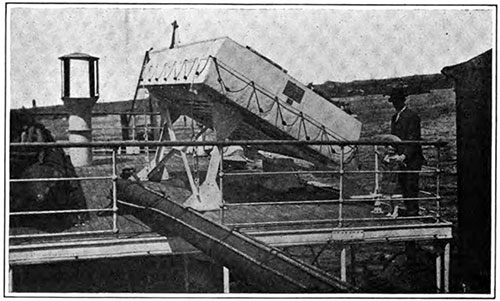 An Interesting Type of Life-Raft. Mounted on Inclined Ways. Launched by the Turn of a Lever. Scientific American (1 June 1912) p. 501a. GGA Image ID # 10a7497c93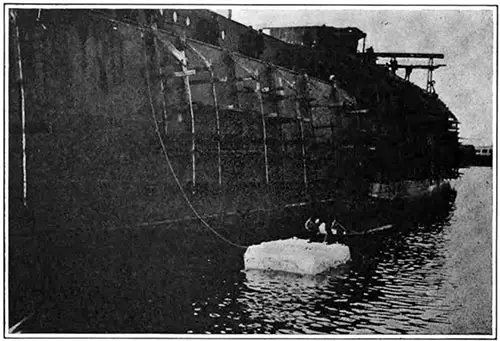 The Life-Raft Thrown from the Argentine Battleship Rivadavia. Scientific American (1 June 1912) p. 501a. GGA Image ID # 10a810609d