Special 100th Anniversary Issue - Titanic Commutator - 3Q 2012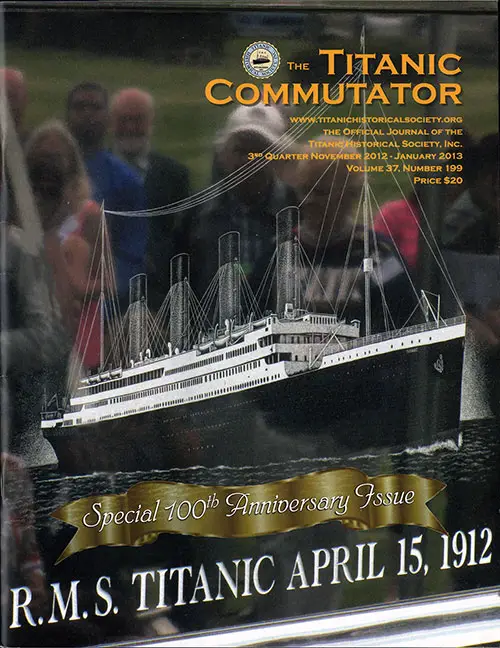 Front Cover of The Titanic Commutator: The Official Journal For The Titanic Historical Society, Inc. for Issue 199 Special 100th Anniversary Issue for the 3rd Quarter 2012. GGA Image ID # 104893eb90
FRONT COVER The polished granite face of the new Titanic Centennial Memorial reflected people like spirits keeping watch over the ill-fated White Star liner. Photo: Karen Dougherty.
Excerpt From the Editors
This Titanic Commutator is the second of two special 100th-anniversary issues and utterly different than the previous. The stories are devoted to Titanic events and commemorations and, as the years pass, will be a real "keeper."
Installing the Titanic Centennial Memorial, the weekend convention and especially the Unveiling Ceremony on April 21, 2012, was an exciting day for THS members. How did we get to commemorate this magnificent memorial in Oak Grove Cemetery in Springfield, Massachusetts?
A discussion began a few years ago when the question popped up continually, "What is the Titanic Historical Society planning for the 100th anniversary of Titanic's maiden voyage?"
THS members have contributed to placing memorials in Cherbourg, France, Cobh, Ireland, cemeteries in Southampton that remember Titanic lookout Fred Fleet, various crew members, donating to Titanic -related conservation and preservation projects in several countries—the thought occurred that nothing had been done here.
CONTENTS
50 Years of continuous publication
Installing the Titanic Centennial Memorial at Oak Grove Cemetery
Page 124*
Unveiling the Titanic Centennial Memorial
Page 128*
THS's Titanic Centennial Memorial Weekend Convention
Page 136*
Titanic Survivors Norman Campbell Chambers, Bertha Griggs Chambers
By Phil Gowan
Page 144
Highlights of Southampton's Titanic 100 Commemorative Event
By Kate Finnegan
Page 151
USCG International Ice Patrol Titanic Centennial Casting Wreaths and Rose Petals
Page 158 * By the Editors
The Many Voyages of George A. Brereton
By Mike Herbold
Page 164
Cape Cod National Seashore, Chatham Marconi Maritime Museum, Falmouth Amateur Radio Commemorate Wireless & 100th Anniversary
By Pete Burns
Page 170
Wimgy Commemorates Titanic at Titanic Museum
By Mike Gruber
Page 171
Sea Poste
RMS Titanic remembered by SSHSA, So. California Chapter onboard Hotel Queen Mary. Thanks from Marcus Statler, Chris Tanasichuk for Manitoba Theatre project; Margaret McEachern, Per Person, and Clark Peterswald. Gerard Thorne sends greetings from Cape Race and icebergs near St. John's; Kate Buckley's grave decorated by Barbara Magruder; what was the music played at Titanic Centennial Memorial? Anthony Pisciotta decorates the Rosenshine graves.
Page 174
Book Notes
A Rainbow of Time and of Space - Orphans of the Titanic by Sidney F. Tyler; A Rare Titanic Family - The Caldwells' Story of Survival by Dr. Julie Hedgepeth Williams and The Man Who Sank Titanic by Sally Nilsson. All reviews by Tim Trower.
Page 172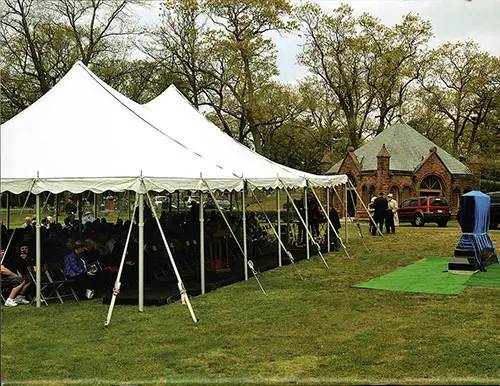 Back Cover of The Titanic Commutator: The Official Journal For The Titanic Historical Society, Inc. for Issue 199 Special 100th Anniversary Issue for the 3rd Quarter 2012. GGA Image ID # 1048dbabfa
On the Back Cover: A memorable morning, a memorable day as the assembled wait for the Unveiling and Dedication Ceremony at Oak Grove Cemetery on Saturday morning, April 21, 2012. Photo: Karen Kamuda.
THE TITANIC COMMUTATOR
Published quarterly and continuously for nearly forty years by The Titanic Historical Society, Inc., (ISSN 004-8182) and mailed from Springfield, Massachusetts, the journal has been the groundbreaker in providing primary source materials.
Accounts from Titanic passengers, biographies of White Star liners and other shipping companies are standard; also varied maritime interests, illustrations, and commentaries—ensuring a permanent record.
Sixty-four pages of exceptional content make this publication the largest and best of society journals whose excellence and accuracy is renowned.
Letters, email, advertising, articles, news items, and photographs are welcome. However, articles submitted must be exclusive to The Titanic Commutator.
No remuneration is made, and the Society cannot guarantee publication. General interest, veracity, and originality are the criteria; the burden for accuracy rests with the author, and the expressed opinions are not necessarily those of The Titanic Historical Society, Inc.
Note: We have made minor edits to this text to correct grammatical errors or to improve word choice to clarify the content. We replaced words written using a non-American variant with the American English spelling for consistency. The passive text was often left "as is." Those who need to quote directly should verify any changes by reviewing the original material.