Titanic Around The World - CQD Titanic - Summer 2007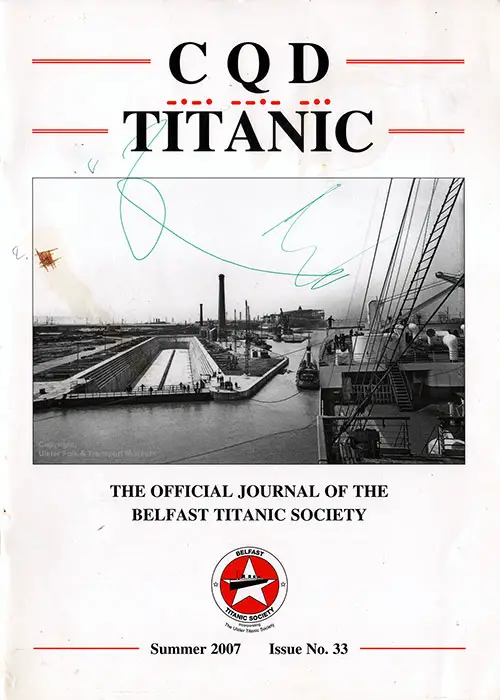 Front Cover of the CQD Titanic - Official Journal of the Belfast Titanic Society for Issue 33, Summer 2007. GGA Image ID # 103e3e66dd
The CQD Titanic is The Official Journal of the Belfast Titanic Society. Articles included The Dunlambert Years, Titanic Around the World, Titanic Moves Around, Shipbuilding in Belfast, Titanic Log, and More.
CONTENTS
From the Editor 1
From the Chairman 2
Our President Writes 3
John's Special Night 4
The Duniambert Years by Joe Cohen 6
John Parkinson Remembered by Mary Ann Whitley 8
Titanic Around the World 10
Titanic Moves Around by Haas & Eaton 12
Belfast Titanic Society Dinner 14
Shipbuilding in Belfast by Dr. John Lynch
Titanic Achievement Evening 21
Britannic Organ 27
Comber Cricket Match 28
Titanic Log 30
Book Reviews 32
CQD is the official journal of the Belfast Titanic Society (Incorporating the Ulster Titanic Society). We welcome contributions including articles, letters, comments and information of interest to our readers. Authors should note that it is their responsibility to ensure the accuracy of the item(s) submitted. Statements and opinions expressed are those of the authors and not necessarily of the Belfast Titanic Society.
Copyright CQD Titanic ISSN 1361-4010
For More Information
Belfast Titanic Society
Oceanic House
298 Antrim Road
Glengormley
County Antrim
BT36 5EG
www.belfast-titanic.com