Cunard Archives at Liverpool - Titanic Commutator - Summer 1980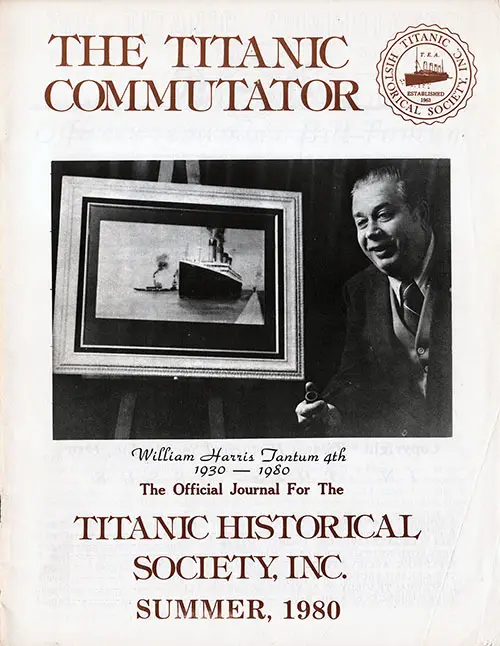 Front Cover of the Titanic Commutator: The Official Journal For The Titanic Historical Society, Inc. for Summer 1980. GGA Image ID # 1041664a95
Volume 3, Number 26, Summer 1980
Copyright © 1980, Titanic Historical Society, Inc., Indian Orchard, Massachusetts
This issue provides a memorial for the then president of the Titanic Historical Society, William Harris Tantum IV. Other lengthy articles included the Cunard Archives at Liverpool University and an Essay on the Titanic. The issue in is in Black and White.
IN THIS ISSUE:
Society mourns leader's passing; Officers remember Bill Tantum
Trenton Times, Trenton, New Jersey
Obituary for William Harris Tantum IV, Marine Historian and President of Titanic Histocial Society, Inc.
A PAUSE TO REMEMBER,
By Charles Haas, T.H.S. Vice President

A TRIBUTE
By Edward S. Kamuda, T.H.S. Secretary
An address presented by T.H.S. Secretary Edward S. Kamuda at a memorial service for William Harris Tantum IV on 16 July 1980 at the Greenwich, Connecticut Public Library.
BILL'S LEGACY LIVES ON
By Louis O. Gorman, T.H.S. Treasurer
Crossing The Bar
A Poem by Alfred, Lord Tennyson
REFLECTIONS UPON A FRIEND
John P. Eaton, T.H.S. Historian
LIVERPOOL ARCHIVE PRESERVES CUNARD LINE'S PAST
By Robert G. Lenzer
THE CUNARD ARCHIVES AT LIVERPOOL
By Michael Cook
In this contribution, an attempt is made to do three things: to record the circumstances under which the Cunard Line deposited its principal surviving archives at Liverpool University; to give a brief description of the content and form of these archives (the first such description to be offered publicly); and to introduce a brief discussion upon some of the issues for public policy which are involved in the deposit of private archives of this kind.
LUSITANIA: TRAGEDY OF 65 YEARS AGO IS RECALLED
THREE ORANGES
by Arelle Kaye
An Essay on the "unsinkable" Titanic
Listing of Illustrations:
William Harris Tantum IV (1930-1980)
Captain Jacques-Yves Cousteau with Bill Tantum on the Calypso
William "Bill" Tantum with students and one of his many lectures
Bill Tantum poses with Jean-Michel Cousteau during the Britannic expedition
Bill Tantum poses with the bell of Cousteau's famous research vessel Calypso
Bill interviews Mrs. Sheil Mitchell, a Britannic survivor, aboard the Calypso
Bill on board the Calypso
Cunard Building, New York
Liverpool Central
Cunard Building, Southampton (full page)
White Star Line Building, Liverpool
Port Commission Building, Liverpool
Merseyside City Museum, Liverpool
Cunard Building, Liverpool
Cunard Queen Elizabeth at Sea (full page)
The Queen Elizabeth 2 (full page)
Cunard RMS Ascania (postcard)
On Board The Cunard RMS Scythia (Letterhead)
Cunard White Star Franconia (postcard)
Abstract of the Log of the Cunard RMS Sylvania (1965 postcard)
Abstract of Log of the Cunard Liner RMS Mauretania (1964 postcard)
Landing Stage from the Mersey, Liverpool (undated, circa the early 1900s)
Lusitania - an image of tugs assisting the ship in a harbor
Lusitania in dock
Lusitania First Time At Stage
Lusitania Leaving Dock
Lusitania
1911 postcard showing the Lusitania off the Old Head of Kinsale
Sectional View shows where the Lusitania was struck by the torpedo from the German U-20 submarine
Artist conception of Lusitania sinking after being torpedoed
The Titanic at Southampton (full page)
William H. Tantum, IV as a graduating student of Valley Forge Military College, 1949.
THE TITANIC COMMUTATOR
The Titanic Commutator, the official journal for THS, is published quarterly, and is paid for through membership dues to this organization.
Published quarterly and continuously for nearly forty years by The Titanic Historical Society, Inc., (ISSN 004-8182) and mailed from Springfield, Massachusetts, the journal has been the groundbreaker in providing primary source materials.
Accounts from Titanic passengers, biographies of White Star liners and other shipping companies are standard; also varied maritime interests, illustrations, and commentaries—ensuring a permanent record.
Sixty-four pages of exceptional content make this publication the largest and best of society journals whose excellence and accuracy is renowned.
Letters, email, advertising, articles, news items, and photographs are welcome. However, articles submitted must be exclusive to The Titanic Commutator.
No remuneration is made, and the Society cannot guarantee publication. General interest, veracity, and originality are the criteria; the burden for accuracy rests with the author, and the expressed opinions are not necessarily those of The Titanic Historical Society, Inc.
Note: We have made minor edits to this text to correct grammatical errors or to improve word choice to clarify the content. We replaced words written using a non-American variant with the American English spelling for consistency. The passive text was often left "as is." Those who need to quote directly should verify any changes by reviewing the original material.

RMS Titanic Collection
Journals, Magazines & Periodicals
GG Archives
Magazines and Journals - RMS Titanic
RMS Titanic
Disaster in the Making
Publications, Repros, Videos, & Images
Other Related Topics
The Folks Behind the GG Archives
The GG Archives is the work and passion of two people, Paul Gjenvick, a professional archivist, and Evelyne Gjenvick, a curator. Paul earned a Masters of Archival Studies - a terminal degree from Clayton State University in Georgia, where he studied under renowned archivist Richard Pearce-Moses. Our research into the RMS Laconia and SS Bergensfjord, the ships that brought two members of the Gjønvik family from Norway to the United States in the early 20th century, has helped us design our site for other genealogists. The extent of original materials at the GG Archives can be very beneficial when researching your family's migration from Europe.