Exploiting The Titanic - Naval History - December 1998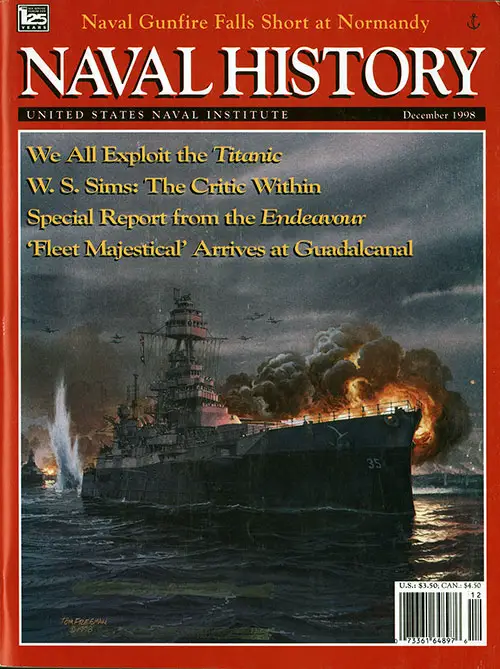 Front Cover of the Naval History Magazine for December 1998. GGA Image ID # 10400136a0
"Worthwhile Endeavor" - onboard the replica of the ship that carried Captain James Cook; "Navy falls short at Normandy"; Images and accounts of the drive across the Central Pacific in WWII.
Titanic Proportions
By Kit Bonner
A hit movie and a recovered hull section have perpetuated a feeding frenzy of which we are all a part.
We explored the sinking of the Titanic in 13 major motion pictures, hundreds of books, and thousands of articles. Many of her passengers are now household names.
Purists say that some are exploiting a tragedy. All of us are, to some degree.
Naval History, ISSN 1042.1920, is published bi-monthly by the U.S. Naval Institute, 2062 Generals Highway, Annapolis, Maryland 21401, fax no. 410-224-2406 (editorial offices are located at U.S. Naval Academy, Preble Hall, 118 Maryland Avenue, Annapolis, MD 21402.5035; 410-268.6110).
The U. S. Naval Institute is a private, self-supporting, nonprofit professional society, which publishes Proceedings magazine as a forum for the sea services, and professional books.