Francis John Parkinson (1907-2006) - CQD Titanic - Winter 2006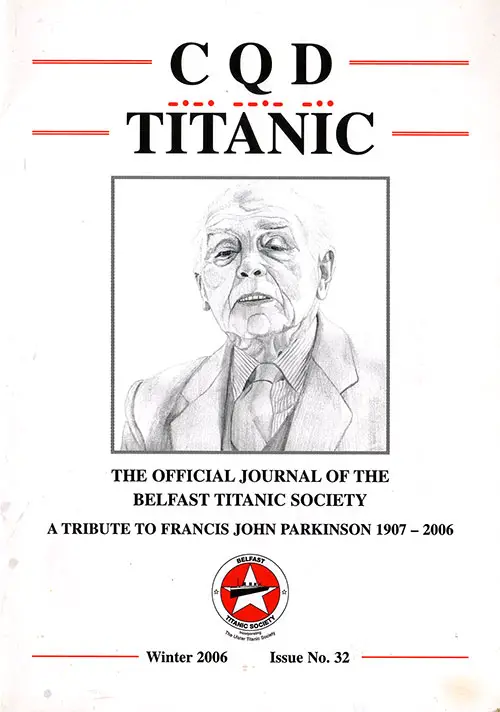 Front Cover of the CQD Titanic - Official Journal of the Belfast Titanic Society for Issue 32, Winter 2006. GGA Image ID # 103e9b26f9
The CQD Titanic is The Official Journal of the Belfast Titanic Society. This edition was published as a tribute to the late esteemed President of the Belfast Titanic Society, John Parkinson, who would have celebrated his 100th birthday this month was a survivor of the Titanic.
CONTENTS
Children of Titanic
Millvina Dean and the late John Parkinson
From the President
From the Chairman
Titanic Tools
Our President talks about his father's tools that helped build the Titanic.
Memories of the Titanic
By John Parkinson
Apprentice John Looks Back
John Parkinson
Memories
Facsimile of Duplicate Indenture of Apprenticeship
A Father to Remember
From the funeral oration given by John Parkinson's son Alan
A Selection of Emails from Members Expressing their Sympathy
The Face of Titanic
John Parkinson Taking Titanic Message Into Schools
John Parkinson In The Media
John Parkinson's Shipyard Memories
CQD is the official journal of the Belfast Titanic Society (Incorporating the Ulster Titanic Society). We welcome contributions including articles, letters, comments and information of interest to our readers. Authors should note that it is their responsibility to ensure the accuracy of the item(s) submitted. Statements and opinions expressed are those of the authors and not necessarily of the Belfast Titanic Society.
Copyright CQD Titanic ISSN 1361-4010
For More Information
Belfast Titanic Society
Oceanic House
298 Antrim Road
Glengormley
County Antrim
BT36 5EG
www.belfast-titanic.com