Unsinkable Titanic - Ancestry Magazine - January 1998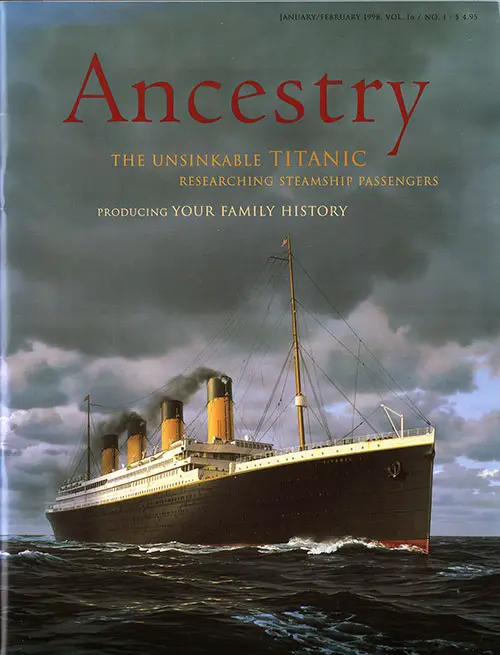 Front Cover, Ancestry Magazine - January 1998. GGA Image ID # 103e1b873a
Cover: Illustration by Ken Marschall
©1995 from Titanic: An Illustrated History, a Hyperion/Madison Press book.
The sinking of the Titanic happened almost a hundred years ago (1912) and the story still fascinates the world. The tragedy was reported in newspapers everywhere. This article includes information about researching ancestors who were passengers on steamships.
Hickman, Alyssa, "The Unsinkable Titanic" in Ancestry, Vol. 16, No. 1, January / February 1998, p. 14-19.
Photographs Included:
Titanic Captain Edward J. Smith with Purser McElroy, taken onboard by a passenger who disembarked at Queenstown. (UPI/Corbis-Bettmann.
View of The Chicago Daily Tribune EXTRA, front page (above the fold), dated Tuesday, April 16, 1912.
List of Sources:
Canning, Elizabeth. "Madison Press on Crest of Titanic Wave." In Publishers' Weekly, 21 April 1997, p. 21.
Hart, Jeffrey. "Messages from the Titanic." In National Review, 2 June 1997, pp. 49-51.
Lord, Walter. A Night to Remember. New York: Holt, Rinehart and Winston, 1955.
Pellegrino, Charles. Her Name, Titanic. New York: Avon Books, 1990.
Rubincam, David Parry, and David D. Rowlands. "The Night the Titanic Went Down." In Sky & Telescope, October 1993, p. 79.
"Titanic Overload." In Entertainment Weekly, 2 May 1997, p. 9.
Updike, John. "It Was Sad" (review of Titanic -themed books). In The New Yorker, 14 October 1996, pp. 94-98.
"Why the Titanic Sank." In Time, 27 September 1993, p. 21.
Issue Table of Contents
FEATURES
The Unsinkable Titanic by Alyssa Hickman
The notorious maritime tragedy revisited, plus stories about researching steamship passengers
The Third Degree: Tips for a Successful Interview by George Thurston
A pro explains how to get the most from interviews with relatives
Visiting Your Small-Town Roots by Sheilah Kirker
Tips on planning a successful visit to your ancestral town
Publishing Your Genealogy by Christine A. Reed
A guide to self-publishing your family history
The Czar's Anniversary by Rafael Guber
How family stories can provide research clues
DEPARTMENTS
Editor's Note
Comment
New Year's resolutions; ASG Scholar Award announced
Book View
by Sandra H. Luebking, FUGA Notices of new genealogical books
Case Study: My Search for Sjaardas by Janet Sjaarda Sheer's
An unusual Dutch surname leads the author on a challenging quest
Technology: Keep the Goal in Mind by Lance Jacob, AG
How to decide if (and how much) to upgrade your computer and software
COLUMNS
Library and Archive Sources
Using Organizational Records in Family History
by Curt B. Witcher, FUGA
Putting your ancestors in context with the help of organizational records
Research Cornerstones
Copyrights, Plagiarism, and Ethics: Rights to Use Information
by Donn Devine, CG(sm), CGI(sm)
An overview of the laws governing family history information
Back to Basics: Organizing Your Genealogy
by Terry and Jim Willard
What points to consider in compiling your family history
Publication Information
Title: Ancestry Magazine
Issue: Volume 16, Number 1, January-February 1998
Pages: 58
Dimensions: 21.4 x 27.8 x 3 cm