Loss of Oceanic (II) - Titanic Commutator - 3Q 2001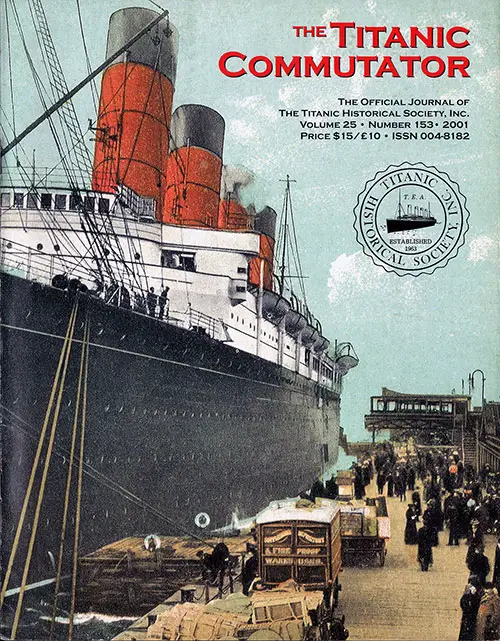 Front Cover of The Titanic Commutator: The Official Journal For The Titanic Historical Society, Inc. for Issue 153 circa May 2001. GGA Image ID # 10454139b7
Front Cover: Mauretania at the Liverpool Landing Stage when that city and the Cunarder were in their glory days. Mauretania was her father's favorite ship said Margaret Howman, Rostron's daughter.

Issue 153 from 2001 focuses on the loss of the Oceanic II and features an article on an Incident at Bar Harbor, Kronprinzessin Cecilie as Olympic. Other items of interest include the explanation behind the change in ship rescue distress calls (C.Q.D. to S.O.S.).
CONTENTS
The Loss of Oceanic (II)
by Simon Martin
An incident at Bar Harbor, Kronprinzessin Cecilie as Olympic
by Alton H. Blackington
Kronprinzessin Cecilie in Bar Harbor, Maine. When the news was received that war had broken out, the captain turned his ship westward toward a neutral port. No one aboard had any idea where they were going or what port she would put into when she reached the United States, and nobody had guessed it would be the resort town of Bar Harbor where afterward, thousands of people flocked to see the big German liner. THS Collection
Norman Wilkinson and the Dazzle Painting of Ships
Isidor and Ida Straus
by Joan Adler
S.O.S. and C.Q.D. The Wireless Call of the Sea
Speed and Safety on the Ocean
by Captain Sir Arthur Rostron, K.B.E.
Sea Poste
Quartermaster Rowe and Titanic's Last Hail
From Olympic to Millennium
Items from the THS Oceanliner Store
Back Cover (Not Shown): Captain Arthur H. Rostron, Mauretania's commander, a portrait in pastels by Margaret Howman inspired from a photograph circa 1924.
Publication Information
Publication date: June 2001 (2001-3)
The Titanic Commutator
The Journal of Record of The Titanic Historical Society, Inc. — Published Quarterly Since 1963
www. titanic1.org
The Titanic Commutator
A Quarterly Journal Devoted to Original Research into Ocean Liners.
Thirty-Eight Years of Continuous Publication.
Volume 25, Number 153 2001 Quarter 3
THE TITANIC COMMUTATOR
Published quarterly and continuously for nearly forty years by The Titanic Historical Society, Inc., (ISSN 004-8182) and mailed from Springfield, Massachusetts, the journal has been the groundbreaker in providing primary source materials.
Accounts from Titanic passengers, biographies of White Star liners and other shipping companies are standard; also varied maritime interests, illustrations, and commentaries—ensuring a permanent record.
Sixty-four pages of exceptional content make this publication the largest and best of society journals whose excellence and accuracy is renowned.
Letters, email, advertising, articles, news items, and photographs are welcome. However, articles submitted must be exclusive to The Titanic Commutator.
No remuneration is made, and the Society cannot guarantee publication. General interest, veracity, and originality are the criteria; the burden for accuracy rests with the author, and the expressed opinions are not necessarily those of The Titanic Historical Society, Inc.
Note: We have made minor edits to this text to correct grammatical errors or to improve word choice to clarify the content. We replaced words written using a non-American variant with the American English spelling for consistency. The passive text was often left "as is." Those who need to quote directly should verify any changes by reviewing the original material.

RMS Titanic Collection
Journals, Magazines & Periodicals
GG Archives
Magazines and Journals - RMS Titanic
RMS Titanic
Disaster in the Making
Publications, Repros, Videos, & Images
Other Related Topics
The Folks Behind the GG Archives
The GG Archives is the work and passion of two people, Paul Gjenvick, a professional archivist, and Evelyne Gjenvick, a curator. Paul earned a Masters of Archival Studies - a terminal degree from Clayton State University in Georgia, where he studied under renowned archivist Richard Pearce-Moses. Our research into the RMS Laconia and SS Bergensfjord, the ships that brought two members of the Gjønvik family from Norway to the United States in the early 20th century, has helped us design our site for other genealogists. The extent of original materials at the GG Archives can be very beneficial when researching your family's migration from Europe.