Titanic: What Really Happened - National Geographic - April 2012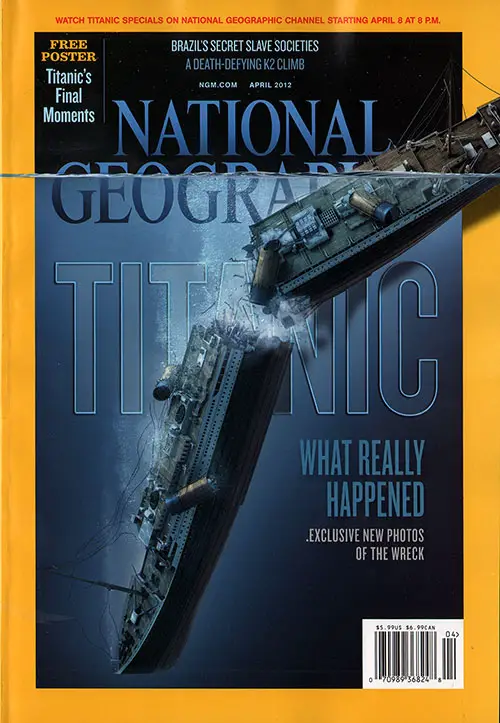 Front Cover of the National Geographic Magazine for April 2012. GGA Image ID # 103fef70fe
On the Cover
To create this image of the splitting of the Titanic's bow and stern, our artist drew upon a roundtable discussion among experts. Art by Nick Kaloterakis
The April 2012 issue of the National Geographic returns to the story of the most infamous ship ever built -- the Titanic of the White Star Line. This edition focuses on the crash scene and recreates the events on 14-15 April 1912 thanks to new technology.
National Geographic Magazine - April 2012
The Unseen Titanic. When the "Unsinkable" RMS Titanic sank at 2:20 a.m. 15 April 1912 along with 1,500 passengers and crew members, new technology offers intimate images of this famous vessel of the White Star Line.
VOL. 221 • NO. 4 NATIONAL GEOGRAPHIC
April 2012 Contents
The Climb of Her Life
Her husband turned back. Gerlinde Kaltenbrunner plunged ahead in a risky effort to conquer K2.
By Chip Brown Photographs by Tommy Heinrich
Masks That Make Magic
In Africa and its diaspora, a mask can turn you into a god—or send a message to the pooh-bahs.
By Cathy Newman Photographs by Phyllis Galembo
The Titanic, Illuminated
One hundred years after the ship sent its SOS: "Now we know where everything is."
By Hampton Sides
Poster: How It Sank and Where It Rests
Walking With Ghosts
With the aid of robotic avatars, the filmmaker has spent nearly 500 hours exploring the Titanic.
By James Cameron
Flocking Flamingos
They really do stick together—and that may increase their odds of survival in a perilous world.
By Nancy Shute Photographs by Klaus Nigge
Where Slaves Ruled
In Brazil, they escaped plantations, created secret societies, and today fight for legal rights.
By Charles C. Mann and Susanna Hecht
Photographs by Tyrone Turner
DEPARTMENTS
Editor's Note
Letters
National Geographic on TV
Explorers Journal
VISIONS
NOW
The Better to Hear With -
Copper loops help hearing aid users screen out the background noise.
It's a Grand New Flag -
Libya has revived its pre-Qaddafi banner, putting a spotlight on flag design.
Bubbling Up
A sea snail has an unusual way of sailing to the top of the water.
Breaking the Ice
Long-separated bowhead whales get together as the Arctic melts.
NEXT
Gemstone DNA
New science can help determine if a gem was mined in a war zone.
Shade Shifters
In 700 milliseconds a squid can change skin color and pattern.
Multigun Salute
The Prez gets 21. Who gets 17? 11?
80 Billion Photos a Year -
Camera phones help drive an increase in consumer photography.
NG Connect
The Moment
Flashback
E-GEOGRAPHIC
Here are the coolest extras in our electronic editions.
Tapping Into the Titanic
• Spin our exclusive model of the wreck.
• Watch how the ship broke up after it hit the iceberg.
• Tap on a map of the debris field for more info. iPad Exclusive
Mountain Woman
• See Gerlinde Kaltenbrunner at the summit of K2.
• Explore a 3-D animation of the "Savage Mountain."
The National Geographic Magazine Is the Journal of The National Geographic Society Founded 1888