Three RMS Titanic Articles - PowerShips - Spring 2012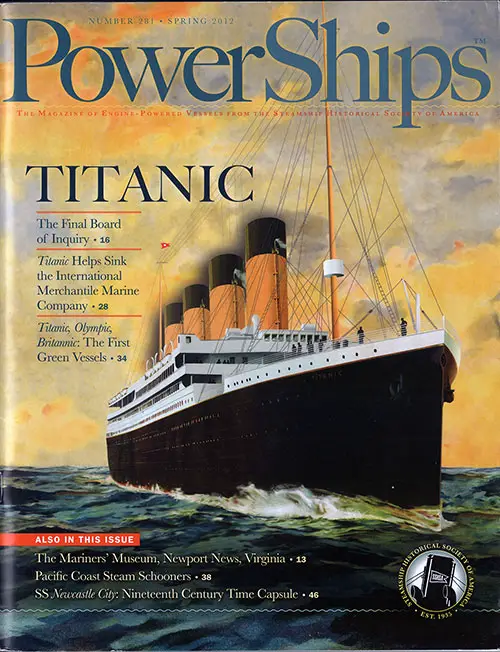 Front Cover of PowerShips: The Magazine of the Steamship Historical Society of America for Spring 2012. GGA Image ID # 1040b31aab
On The Cover: Titanic - Cornerstone Media Illustration by John Goshke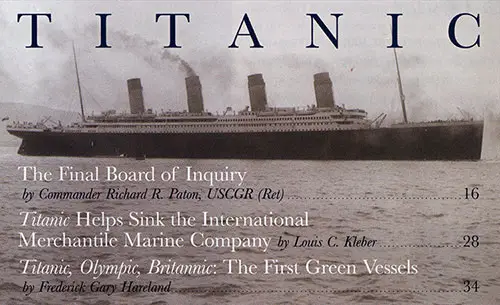 The Titanic Heads Out for Her Sea Trials. GGA Image ID # 1040c06052
Three Articles about the RMS Titanic in this special 100 Year Anniversary Issue of PowerShips. The articles were: The Final Board of Inquiry; Titanic Helps Sink the International Mercantile Marine Company; and Titanic, Olympic, Britannic: The First Green Vessels.
The Final Board of Inquiry
A Cold Case Investigation Into the Loss of the Steamship Titanic
A New Review of the Testimony, photographs, plans, eyewitness accounts, facts and circumstances surrounding the loss of the steamship Titanic. The likely result, if the new findings of fact were presented to a Marine Board of Inquiry convened today, could be entirely different, by Commander Richard R. Paton, USCGR (Ret).
Titanic Helps Sink The International Mercantile Marine Company
J. P. Morgan's Failed Attempt to Take Over the Atlantic Shipping Trade
By Louis C. Kleber
Morgan Targets Shipping Lines
With Britain's three most significant shipping lines in view, Morgan and Griscom targeted the Leyland Line, intending that the White Star Line and the Cunard Line would follow. Majority stockholder and president of the Leyland Line John Ellerman was receptive. Although he drove a hard bargain, the Americans accepted it, and in April 1901 the merger was announced.
Titanic, Olympic & Britannic: The World's First Class of Green Vessels
By Fredrick Gary Hareland
In 1912, When the RMS Titanic Was the World's Largest Man-Made moving object and the most luxurious ship afloat, the words "Greenship" and "Eco-Ship" were yet to be coined.
Titanic and her sisters, however, could qualify for those present-day monikers due to one of the unique engineering innovations of the Olympic-class vessels - a combination propulsion plant that paired two reciprocating steam engines with a steam turbine.