The Vanishing Titanic - National Geographic - December 2004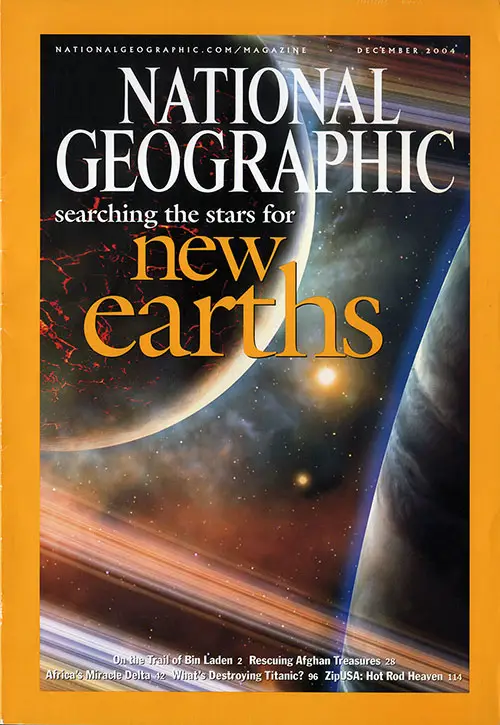 Front Cover, National Geographic Magazine for December 2004. GGA Image ID # 103e07e3cf
THE COVER
A large moon ruptures under the gravity of a ringed planet.
ART BY DANA BERRY
Grave Site, or Gold Mine?
Nature has obliterated flesh and bone, but the possessions of Titanic's more than 1,500 victims are still scattered on the seafloor. Such artifacts became the targets of salvagers soon after the wreck was discovered in 1985. A new treaty signed by Great Britain and the U.S. will help protect the wreck, though it does not prevent legal salvaging.
FEATURES
On the Trail of bin Laden
The world's most wanted man took refuge in the crags and caves of Tora Bora's mountains along the Afghanistan-Pakistan border. The Pashtun people, who call this harsh land home, have made it one of the best hiding places on Earth.
BY TIM MCGIRK; PHOTOGRAPHS BY REZA
Saving Afghan Treasures
The fabled Bactrian gold is back, but other antiquities are quickly disappearing from Afghanistan. With the country trying to rebuild after decades of conflict, can its past be part of its future?
BY ANDREW LAWLER PHOTOGRAPHS BY KENNETH GARRETT
Africa's Miracle Delta
When Botswana's seasonal floodwaters transform a parched plain into Africa's largest oasis, there's no better time to slip beneath the surface of the Okavango for a look around. Just watch out for the crocodiles.
BY KENNEDY WARNE PHOTOGRAPHS BY DAVID DOUBILET
Someplace Like Earth
In an astronomical breakthrough, scientists are discovering planet after planet circling distant stars as the search narrows for a world like our own.
BY TIM APPENZELLER PHOTOGRAPHS BY MARK THIESSEN
Titanic Revisited
Fortune hunters, tourists, and time have made the seafloor wreck site a titanic mess. The man who found the famous ship 19 years ago returns to survey the damage. Article includes 8-panel foldout and superb underwater photography.
BY ROBERT D. BALLARD
ZipUSA: 29550
In car-crazy Hartsville, South Carolina, whole families prefer the fast track—satisfying their need for speed at the Darlington International Dragway.
BY LYNNE WARREN PHOTOGRAPHS BY MARIA STENZEL
DEPARTMENTS
OnScreen & Online
Behind the Scenes
Visions of Earth
From the Editor
Forum
Geographica
Do It Yourself
My Seven
Who Knew?
Final Edit On Assignment Year in Review Flashback
Publication Information
The National Geographic Magazine Is the Journal of The National Geographic Society Founded 1888
Title: National Geographic
Issue: Vol. 206, No. 6, December 1904
Pagination: 1-118
Dimensions: 17.5 x 25.5 x 7 cm