Visit to Cobh (Queenstown) - CQD Titanic - Spring 2003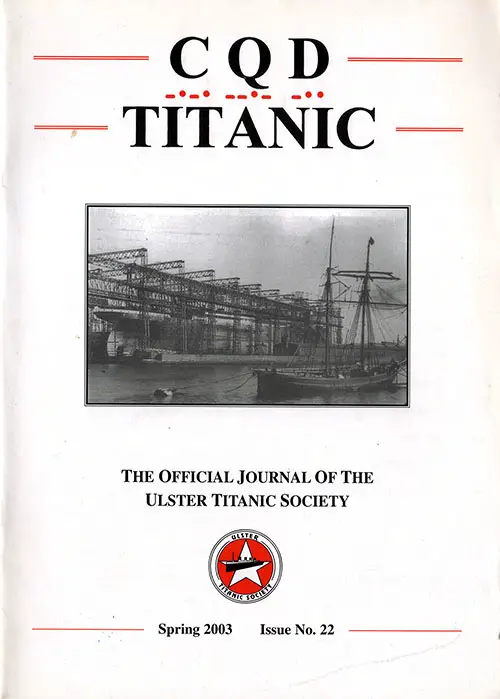 Front Cover of the CQD Titanic - Official Journal of the Belfast Titanic Society for Issue 22, Spring 2003. GGA Image ID # 103f2703b6
CQD is the official journal of the Ulster Titanic Society. Articles in this edition included The 1st Titanic, The Last Ship, Titanic Verse, Titanic 2002, Visit to Cobh (Queenstown), From our researcher, Swiss Titanic Memorial, and More.
CONTENTS
From the editor
Our President writes
From the chairman
The 1st Titanic
The Last Ship
About our President
Titanic Verse
Titanic 2002
Book Review
Visit to Cobh
From our researcher
Charles Joughin
2003 Titanic Dinner
Titanic Log
Members' Page
Swiss Titanic Memorial
The Long Goodbye
Junior Crew Section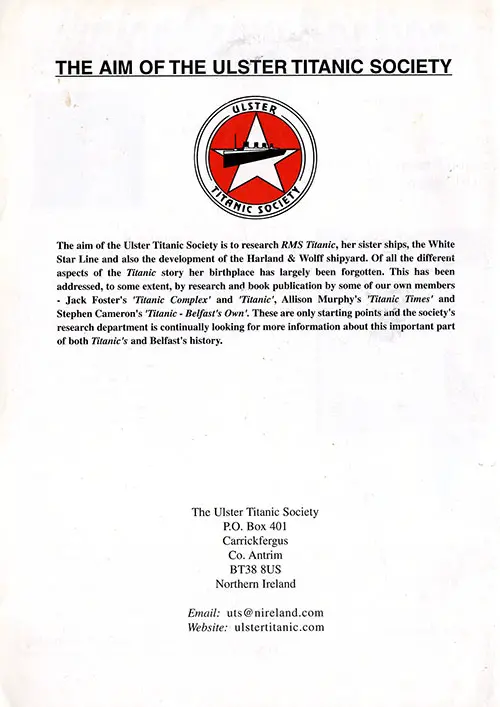 Back Cover of the CQD Titanic - Official Journal of the Belfast Titanic Society for Issue 22, Spring 2003. GGA Image ID # 1060391614
THE AIM OF THE ULSTER TITANIC SOCIETY
The Ulster Titanic Society aims to research RMS Titanic, her sister ships, the White Star Line and also the development of the Harland & Wolff shipyard. Of all the different aspects of the Titanic story, her birthplace has mostly been forgotten.
This has been addressed, to some extent, by research and book publication by some of our members - Jack Foster's 'Titanic Complex' and 'Titanic,' Allison Murphy's 'Titanic Times' and Stephen Cameron's 'Titanic - Belfast's Own.'
These are only starting points and the society's research department is continually looking for more information about this important part of both Titanic 's and Belfast's history.
Publication Information
CQD is the official journal of the Ulster Titanic Society. We welcome contributions including articles, letters, comments and information of interest to our readers.
Authors should note that it is their responsibility to ensure the accuracy of the item(s) submitted. Statements and opinions expressed are those of the authors and not necessarily of the Ulster Titanic Society.
Note: We have made minor edits this text to correct grammatical errors or to improve word choice to clarify the content. We replaced words written using a non-American variant with the American English spelling for consistency. The passive text was often left "as is." Those who need to quote directly should verify any changes by reviewing the original material.