Somerset Studio - Remembering The Titanic - March/April 2002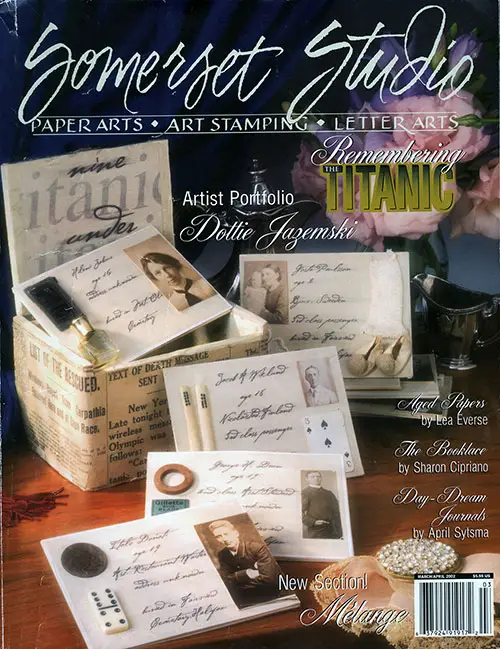 Front Cover: Somerset Studeo: Paper Arts, Art Stamping, Leter Arts. Remembering the Titanic Special Issue - March/April 2002. GGA Image ID # 102c11bd5f
Somerset Studio Magazine Special Issue on Remermbering the Titanic. Their "Night to Remember" offers over 15 pages of ideas in creating Titanic -themed arts and crafts and momemtos that you can create with instructions provided and images you might find on the GG Archives.
Table of Contents
-: Remembering The Titanic :-
Day-Dream Journals 18
by April Sytsma
Make these dreamy journals with a few simple bookbinding techniques and the papers of your choice.
Aboard the Titanic 21
by Maureen Blackman
The author recreates the final voyage of the Titanic in the form of a journal and fictional letters for her granddaughter.
Pictorial Diaries 28
by Mary Spires
Learn how to incorporate portraiture into your next collage painting.
Printmaking Without a Press 34
by Mercedese Bantz
Yes, you can make prints—without a press! Mercedese Bantz (illustrator for Somerset Studio) shows how easy it is to make lovely art prints right in your own home.
Quill America: Celebrates a Centuries-Old Paper Art 40
by Paige Meeker
Paper "quillers" from throughout the US, Canada and England gathered last June to celebrate Quill America 2001.
Aged Papers 42
by Lea Everse
Many techniques for making authentic looking "antiqued" paper are available to the modern artist ... and the author shares them with us here.
The Booklace 62
by Sharon Cipriano
Its a book ... its a necklace ... its both, actually. Use little metal frames to enclose tiny handmade books or miniature art pieces to create stunning works of art- to-wear.
Romancing the Stone 72
by Linda Reid
Stamp into small chips of shrink plastic to make lovely mosaic "stones" for your next artwork project!
-: In Every Issue :-
The Storyteller 1
by Collene Bryan Rodgers
Letters to the Editor 4
Return to Paper Crafters 9
by Rona Chumbook
In the Artist's Hands 12
by Susan Pickering Rothamel Art tools and materials explained: In this issue, learn about using "uncommon art tools & materials" in your craft room.
An Artful Journey: Fez, Morocco 14
by Catherine Hightower
The author takes you on a journey to the artistic and cultural heart of Morocco: Fez, a bewildering honeycomb of dead-end alleys, souks, shops, mosques and more.
The Business of Art 26
by Peggy Skycraft
The author teaches you the business of marketing your arts and crafts.
Exemplar 32
by Lorraine Brown
Enlighten Me 46
Book Reviews
The Lively Art of Lettering 49
by our readers
Featuring glorious lettering art, advanced calligraphy projects, and some quick-and-easy techniques.
A Call for Creativity: Flower Pounding 66
by Laura Martin
Essentials 70
Responding to the Call: Foamcore Figures 76
by our readers
Artist Portfolio: Dottie Jazemski 82
by Kathryn Bold
"I don't settle on one type of art," says the subject for this issues Artist Portfolio. "If I do the same thing too many times, it isn't fun anymore."
With One Stamp: Fancy Shoe 92
by Sharilyn Miller
Méiange 97
Expressions 114
by our readers
Our readers flaunt their extraordinary talents in paper crafting, book arts, art stamping, and calligraphy.
On Assignment 132
Resource Guide 136
Anticipations 140
Next Issue Offerings
Sample Instructions 141
Glossary of Terms 166
Beginning Basics 168
Gatherings 170
Convention Listings
Advertiser Index 175
Legacy: The Community of Angels Project 176
by Margaret Arguelles