Titanic Sinking - Naval History Magazine - October 1996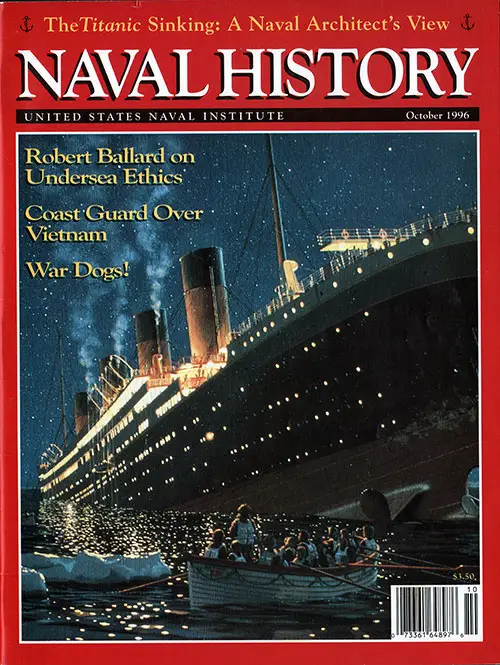 Front Cover of the Naval History Magazine for October 1996. GGA Image ID # 104099b7c1
October: "How Did the Titanic Really Sink"; "Hurricane Uncovers 18th C. Wreck" - Hurricane Andrew unearths HMS Fowey
How Did the Titanic Really Sink?
By William H. Garzke, Jr., and David K. Brown, Royal Corps of Naval Engineers
Naval architects torpedo the theory that a 300-foot gash sank the ship in 1912.
The sinking of the Titanic is arguably the most analyzed maritime disaster in history.
In this issue, two underwater forensic experts and naval architects conclude that the ship sank because steel that had been weakened by low water temperatures succumbed to the weight of water rushing through a 12-foot-square hole in the bow.
In conjunction, we talk to Robert Ballard—Woods Hole Oceanographic Institution scientist, television host, and leader of the expedition that discovered the wreck of the Titanic—about the proposed raising of a hull section from the ship.
Naval History, ISSN 1042-1920, is published bimonthly by the U.S Naval Institute, 2062 Generals Highway, Annapolis, Maryland 21401 (editorial offices are located at U.S. Naval Academy, Preble Hall, 118 Maryland Avenue, Annapolis, MD 214025035, fax no. 410-269-7940).
The U. S. Naval Institute is a private, self-supporting, nonprofit professional society, which publishes Proceedings magazine as a forum for the sea services, and professional books.