Unsinkable Ships - Titanic Commutator - 1Q 2012
Front Cover of The Titanic Commutator: The Official Journal For The Titanic Historical Society, Inc. for Issue 197 for the 1st Quarter 2002. GGA Image ID # 1047a2d020
FRONT COVER (at right) A Liner Just Launched, is the title of a watercolor of Olympic that appears in A Day in a Shipyard.
This issue focuses on "Unsinkable Ships" by reviewing books, articles, advertisements, and ephemera from the early 1900s. Other items cover the RMS Olympic building and early history, and the recollections of leaving Queenstown (Cobh) and the Titanic based on the correspondence of survivor Katie Gilnaugh Manning.
CONTENTS
49 YEARS OF CONTINUOUS PUBLICATION
Unsinkable Ships
By Ed and Karen Kamuda
Building Olympic
Adapted from "A Day in a Shipyard"
A New Ship Model for the Titanic Museum
By Jeff Alderman
A Matter of Human Relations
By Simon Mills
New Documentary Includes Formation of the Titanic Historical Society
Location of Titanic Centennial Memo in Oak Grove Cemetery and First Look
Titanic Centennial Memorial Weekend Convention Highlights
Titanic Centennial Memorial Donors
Katie Gilnaugh Manning Recollections of Queenstown and the Titanic Disaster
By Edward Kamuda
SEA POSTE
ruce Ismay boarding a lifeboat—was he "ordered" or allowed in? Who designed the Europa and Columbia motif on White Star menu cards? Looking for information about a White Star button; was there a passenger ship called Victoria that picked up a message of distress from Titanic? Looking for information about how tea was served on board Titanic.

BOOK REVIEWS
And the Band Played On reviewed by Ed Kamuda; Promise Me This reviewed by Ray Lepien; Racing Through the Night reviewed by Ray Lepien; The White Star Collection: A Shipping Line in Postcards reviewed by Paul Louden-Brown
BACK COVER (Below) Huge gantries built to hold Olympic-class ships fill the background in the circa 1911 postcard view of the Custom House in Belfast. (Kamuda collection).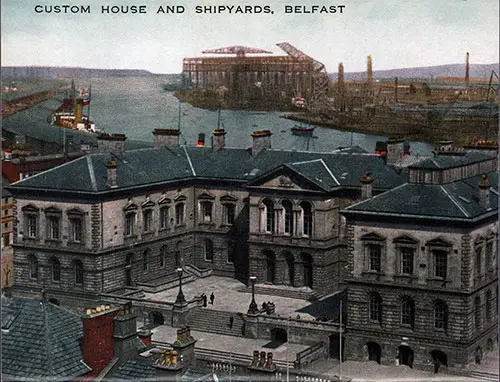 Back Cover of The Titanic Commutator: The Official Journal For The Titanic Historical Society, Inc. for Issue 197 for the 1st Quarter 2002. GGA Image ID # 1047cfe4c2
Top (Not shown): A 1912 photo of Kate Gilnaugh's sister 1; Molly (standing) and Kate taken when she I. first landed in New York to prove to her ( family back home in Ireland that she survived the Titanic disaster. (THS collection)
Middle right (Not shown) Bow of steamship Arizona after hitting an iceberg at full speed. The ship's survival enhanced her reputation, and the public took the view that a vessel could withstand a collision. (Kamuda collection)
Bottom right: The frames of an Olympic-class liner in the early stages of building. (H&W/THS collection)
Publication Information
A Quarterly Journal Devoted to Original Research into the White Star Line and Notable Vessels of History
Titanic Commutator
The Journal of Record of The Titanic Historical Society, Inc.®
Volume 37, No. 197
The membership Year 2012 Ist Quarter
May through July 2012
The Titanic Commutator, Published Continually Since 1963 | Nearly a Half Century of Dedication and Distinction
THE TITANIC COMMUTATOR
Published quarterly and continuously for nearly forty years by The Titanic Historical Society, Inc., (ISSN 004-8182) and mailed from Springfield, Massachusetts, the journal has been the groundbreaker in providing primary source materials.
Accounts from Titanic passengers, biographies of White Star liners and other shipping companies are standard; also varied maritime interests, illustrations, and commentaries—ensuring a permanent record.
Sixty-four pages of exceptional content make this publication the largest and best of society journals whose excellence and accuracy is renowned.
Letters, email, advertising, articles, news items, and photographs are welcome. However, articles submitted must be exclusive to The Titanic Commutator.
No remuneration is made, and the Society cannot guarantee publication. General interest, veracity, and originality are the criteria; the burden for accuracy rests with the author, and the expressed opinions are not necessarily those of The Titanic Historical Society, Inc.
Note: We have made minor edits to this text to correct grammatical errors or to improve word choice to clarify the content. We replaced words written using a non-American variant with the American English spelling for consistency. The passive text was often left "as is." Those who need to quote directly should verify any changes by reviewing the original material.

RMS Titanic Collection
Journals, Magazines & Periodicals
GG Archives
Magazines and Journals - RMS Titanic
RMS Titanic
Disaster in the Making
Publications, Repros, Videos, & Images
Other Related Topics