Private Lives of Passengers - Titanic Commutator - 2Q 1995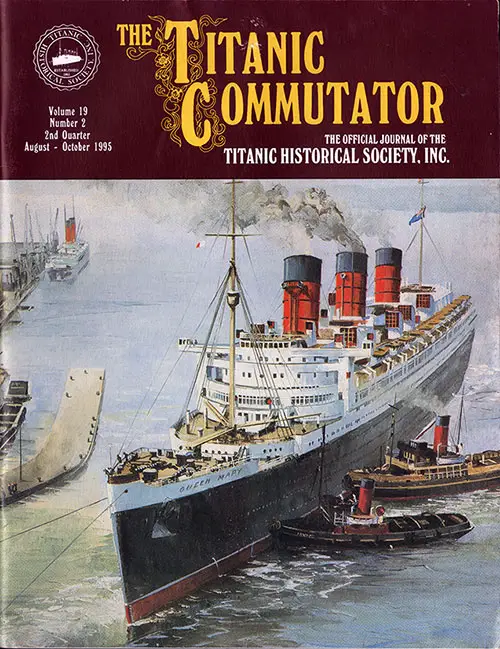 Front Cover of The Titanic Commutator: The Official Journal For The Titanic Historical Society, Inc. Vol. 19, No. 2, 2nd Quarter, August 1995 to October 1995. GGA Image ID # 10d3bf2cbb
On the Front Cover: The T.H.S. meeting on the Queen Mary at Long Beach. California recalls the liner in her prime. "Queen Mary arriving at Southampton, April 1936," by British artist Harley Crossley at: The Old School. Nether Compton near Sherborne. Dorset, England.
This issue provides a glimpse of the plans drawn up for the Titanic II; visiting the Queen Mary at Long Beach; Newspaper accounts from the experiences of Titanic survivors; and The Private Lives of Titanic's Passengers full of fascinating information and indiscretions in the lives of some of the well- and lesser-known passengers.
Contents
Titanic II?; Rare Plans Donated to Society
Aboard the R.M.S. Queen Mary; The T.H.S. Visits Long Beach, California, by Karen Kamuda
Titanic Survivor Mrs. T.W.S. Brown's Interview for Seattle Post-Intelligencer April 27, 1912
Edith Brown Haisman, A Titanic Survivor Looks Back
Don Lynch's Passenger Manifest
For the Record, Myths and Misinformation About the Titanic, by Don Lynch
Secrets of the Titanic Revealed; The Private Lives of the Titanic's Passengers, by Don Lynch
Sea Poste‭ ‬
Found: The Collins Line Side-Wheeler Pacific, by Derek Whale
Titanic Deunage Stability Investigation, by Harland and Wolff Technical Services
The Last French Lady, Mademoiselle Louise Laroche, A Titanic Survivor, by Olivier Mendez
Fathoming The Mysteries of the Lusitania, by Andrew Revkin
The Discovery of the Titanic; The 10th Anniversary, Looking Back, by Edward Kamuda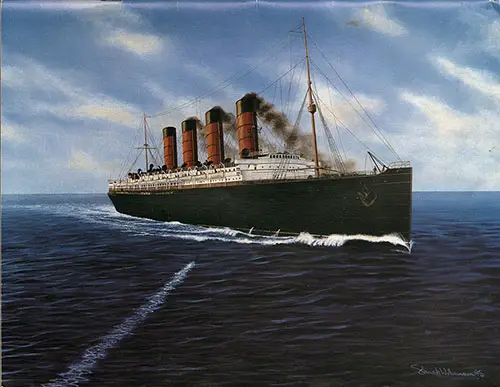 Back Cover of The Titanic Commutator: The Official Journal For The Titanic Historical Society, Inc. Vol. 19, No. 2, 2nd Quarter, August 1995 to October 1995. GGA Image ID # 10d43f12c2
On the Back Cover: This year marks the 80th Anniversary of the loss of R.M.S. Lusitania. British illustrator Stuart Williamson recently completed his rendition of the ill-fated liner in her final moments before she was torpedoed.
Publication Information
THE TITANIC COMMUTATOR
(Com'-mu-ta- tor - an instrument used to measure the list of a vessel)
The Quarterly Journal of the Titanic Historical Society/ Inc. — Continuous Publication Since 1963. This journal contains articles written and Illustrated from original research. Letters, advertising, manuscripts, photographs, art, etc., sent for publication are welcome.
ISSN: 0040-8162