Titanic Fever - Life Magazine - June 1997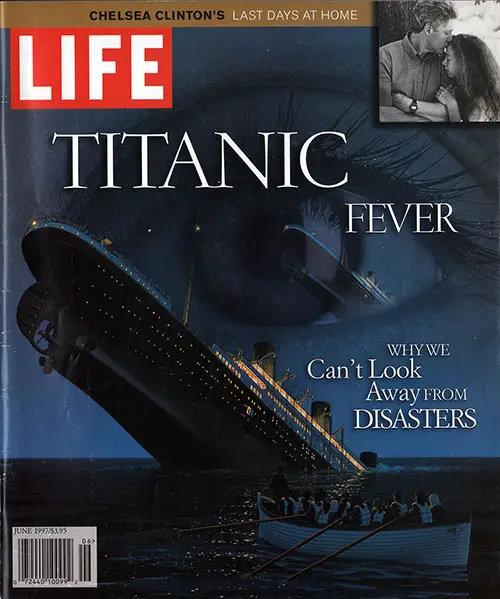 Front Cover of Life Magazine for the June 1997 Special Issue of "Titanic Feaver." GGA Image ID # 103f894625
On The Cover: In the popular imagination, the Titanic refuses to sink. (Inset: First Daughter and First Dad in Conference, June 1992). Painting by Ken Marschall, Eye Photograph by Steve Dunwell/Image Bank, Inset: Harry Benson.
Part II:
THE TRAGEDY OF THE TITANIC
By Charles Hirshberg
There has been much sound and fury in the 85 years since the night to remember, and this year it became a din. However, as books, television documentaries and, yes, magazines retell the Titanic story—mixing it up, embellishing it, deconstructing it, rewriting it—hype can overwhelm history.

Titanic on the Screen and Elsewhere
TV Movie Titanic starring George C. Scott
Broadway Musical Titanic
$6 Million Exhibit of Titanic Artifacts in Memphis
Titanic: Adventure Out of Time
A cookbook Last Dinner on the Titanic
This five-page article that summarized the disaster at sea (based on the knowledge of what probably happened circa 1997) and included a Survivor's Tale of Michel Navratil who was a passenger on the Titanic at the tender age of 3 years, 9 months.
Profusely illustrated, the article included a few factoids about the Titanic - Premonitions and foretelling of the tragedy, fees for various services, provisions onboard, unique items in the cargo hold, the "Suitcase Suit" by Charlotte Cardeza, a quote heard on the lifeboat, and a rather amusing Q&A from the Congressional Hearing on the Titanic.
Hirshberg, Charles, "Part II: The Tragedy of the Titanic," in Life Magazine, June 1997