The West End Clothiers Co., Ltd. - London
The West End Clothiers Company of London offered high-end tailored clothing for the sophisticated gentleman - Fashions for Men who would typically travel Saloon or First Class aboard the transatlantic steamships.
The West End Clothiers Co., Ltd.
Established over Quarter of a Century.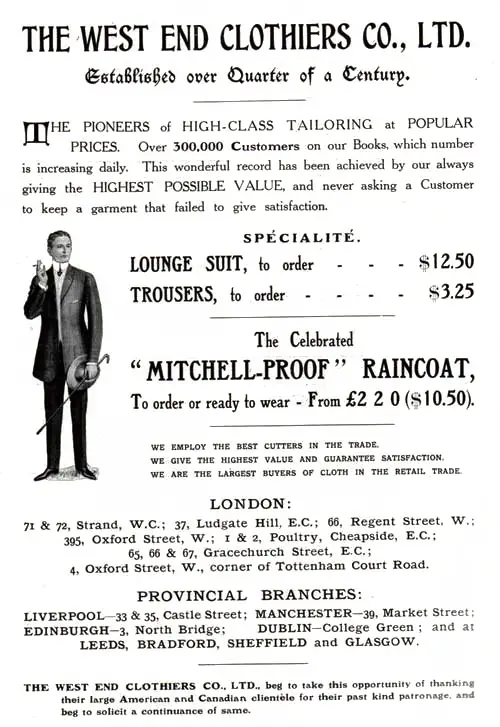 The Pioneers of High-Class Tailoring at Popular Prices. Over 300,000 Customers on our Books, which number is increasing daily.
This excellent record has been achieved by our always giving the Highest Possible Value, and never asking a Customer to keep a garment that failed to give satisfaction.
Lounge Suit, to order - - $12.50
Trousers, to order - - - $3.25
The Celebrated "Mitchell-Proof" Raincoat, To order or ready to wear - From £2 2 0 ($10.50).
We Employ the Best Cutters in The Trade.
We Give the Highest Value and Guarantee Satisfaction.
We Are the Largest Buyers of Cloth in The Retail Trade.
Locations
London:
71 & 72, Strand, W.C.;
37, Ludgate Hill, E.C.;
66, Regent Street, W.:
395, Oxford Street, W.;
1 & 2, Poultry, Cheapside, E.C.;
65, 66 & 67, Gracechurch Street, E.C.;
4, Oxford Street, W., corner of Tottenham Court Road.
Provincial Branches:
Liverpool -33 & 35, Castle Street;
Manchester-39, Market Street;
Edinburgh-3, North Bridge;
Dublin—College Green; and at
Leeds, Bradford, Sheffield, and Glasgow.
The West End Clothiers Co., Ltd., beg to take this opportunity of thanking their large American and Canadian clientele for their past kind patronage and beg to solicit a continuance of same.
Cunard Daily Bulletin: Annual Fashion and Resort Supplement, Liverpool: Cunard Steamship Company, Ltd., 1908.
Note: We have edited this text to correct grammatical errors and improve word choice to clarify the article for today's readers. Changes made are typically minor, and we often left passive text "as is." Those who need to quote the article directly should verify any changes by reviewing the original material.

Vintage Fashions Advertisements
GG Archives
Vintage Fashion Advertisements
Women's Vintage Fashion Topics
Other Vintage Fashion Topics
Improve Your Family History Through Illustrations