Robinson & Cleaver Lace & Linen - Belfast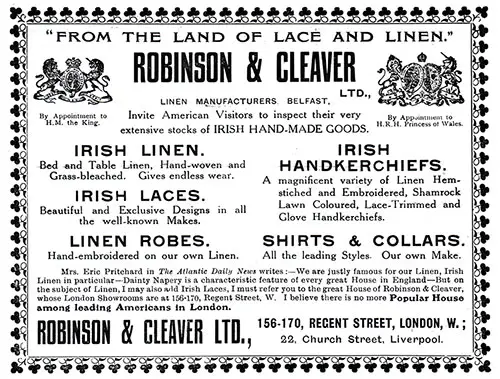 "From the Land of Lace and Linen."
Robinson & Cleaver, Linen Manufacturers. Belfast,
Invite American Visitors to inspect their very extensive stocks of Irish Hand-Made Goods.
By Appointment to H.M. the King
By Appointment to H.R.H. Princess of Wales.
Irish Linen.
Bed and Table Linen, Hand-woven and Grass-bleached. Gives endless wear.
Irish Laces.
Beautiful and Exclusive Designs in all the well-known Makes.
Linen Robes. Shirts & Collars.
Hand-embroidered on our Linen. All the leading Styles. Our Make.
Mrs. Eric Pritchard in The Atlantic Daily News writes: — We are justly famous for our Linen, Irish Linen in particular—Dainty Napery is a characteristic feature of every great House in England—
However, on the subject of Linen, I may also add Irish Laces, I must refer you to the great House of Robinson & Cleaver, whose London Showrooms are at 156-170, Regent Street, W. I believe there is no more Popular House among leading Americans in London.
Robinson & Cleaver Ltd 156-170 Regent Street, London, W. and 22 Church Street, Liverpool

Cunard Daily Bulletin, RMS "Etruria." Friday, September 11, 1908, Page 7.
Note: We have edited this text to correct grammatical errors and improve word choice to clarify the article for today's readers. Changes made are typically minor, and we often left passive text "as is." Those who need to quote the article directly should verify any changes by reviewing the original material.

Vintage Fashions Advertisements
GG Archives
Vintage Fashion Advertisements
Women's Vintage Fashion Topics
Other Vintage Fashion Topics
Improve Your Family History Through Illustrations