Kenyon Coats and Weatherproofs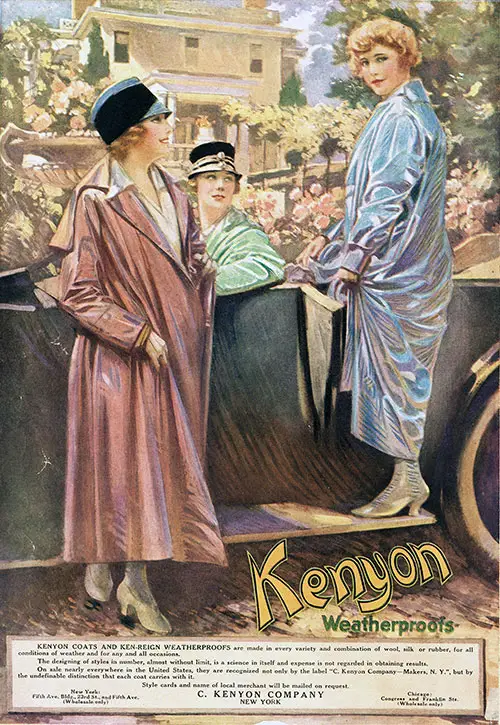 Kenyon Coats and Ken-Reign Weatherproofs are made in every variety and combination of wool, silk or rubber, for all conditions of weather and any occasion.
The designing of styles in number, almost without limit, is a science in itself and expense is not regarded in obtaining results.
On sale nearly everywhere in the United States, they are recognized not only by the label "C. Kenyon Company— Makers, N. Y," but by the undefinable distinction that each coat carries with it.
Style cards and the name of the local merchant will be mailed on request.
C. Kenyon Company
New York
New York: Fifth Ave. Bids., 23rd St., and Fifth Ave. (Wholesale only)
Chicago: Congress and Franklin Sts. (Wholesale only)
Harper's Bazaar, Vol. LII, No. 2, New York: International Magazine Company, February 1917.
Note: We have edited this text to correct grammatical errors and improve word choice to clarify the article for today's readers. Changes made are typically minor, and we often left passive text "as is." Those who need to quote the article directly should verify any changes by reviewing the original material.