Irish Industries Handmade Lace and Crochet
Intricate Lace Blouse from Irish Industries of Dublin Ireland is the focus of this advertisement in the Cunard Daily Bulletin published on board the RMS Mauretania on Saturday, June 17, 1911, on page 4. An excellent example of women's fashions for steamship travel.
"Irish Industries."
76, Grafton Street, Dublin.
The Original Lace Store.
Original Pattern from Irish Industries, Dublin - Lace Blouse. Photo from the Cunard Daily Bulletin, RMS Mauretania, Saturday, 17 June 1911.
Established in 1847. Irish Hand-made Lace and Crochet. Embroideries, Tweeds, Table Damasks.
Irish Goods Solely.
Telegrams- "Industries.   Phone, 1693.
76, Grafton Street,
" Over Sixty Years a Lace Store."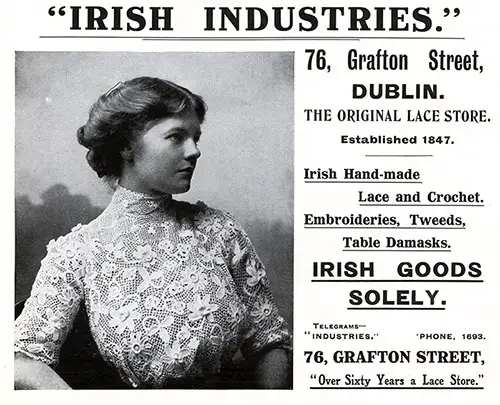 Cunard Daily Bulletin, RMS Mauretania, Saturday, 17 June 1911
The Authentic Irish Laces
The designs used in the manufacture of real Irish lace are unfortunately not patentable, so the industry in Ireland suffers from the competition of "Irish" lace made in France, Italy, Germany, Japan, and the United States.
For centuries, the principal motifs of design in Irish laces have been the shamrock and the rose. Lace-makers in that country refuse to incorporate any other motifs in their work, saying that they would not be characteristic of the nation and the race.
Therefore it is easy for men in other countries to adopt these two essential figures and call the product of their workers Irish lace.
They have used the same implements as the Irish workers, they have used the same thread and the same designs, but their laces are no more like the Irish product than their languages.
They haven't the body real Irish laces have. They haven't the finish, and they haven't the serviceability. Wash them once, and the life is gone out of them. Real Irish laces can be laundered any number of times and are always the same.
We have some baby Irish lace all-overs in stock that sell wholesale for $32.50 a yard. To make a single yard of one pattern required three weeks' labor at eight hours a day. Every stitch was put in by hand.
Source: The New York Times, March 19, 1912 (Extract)
$32.50 from 1912 is worth $716.87 in 2007 using the Consumer Price Index. Samuel H. Williamson, "Six Ways to Compute the Relative Value of a U.S. Dollar Amount, 1790 to Present," MeasuringWorth, 2008. URL https://www.measuringworth.com/calculators/uscompare/
Irish Industries: Over Sixty Years A Lace Store - 1908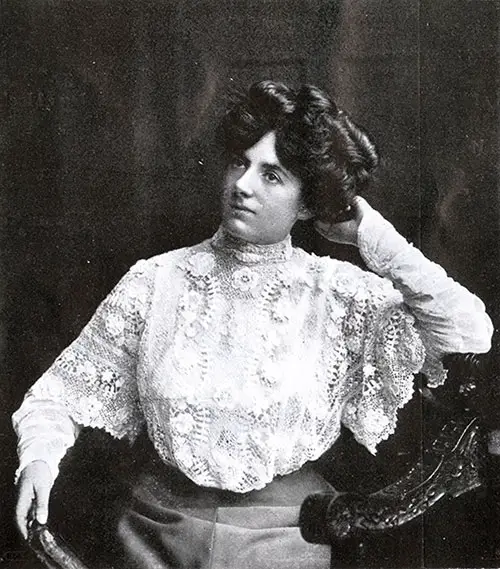 "Irish Industries."
76, Grafton Street, Dublin.
Soley Devoted to the Sale of Irish Goods.
Irish Hand-Made Lace and Crochet, Embroideries, Tweeds, Homespun, Etc.
Telegrams -- Industries
Phone: 1693
76, Grafton Street. Established in 1847. "Over Sixty Years a Lace Store."
Cunard Daily Bulletin, RMS "Etruria." Friday, September 11, 1908, Page 22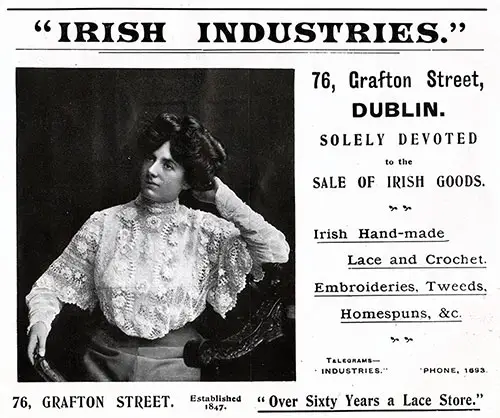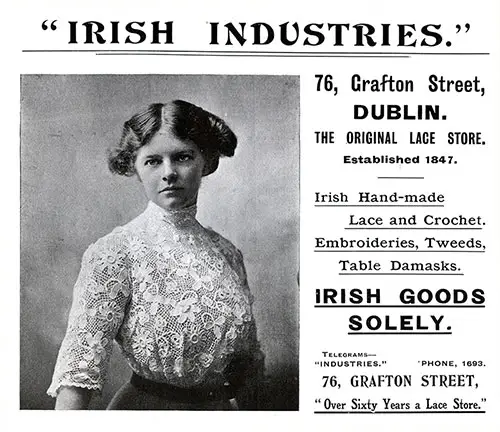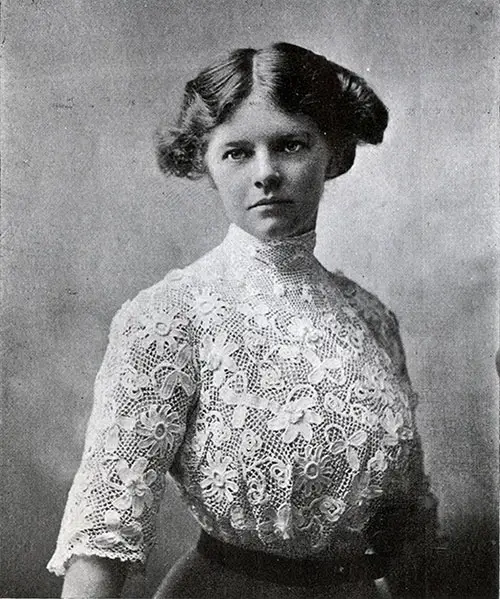 History of Irish Industries Lacemaking
In the 19th century, as Ireland was facing the Great Irish Famine (1845-1849), crochet lace work was introduced as a form of famine relief (the production of crocheted lace being an alternative way of making money for impoverished Irish workers).
Mademoiselle Riego de la Blanchardiere is generally credited with the invention of Irish Crochet, publishing the first book of patterns in 1846. Irish lace became popular in Europe and America and was made in quantity until the First World War.
Kenmare Lace
"Kenmare lace" is an Irish needlepoint lace based on the detached buttonhole stitch. (It is sometimes called needle-lace to distinguish it from canvas needlepoint.) Linen thread was used by nuns to make needlepoint lace. Suitable linen thread is no longer available, so today cotton thread is used.
Kenmare needlepoint lace begins with two pieces of cloth. Over this is layered a pattern and a matt contact. The thread is laid over the top in the outline of the design and secured with a fine detached buttonhole stitch in a process called "couching."
The pattern is filled in by working in from the outline. The tension makes the pattern. How tightly the stitches are pulled determines whether the pattern's stitches are open or tight. When the work is finished, the thread holding down the outline is cut thus releasing the lace from the cloth backing.
Irish crochet
19th century Irish Crochet Lace
"Irish crochet" is a type of lace that has its origin in the famine years of the 19th century in Ireland. Charity groups sought to revive the economy by teaching crochet lace technique at no charge to anyone willing to learn.
This type of lace is characterized by separately crocheted motifs, which were later assembled into a mesh background. Other types of Irish crochet include Rosslea and Clones lace.
Irish Crochet Lace is made with a very fine steel crochet hook and fine crochet cotton or linen thread. It begins with an outline of the pattern on a piece of cloth.
Each motif is then crocheted separately, using a cotton cord for volume and shaping. The finished motifs are then basted (sewn with a loose stitch for temporary tacking) onto a cloth in the shape of the pattern. The motifs are later joined using chains and picots.
When all the motifs have been joined together forming one piece of lace the basting stitch is removed from the backcloth revealing the completed lace.
-- Wikipedia
Note: We have edited this text to correct grammatical errors and improve word choice to clarify the article for today's readers. Changes made are typically minor, and we often left passive text "as is." Those who need to quote the article directly should verify any changes by reviewing the original material.

Vintage Fashions Advertisements
GG Archives
Vintage Fashion Advertisements
Women's Vintage Fashion Topics
Other Vintage Fashion Topics
Improve Your Family History Through Illustrations