R. H. Macy & Co (Macy's) New York City
Although this advertisement didn't pertain specifically to fashion, many American women frequently shopped at Macy's for the latest in exceptional Women's Fashions from around the globe.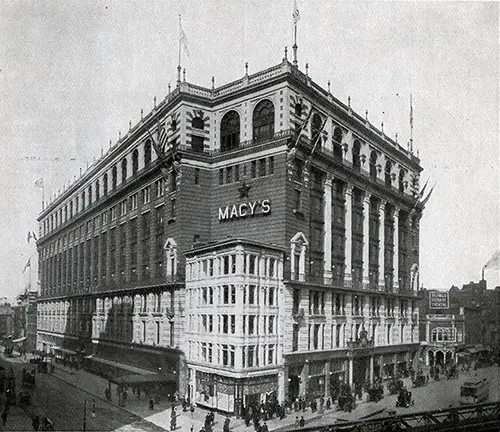 Excellent photograph of the Macy's Building in New York from 1906. This is the same building that was used to film parts of the delightful 1947 Christmas film 'Miracle on 34th Street."
Macy's Herald Square
Broadway at 6th Ave., 34th St. to 35th St. New York
The Largest Retail Store Under One Roof in the World
Floor Space— 24 acres, equal in an area approximately to ten city blocks.
Number of Employees— Over 5,000 in the building and over 10,000 in the building and in various manufacturing enterprises that serve as feeders for the Macy store. Among these enterprises:
A Glass Factory in Bohemia
Cut Glass Factory in New York City
Pottery Works at Rudolstadt
Porcelain Decorating Plant at Carlsbad
China Decorating Shop at Limoges
China Decorating Shop in New York City
Handkerchief Factory in Belfast
Shirt Factory in Poughkeepsie
Muslin Underwear Factories in New York, Brooklyn, and Carlstadt
Silk Waist Factory in New York
Mattress Factory in New York
Candy Factory in New York
Baking Powder Factory in New York
Harness Factory in New York
Chemical Laboratory in New York
Particular attention is directed to the splendid service rendered by our Mail Order Organization. Catalogs issued twice a year.
R. H. Macy & Co. New York, N. Y.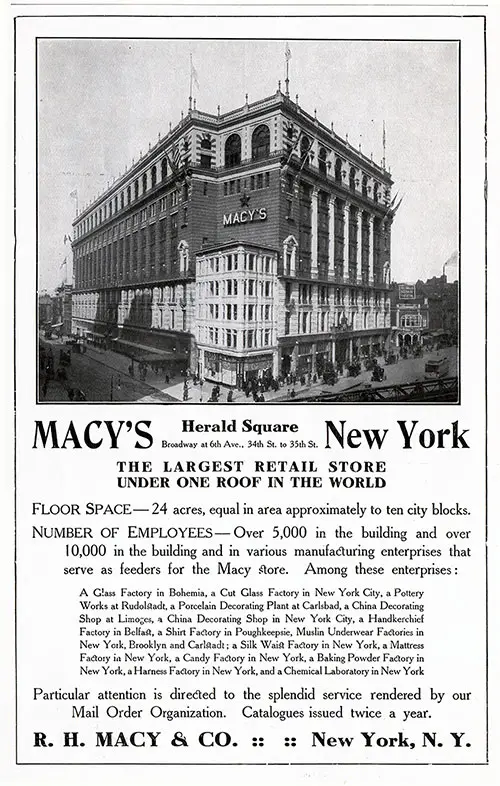 Cunard Daily Bulletin for Thursday, June 7, 1906, printed on board the RMS Carmania.
Macy's Marvels of American Merchandising - 1908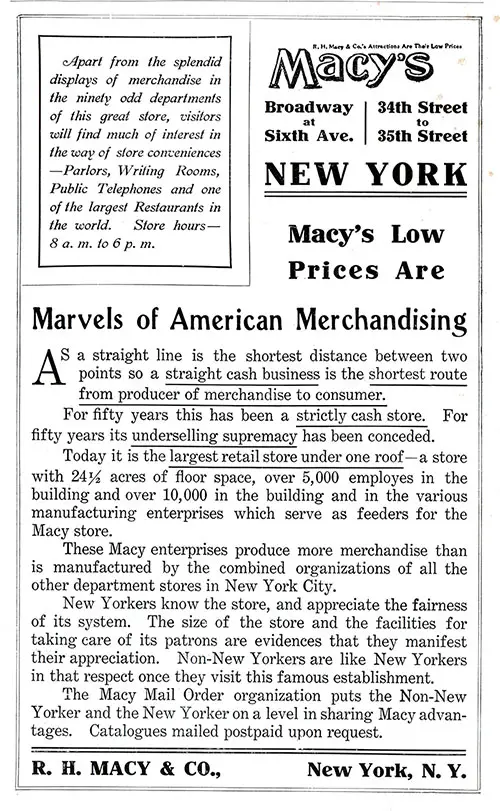 R. H. Macy & Co.'s Attractions Are Their Low Prices
Broadway at Sixth Ave. & 34th Street to 35th Street New York
Apart from the splendid displays of merchandise in the ninety odd departments of this great store, visitors will find much of interest in the way of store conveniences -- Parlors, Writing Rooms, Public Telephones and one of the largest Restaurants in the world. Store hours: 8 a. m. to 6 p.m.
Macy's Low Prices Are Marvels of American Merchandising
A straight line is the shortest distance between two points, so a straight cash business is the shortest route from the producer of merchandise to the consumer.
For fifty years this has been strictly a cash store. For fifty years its underselling supremacy has been conceded.
Today it is the largest retail store under one roof— a store with 2412 acres of floor space, over 5,000 employees in the building and over 10,000 in the building and in the various manufacturing enterprises which serve as feeders for the Macy store.
These Macy enterprises produce more merchandise than there is manufactured by the combined organizations of all the other department stores in New York City.
New Yorkers know the store and appreciate the fairness of its system. The size of the store and the facilities for taking care of its patrons are evidence that they manifest their appreciation. Non-New Yorkers are like, New Yorkers in that respect once they visit this famous establishment.
The Macy Mail Order organization puts the Non-New Yorker and the New Yorker on a level of sharing Macy advantages. Catalogs mailed postpaid upon request.
R. H. Macy & Co., New York, N. Y.
Cunard Daily Bulletin, RMS "Etruria" Friday, September 11, 1908, Page 9.
Note: We have edited this text to correct grammatical errors and improve word choice to clarify the article for today's readers. Changes made are typically minor, and we often left passive text "as is." Those who need to quote the article directly should verify any changes by reviewing the original material.

Vintage Fashions Advertisements
GG Archives
Vintage Fashion Advertisements
Women's Vintage Fashion Topics
Other Vintage Fashion Topics
Improve Your Family History Through Illustrations