Arch Preserver Shoe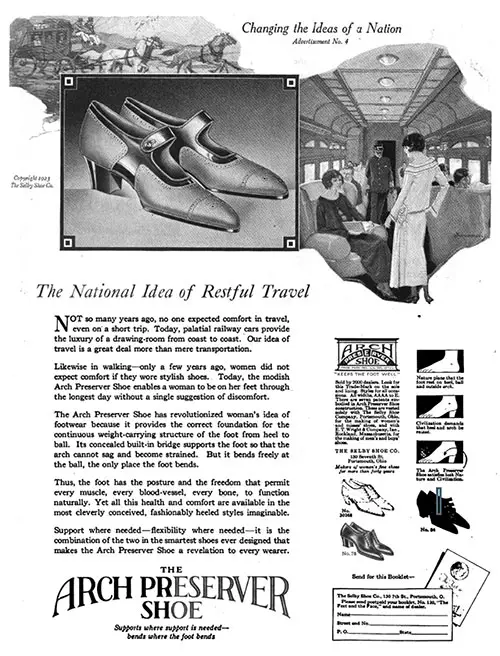 "Changing the Ideas of a Nation," 1923 Print Advertisement No. 4 for The Arch Preserver Shoe, The Selby Shoe Company, Portsmouth, Ohio. Woman's Home Companion, August 1923. GGA Image ID # 1657a8ffbe
The National Idea of Restful Travel. Not so many years ago, no one expected comfort in travel, even on a short trip. Today, palatial railway cars provide the luxury of a drawing-room from coast to coast.
Our idea of travel is a great deal more than mere transportation. Likewise in walking—only a few years ago, women did not expect comfort if they wore stylish shoes.
Today, the modish Arch Preserver Shoe enables a woman to be on her feet through the longest day without a single suggestion of discomfort.
The Arch Preserver Shoe has revolutionized woman's idea of footwear because it provides the correct foundation for the continuous weight-carrying structure of the foot from heel to ball. Its concealed built-in bridge supports the foot so that the arch cannot sag and become strained.
But it bends freely at the ball, the only place the foot bends. Thus, the foot has the posture and the freedom that permit every muscle, every blood-vessel, every bone, to function naturally.
Yet all this health and comfort are available in the most cleverly conceived, fashionably heeled styles imaginable.
Support where needed—flexibility where needed—it is the combination of the two in the smartest shoes ever designed that makes the
Arch Preserver Shoe a revelation to every wearer. THE Supports where support is needed—bends where the foot bends.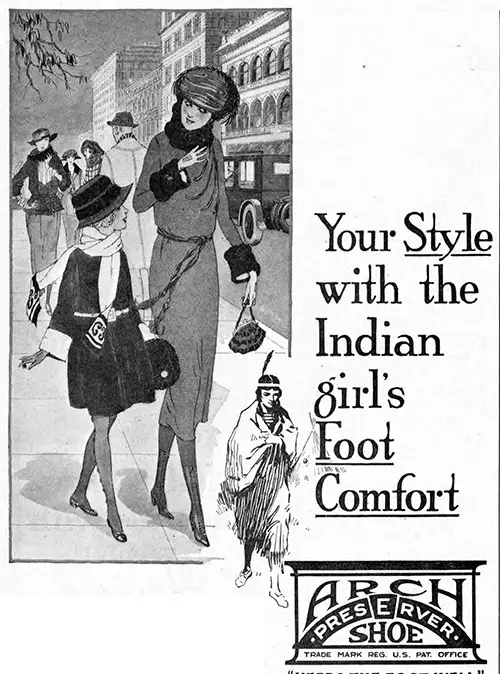 Your Style with the Indian Girls' Foot Comfort. 1921 Print Advertisement of Arch Preserver Shoe from Selby Shoe Company. The Ladies' Home Journal, February 1921. GGA Image ID # 1657c71f60