A J McLean & Co Hat Frames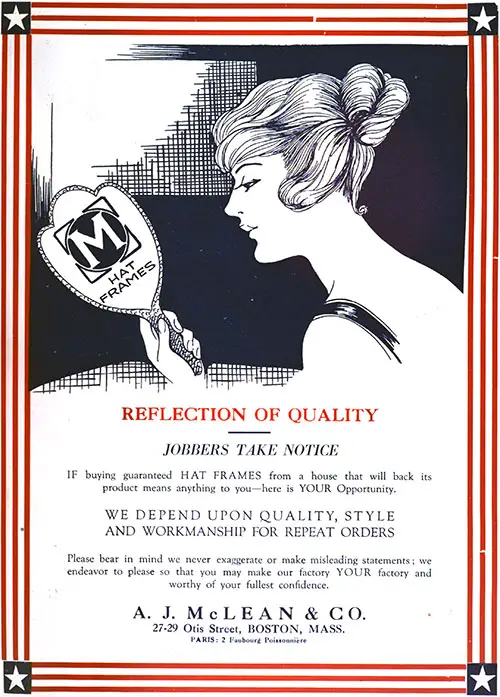 1918 Print Advertisement from the A. J. McLean & Company, Boston and Paris for Hat Frames. The Illustrated Milliner, August 1918. GGA Image ID # 1657136865
REFLECTION OF QUALITY JOBBERS TAKE NOTICE IF buying guaranteed HAT FRAMES from a house that will back its product means anything to you—here is YOUR Opportunity. WE DEPEND UPON QUALITY, STYLE AND WORKMANSHIP FOR REPEAT ORDERS Please bear in mind we never exaggerate or make misleading statements ; we endeavor to please so that you may make our factory YOUR factory and worthy of your fullest confidence. A. J. McLEAN & CO. 27-29 Otis Street, BOSTON, MASS. PARIS: 2 Faubourg Poiaaonnière
Odd as it may seem, there is a great deal of similarity of purpose between the steel structure of a building and the frame of a hat. To erect a building, or create a hat, the prime requisite that which determines the size/Shape and durability of either is first of all a good frame.
In the building, it guides the masons, the electricians, the mechanics, etc. In the hat, it helps the designer in developing and supporting his creations, and when it is itself original in design, serves as a source of genuine inspiration.
Mclean hat frames of quality materials, excellently crafted in smart, original shapes, are truly termed the foundation of good hats.
Not only do they prove a valuable aid in the production of distinctive millinery, but they also help you to gain the goodwill and lasting satisfaction of your customers. Progressive hat producers are invited to correspond.