Naval Aviation News - December 1995 - Ghost of Midway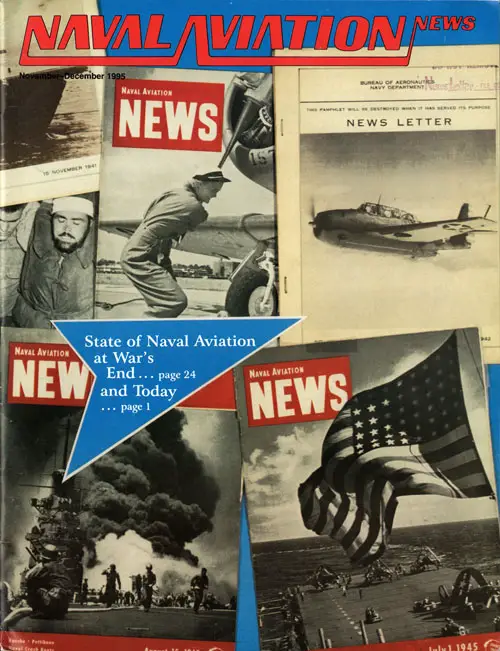 Front and Back Covers, Naval Aviation News, November-December 1995—Art Director Charles Cooney designed this montage of WW II Naval Aviation News covers, which represents the finale of our Naval Aviation in WW II Series.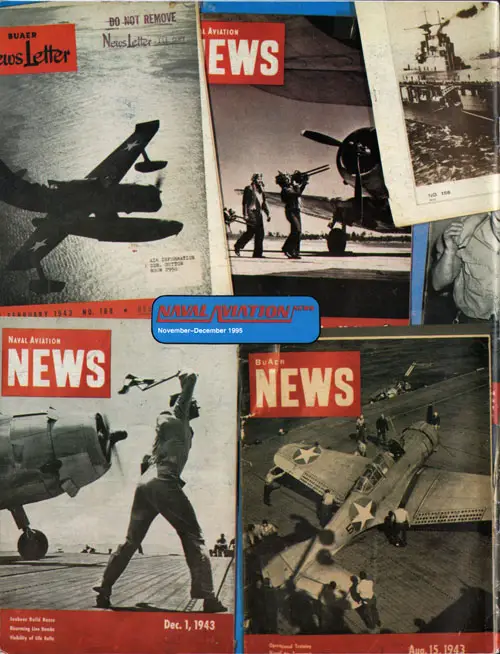 Naval Aviation News, Flagship Publication of Naval Aviation
The U.S. Navy's Oldest Periodical, Volume 78, No. 1, November-December 1995
Features
Revolution In Strike Warfare
"The Famous Fighting Ship" Ends Service
NAS Key West: Vigilance in Paradise
Key West Change of Command Breaks New Ground
The Ghost of Midway
Preserving History from the Deep
In the Wake of Victory
Naval History Takes On New Director, New Direction
1995 Index
Departments
Flight Line: The State of Naval Aviation
Airscoop
Grampaw Pettibone
People—Planes—Places
ANA Bimonthly Photo Competition
Professional Reading
Flight Bag
Publication Staff
RAdm. Brent M. Bennitt
Director. Air Warfare
Published by the Naval Historical Center under the auspices of the Chief of Naval Operations
Dr. William S. Dudley
Director. Naval Historical Center
Staff
LCdr. Diana T. Cangelosi, Editor
Sandy Russell, Managing Editor
Charles C. Cooney, Art Director
Wendy Karppi, Associate Editor
J02 Jerry Knaak, Assistant Editor
J02 E. Blake Towler, Assistant Editor
Associates
Harold Andrews, Technical Advisor
Cdr. Peter Mersky, USNR (Ret.), Book Review Editor
Capt. R. Rausa, USNR (Ret.), Contributing Editor
LCdr. Richard R. Burgess, USN (Ret.), Contributing Editor
Contributions Welcome
Naval Aviation News considers for publication unsolicited manuscripts, photo essays, artwork and general news about aircraft, organizations, history and/or human endeavors which are the core of Naval Aviation. All military contributors should forward articles about their commands only after internal security review and with the permission of the commanding officer. Manuscripts will be returned upon request. Feature articles accepted for publication may be submitted on a diskette in Word Perfect.
Naval Aviation News (USPS 323-310; ISSN 0028-1417) is published bimonthly for the Chief of Naval Operations by the Naval Historical Center. Editorial offices are located in Bldg. 157-1 Washington Navy Yard. 901 M Street SE, Washington. DC 20374-5059.
The Secretary of the Navy has determined that this publication is necessary in the transaction of business required by law. Funds for printing have been approved by the Navy Publications and Printing Policy Committee.
The use of a name of any specific manufacturer, commercial product, commodity or service in this publication does not imply endorsement by the Navy. Photographs are U.S. Navy unless otherwise credited.