Naval Aviation News - October 1962 - Super Carrier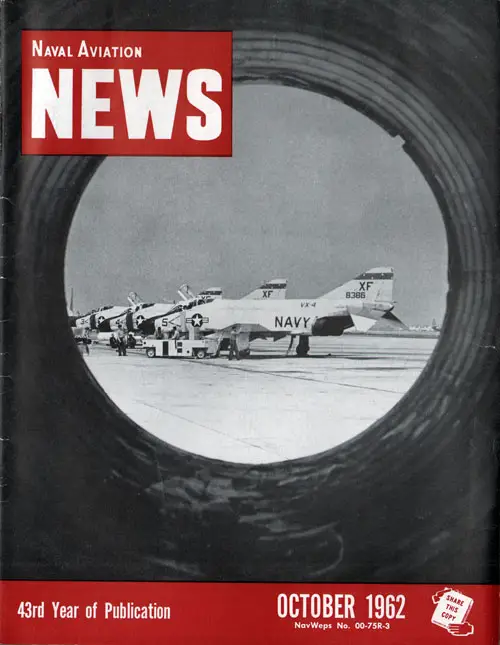 NAVAL AVIATION NEWS OCTOBER 1962
FORTY-THIRD YEAR OF PUBLICATION
Front cover shows three VX-4 Phantom ll's viewed through Crusader tailpipe. These F4H's were used in the developing of fighter data system reported in 'Fighter Mission Data Automated.'
IN THIS ISSUE
Newsman's Beat
Lt. Zip Rausa assumes the role of a Media Representative aboard a super-carrier and carries off a yarn himself.
New Star on the Wing
Lockheed's P3V Orion becomes operational in Patrol Squadrons 8 and 44.
Tri-Service VTOL
The Navy-managed twin-tandem, ducted-propeller research design is the first Navy project to be designated under the new system.
Evolution of Carriers
Before World War 11, the Imperial Japanese Navy had ambitious plans for the operation of her aircraft carriers.
Fighter Data
Automated anti-air warfare information systems are now in the cards.
THE STAFF
Cdr. Cecil E. Harris : Head, Aviation Periodicals Office
Cdr. Paul Jayson : Editor
Izetta Winter Robb : Managing Editor
LCdr. Robert J. Massey, Scot MacDonald, JOC : Associate Editors
Cdr. Oliver Ortman, Harold Andrews : Contributing Editors
Janis C. Burns : Assistant Editor
James M. Springer : Art Director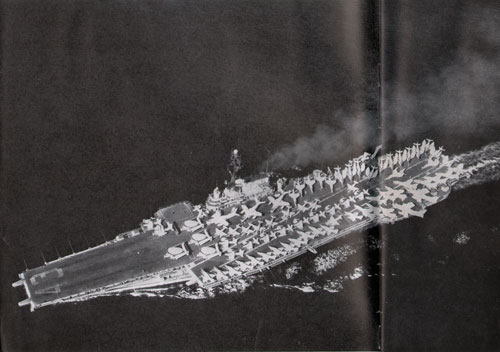 USS Coral Sea with its scores of aircraft, photographed by Jay H. Albrecht, PH2.
A DECKFUL OF POSITIVE PROOF
'The ability of the carrier strike force to move over the seas, free from national boundaries, is of tremendous tactical and strategical value. It can remain as long as necessary without violating any nation's sovereignty. This proximity of visible American power bolsters the courage of our friends and allies to resist aggression and is positive proof of our willingness to commit this power, if necessary, to advance the cause of freedom and human dignity.'
—The Honorable Fred Korth, Secretary of the Navy, June 8, 1962.
Issuance of this publication was approved by the Secretary of the Navy on 3 April 1961
Published monthly by Chief of Naval Operations and Bureau of Naval Weapons to disseminate data on aircraft training and operations, space technology, missile, rocket and other aviation ordnance developments, aeronautical safety, aircraft design, power plants, aircraft recognition, technical maintenance and overhaul procedures.
Send mail to Naval Aviation News, Op 05A5, Navy Department, Washington 25, D.C. Office located at 2306 Munitions Bldg.; telephone: Oxford 62252 or 62259.
Annual subscription rate is $2.50 check or money order ($1.00 additional for foreign mailing) made payable and sent to Superintendent of Documents, Government Printing Office, Washington 25, D.C. Single copy costs $.25
BY GEORGE
1,000 CARRIER LANDINGS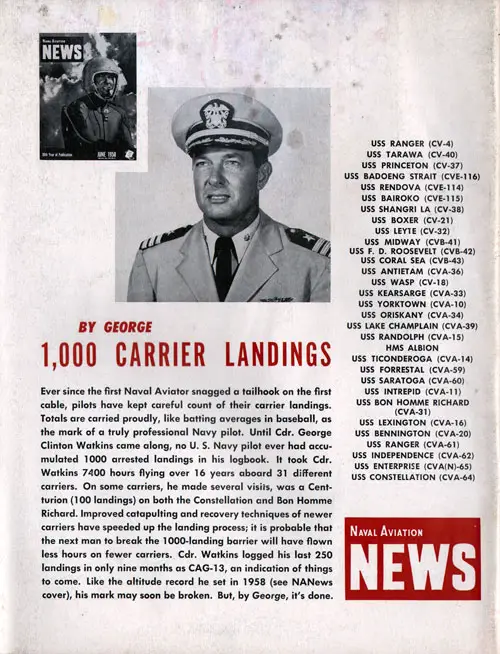 Ever since the first Naval Aviator snagged a tailhook on the first cable, pilots have kept careful count of their carrier landings. Totals are carried proudly, like batting averages in baseball, as the mark of a truly professional Navy pilot.
Until Cdr. George Clinton Watkins came along, no U. 5. Navy pilot ever had accumulated 1000 arrested landings in his logbook. It took Cdr. Watkins 7400 hours flying over 16 years aboard 31 different carriers.
On some carriers, he made several visits, was a Centturion (100 landings) on both the Constellation and Bon Homme Richard. Improved catapulting and recovery techniques of newer carriers have speeded up the landing process; it is probable that the next man to break the 1000-landing barrier will have flown less hours on fewer carriers.
Cdr. Watkins logged his last 250 landings in only nine months as CAG-13, an indication of things to come. Like the altitude record he set in 1958 (see NANews cover), his mark may soon be broken. But, by George, it's done.
USS RANGER (CV-4)
USS TARAWA (CV-40)
USS PRINCETON (CV-37)
USS BADOENG STRAIT (CVE-116)
USS RENDOVA (CVE-114)
USS BAIROKO (CVE-115)
USS SHANGRI LA (CV-38)
USS BOXER (CV-21)
USS LEYTE (CV-32)
USS MIDWAY (CVB-41)
USS F. D. ROOSEVELT (CVB-42)
USS CORAL SEA (CVB-43)
USS ANTIETAM (CVA-36)
USS WASP (CV-18)
USS KEARSARGE (CVA-33)
USS YORKTOWN (CVA-10)
USS ORISKANY (CVA-34)
USS LAKE CHAMPLAIN (CVA-39)
USS Randolph (CVA-15)
HMS ALBION
USS TICONDEROGA (CVA-14)
USS FORRESTAL (CVA-59)
USS SARATOGA (CVA-60)
USS INTREPID (CVA-11)
USS BON HOMME RICHARD (CVA-31)
USS LEXINGTON (CVA-16)
USS BENNINGTON (CVA-20)
USS RANGER (CVA-61)
USS INDEPENDENCE (CVA-62)
USS ENTERPRISE (CVA(N)-65)
USS CONSTELLATION (CVA-64)