Naval Aviation News - February 1994 - Jolly Rogers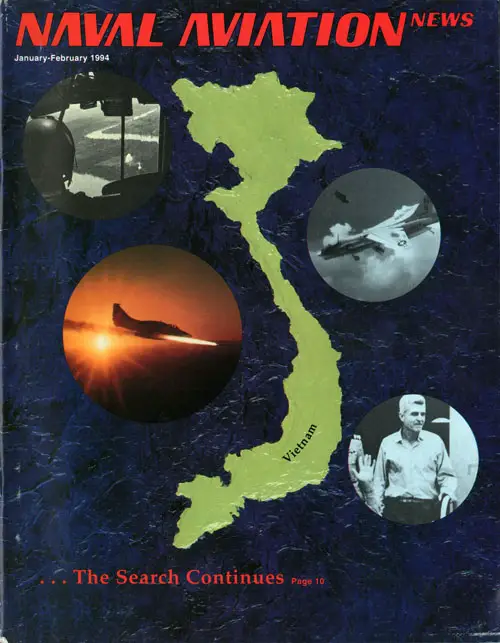 Front Cover, Naval Aviation News, February 1994: Designed by NANews Art Director Charles Cooney.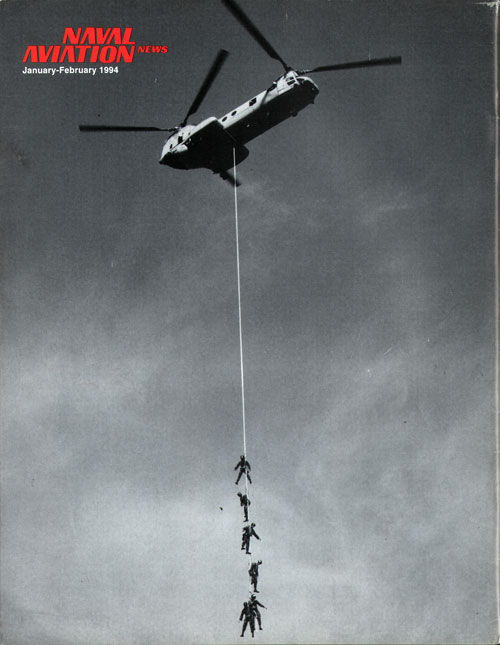 Back Cover, Naval Aviation News, February 1994: Dr. J. G. Handelman's photo of U. S. Naval Academy midshipmen participating in a "SPIE line" exercise with a CH-46E from HMM-261.
Naval Aviation News, Flagship Publication of Naval Aviation
Oldest U.S. Navy Periodical, Volume 76, No.2, January-February 1994
Features
Location Unknown ... The Search Continues
John C. Stennis (CVN 74) Christened
The Tradition of Ship Christenings
Till They Come Home
RAdm. Riley Mixson Retires
1994 Calendar
50 Years of AirLant
The Jolly Rogers with the White House Touch
Enlisted Aviation Series: Aircrew Survival Equipmentman
A Kld's-eye View: The Last Voyage of Midway
Naval Aviation in WW II - Island Hopping in WW II: From the Gilberts to the Marshalls
NANews Rates High in Your Eyes
Departments
Flight Line: RAdm. Bennitt Takes Over N88
Grampaw Pettibone
Airscoop
People-Planes-Places
Out of the Archives
Professional Reading
ANA Bimonthly Photo Competition
Flight Bag
Publication Staff
RADM Brent M. Bennitt
Director, Air Warfare
Published by the Naval Historical Center under the auspices of the Chief of Naval Operations
Dr. Dean C. Allard
Director of Navel History
Cdr. Mike Lipari
Director, Naval Aviation History and Publication Division
Staff
Cdr. Russ Jowers, Editor
Sandy Russell, Managing Editor
Charles C. Cooney, Art Director
Joan A. Fresher, Associate Editor
JOCS(AW) Theresa L. Dunn, Associate Editor
JOI(SW) Eric S. Seen, Assistant Editor
Associates
Herold Andrews
Technical Advisor
Cdr. Peter Minsky, USNR
Book Review Editor
LCdr. Richard R. Burgess
Contributing Editor
Capt. R. Reuss, USNR (Ret.)
Contributing Editor
Publication Information
Naval Aviation News (USPS 323-310; ISSN 0028-1417) is published bimonthly tor the Chief of Naval Operations by the Naval Historical Center. Editorial offices are located in Bldg. 157-1 Washington Navy Yard. 901 M Street. SE. Washington, DC 20374-5059.
The Secretary of the Navy has determined that this publication is necessary in the transaction of business required by law. Funds for printing have been approved by the Navy Publications and Printing Policy Committee. The use of a name of any specific manufacturer, commercial product, commodity or service in this publication does not imply endorsement by the Navy. Photographs are U.S. Navy unless otherwise credited.
Publication Policy:
Naval Aviation News considers for publication unsolicited manuscripts, photo essays, artwork and general news about aircraft, organizations, history and/or human endeavors which are the core of Naval Aviation. All military contributors should forward articles about their commands only after internal security review and with the permission of the commanding officer. Manuscripts will be returned upon request. Articles accepted for publication may be submitted on a diskette in Word Perfect 5.1.