Naval Aviation News - August 1966 - Airborne Samaritans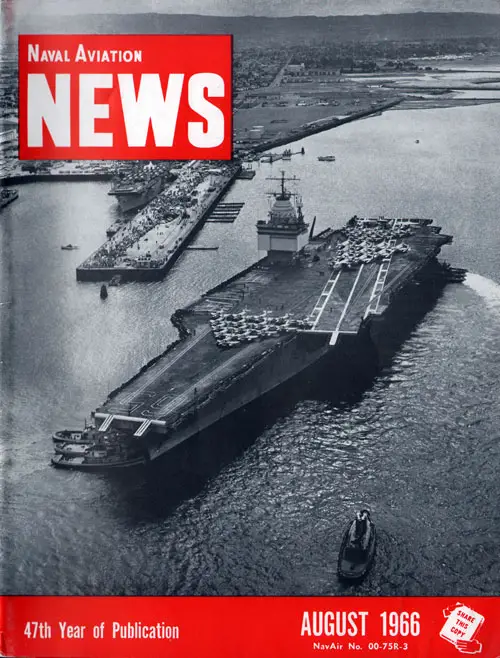 NAVAL AVIATION NEWS
FORTY-SEVENTH YEAR OF PUBLICATION AUGUST 1966
IN THIS ISSUE
Good Guys
The airborne Samaritans of the U.S. Coast Guard have been in business now for five decades—a fact for which 8,000 rescued persons can be grateful.
Goodbye, Gophers
This segment of the continuing NANews series on the 3-M System looks at the supply side of the situation.
A Real Shoot-'em-up
A new camera mount enables photographers to take motion pictures from helicopters; the story is backed up by still pictures that show a movie-maker in action.
Service Station
It's a title that may well be applied to the Naval Air Technical Services Facility.
Next to Godliness
You even have to think clean thoughts if you want to go to work in O&R North Island's Bearing Processing Facility.
SAILORS FROM OUTER SPACE COVERS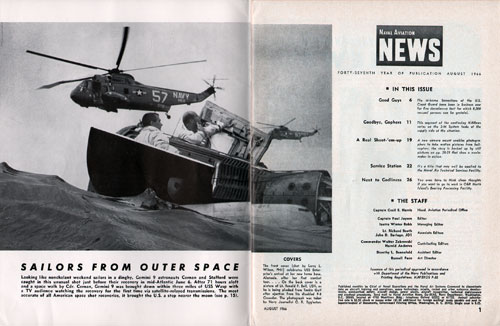 Looking like nonchalant weekend sailors in a dinghy, Gemini 9 astronauts Cernan and Stafford were caught in this unusual shot just before their recovery in mid-Atlantic June 6. After 71 hours aloft and a space walk by Cdr. Cernan, Gemini 9 was brought down within three miles of USS Wasp with a TV audience watching the recovery for the first time via satellite-relayed transmissions. The most accurate of all American space shot recoveries, it brought the U.S. a step nearer the moon (see p. 15). The front cover (shot by Larry L. Wilson, PHI) celebrates USS Enterprise's arrival at her new home base, Alameda, after her first combat tour. . . . On the back cover is a picture of Lt. Ronald F. Bell, USN, as he is being plucked from Tonkin Gulf after ejection from his disabled F-8 Crusader. The photograph was taken by Navy Journalist C. R. Eggleston.
THE STAFF
Captain Cecil E. Harris : Head, Aviation Periodical Office
Captain Paul Jayson : Editor
Izetta Winter Robb : Managing Editor
Lt. Richard Booth, John D. Burlage, J01 : Associate Editors
Commander Walter Zebrowski, Harold Andrews : Contributing Editors
Dorothy L. Bennefeld Assistant Editor
Russell Pace Art Director
Issuance of this periodical approved in accordance with Department of the Navy Publications and Printing Regulations, NAVEXOS P-35
Published monthly by Chief of Naval Operations and the Naval Air Systems Command to disseminate data on aircraft training and operations, space technology, missile, rocket and other ordnance develop- ments, aeronautical safety, aircraft design, power plants, aircraft recognition, technical maintenance and overhaul procedures.
Send mail to Naval Aviation News, Op-05A5, Navy Department, Washington, D.C. 20360, located at 4703 Munitions Bldg.; telephone Oxford 62252 or 61755. Annual subscription rate Is $2.50 check or money order ($1.00 additional for foreign mailing) made payable and sent to Superintendent of Documents, Government Printing Office, Washington, D. C. 20402. Single copy Is $.25.
EXPERT ON THE HOOK
An airman's survival—night or day, war or peace—depends on his own intimate working knowledge of his equipment and of rescue procedures.
AT SEA WITH THE CARRIERS
PACIFIC FLEET
KEARSARGE (CVS-33)
When their carrier left Long Beach, Calif., for her second cruise in the waters off Vietnam, Kearsarge men made sure everybody knew they were bound for where the action is. They spelled out the words "Vietnam-A-Go-Go" on the flight deck. In 1964, Kearsarge was on a routine WestPac cruise when the first Gulf of Tonkin crisis erupted, and the CVS steamed out of Yokosuka, Japan, on short notice to provide ASW protection for Seventh Fleet units in the South China Sea.
Before they left home port, Kay men participated in a variety of activities that were consistent with their ship's policy of intensive and well-conducted community relations and public affairs programs
Some of the more recent included an "adoption" ceremony by a chapter of the Navy League, answering a mother's "SOS," hosting more than 15,000 visitors during an open house, and continuing dancing lessons that earned some crewmen a Watusi with a group of bunnies. Confusing? No, Sir!
Kay's C.O., Captain Willard L. Nyburg, and the ship's Exec, Captain Luther W. S. Laubach, were present for the ceremony during which the Las Vegas Council of the Navy League formally "adopted" the CVS. The adoption means that the organization will sponsor programs and projects to benefit the ship.
The mother of two Torrance High School girls sent an "SOS" to Kay after a mixup in hotel ballroom reservations scuttled plans for the school's junior-senior prom just 24 hours before it was to be held. This "SOS" was interpreted a bit differently than usual, however; it translated to "Save Our School!"
The plea from Mrs. Jean McClung did not go unheeded: Permission was granted to have the dance in Kay's hangar bay and a much-relieved committee chairwoman, Katie McClung, Mrs. McClung's junior daughter, quickly got the area into proper "dress" for the prom.
The kids, a report from the CVS said happily, had a ball.
Residents of the greater Los Angeles area-15,000 of them—boarded Kay during open house held as part of Armed Forces Day.
It was titled "Long Beach Night" and it was the third dance held aboard the carrier for neighboring college students since the beginning of the year. Students from Long Beach City College and California State College were guests for this one.
All the practice they got during dances held aboard their ship came to good use for Kay men when Los Angeles TV personality Johnny Grant staged "Operation Starlift," a USO-type show, for crewmen. Included among the entertainers were six Playboy Bunnies from the Hollywood Playboy Club, who had no trouble getting partners for a fast Watusi number held on stage.
The Kearsarge release detailing events of the program had an apt description for the young ladies. It called them "morale-builders."
VIETNAM-A-GONE-GONE IS ASW CARRIER KEARSARGE AS THE SHIP DEPLOYS FOR DUTY WITH SEVENTH FLEET

KITTY HAWK (CVA-63)
Kitty Hawk has returned to home port, San Diego, completing a deployment to the Far East that carried her into the thick of combat operations off Vietnam. The CVA's crew members were involved in combat activities right up to the very end of the combat tour.
Pennsylvania's Governor William W. Scranton was flown aboard Kitty Hawk for a visit while the carrier was operating off Vietnam. He was greeted by Rear Admiral James R. Reedy, Commander Attack Carrier Striking Forces, Seventh Fleet, and Captain Martin D. Carmody, Kitty Hawk's skipper.
Commander Murray C. Cook received the Legion of Merit from Rear Admiral Henry L. Miller, Chief of Information, during a Washington ceremony. The award was presented to Commander Cook for his meritorious service in support of combat operations in Southeast Asia while he was serving as C.O. of VA-115 aboard Kitty Hawk.
The citation that accompanied the award praised the commander for his inspirational leadership and his personal involvement in every facet of squadron and air wing operations and tactical planning.
Commander Cook also recently received the Navy League's 1966 John Paul Jones Award. He was nominated for it by men in his squadron.
Squadron pilots of RVAH-13 aboard Kitty Hawk have claimed a flight time record for the RA-5C Vigilante. They flew the RA-5C 351 hours, on 195 sorties, in a single month of combat operations over Vietnam.

INTREPID C.O. WITH THAI GUEST
BENNINGTON (CVS-20)
A six-month overhaul at the Long Beach Naval Shipyard completed, Benn was operating off the coast of California—and playing host to a variety of visitors. Among them were delegates attending the 1966 National Red Cross Board of Governors Reception and Open House in San Diego. Representing all 50 states and a number of foreign countries, they and more than 4,000 Red Cross volunteers boarded the CVS during an open house.
Benn crewmen also hosted representatives of the National Navy League convention being held in Santa Monica, then got the chance to invite some guests of their own choosing for a "family day" type cruise out of home port.
One of those guests was C. Van Epen, 82, a former second class boatswain's mate who served aboard the first Bennington, a 1,200-ton gunboat. He was among more than 2,000 dependents and friends of crewmen to come aboard.
Lt. Charles H. Livens, VA-125, received congratulations twice over when he made Benn's 89,000th arrested landing during carquals off California. He became a triple centurion at the same time.
INTREPID (CVS-11)
The Fighting I completed 14 days of sustained operations off the coast of South Vietnam, operations that included more than 1,100 combat sorties and the dropping of 1,400 tons of bombs on enemy targets.
The Third Atlantic Fleet carrier to serve off Vietnam, Intrepid was provided a light attack capability during an intensive overhaul before she deployed. Now, A-1 Skyraiders and A-4 Skyhawks give the ship her attack punch.
SACRAMENTO UNREPS KITTY HAWK AND USS BACHE IN WESTPAC WATERS

BENN VISITORS VIEW VIGILANTE

LEGION OF MERIT TO CDR. COOK
Flying an average of 90 sorties a day for the first 11 days of combat operations, CVW-10 pilots provided close air support for ground action and struck at Viet Cong base camps, headquarters facilities, bunkers, fortifications, and antiaircraft and mortar positions.
The day before Intrepid's aircraft went into action, the ship was visited by Vice Admiral John J. Hyland, ComSeventhFlt. The visit had special significance for him; 21 years ago, as Commander Air Group 10, he flew strike missions off Intrepid in the same waters.
Intrepid may only recently have returned to the attack carrier game, but her flight deck and squadron crews are handling themselves like pro's already. A release said they scored what is believed to be the fastest aircraft launching time recorded by a U.S. carrier.
Nine A-4's and six A-i's, loaded with bombs and rockets, were catapulted from the ship in a flat seven minutes with only a 28-second interval between launches. The time beat a previous Intrepid record of 34 seconds and is thought to be the fastest time for launches using two steam catapults consecutively.
Vice Admiral Jit Sangthadul, Commandant of the Thailand Armed Forces Staff College, was a guest of Captain Guiseppi Macri, Intrepid's C.O., aboard the carrier.
ENTERPRISE (CVAN-65)
Although they've spent many months in Pacific waters, Enterprise crew members got their first look at the ship's West Coast home port when the CVAN steamed into Alameda from a deployment to the waters off Vietnam. NANEws will present a more detailed article on the Big E's arrival, as well as Kitty Hawk's return, in the next issue.
The 12,000th combat sortie since Enterprise joined Seventh Fleet forces off Vietnam was flown by Lt. Hart J. Schwarzenbach, Jr., VA-94. With a tally like that, it's little wonder that the nuclear carrier's C.O., Captain James L. Holloway III, has become a member of the Ten Thousand Trap Club.
The club is a highly exclusive (and unofficial) group with a membership restricted to carrier skippers whose ships log 10,000 arrested landings during their tours of duty. A rear admiral selectee, Captain Holloway took command of Enterprise July 17, 1965, when the number of arrestments stood at 42,233. When the Big E became the first nuclear-powered ship in history to engage in combat, the landing rate soared to more than 2,650 a month and recently passed the 62,000 mark.
BROTHERS REUNITED IN CVAN-65
Twin brothers, one of them a Marine serving in Vietnam and the other an Enterprise crew member, were reunited aboard the Big E at sea off Vietnam.
Arriving on a regularly scheduled c-iA Trader flight from Da Nang, where he is stationed with the First Marine Air Wing, Pfc. David E. Willkomm was greeted by his twin, John W., an RMSN assigned to the CVAN's Operations Department.
The ship also hosted two congressmen when Representatives Donald Rumsfeld (Ill.) and Howard Callaway (Ga.) , members of the House Government Operations Committee, arrived in the ship's Trader.
CONSTELLATION (CVA-64)
Thirty-two Constellation crewmen were burned, five seriously, when a fuel tank of an F-4B Phantom II apparently ruptured as the jet was launched from the Seventh Fleet carrier.
Burning jet fuel that spilled across the flight deck and catwalk was quickly extinguished by flight-deck firefighting crews. There was no damage to the ship and the Phantom returned safely.
Lt. Herbert E. Carter, a 34-yearold Connie pilot and assistant CIC officer, has written a novel entitled, "Never Look Back." The book, about an amnesiac who learns from newspaper headlines that he is a murderer and a gangster, has been published by Vantage Press.
HANCOCK (CVA-19)
The Navy surgeon who replanted the nearly-severed arm of Hancock crew member James H. Wolff said just before the seaman left the deployed carrier that the limb was healing well.
Wolff nearly lost his right arm when a line he was holding was pulled into a winch. The line caught around his wrist and pulled his right arm from its socket, leaving it attached by only a few inches of skin and three minor muscles. A quick-thinking shipmate reversed the winch and freed Wolff, then applied first aid to slow the bleeding until the injured man could be taken to sickbay.
LCdr. Joseph Farrell, the surgeon who replanted the arm, said it was in good condition. Its chances of living, he said, were "close to 100 percent."
Dr. Farrell decided to attempt a replant of the arm after Hancock's medical staff gained control of the main blood supplies and gave transfusions to replace the lost blood. In a grueling, five-hour operation, the surgeon wired the arm back into its socket, reconnected blood vessels, sewed torn tissues, and laid nerves in place for possible future linkage.
When he left Hancock, Wolff was bound for a rehabilitation center where experts will help him try to regain full use of his arm.
PRINCETON (LPH-5)
Captain Richard L. Cochrane relieved Captain William R. McKinney as commander of the Seventh Fleet's Amphibious Ready Group in a ceremony aboard the ASW carrier, USS Princeton.
CAPT. McCUDDIN ABOARD RANGER
Two pilots from Marine Medium Helicopter Squadron 364 made the 38,000th helo landing aboard Princeton since the ship was redesignated an LPH in 1959. The pilots were 1st Lts. Ken Gross and H. Scott Roberts.
RANGER (CVA-61)
In a brief break between combat operations off Vietnam, Captain Leo B. McCuddin was relieved as Ranger's C.O. by Captain W. M. Harnish.
ATLANTIC FLEET
LEXINGTON (CVS-16)
Arrested landings Nos. 154,000 and 155,000 were made aboard Lex as the ship with the most arrestments in the carrier Navy continued her winning ways. The first was made by Commander Alfred M. Howard, VT-24's C.O., in a rF-9.] Cougar; the second was logged by Ens. C. G. Olson, Jr., VT-4 student pilot, in a Buckeye.
F. D. ROOSEVELT (CVA-42)
FDR reached two milestones in a two-week period when her crew celebrated the 21st anniversary of her launching and LCdr. Richard J. Damico, VA-12, made her 150,-000th arrested landing in an A-4 Sky hawk.
INDEPENDENCE (CVA-62)
LCdr. Samuel P. Huhn, ComCarDiv Six's flag secretary, made Independence's 84,000th arrested landing in the ship's c-iik Trader.
The ship's crewmen played hosts to dependents and guests for a Family Day cruise that took the visitors out of home port, Norfolk, for a day at sea
Ltjg. Thomas V. Higgins, VF-101, made Independence's 85,000th arrested landing in an F-4 Phantom.
SARATOGA (CVA-60)
Sara's 108,000th arrestment was made by LCdr. R. J. Gage, VA-46, in an A-4 Sky hawk.
AMERICA (CVA-66)
America's C.O., Captain Lawrence Heyworth, Jr., is one of a relatively few naval officers who are both aviators and submariners. Recently, he got the chance to add some salt to his dolphins when he boarded the submarine USS Croaker and "took her down" off Malta.
BOXER (LPH-4)
Boxer has come of age. Crewmen of the LPH celebrated the 21st anniversary of the ship's commissioning with an appropriate ceremony, including a cake-cutting.
After returning from their second quick trip to the Pacific, during which their ship transported vitally needed men and equipment, Boxer crewmen received a "well done"' message from Admiral Roy L. Johnson, CinCPacFlt, who praised their "flexibility" and "adeptness."
USS FRANKLIN D. ROOSEVELT, NOW 21 YEARS OLD, OPERATES AS AN ATTACK CARRIER IN THE ATLANTIC FLEET