Naval Aviation News - April 1963 - Hurricane Hunters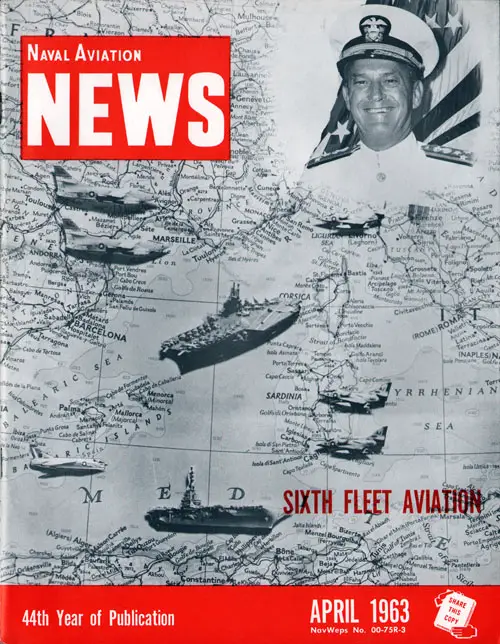 NAVAL AVIATION NEWS
FORTY-FOURTH YEAR OF PUBLICATION APRIL 1963
Front Cover (at Right): Sixth Fleet representatives did a thorough job in reporting air operations. Not only did they send in the article, but they also prepared a montage for the front cover.
IN THIS ISSUE
Might in the Med
Exercises and training make the Sixth Fleet a sharp, potent force.
VAH-1 to A-5A
Veteran squadron phases easily into new supersonic operations.
Overseasmanship
A remarkable man sells an old product with winning salesmanship.
Keeping a Weather Eye
Cdr. Jack Hunt describes the work of the Navy's Hurricane Hunters.
Magnetism
A quick recap of Project Magnet is given by Sam Poison, 101.
Biggest Photo Lab
The Navy's Photographic Center celebrates its 20th year of service.
Evolution of Carriers
Wartime Japanese construction cannot balance wartime attrition.
Tactical Handbooks
A new concept in doctrinal publications is described by LtCmdr Roland E. A slund.
COMPUTERS WITH HAWKEYE WINGS
Scheduled for fleet introduction early next year, the E-2A Hawkeye represents startling changes in the Airborne Early Warning capability of the U.S. Navy. As part of its mechanical 'personality,' the Hawkeye gives USN carrier aviation its first turboprop engines, reversible propellers, pressurized cabin, nose-tow catapult gear. Among its five tons of avionics are two digital computers. Grumman claims that one Hawkeye, airborne over New York City with a five-man crew, could maintain surveillance of all air traffic in that area, plus Boston ... Albany ... Washington.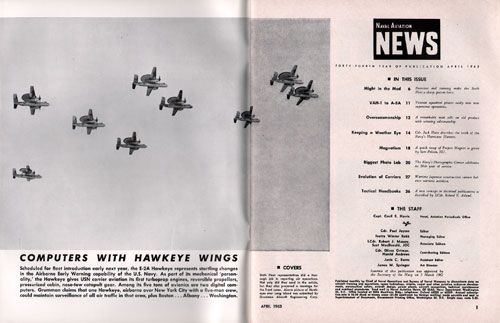 Above picture of Hawkeyes over Long Island was submitted by Grumman Aircraft Engineering Corp.
THE STAFF
Capt. Cecil E. Harris Head, Aviation Periodicals Office
Cdr. Paul Jayson : Editor
Izetta Winter Robb : Managing Editor
LCdr. Robert J. Massey, Scot MacDonald, JOC : Associate Editors
Cdr. Oliver Ortman, Harold Andrews : Contributing Editors
Janis C. Burns : Assistant Editor
James M. Springer : Art Director
Issuance of this publication was approved by the Secretary of the Navy on 3 March 1961
Published monthly by Chief of Naval Operations and Bureau of Naval Weapons to disseminate data on aircraft training and operations, space technology, missile, rocket and other aviation ordnance developments, aeronautical safety, aircraft design, power plants, aircraft recognition, technical maintenance and overhaul procedures.
Send mail to Naval Aviation News, OP 05A5, Navy Department, Washington 25, D.C. Office located at 2306 Munitions Bldg.; telephone: Oxford 62252 or 62259.
Annual subscrip- tion rate is $2.50 check or money order ($1.00 additional for foreign mailing) made payable and sent to Superintendent of Documents, Government Printing Office, Washington 25, D.C. Single copy costs $.25.
Twelfth Gray Eagle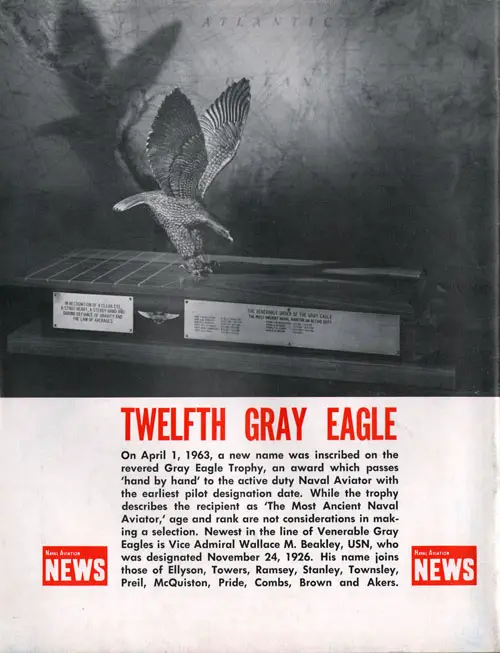 On April 1, 1963, a new name was inscribed on the revered Gray Eagle Trophy, an award which passes 'hand by hand' to the active duty Naval Aviator with the earliest pilot designation date.
While the trophy describes the recipient as 'The Most Ancient Naval Aviator,' age and rank are not considerations in making a selection.
Newest in the line of Venerable Gray Eagles is Vice Admiral Wallace M. Beakley, USN, who was designated November 24, 1926.
His name joins those of Ellyson, Towers, Ramsey, Stanley, Townsley, Preil, McQuiston, Pride, Combs, Brown and Akers.

SQUADRON INSIGNIA : "Red Ripper"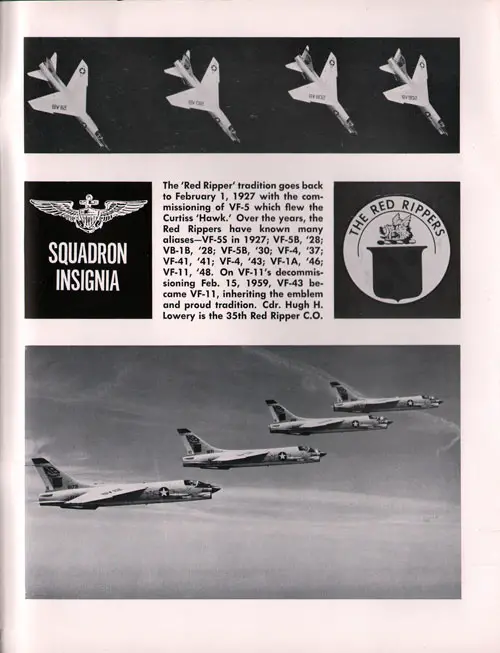 The 'Red Ripper' tradition goes back to February 1, 1927 with the commissioning of VF-5 which flew the Curtiss 'Hawk.' Over the years, the Red Rippers have known many aliases—VF-55 in 1927; VF-5B, '28; VB-1B, '28; VF-5B, '30; VF-4, '37; VF-41, '41; VF-4, '43; VF-1A, '46; VF-11, '48. On VF-11's decommissioning Feb. 15, 1959, VF-43 became VF-11, inheriting the emblem and proud tradition. Cdr. Hugh H. Lowery is the 35th Red Ripper C.O.