Naval Aviation News -March 1963 - A-6A Intruder and E-2A Hawkeye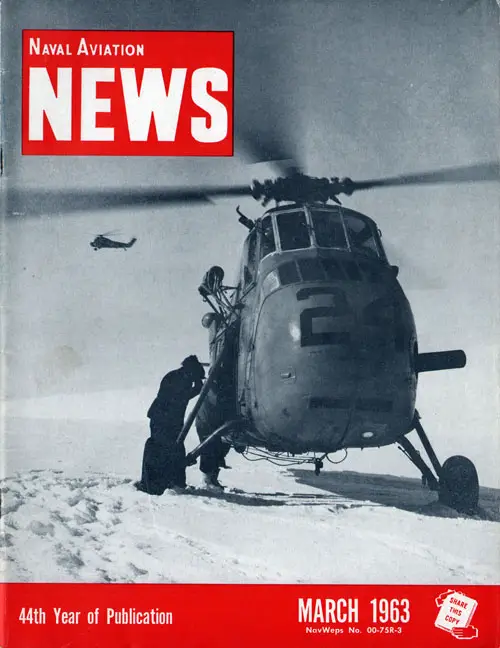 NAVAL AVIATION NEWS
FORTY-FOURTH YEAR OF PUBLICATION MARCH 1963
FRONT COVER (at Right) Helicopters are a valuable addition to the Navy's support of scientific studies in the Antarctic. Cover helo is operated by VX-6.
IN THIS ISSUE
Earliest Jet Pilots
The Navy's first jet jockeys—and how the list was determined—are chronicled by historian A. 0. Van Wyen.
FAA and the APC
Designed to prevent collision, Area Positive Control will affect all high flyers soon.
NAO(T)
The tactical air observer in action and in training is viewed by Marine NAO(T), 1st Lt. John A. Hathaway, in two related stories.
Trials on Enterprise
Grumman's A-6A Intruder and E-2A Hawkeye are shown during carrier trials on CVA(N)-65.
Crew One
Skill, efficiency, dedication and just plain luck won for Crew One of VW-11 its second consecutive "Outstanding Crew"
Photo-Crusaders
The missile build-up in Castro's Cuba was revealed by VFP-62 pilots in RF-8A Crusaders.
Maintenance and 66-1
Automated USAF Maintenance Information system is being tested at NAS Oceana.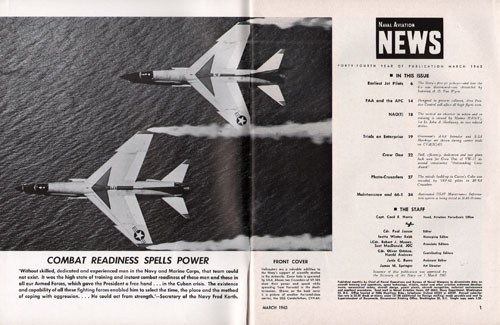 Above two Crusaders of VF-103 show their power and speed while operating from Forrestal in the Mediterranean.
Back Cover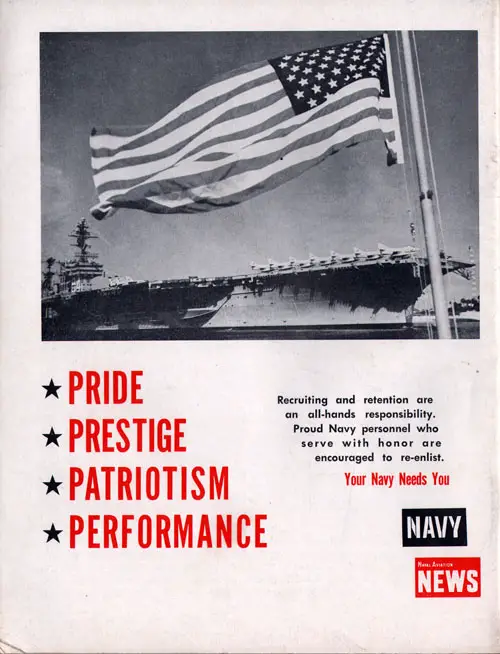 Shown on the back cover is a picture of another Forrestal-class carrier, the USS Constellation, CVA-64.
*PRIDE
*PRESTIGE
*PATRIOTISM
*PERFORMANCE
Recruiting and retention are an all-hands responsibility. Proud Navy personnel who
serve with honor are encouraged to re-enlist.
Your Navy Needs You !
COMBAT READINESS SPELLS POWER
'Without skilled, dedicated and experienced men in the Navy and Marine Corps, that team could not exist. It was the high state of training and instant combat readiness of these men and those in all our Armed Forces, which gave the President a free hand . . . in the Cuban crisis. The existence and capability of all these fighting forces enabled him to select the time, the place and the method of coping with aggression. . . . He could act from strength.'
—Secretary of the Navy Fred Korth.
THE STAFF
Capt. Cecil E. Harris Head, Aviation Periodicals Office
Cdr. Paul Jayson : Editor
Izetta Winter Robb : Managing Editor
LCdr. Robert J. Massey, Scot MacDonald, JOC : Associate Editors
Cdr. Oliver Ortman, Harold Andrews : Contributing Editors
Janis C. Burns : Assistant Editor
James M. Springer : Art Director
Issuance of this publication was approved by the Secretary of the Navy on 3 March 1961
Published monthly by Chief of Naval Operations and Bureau of Naval Weapons to disseminate data on aircraft training and operations, space technology, missile, rocket and other aviation ordnance developments, aeronautical safety, aircraft design, power plants, aircraft recognition, technical maintenance and overhaul procedures.
Send mail to Naval Aviation News, OP 05A5, Navy Department, Washington 25, D.C. Office located at 2306 Munitions Bldg.; telephone: Oxford 62252 or 62259.
Annual subscription rate is $2.50 check or money order ($1.00 additional for foreign mailing) made payable and sent to Superintendent of Documents, Government Printing Office, Washington 25, D.C. Single copy costs $.25.
Squadron Insignia : Training Squadron Five (TRARON FIVE)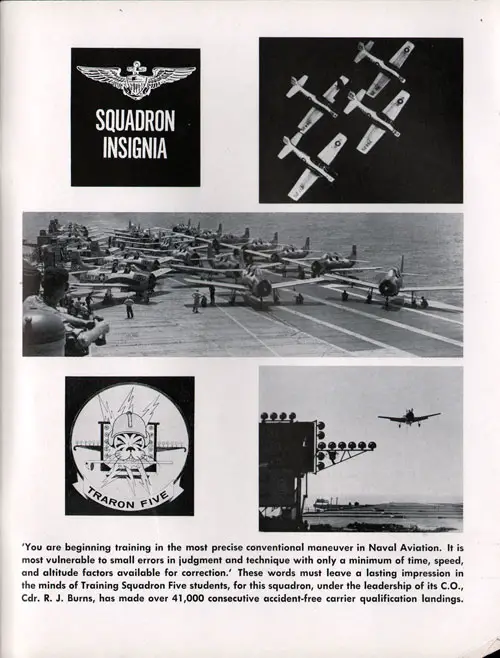 'You are beginning training in the most precise conventional maneuver in Naval Aviation. It is most vulnerable to small errors in judgment and technique with only a minimum of time, speed, and altitude factors available for correction.'
These words must leave a lasting impression in the minds of Training Squadron Five students, for this squadron, under the leadership of its C.O., Cdr. R. J. Burns, has made over 41,000 consecutive accident-free carrier qualification landings.