Naval Aviation News - August 1993 - Assignments of Women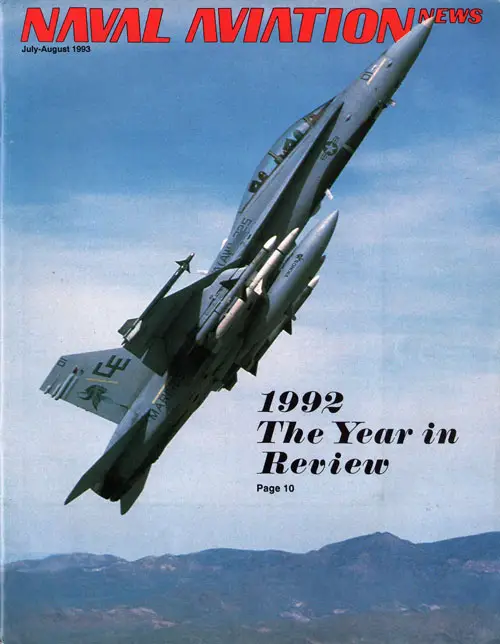 Front Cover, Naval Aviation News, August 1993: This Bob Lawson photo captures a Vand PublicationD flown by Capt. Steve Ganyard and WSO Capt. Todd Kemper as they begin a pop-up, roll-in maneuver in their missile-laden Hornet over Owens Valley, Calif.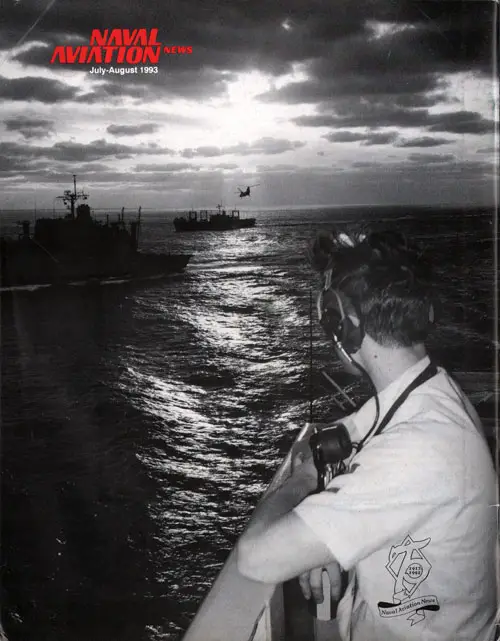 Back Cover, Naval Aviation News, August 1993: ANA Photo Contest winner by David Skepner.
Naval Aviation News, Flagship Publication of Naval Aviation
Oldest U.S. Navy Periodical, Volume 75, No. 5, July-August 1993
Features
1992 Year in Review
Enlisted Aviation Series - Aviation Ordnanceman
Navy Expands Assignments of Women
Rafale Undergoes Testing at Lakehurst
A Unique Role in Desert Storm
Surviac - A Joint Service Survivability Resource
Naval Aviation in WW II: Fighter Tactics in WW II
Aviation History and Publication Director Retires
NANews Editor Ends Four-Year Reign
Departments
Flight Line
Grampaw Pettibone
Airscoop
People-Planes-Places
Professional Reading
ANA Bimonthly Photo Competition
Flight Bag
Publication Policy:
Naval Avtabon News consufors for publication unsolicited manuscripts, photo essays, artwork, and general news about aircraft, organizations, history, and/or human endeavors which are the core of Naval Aviation. All military contributors should forward articles about their commands only after internal security review and with the permission of the commanding ofSubscrlptioncripts will be returned upon request. Articles accepted for publication may be submitted on a diskette in Word Perfect 5.1.
Subscription Information:
Naval Aviation News (USPS 323.310; ISSN 0028-1417) is published bimonthly for the Chief of Naval Operations by the Naval Historical Center. Editorial offices are located in Building 157-1, Washington Navy Yard, Washington, D C., 20374-5059. Second-class postage is paid at Washington, D.C., and additional mailing offices. Naval Aviation News is for sale by the Superintendent of Documents, U.S. Government Printing Office, Washington, D.C. 20402, phone (202) 783-3238. Annual subscription: $7.50.
The Secretary of the Navy has determined that this publication is necessary in the transaction of business required by law. Funds for printing have been approved by the Navy Publications and Printing Policy Committee.