Naval Aviation News - June 1995 - Test Pilot School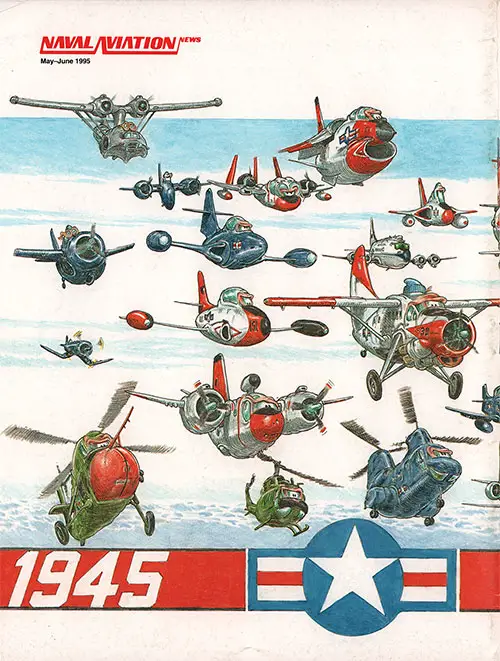 Front Cover, Naval Aviation News, May-June 1995. More than half of the major aircraft types assigned to the U.S. Naval Test Pilot School in its 50-year history are shown in this Aerocaturesim "fly-by" by Hank Caruso. GGA Image ID # 1a034e96fe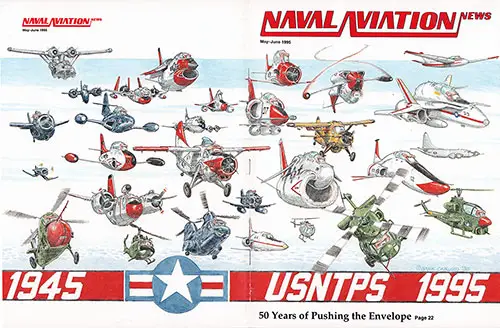 Cover of Naval Aviation News, May-June 1995, USNTPS 1945-1995 - 50 Years of Pushing the Envelope. Artist: Hank Caruso. GGA Image ID # 1a03c16494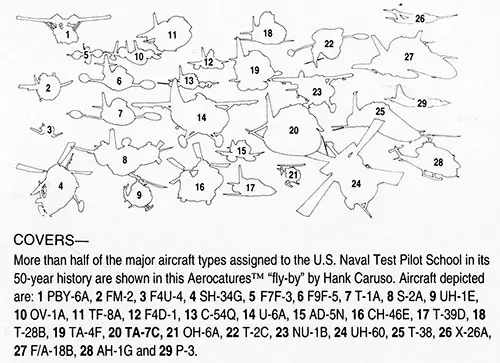 Aircraft depicted are: 1 PBY-6A, 2 FM-2, 3 F4U-4, 4 SH-34G, 5 F7F-3, 6 F9F-5, 7 T-1A, 8 S-2A, 9 UH-1E, 10 OV-1A, 11 TF-8A, 12 F4D-1, 13 C-54Q, 14 U-6A, 15 AD-5N, 16 CH-46E, 17 T-39D, 18 T-28B, 19 TA-4F, 20 TA-7C, 21 OH-6A, 22 T-2C, 23 NU-1B, 24 UH-60, 25 T-38, 26 X-26A, 27 F/A-18B, 28 AH-1G and 29 P-3. GGA Image ID # 1a035557f4
Naval Aviation News, Flagship Publication of Naval Aviation
Oldest U.S. Navy Periodical, Volume 77, No. 4, May—June 1995
Features
U.S. Naval Test Pilot School—50 Years of Pushing the Envelope
NAS Sigonella: Hub of the Med
Plane Captains . . . Takin' Care of Business
Hank Caruso's Aerocatures Sketchbook— USNTPS 50th Anniversary
TAMPS—Windows on the Future
Naval Aviation in WW II
Technical Developments
Departments
Flight Line
Grampaw Pettibone
Airscoop
Naval Aircraft: FJ
ANA Photo Competition
People-Planes-Places
Professional Reading
Flight Bag and Change of Command
Publication Staff
RAdm. Brent M. Bennitt
Director, Air Warfare
Published by the Naval Historical Center under the auspices of the Chief of Naval Operations
Capt. William T. Vance
Acting Director. Naval Historical Center
Cdr. Mike Liparl
Director, Naval Aviation History and Publication Division
Staff
Cdr. Russ Jowers, Editor
Sandy Russell, Managing Editor
Charles C. Cooney, Art Director
Wendy Karppi, Associate Editor
J02 Jerry Knaak, Assistant Editor
J02 E. Blake Towler, Assistant Editor
Naval Aviation News (USPS 323-310; ISSN 0028-1417) is published bimonthly for the Chief of Naval Operations by the Naval Historical Center. Editorial offices are located in Bldg. 157-1 Washington Navy Yard, 901 M Street, SE. Washington, DC 20374-5059.
The Secretary of the Navy has determined that this publication is necessary in the transaction of business required by law. Funds for printing have been approved by the Navy Publications and Printing Policy Committee. The use of a name of any specific manufacturer, commercial product, commodity or service in this publication does not imply endorsement by the Navy. Photographs are U.S. Navy unless otherwise credited.
Publication Policy: Naval Aviation News considers for publication unsolicited manuscripts, photo essays, artwork and general news about aircraft, organizations, history and/or human endeavors which are the core of Naval Aviation. All military contributors should forward articles about their commands only after internal security review and with the permission of the commanding officer. Manuscripts will be returned upon request. Feature articles accepted for publication may be submitted on a diskette in Word Perfect 5.1.