November 1962 Naval Aviation News Magazine : 60th Anniversary of the modern destroyer
NAVAL AVIATION NEWS NOVEMBER 1962
FORTY-FOURTH YEAR OF PUBLICATION
Cover shot, which shows one of VF-41's F4H Phantom II aircraft with bomb load, was taken by VFP-62, based at NAS Jacksonville.
IN THIS ISSUE
Fast Feat
In the world's headlines, Astronaut Schirra proves that space is no problem.
Of Men and Ships
Those connected with Naval Aviation who have been honored by having ships named after them over the last five decades are listed on the occasion of the 60th Anniversary of the modern destroyer.
Farnborough
An international air event is described by Cmdr. Edward L. Barker, USNR, a former contributing editor to NANews, now in Naval Attache's Office, London.
Trans-World
Constellation and Lexington switch ocean areas of operation.
Evolution of Carriers
The Essex class, the Independence class, and carrier task group tactics are viewed.
NASA Simulators
Fixed and moving base simulators prepare men for duty out-of-this-world.
Micro-Electronics
LtCol. A. C. Lowell tells of the unfolding revolution in avionics made possible by a new technology.
THE STAFF
Cmdr. Cecil E. Harris : Head, Aviation Periodicals Office
Cmdr. Paul Jayson : Editor
Izetta Winter Robb : Managing Editor
LtCmdr. Robert J. Massey, Scot MacDonald, JOC : Associate Editors
Cmdr. Oliver Ortman, Harold Andrews : Contributing Editors
Janis C. Burns : Assistant Editor
James M. Springer : Art Director
REVOLUTION INSIDE THE HANGAR
In Fiscal 1961, one-quarter of the Defense budget was spent for Maintenance—in terms of cash, $11 billion for 'equipment' maintenance and $2 billion for 'facilities' maintenance. In aviation electronics, a major breakthrough promises lower costs coupled with better performance and maintainability of equipment. For pictures and story of Naval Aviation's stake in this amazing new technological explosion, read 'Revolution in Electronics,' pp. 34-37.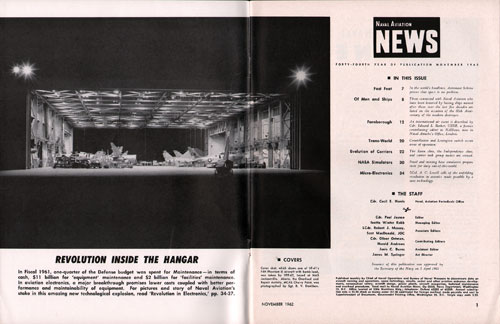 Above, the Overhaul and Repair Activity, MCAS Cherry Point, was photographed by Sgt. B. V. Davidson.
Issuance of this publication was approved by the Secretary of the Navy on 3 April 1961
Published monthly by Chief of Naval Operations and Bureau of Naval Weapons to disseminate data on aircraft training and operations, space technology, missile, rocket and other aviation ordnance developments, aeronautical safety, aircraft design, power plants, aircraft recognition, technical maintenance and overhaul procedures.
Send mail to Naval Aviation News, Op 05A5, Navy Department, Washington 25, D.C. Office located at 2306 Munitions Bldg.; telephone: Oxford 62252 or 62259.
Annual subscription rate is $2.50 check or money order ($1.00 additional for foreign mailing) made payable and sent to Superintendent of Documents, Government Printing Office, Washington 25, D.C. Single copy costs $.25.
NEW ASW STATUS SYMBOL EMERGES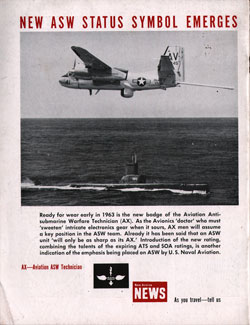 Ready for wear early in 1963 is the new badge of the Aviation Antisubmarine Warfare Technician (AX). As the Avionics 'doctor' who must 'sweeten' intricate electronics gear when it sours, AX men will assume a key position in the ASW team. Already it has been said that an ASW unit 'will only be as sharp as its AX.' Introduction of the new rating, combining the talents of the expiring ATS and SOA ratings, is another indication of the emphasis being placed on ASW by U. S. Naval Aviation.
AX—Aviation ASW Technician