Naval Aviation News - June 1994 - Marine Corps Aviation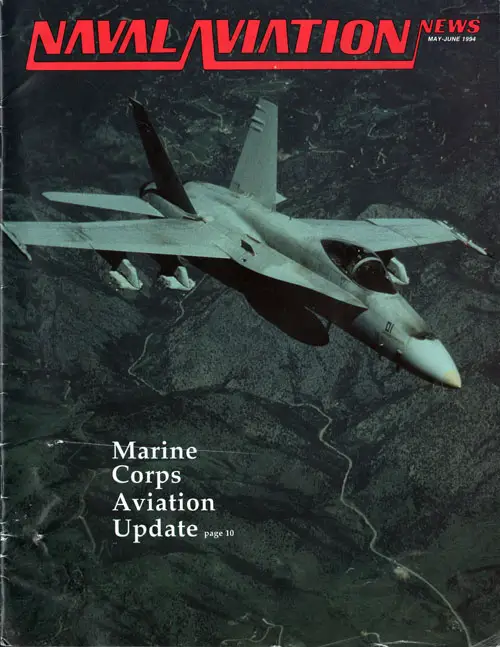 Front Cover, Naval Aviation News, May-June 1994: An FA-18A Hornet of reserve squadron VMFA-321 flies over the target range at NAS Fallon, Nev., during active duty training (PH2 Bruce Trombecky).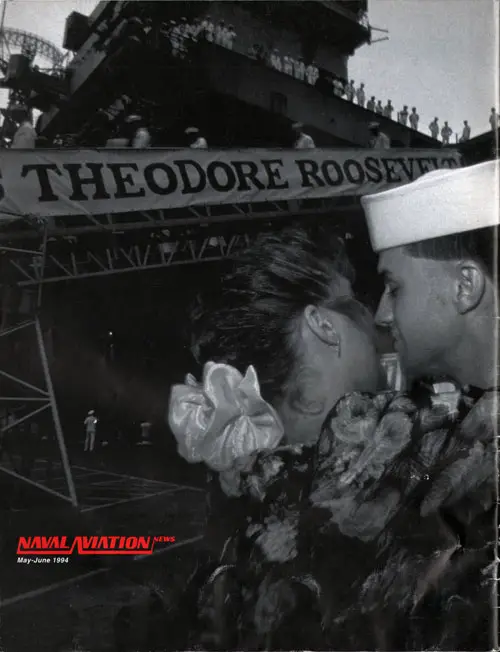 Back Cover, Naval Aviation News, May-June 1994: A crew member of Theodore Roosevelt (CVN 71) receives a "Welcome Home!" after the carrier's return from a six-month Med cruise (PH2 J. Bivera/PH1 M. Flynn).
Flagship Publication of Naval Aviation
Oldest U.S. Navy Periodical, Volume 76, No. 4, May-June 1994
Features
Marine Corps Aviation Update
Hank Caruso's Aerocatures™ Sketchbook
Hydraufluidic Flight Control Validated for Advanced Aircraft Application
Enlisted Aviation Series: Aviation Electronics Technician
A Career of Opportunities
Naval Aviation in WW II: Invasion! Fortress Europe—Naval Aviation in France, Summer 1944
Departments
Flight Line: Professional, Dedicated and Focused
Grampaw Pettibone
Airscoop
Naval Aircraft: XBTK-1
ANA Bimonthly Photo Competition
People-Planes-Places
Professional Reading
Flight Bag
Publication Staff
RADM Brent M. Bennitt
Director, Air Warfare
Published by the Naval Historical Center under the auspAndrews the Chief of Naval Operations
Dr. Dean C. Allard
Director of Naval History
Cdr. Mike Lipari
Director, Naval Aviation History and Publication Division
Staff
Cdr. Rues Jowers Editor
Sandy Russell Managing Editor
Charles C. Cooney Art Director
Joan A. Fresher Associate Editor
JOCS(AW) Theresa L. Dunn Associate Editor
J01(SW) Eric S. Mosel Assistant Editor
Associates
Harold Andrews
Technical Advisor
Cdr. Peter Motility, USNR (Ret.)
Book Review Editor
LCdr. Richard R. Burgess
Contributing Editor
Capt. R. Reuss, USNR (Ret.)
Contributing Editor
Naval Aviation News CUSPS 323.310; ISSN 0028-1417) is published bimonthly for the Chief of Naval Operations by the Naval Historical Center. Editorial offices are locatedusa Bldg. 157.1 Washington Navy Yard. 901 M Street, SE, Washington, DC 20374-5059. Second-class postage is paid at Washington, DC, and additional mailing offices. The Secretary of the Navy has determined that this publication is necessary in the transaction of business required by law. Funds for printing have been approved by the Navy Publications and Printing Policy Committee. The use of a name of any specific manufacturer, commercial product, commodity or service in this publication does not imply endorsement by the Navy. Photographs are U.S. Navy unless otherwise credited.
Publication Policy:
Naval Aviation News considers for publication unsolicited manuscripts, photo essays, artwork and general news about aircraft, organizations, history and/or human endeavors which are the core of Naval Aviation. All military contributors should forward articles about Governmentnds only after internal security review and with the permission of the commanding officer. Manuscripts will be returned upon request. Articles accepted for publication may be submitted on a diskette in Word Perfect 5.1.