Naval Aviation News - September 1966 - Fuel Storage Strikes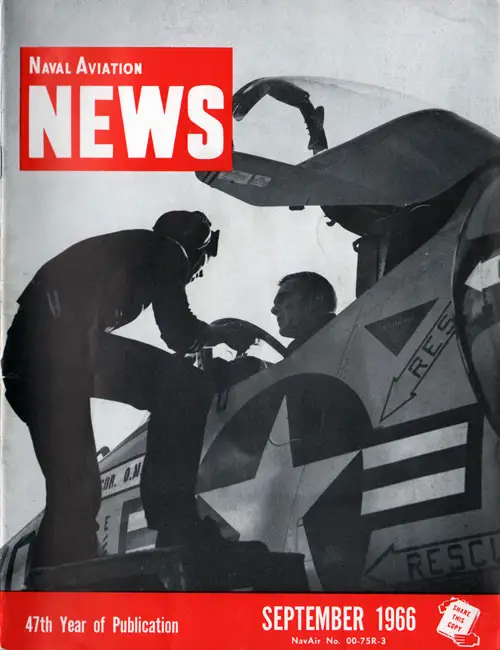 SEPTEMBER 1966 35

THE STAFF
Captain Cecil E. Harris
Captain Paul Jayson
!zeta Winter Robb
John D. Burlage, J01
Commander Walter Zebrowski
Harold Andrews
Dorothy L. Bennefeld
Russell Pace
Head, Aviation Periodical Office
Editor
Managing Editor Associate Editor
Contributing Editors
Assistant Editor Art Director
'The functional organizations—the Navy's Bureaus, now Systems Commands—accumulate and preserve essential technical know-how, which in due time will be applicable to new problems and new situations. Projects come and go as warfare systems come and go. But basic fields of engineering are permanent. . . . In the shifting patterns of Navy Management, there are two things that are fixed: the functional organizations will continue as the main base of technical competence, and Project Management will be applied in a carefully controlled, well thought out, deliberate manner.'
—Rear Admiral Ralph L. Shifley, USN, Vice Chief of Naval Material
SHIFTING MANAGEMENT PATTERNS
FORTY-SEVENTH YEAR OF PUBLICATION SEPTEMBER 1966
IN THIS ISSUE
Historical Homecoming 6
Fuel Storage Strikes 10
Up, Up . 14
Jet V/STOL at Sea 19
Merlin's Magic? 22
USS Enterprise's arrival at a new home port after her first combat tour off Vietnam had special significance for everyone concerned—and especially for crew members' wives and families.
Navy pilots team with their the Force counterparts to attack fuel facilities in North Vietnam.
. . . and away go the members of fhe Navy tomphis Flying Club, who have discovered that a good, inexpensive way to get from here to (here is fo go by air.
A story and this issue's "center spread" detail the use oftohe tripartite XV-6A for V/STOL concept evaluations.
No, lust work being performed by men assigned fo the Weapons System Test Division at NATC Patuxent River.

COVERS
On front cover, Plane Captain Bruce R. Lynch, AN, assists !Jig. John J. Jegers, VA-93, just before a launch from USS Ranger (CVA-61) on a strike into Vietnam. . . . Above, VF-5I Crusaders fly over Subic Bay for landing at Cubi Point. Photograph of USS Shangri La (back cover) was taken by D. L. Boyd, PHI.
Issuance of this periodical approved in accordance with Department of the Navy Publications and Printing Regulations, NAVEXOS P-35
Published monthly by Chief of Naval Operations and the Naval Air Systems Command to disseminate data on aircraft training and operations, space technology, missile, rocket and other ordnance developments, aeronautical safety, aircraft design, power plants, aircraft recognition, technical maintenance and overhaul procedures. Send mail to Naval Aviation News, Op-05A5, Navy Department, Washington, D.C. 20360, located at 4703 Munitions Bldg.; telephone Oxford 62252 or 61755. Annual subscription rate is $2.50 check or money order ($1.00 additional for foreign mailing) made payable and sent to Superintendent of Documents, Government Printing Office, Washington, D. C. 20402. Single copy Is $.25.

NAVAL AVIATION NEWS

ENTERPRISE CREW MEMBERS AT FLIGHT DECK PARADE AS THEIR CARRIER STEAMS UNDER THE GOLDEN GATE
ENTERPRISE HOME FROM COMBAT ZONE
HISTORY had been made aplenty when the Navy's only nuclear-powered aircraft carrier, USS Enterprise, steamed into a new home port, NAS ALAMEDA, Calif., to end her first Far East cruise and her first combat tour off Vietnam.
It was quite a homecoming.
• Cheering crowds lined San Francisco's famous Golden Gate Bridge to watch the huge carrier move under the span; the top of the ship's mast cleared the bridge by only a few feet.
• VIP's, both military and civilian, were much in evidence.
• The mayors of San Francisco, Oakland and Alameda officially proclaimed an "Enterprise Day."
By John D. Burlage, 101, and Leon E. Rhoades, J03
• Dependents by the hundreds, who couldn't have cared less about proclamations, VIP's or curious spectators, were on the pier to catch their first glimpses of husbands and fathers in eight months. Many of them moved to Alameda from the carrier's former home port, Norfolk, after the CVAN deployed to WestPac from the East Coast.
In a day marked by honors, Enterprise also earned the somewhat dubious distinction of being the first nuclear-powered warship ever to cause an automobile traffic jam. Cars were backed up for 12 miles as drivers on the Golden Gate slowed to watch the arrival.
Their actions were as understandable as they were illegal; Enterprise was something well worth tying up traffic to see.
CVAN-65 crew members got an inkling of the welcome that was in store for them even before their ship entered San Francisco Bay.
A fairly conventional approach was taken by the San Francisco Marine Exchange, which erected a 125-foot banner on the Golden Gate. "Welcome Home Big E," it declared. The use of banners was not limited to bridges; another one, which also welcomed the ship to her new home, was trailed behind one of the Alameda-based aircraft that staged a flyover during the Bay transit, and there was a third on one of the brows that would be used to link Enterprise to the NAS ALAMEDA pier to which she would moor.
Not so conventional a welcome, but one equally as appreciated, was the effort made by the Sari Francisco Junior Chamber of Commerce. Its members arranged to have 5,000 fortune cookies flown to the ship to be passed out to crew members. Inside were messages marking the occasion.
Although it's a relatively short haul from the Golden Gate to Alameda (a statement with which impatient carrier crewmen may disagree) , Enterprise picked up plenty of company along the way. A flotilla of small craft—fireboats, cabin cruisers and tugs among them—escorted the carrier from the bridge to her new home port. The Big E's arrival even brought out the Army: The Sixth Army Band, embarked in a Navy tug, provided appropriate musk.
Amdng the hundreds who watched the carrier approach the Alameda pier from the pier itself were Vice Admirals Thomas F. Connolly (Commander Naval Air Force, Pacific Fleet) and Lawson P. Ramage (Commander First Fleet); Rear Admirals John McNay Taylor (Commander Western Sea Frontier) , John E. Clark (Commandant, 12th Naval District) and officers and enlisted men sought their families. Somewhere in the midst of it all, a short ceremony was held. Then the magic words—"Liberty Call!"—were passed over the 1MC, and crewmen headed for home and the pleasant task of getting re-acquainted with their families.
Local observers said later the enthusiasm generated by Bay Area residents for Enterprise's arrival rivaled that given the cruiser USS San Francisco in WW II.
Thomas J Walker III (Commander Carrier Division Three) • and Captains Edgar E. Stebbins (Commander Fleet Air Alameda) and Duncan A. Campbell (Commanding Officer, NAS ALAMEDA) .
Civilians present included Mayor William S. Godfrey of Alameda, Vice-Mayor Fred Maggiora of Oakland, James V. Grealish, President of the Navy League's 12th Region, and Dr. Michael May of the Lawrence Radiation Laboratory, Livermore, California.
They watched as straining tugboats got their huge charge alongside the pier. The brows were dropped in place. Pandemonium reigned for a time as dependents stormed the ship and Enterprise nam fighting when, on March 22, 1965, Secretary of Defense Robert McNamara announced that the Big E and the rest of the Navy's nuclear task force would be transferred to the Pacific Fleet.
"The first two of the four ships to be transferred will be the . . . Enterprise and the guided missile frigate USS Bainbridge (DLGN25) ," a Department of Defense news release said. "The guided missile cruiser Long Beach (CGN-9) and the newest nuclear powered surface ship, the guided missile frigate USS Truxton (DLGN-35), now being fitted out, will be transferred in 1966 on a date yet to be determined."

The announcement came not quite three years after the Big E joined the Second Fleet in the Atlantic June 25, 1962. That was the first regular assignment of the world's largest warship to one of the Navy's four striking fleets.
Behind Enterprise, however, was a variety of operations held since she was launched Sept. 24, 1960— including builder's and pre-acceptance trials in which the ship easily outran her destroyer escorts and broke all existing records for heavy combatant ships.
Ahead lay operations with the Second Fleet, several deployments to the Mediterranean, participation in the Cuban Crisis late in 1963 and Operation Sea Orbit. This last was the now-famous around-the-world cruise in which Enterprise, Long Beach and Bainbridge steamed 30,565 miles without refueling or replenishing.
Enterprise's crew wasted no time in winning awards for their carrier. After FY 1963 competition, the Big E became the first aircraft carrier commissioned only a year to win the Atlantic Fleet Battle Efficiency Pennant. Later, the Chief of Naval Operations selected CVAN-65 as men putting in 14 and 16 hours a crack during at-sea periods that can, and do, last 50 days.
The work was hot, hard and unrelenting aboard Enterprise, but that was also not especially significant: Navy men aboard carriers steaming off Vietnam before Enterprise deployed were well versed in the hard work department and there are men serving aboard CVA's assigned to CVW-9 flew 118 sorties against the Viet Cong. On Dec. 3, they flew enough to break the existing record of 131, and on Dec. 11 the tally climbed to 177.

AWAITING Big E's arrival in Alameda are, from left, VAdm. Connolly, Dr. May, RAdm. Walker, RAdm. Taylor, and VAdm. Ramage. SPECTATORS, most of them dependents of crew members, watch as tugboats berth Enterprise to Alameda pier for the first time.
It was quite a homecoming. It had been quite a cruise.
THOSE WHO TAKE an interest in such things were already saying it was just a matter of time before Enterprise got involved in the Viet-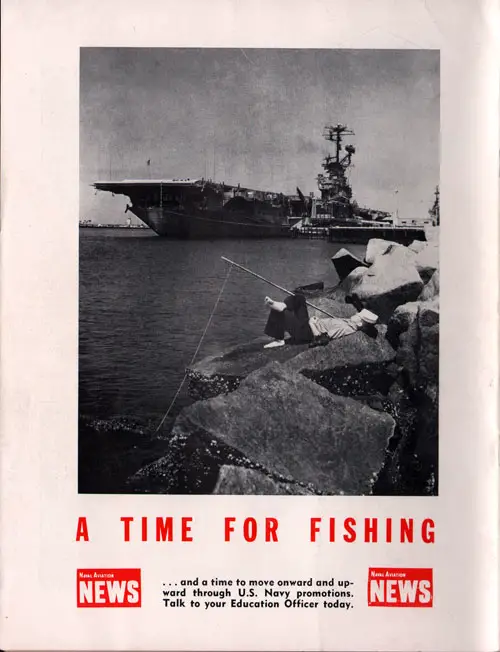 Before their carrier left the Seventh Fleet six months later, Enterprise pilots made 13,020 sorties against enemy targets.
It was the first strikes, however, that prompted Rear Admiral Henry L. Miller, then Commander Carrier Division Three in Enterprise, to send a message to the Secretary of the Navy, the Chief of Naval Operations and other officials. It said:
"I have the distinct honor and pleasure to announce to you that . . . the first nuclear-powered task group in your Pacific Fleet and the United States Navy engaged the enemy in South Vietnam. The USS Enterprise, with all-jet Air Wing Nine delivering the punch, struck hard against Viet Cong installations in the Third and Fourth Corps areas. Enterprise was ably supported by the nuclear destroyer USS Bainbridge . . . and the conventionally-powered destroyers Barry (DD-933) and Roberts (DD-823) of DesRon 24. Enterprise's memorable performance today testtifies that she is worthy of the heritage left by her illustrious predecessor, CV-6."
The days passed, and Enterprise crewmen continued to assault the record books with claims of their own. The Big E teamed with the unrep ship USS Sacramento (AOE1) on June 2, 1966, in an ammunition transfer, for instance, and the claim was made that the 241 tons transferred in 55 minutes by cargo lines and helicopter were a new record; earlier, in February, Sacramento had moved 654 tons to Enterprise in a single day.
During the six months of the cruise, Enterprise fliers dropped more than 8,000 tons of ordnance on targets that included military facilities, transportation networks, military storage areas and barges and junks carrying supplies to the Viet Cong.
And, would you believe it, Enterprise crewmen even kept a polish on the "showboat" image their ship earned — for better or for worse — during Sea Orbit? More than 700 official visitors toured the ship, both at sea and during rare in-port periods; they included President Ferdinand Marcos of the Republic of the Philippines and Generalissimo Chiang Kai-shek of the Republic of China.


WITH San Francisco in the background, Enterprise steams toward her new home port,
Alameda, Calif., after an eight-month West Pacific cruise that started in Norfolk, Va.
the most outstanding aviation ship in the Atlantic and the carrier became the possessor of the Marjorie Sterrett Battleship Fund Award.

All of that, however, was only a preview. On Oct. 26, 1965, Enterprise steamed out of Norfolk, bound for the real thing.
THE FIRST combat sorties were flown off the USS Enterprise December 2, 1965.
For the first time, a nuclear-powered aircraft carrier was seeing combat; that, in itself, was history. History does riot mean much to on the line today who are working just as hard under more adverse conditions.
As a matter of fact, Enterprise had a lot going for her—and the real significance lies in the fact that her crew knew it. Her Commanding Officer, rear admiral-selectee Captain James L. Holloway III, put it in words when he said, "With this ship, if we don't do better than anybody else in the Fleet, we ought to be fired."

Nobody was fired, because the men of Enterprise did right well.
On that first day, Big E pilots SIDEBOYS stand by to welcome first group of dependents to come aboard Enterprise.


THE VIEW from the carrier of the Alameda pier shows crowd awaiting ship's arrival.


It wasn't exactly a fun cruise.
There were light moments, however. Entertainers gave of their time to help break the tedium when they brought shows aboard. Martha Raye brought a small combo and got large laughs. Danny Kaye and Vikki Carr earned the crew's admiration and applause by performing at 8 a.m. in 90-degree heat. Pianist "Big Tiny" Little had his show aboard. Billy Casper and Archie Moore re presented the world of sports. Those whose duties kept them from the live performances got the chance to see video-taped replays on the ship's TV sets.
Mostly, though, it was work, eat, and sleep—and stand by for the horn to sound "Flight Quarters!"
And often, especially for the flight deck personnel, it seemed to be just work, eat and work. The strikes continued.
Then, suddenly, they stopped. Enterprise's baptism of fire was over. She was bound for a new home, for a short stay at the Alameda pier, and then for a few weeks at the Hunter's Point Naval Shipyard.
To men who have put in a lot of long hours, and who mostly want to get back home, messages of congratulations can be a lot of nice words to be read and forgotten. Enterprise received her share, but some of the words deserve to be remembered:
"It is a great pleasure to extend to you my personal congratulations for a job 'well done," said Admiral Roy L. Johnson, Commander in Chief, Pacific Fleet. "Enterprise represents an important link between the traditions of the past and our Navy of the future. Your accomplishments, during the first combat deployment of a nuclear-powered major warship in history, have contributed even further to the legend of the Big E. More important, your performance has set new precedents and new standards in which each of us in the Pacific Fleet may take great pride."
Vice Admiral John J. Hyland, Commander Seventh Fleet, had these words of praise for Enterprise, her air wing personnel and members of her crew:
"As you depart for home you have my complete admiration for an outstanding all-around performance. Your duty on the line was marked by [al top-quality as well as record-setting number of sorties which helped to bring out one facet of the superiority of nuclear-powered ships.
"Your hospitality to countless visitors and the most exceptional impression you invariably made on them also contributed toward their understanding of why nuclear power is a good investment for Ethel United States. . . ."


THE WARMTH of this welcome of a crewman can be appreciated by everybody.

It had been quite a cruise.

SOME FACTS ABOUT THE ENTERPRISE CRUISE

Total combat sorties 13,020

Highest number of combat sorties in single day (12-11-65) 177
Highest total number of sorties in single day (12-11-65) 211
Total number of arrested landings 18,142
Total tonnage of ordnance delivered 8,966
Total number of days spent "on the line" 130
Total days at sea, 10-26-65 to 6-21-66 201
Total days in port, 10-26-65 to 6-21-66 37
Largest number of consecutive days at sea 50
Total number of helicopter rescues 6
Number of times Enterprise refueled destroyers 66
Number of movies shown aboard the Big E 2,375
Operations performed by CVAN-65 medical staff 200
Total number of APC's consumed 121,000

SEPTEMBER 1966 9
AT SEA WITH THE CARRIERS
OPERATING with the Seventh Fleet as a light attack carrier, the CVS Intrepid works up a wake as an A-4 Skyhawk is catapulted.
ABOARD RANGER, Admiral Roy L. Johnson, CinCPacFlt, is greeted by Captain W. M. Harnish, skipper of the Seventh Fleet carrier.

PACIFIC FLEET

RANGER (CVA-61)
Ranger is scheduled to start a $16 million overhaul at the Puget Sound Naval Shipyard, Bremerton, Wash., in October, according to an announcement by the 13th Naval District. Work is expected to take six months, a shipyard spokesman said. The carrier's home port will be changed, from Alameda, Calif., to Bremerton because of the lengthy stay.
An F-4 Priantorn II piloted by Lt. Tom Rodger, VF-143, shot down a North Vietnamese aircraft with a Sparrow air-to-air missile after two enemy planes were picked up by radar aboard the guided missile frigate USS Coontz.
Two Phantoms were scrambled off Ranger for what was thought to be the first night air-to-air encounter of the Vietnamese conflict after the sighting by Coontz as the ship operated in the northern Gulf of Tonkin. /Flying as RIO in Lt. Rodger's r--,k 'during the attack was Ens. David Vermilyea.
Combat operations continued thick, and fast off Ranger, as these indicate: ndicate: The Seventh Fleet attack aircraft carriers Ranger and Hancock launched 35 missions against military targets in North Vietnam yesterday. Navy pilots flying A-1 Sky-raiders, A-4 Skyhawks, F-4 Phantoms and F-8 Crusaders, attack and fighter aircraft, concentrated on military barracks, storage areas and transportation routes. . . ."
"Three surface-to-air (SAM) missiles were fired at two flights from the USS Ranger and USS Hancock, and Navy pilots also flew through some of the heaviest flak ever reported, as attacks were launched against 46 targets on 40 missions over North Vietnam yesterday. All three SAM's exploded without damage to the Navy aircraft. At one SAM site, Ranger pilots reported a large orange explosion, and estimated it to be either a missile malfunction or detonation. . . ."

E-1 B TRACER, piloted by Ltjg. Frank Davis, makes Kearsarge's 104,000th arrestment.

MARINE Capt. R. E. Gleason made a damp landing when his helicopter's engine tailed.

ABOARD deployed Constellation, crewman Leroy Arrington watches aircraft launch.

The 85,000th arrested landing aboard CVA-61 was observed by the carrier's new C.O., Captain W. M. Harnish, when Ltjg. Anthony C. Moore and Lt. Robert V. Carton brought their VF-148 Phantom aboard. Soon after, No. 86,000 was made by LCdr. Eugene P. Lund and Lt. Eugene J. Partyka, VF-142, also in a Phantom
The skipper of VA-55 aboard Ranger, who landed his A-4E Sky-hawk aboard the carrier even though he was wounded and could not use his right arm, has been awarded the Silver Star Medal. Commander Milton J. Chewning was flying his 111th combat sortie when the explosion of a single burst of antiaircraft fire hurled shrapnel into his arm.
INTREPID (CVS-11)
- Intrepid's flight deck was quiet for' the first time in 31 days, and her crew was taking advantage of the lull. After exactly a month of sustained combat operations off Vietnam, men who were helping to launch and recover aircraft the day before were lounging on the flight deck in swimming, trunks and enjoying the hot sun.
After being outfitted for light attack duties during overhaul, Intrepid steamed from home port, Norfolk, Va., to the waters off Vietnam. In the ensuing weeks, her pilots flew more than 2,400 aerial sorties and dropped some 2,700 tons of bombs on the enemy.
CONSTELLATION (CVA-64)
Constellation, with CVW-15 embarked, has returned to the waters off Vietnam after an absence of more than 16 months. Commanded by Captain William D. Houser, Connie is flagship for Rear Admiral James R. Reedy, Commander Attack Carrier Striking Force. Before she departed home port, San Diego, the CVA completed an eight-month, $19 million overhaul at the Puget Sound Naval Shipyard.
"Nineteen North Vietnamese PT-boat crewmen were picked up after their craft were sunk by the combined rockets, cannon and bomb attacks of aircraft from the attack carriers Constellation and Hancock," reported George Marshall, JOGS, in a Seventh Fleet detachment news release.
The action started, Chief Marshall continued, when the boats were spotted "dosing fast" by radar operators in two Constellation carrier combat patrol fighters. Word was passed by Ltjg. Gerry Goerlitz and Ltjg. Bob Robinson to the pilots, LCdr. Sven Nelson and Lt. Fred Miller, who alerted a destroyer squadron operating in the northern Gulf of Tonkin.
CORAL SEA'S new navigator is Cdr. Donald Wyand, former attack squadron commander.
In turn, ComDesRon 17, Captain E. L. Fox, called for attack aircraft from Constellation and Hancock. The two carriers immediately launched ready planes and diverted A-4's, F-4B'S, F-B'S and A-6A Intruders from other missions. Less than an hour later, the planes had taken the three boats under attack and sunk them. Survivors were pulled from the water by destroyer sailors.
Units involved, besides the carriers, included Coontz and the destroyers Rogers and Gurke, VA's 65, 153 and 155 and VF's 151 and 161.
AMPHIBIOUS ready group for Seventh Fleet includes Princeton, Pickaway and Alamo.
COMMANDER Harold L. Marr steps from his F-8 Crusader after shooting down MIG-17.
Those who keep track of such things may recall that, on August 4, 1964, Constellation-launched aircraft struck at Communist PT boats that were attacking two American destroyers—the Maddox and the C. Turner Joy. The next day, Connie aircraft participated in the first responsive strikes on PT boat bases in North Vietnam.
Connie's 43,000th arrested landing was made by LCdr. Kenneth J. Corica, VF-151, in an F-4B.

CORAL SEA (CVA-43)
"It's a demanding and challenging assignment that contrasts markedly with my past year's assignment as an attack squadron commanding officer in combat."
That's how Commander Donald McKay Wyand described his new job as Coral Sea's navigator. He was due to have the job of guiding the carrier across the Pacific to the South China Sea, where just 14 months before he flew his 161st combat mission over Vietnam.
Navy officials announced recently that the first U.S. Navy ship to bear the name of an American killed in action in Vietnam will be named after a Coral Sea pilot. The ship, a destroyer escort, will be named after Lt. William M. Roark, who was killed April 7, 1965, during an armed reconnaissance mission.
Coral Sea and the ASW carrier USS Bennington were among 43 ships participating in Belaying Pin, North and South Vietnam. Carrier pilots flew 9,223 strike sorties and an additional 1,485 ground support missions.
Foremost among those strikes was one against the Uong Bi power plant that served the Hanoi-Haiphong area. Originally put out of commission in December, the plant was restored and operating in April when two Kitty Hawk Intruders made a surprise night attack. Their bombs sent showers of sparks and raging fires into the air and elimi ing down another MIG-17 during a dogfight some 30 miles northwest of Haiphong.
Ten days later another VF-211 pilot, Lt. J. G. Vampatella, also shot down a mic-17 with a Sidewinder, despite the fact that his F-8 was damaged by ground fire.
YORKTOWN (CVS-10)
While Yorktown was participating in the Southeast Asia Treaty Organization's maritime exercise the second major First Fleet exercise of 1966.
HOMEWARD bound from seven-month deployment to the Mediterranean, Navy's newest carrier, USS Americo, steams for Norfolk. KING BAUDOUIN of Belgium congratulates CVW-3 operations officer, LCdr. Jack Finney, for performance in Brussels Air Show.

KITTY HAWK (CVA-63)
There were figures aplenty to mark the end of Kitty Hawk's eight-month deployment to WestPac.
With their ship in home port, CVA-63 sailors figured out that the carrier steamed 66,270.6 miles during 180 days at sea since she left CONUS October 19, 1965. It took, the Chief Engineer reported, 21,323,207 gallons of fuel and 49,375,568 propeller revolutions to complete those miles.
Kitty Hawk's Weapons Department was issued 10,731.04 tons of ordnance for the ship's squadrons to deliver on enemy targets in both nated much of the North Vietnamese capital's power supply.
Also credited to Kitty Hawk aircraft were strikes against the Hai Duong railroad and highway bridge that linked Hanoi and Haiphong, the Vinh Son highway bridge, the Hon Gay army barracks, and emplacements in the Hu Gia and Nape passes.
HANCOCK (CVA-19)
Commander Harold L. Marr, C.O. of VF-211, destroyed the 13th Communist MIG to be downed in the Vietnam fighting when he launched a Sidewinder missile against the aircraft from his F-8 Crusader. He was also credited with damaging and possibly shoot-

Sea Imp in the Gulf of Siam, Lt. J. M. Herring, VS-25, made the ship's 113,000th arrested landing in an s-2 Tracker.
TICONDEROGA (CVA-14)
Captain Martin G. O'Neill relieved Captain Robert N. Miller as Tico's C.O. during a change-of command ceremony in San Diego.
PRINCETON (LPH-5)
Captain Tazewell T. Shepard, Jr., is Princeton's new skipper. He relieved Captain T. J. Gallagher, Jr., while the LPH was in Cam Ranh Bay, Vietnam.
Marine Capt. Richard E. Gleason, HMM-364, was hoisted aboard a rescue helicopter from Princeton seconds after his own UH-34D Seahorse had engine failure and ditched in the South China Sea.

ATLANTIC FLEET
AMERICA (CVA-66)
America was back in. home port, Norfolk, after a seven-month cruise to the Mediterranean in which the ship steamed more than 42,000 miles and pilots of embarked CVW6 flew 15,725 hours.
In detailing the events that took place during the cruise, Mike Cleveland, J03, told of a previously unreported event. It seems that, in Istanbul, Lt. Gayle V. Collins and Edward D. Clark, ET1, were called upon to help a German merchant ship whose radar had broken down. The ship's master, in a letter to the U.S. consul describing what happened, said, "Remembering our membership in NATO, I contacted my 'colleague,' the commanding admiral (aboard America), and requested assistance."
The master said he didn't really expect any help from Rear Admiral James O. Cobb, ComCarDiv Two, so the arrival on board of the two America crewmen was a distinct surprise. Then, in his letter, he gave a beautifully-worded description of what happened next:
"They admired our 'museum-ripe radar,' prepared for work, drank one bottle Berliner Kindl each and furied for two hours from the radar mast down to the engine, from the engine to the bridge and thence back to the radar mast. On termination of their work they showed me a tiptop and absolute clear radar picture.
"Asking how I could make good for that, they replied, 'We hope for a thanks.' "
F. D. ROOSEVELT (CVA-42)
Shipyard workers at the Boston Naval Shipyard were getting some well-deserved back-pats after they successfully drydocked FDR, the largest warship ever to enter the South Boston Annex docking facility. The ship, a report said, had six inches of clearance, port and starboard, at the drydock sill.
FDR left the Boston yard for home port, Mayport, Fla., after rudder repairs were completed.
Aircraft from FDR and USS Independence were among units that participated in Beach Time, a major Second Fleet exercise in the Atlantic and the Caribbean.
FORRESTAL (CVA-59)
Vice Admiral R. C. Needham, Navy Inspector General, flew aboard Forrestal while the carrier was in dry dock at the Norfolk Naval Shipyard, Portsmouth, Va. Accompanying him on the inspection tour was Vice Admiral Charles T. Booth III, ComNavAirLant. Forrestal was undergoing a $20 million overhaul when the admirals arrived.
A more complete rundown of the yard period is on the next page.
ESSEX (CVS-9)
Essex arrived at home port, Quonset Point, R. I., after a five-month, $6 million overhaul at the Boston Naval Shipyard. The CVS also underwent extensive modifications designed to give her a modern and sophisticated communications system.
INDEPENDENCE (CVA-62)
Independence left home port, Norfolk, for her fourth Mediterranean cruise with the Sixth Fleet, a deployment that was expected to last seven months. Aircraft of Carrier Air Wing 7 were embarked.
DEPENDENTS say their goodbyes as Independence gets underway for Med cruise.
LEXINGTON (CVS-16)
Lex sailors continued to make efforts to keep the record for the most arrested landings in the Navy aboard their CVS as they brought aboard Ens. Jon H. Friedman, VT-4 student pilot, in a T-2A Buckeye for No. 156,000.
RANDOLPH (CVS-15)
Pilots of HS-9 logged their 19,-000th accident-free hour aboard Randolph while the carrier was undergoing around-the-clock ASW training in the Norwegian Sea.
SARATOGA (CVA-60)
It may not be a "first," as claimed by a Saratoga news release, but a night replenishment by helicopter between CVA-60 and the supply ship USS Sylvania in the Mediterranean has won great favor with the crews of both ships.
"Both Saratoga and Sylvania have recommended to higher naval authority that this system be instituted to create more time for daylight operations," the Sara news release said. Sylvania's helicopter hauled more than 92.5 tons of provisions to the carrier, and the aircraft's crew reported that the new white-lighting system (NANEws, August 1966, p. 3) used aboard the CVA caused no problems.
Lt. C. W. Galbreath, VA-34, made Sara's 109,000th arrested landing in an A-4C Skyhawk.
WASP (CVS-18)
Senior officials from the Navy and Defense Departments boarded Wasp at sea to observe ASW operations in the Atlantic.
Under Secretary of the Navy Robert H. B. Baldwin arrived in a c-iA Trader from NAS QUONSET POINT, R.I. In his party were H. A. Beaumont, Deputy Under Secretary of the Navy for Manpower, and Dr. George Sebastyen, Deputy Director of Research and Engineering in the office of the Secretary of Defense.
Greeting the visitors were Rear Admiral Edward C. Outlaw, Atlantic Fleet HUK Force Commander, and Vice Admiral Charles E. Weakley, ComASWForLant.