Naval Aviation News - August 1992 - Naval Aviation in WW II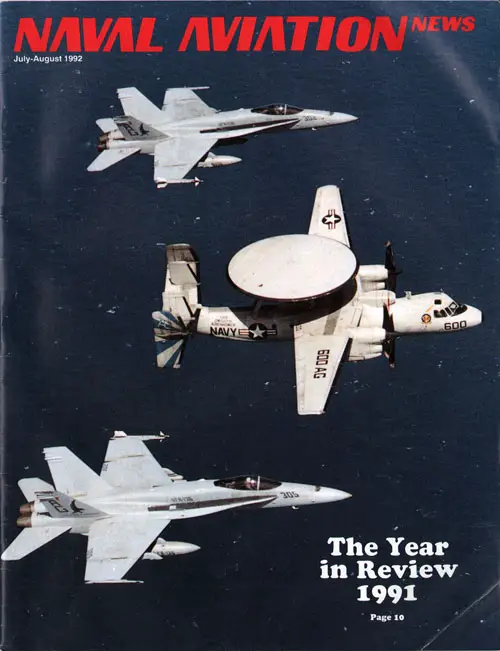 Front Cover, Naval Aviation News, August 1992: Two VFA-136 FA-18C Hornets escort a VAW-121 E-2C Hawkeye off the coast of Oman (Photo by Cdr. John Leenhouts).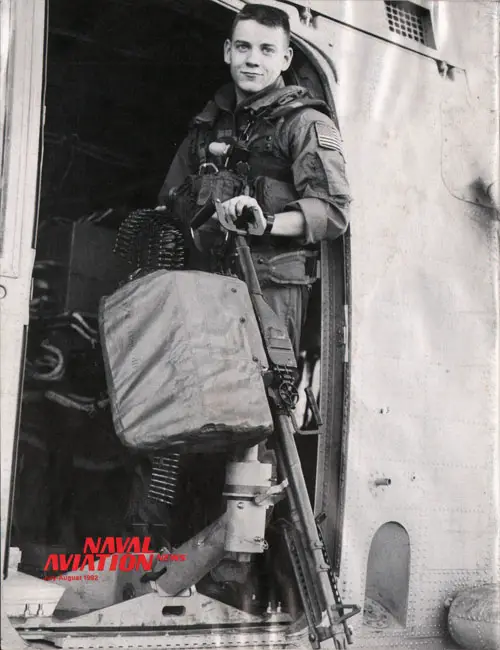 Back Cover, Naval Aviation News, August 1992: A rescue swimmer/door gunner of HS-9 poses with his M-60 machine gun at the door of an SH-3H Sea King aboard Theodore Roosevelt (CVN-71) during Opertion Desert Storm (Photo by Lt. Gerald Parsons).
Flagship Publication of Naval Aviation
Oldest U.S. Navy Periodical,
NANews Volume 74, No. 5, July-August 1992
Features
The Year in Review 1991
Farewell, "Midway Magic"
Enlisted Aviation Series: Aviation Machinist's Mate
A Milestone in Our Naval History — A History of USS Midway (CVB/CVA/CV-41)
Naval Aviation in WW II: Patrol Aviation in the Pacific, Part 1
Miss Piggy Retires at 30
Departments
Flight Line: Changing the Watch
Grampaw Pettibone
Airscoop
People—Planes—Places
Professional Reading
ANA Bimonthly Photo Competition
Flight Bag
Publication Staff
Rear Admiral R. D. Mixon
Acting Assistant Chief of Naval Operations (Air Warfare)
Published by the Naval Historical Center under the auspices of the Chief of Naval Operations
Dr. Dean C. Allard
Director of Naval History
Cdr. Stephen R. Silverio
Director, Naval Aviation History aPubllcatlonion Division
Staff
LCdr. Richard R. Burgess, Editor
Sandy Russell, Managing Editor
Charles C. Cooney, Art Director
Joan A. Fresher, Associate Editor
JOCS B. A. Cornfeld, Associate Editor
J02(SW) Eric S. Seslt, Assistant Editor
Associates
Harold Andrews, Technical Advisor
Cdr. Peter Mersky, USNR, Book Review Editor
Capt. R. Rausa, USNR (Ret.), Contributing Editor
Publication Policy:
Naval Aviation News considers for publication unsolicited manuscripts, photo essays, artwork, and general news about aircraft, organizations, history, and/or human endeavors which are the core of Naval Aviation. All military contributors should forward articles about their commands only after internal security review and the permission of the commanding officer. Manuscripts will be returned upon request.
Subscription Information:
Naval Aviation News (USPS 323-310; ISSN 0028-1417) is published bimonthly for the Chief of Naval Operations by the Naval Historical Center. Editorial offices are located in Building 157-1, Washington Navy Yard, Washington, D.C., 20374-5059. Second-class postage is paid at Washington, D.C., and additional mailing offices. Naval Aviation News is for sale by the Superintendent of Documents, U.S. Government Printing Office, Washington, D.C. 20402, phone (202) 783-3238. Annual subscription: $7.50.
The Secretary of the Navy has determined that this publication is necessary in the transaction of business required by law. Funds for printing have been approved by the Navy Publications and Printing Policy Committee.