Naval Aviation News - May 1966 - Flight Deck Fashions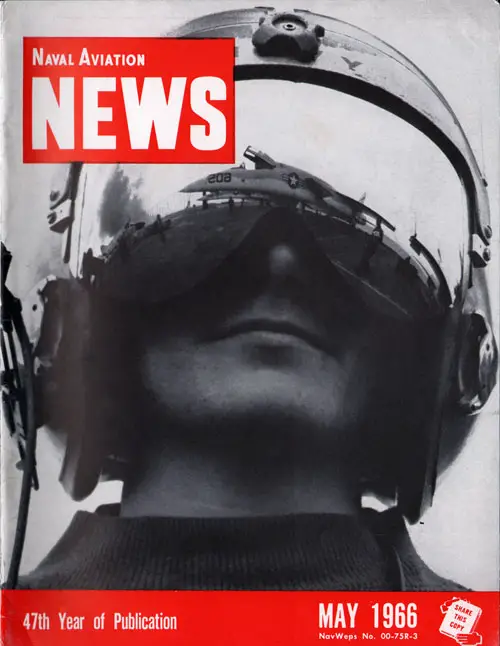 NAVAL AVIATION NEWS
FORTY-SEVENTH YEAR OF PUBLICATION MAY 1966
Front Cover (At Right): View of Saratoga's deck reflected in an airman's helmet was caught by Martin Finkelstein, PH3.
IN THIS ISSUE
A Bright Future
In testimony before a Senate subcommittee, Secretary of Defense Robert S. McNamara discusses what's ahead for aviation in the Navy and Marine Corps.
Who's on First?
The proposed reorganization of the Department of the Navy, as announced by Secretary of the Navy Paul H. Nitze, gives a clearer picture of who does what, and why.
It's not TWA, but ...
Vietnam's Air Cofat, with its four aircraft, puts the Navy in the middle of air transport action.
WestPac ASW
From the Sea of Japan to the South China Sea, the men of ASW Group One and the USS Hornet practice their trade.
A Colorful Crew
This latest in the NANews' series on the modern aircraft carrier describes action on the flight deck.
THE STAFF
Captain Cecil E. Harris Head, Aviation Periodical Office
Captain Paul Jayson Editor
Izetta Winter Robb Managing Editor
Lt. Richard Booth John D. Burlage, J01 : Associate Editors
Commander Walter Zebrowski, Harold Andrews : Contributing Editors
Dorothy L. Bennefeld Assistant Editor
Russell Pace Art Director
Issuance of this periodical approved in accordance with Department of the Navy Publications and Printing Regulations, NAVEXOS P-35
Published monthly by Chief of Naval Operations and the Air Systems Command to disseminate data on aircraft training and operations, space technology, missile, rocket and other aviation ordnance developments, aeronautical safety, aircraft design, power plants, aircraft recognition, technical maintenance and overhaul procedures.
Send mail to Naval Aviation News, Op-05A5, Navy Department, Washington, D.C. 20360, located at 4703 Munitions Bldg.; telephone Oxford 62252 or 61755.
Annual subscription rate is $2.50 check or money order ($1.00 additional for foreign mailing/ made payable and sent to Superintendent of Documents, Government Printing Office, Washington, D. C. 20402. Single copy is $.25.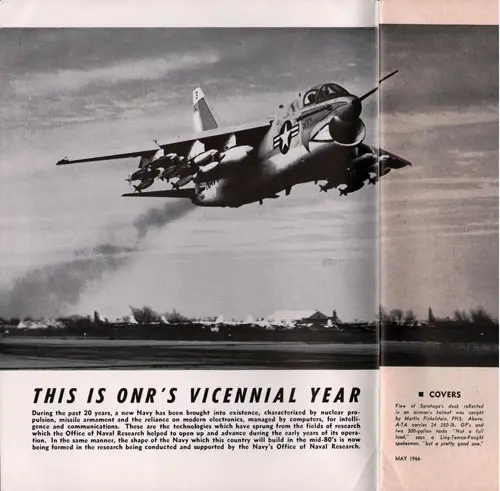 Above, A-7A carries 24 250-lb. GP's and two 300-gallon tanks "Not a full load," says a Ling-Temco-Vought spokesman, "but a pretty good one."
During the past 20 years, a new Navy has been brought into existence, characterized by nuclear prc pulsion, missile armament and the reliance on modern electronics, managed by computers, for intell gence and communications.
These are the technologies which have sprung from the fields of research which the Office of Naval Research helped to open up and advance during the early years of its operation. In the same manner, the shape of the Navy which this country will build in the mid-80's is now being formed in the research being conducted and supported by the Navy's Office of Naval Research.
Fashions for the Flight Deck
Flight Quarters Authroized Clothing

| Personnel | Helmet | Jersey | Symbols, Front and Back |
| --- | --- | --- | --- |
| Aircraft handling officers and plane directors | Yellow | Yellow | Billet title—crew number |
| Catapult and arresting gear officers | Green | Yellow | Billet title |
| Elevator operators | White | Blue | Elevator Operator |
| Aircraft handling crew and chockman | Blue | Blue | Crew number |
| Hook releaseman | Green | Green |   |
| Arresting gear | Green | Green | A |
| Catapult crew | Green | Green | C |
| Photographers | Green | Green | P |
| Messengers and telephone talkers | White | Blue |   |
| Maintenance crews | Green | Green | Black stripe and squadron designator |
| Plane Captains | Brown | Brown | Squadron designator |
| Repair parties and fire fighters | Red | Red | R |
| Helicopter crewman | Red | Green |   |
| Helicopter plane captain | Red | Brown |   |
| Aviation fuels | Purple | Purple |   |
| Medical | White | White | Red Cross |
| Ordnanceman | Red | Red | Black stripe and squadron designator |
| Maintenance | Green | Green | Squadron designator plus "Maint. CPO" |
| Line | Green | Brown | Squadron designator plus "Line CPO" |
| Squadron plane inspector | Green | White | Black and white checkerboard pattern and squadron designator |
Only officers charged with the actual control or direction of aircraft movements on the flight or hangar decks wear yellow jerseys. Officers in charge of a detail, such as aviation fuels, ordnance, and maintenance, wear a helmet and jersey corresponding in color to that of their respective detail, with their billet title on the jersey.
AT SEA WITH THE CARRIERS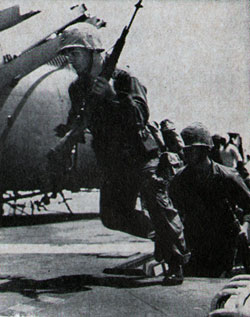 COMBAT troops race across USS Iwo Jima's flight deck as assault starts in Vietnam.
PACIFIC FLEET
MIDWAY (CVA-41)
The terse message from Corn-Twelve to CNO said, simply: "USS Midway placed 'out of commission, special' . . . at Hunter's Point Division, San Francisco Bay Naval Shipyard. Captain R. L. Kopps, USN, assumed duties as OinC."
But the designation, "out of commission, special," meant that the United States Ship Midway became just Midway, with a 34-month, $85 million overhaul ahead before she returns to the Fleet.
The three years Midway will spend at Hunter's Point will give yard workers the time they need to provide the 21-year-old CVA the capability to actively participate in operations for at least a decade, while, incidentally, saving more than 60 percent of the $200 million price tag for a new carrier.
Major effort will center around equipping Midway so the ship can handle newer and heavier aircraft. Higher pressure steam catapults, strengthened deck and new arrest- ing gear will be major installations. The ship will also receive air conditioning, new avionics shops, modified ammunition and bomb stowage facilities and equipment and modernized radar and communications systems.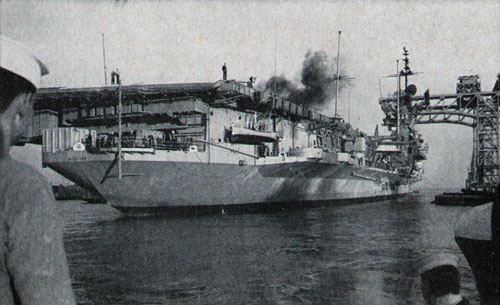 ON HER WAY to decommissioning for a three-year overhaul, Midway slips under a crane to berth at Hunter's Point. Some $85 million will be spent to modernize the CVA.
ENTERPRISE (CVAN-65)
Command of CarDiv Three passed from Rear Admiral Henry L. Miller to Rear Admiral Thomas J. Walker during a ceremony aboard Enterprise as the nuclear-powered carrier operated in the South China Sea. Before he left the carrier for new duties as Chief of Information in Washington, Admiral Miller told assembled personnel from CarDiv Three, ship's company and CVW-9: "
As the commander of the first nuclear-powered task group in history to engage in combat, I feel the results which you here on Enterprise produce will prove to be of great significance to the future of the United States Navy and the Free World. You are leading the way."
Rear Admiral Walker's previous assignment was as Deputy Commander (Navy) , Joint Task Force Two at Sandia Base, New Mexico.
PHILIPPINE President Ferdinand Marcos tries out cockpit of an Enterprise A-4.
The President of the Republic of the Philippines, Ferdinand Marcos, visited Enterprise while the carrier was in port at Subic Bay. Arriving by helicopter, he was welcomed by Vice. Admiral John J. Hyland, ComSeventhFleet; Rear Admiral Walker and Captain J. L. Holloway, III, C.O.
A 21-gun salute headed the full honors accorded President Marcos in a ceremony in the ship's forward hangar bay. A tour of the ship gave him the chance to try out the cockpit of an A-4C Skyhawk and to visit one of the CVAN's nuclear power plants where he was presented a metal symbol of an atom with a model of the Enterprise at the center.
Accompanying President Marcos on the visit were ranking Filipino dignitaries, military personnel and political figures.
Medals, all earned the hard way, were the order of the day aboard CVAN-65 when 100 pilots and flight officers of CVW-9 received 141 Air Medals and gold or silver stars in lieu of subsequent awards while the ship was at sea. They were presented by Rear Admiral Miller before he left the ship.
"With replenishment at sea an almost daily occurrence among Seventh Fleet carriers, the transfer of large loads at high . . . rates is common," the Enterprise news release said, "but when two giants in their fields got together recently the records tumbled." The release referred to unrep operations between Enterprise and USS Sacramento (A0E-1) , during which the carrier received 654 tons of ammunition and more than a million gallons of jet fuel.
The release claimed the ammunition tonnage is a new high for a one-day Seventh Fleet operation.
"In six hours alongside," the release added, "Sacramento sent 458 tons of aviation ordnance and other supplies across to Enterprise. Earlier, in a daylight vertical replenishment operation, Sacramento's two helicopters hauled 196 tons of ammunition and supplies. The huge jet-powered un-46 Sea Knight helicopters made one round trip every minute and 20 seconds, [pacing] their operations to coincide with the intervals between launch and recovery of Enterprise aircraft flying strikes against the Viet Cong."
The release pointed out that it took Enterprise crewmen an additional five hours to move the ammunition from the hangar deck to storage magazines.
"Weary sailors were glad when it was done," the release said. [But] an hour and a half later the first strikes of a new day were launched.
"Ad infinitum," it concluded.
VA-36 personnel aboard The Big E reported that squadron pilots have flown their A-4 Skyhawks for 10,000 accident-free hours, 1,500 in combat.
BENNINGTON (CVS-20)
Bennington is reportedly the first ship in the Fleet to test a new, longer-lasting, money-saving flight deck surfacing compound under operating conditions. Called poly urethane, the plastic compound costs more to install initially than previously-used material, ferrox. Its advantages, including an expected ability to last three to four times longer, are good bonding capability which makes it an excellent preservative for wooden flight decks, and—with the addition of crushed quartz sand—an effective non-skid surface.
CORAL SEA (CVA-43)
Captain Frank W. Ault relieved Captain George L. Cassell (NA-News, May 1965) as C. 0. of Coral Sea during a ceremony held while the carrier was at the San Francisco Bay Naval Shipyard.
Hunter's Point personnel reported that the carrier was nearing time to leave drydock and boiler light-off was due soon after the CVA was reberthed. "Staging came down from the mast," the report added, "a sure sign that many antennas will soon start returning to their roosts."
HANCOCK (CVA-19)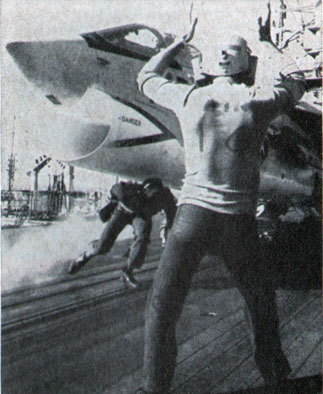 FLIGHT DECK action is fast aboard Hancock as Crusader is readied for launch.
Rear Admiral Maurice F. Weisner, CTF 77, was flown aboard Hancock to discuss air operations over Vietnam with Hancock's C. 0., Captain J. C. Donaldson, Jr.
The 84,000th arrested landing was made aboard Hancock during operations off Vietnam by LCdr. S. T. Thomas, VF-211, in an F-8.
A record was claimed for VA-215 when the squadron's ordnance officer, Ens. Norm Hansen, and his crew loaded their two millionth pound of bombs on one of the unit's A-1 Skyraiders. "That's 2,000,000 pounds of bombs, not counting rockets and flares, since Hancock arrived on the line in the South China Sea in mid-December 1965," a report said.
KEARSAR GE (CVS-33)
Eleven senior foreign naval officers, including two rear admirals, completed a five-day cruise aboard Kearsarge as part of the Senior Officer Antisubmarine W a r f are Tactical Course offered by the U.S. Fleet ASW School in San Diego.
Kay crew members marked their ship's 20th anniversary during a period in which the CVS was operating out of home port, Long Beach, Calif.
Fifty-three Kay crewmen attended a basketball game and dance at the Santa Monica City College. It was an "exchange visit" in return for a dance held aboard the CVS.
KITTY HAWK (CVA-63)
Kitty Hawk is another carrier in the South China Sea that has been trying out vertical unrep methods with USS Sacramento. The CVA reported that, during a 90-day period, 97 unreps were conducted with various ships "but [such operations] have been made easier and more efficient" by using helicopters.
Hollywood screen star Robert Mitchum, one of many entertainment personalities taking the time to visit American military personnel in and around Vietnam, flew aboard Kitty Hawk for a one-day stay. He was greeted by Rear Admiral James R. Reedy, Commander of Seventh Fleet Attack Carrier Striking Forces, and Captain Martin D. Carmody, skipper.
Mitchum spent most of his time aboard touring the ship, talking with crew members and being interviewed. He observed aircraft launches and a tanker unrep. after Lt. D. L. Bourland, VF-51, made No. 78,000 in an F-s Crusader. Tico's aircraft were averaging more than 100 sorties a day as the ship operated off Vietnam and the around-the-clock flying earned the CVA's C. 0., Captain Robert N. Miller, membership in the "10,000-Trap Club."
Tico crewmen also logged their ship's 100th unrep, and new records have been claimed in this department. While Tico was alongside the Fleet oiler USS Chipola, carrier crewmen got the oiler's hoses rigged and ready for pump-

The 70,000th helicopter landing aboard Boxer was made as the LPH steamed to the Apollo recovery station. The landing was made by Ltjg. Bill Tanski, pilot, and copilot LCdr. Jack Hickey, HS-5.
AMERICA (CVA-66)
AMERICA receives assistance from tugs as the carrier departs Norfolk. Nary's newest CYA is presently with the Sixth Fleet.
The 10,000th arrested landing aboard the Navy's newest CVA was made by Lt. Dennis B. Nichols, VA-64, in an A-4 Skyhawk while America operated in the Mediterranean.
Ambassador Harlan Cleveland, permanent U.S. Representative to the North Atlantic Council, boarded CVA-66 for a two-day orientation visit.
The first Ensign to qualify for the underway officer of the deck watch aboard America also heads an all-Ensign watch team.
Although he's been in the Navy only 14 months, Ens. George W. Thomason has worked his way through assistant junior officer of the deck to qualify as an underway 00D.
His all-Ensign watch team included John L. Pini, Richard W. McGowan and John L. Builder, Jr.
Concrete examples of the revival of the Navy's warrant officer program were in evidence aboard America when three former CPO's exchanged their rating badges for the pin-stripe that designates warrant status. The three included former PNC John T. Garner, Jr., now ship's clerk, GMC John F. O'Neal, ordnance technician, and ABC Robert E. Parsons, aviation operations technician.
ORISKANY (CVA-34)
Captain John H. Iarrobino relieved Captain Bartholomew J. Connolly, III, as Oriskany's C. 0. during a change-of-command ceremony held while CVA-34 was in port at NAS NORTH ISLAND, San Diego. Captain Iarrobino came from command of the attack transport USS Bay field; his predecessor was bound for Washington duty.
RANGER (CVA-61)
Ltjg. Howard E. Hess, VAW-11, made Ranger's 76,000th arrested landing in an E-2A Hawkeye. Lt. Raymond D. King was plane commander.
Forty ranking Filipino military officers toured Ranger while the CVA was in port at Subic Bay.
TICONDEROGA (CVA-14)
LCdr. B. J. Wallace, VAH-4 Det Bravo, brought his aircraft aboard Ticonderoga for the ship's 79,000th arrested landing only a few days ing in five minutes and 14 seconds to break Chipola's previous record of eight minutes and 14 seconds with USS Hornet. Tico also holds Chipola's fastest time for unrigging and disengaging from an unrep; the time: seven minutes.
BOXER (LPH-4)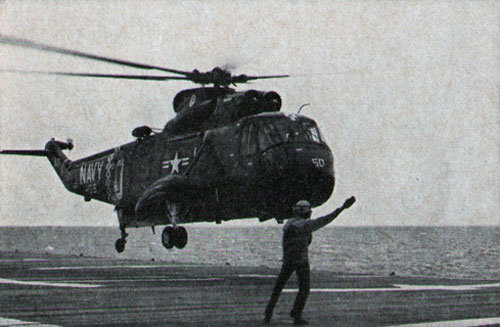 BOXER helicopter is set down on flight deck of the LPH to make the ship's 70,000th helo landing. Pilot was Ltjg. Bill Tanski.
Five days after returning to home port, Norfolk, with America's first Apollo spacecraft aboard, Boxer put to sea for a Gemini space shot operation.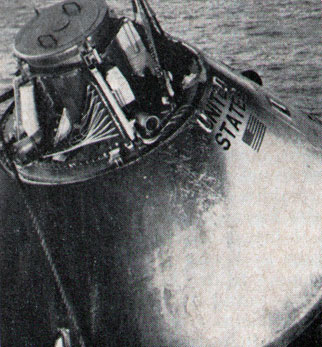 FIRST unmanned Apollo spacecraft to be launched by NASA is brought aboard Boxer.
Boxer crewmen recovered the Apollo craft near Ascension Island. The flight was the first test of the vehicle, in which the U.S. hopes to land a man on the moon. Designated primary recovery ship for the entire Apollo series, Boxer held the same title for the Gemini 8 manned space flight but did not participate in recovery activities because of GT-8's abortive Pacific landing.
FORRESTAL (CVA-59)
Commander H. B. Baumann, VF-74 C.O., accepted Forrestal's Golden Tailhook Award for his squadron while CVA-59 operated at sea. It was the second time in a row VF-74 won the award, established by Forrestal for the squadron with the outstanding performance record in the landing pattern during the preceding at-sea period. Its purpose is to generate in aircrews a greater attention to overall performance.
Lieutenant General Jose Avilas Bascuas, Chief of the Spanish Air Defense Command, and Brigadier General Julie Salvador DiazBenjumea, Chief of the Spanish Air Defense Command Air Forces, toured CVA-59 during a Sixth Fleet orientation visit.
F. D. ROOSEVELT (CVA-42)
There's a saying to the effect that if Mohammed won't go to the mountain, the mountain must come to Mohammed. Aboard FDR, HayWo,od Mitchell, J01, reported, they take the saying seriously.
It went something like this: While FDR was being used for carrier pilot training off the coast of Florida, Commander W. K. Smith, skipper of the CVA's air wing, flew out from NAS CECIL FIELD to practice landings. When he brought his A-4E Skyhawk aboard, he made the carrier's 149,000th arrestment.
To celebrate the milestone, Captain Charles L. Burbage, FDR's C.O., planned a special cake-cutting ceremony. Complications set in, however, when Commander Smith had to return to Cecil Field. FDR steamed back to Mayport, sans ceremony.
Plans to hold the ceremony aboard ship were discarded as impractical. Too much time and distance were involved.
"Well," said Captain Burbage, "if we can't get the man to the cake, we'll take the cake to the man."
So, a specially-baked and suitably inscribed cake was loaded on the ship's COD aircraft, bound on a scheduled run for Cecil Field. A short time later, Captain Burbage and several carrier and air wing officers watched proudly as Corn- mander Smith cut the long-awaited cake and received an inscribed cigarette lighter.
GUAM (LPH-9)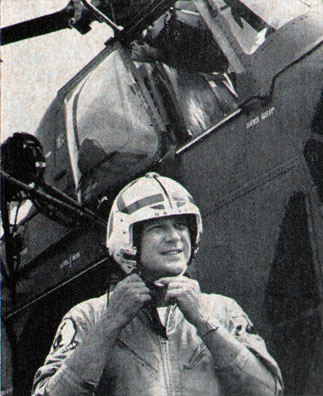 RESCUER of youth off Vega Baja, LCdr. A. L. Kruger leaves helo aboard USS Guam.
A rescue operation by a Guam helicopter and a Coast Guard seaplane saved a 19-year-old man from drowning off Vega Baja, Puerto Rico.
LCdr. Allen L. Kruger's crew hoisted Moises Serrano Martinez aboard the helo after a call from a Coast Guard u-16 Albatross, sent to aid Serrano, diverted the Guam pilot from a routine operational mission. Martinez was buffeted against a rock for almost an hour after he fell oil a coral cliff about 200 yards from the Vega Baja beach.
The Navymen gave Serrano first aid as the helo flew to Isla Grande Airport in San Juan. A Navy ambulance took him to a local hospital, and the Guam flyers resumed their mission. Others in the helo included Commander David Worrell, copilot and Guam's X.0.; Carmine Nobile, AM2; and F. A. Sides, ADS.
INDEPENDENCE (CVA-62)
LCdr. Vernon E. Frank and Ltjg. Steven J. Koontz, pilot and copilot of an H-2 Seasprite helicopter based aboard Independence when the carrier was operating off Vietnam, received Silver Stars for their rescue of a downed airman in a heavily-defended enemy area south of Than Hoa, North Vietnam. The awards were approved by Admiral Roy L. Johnson, CinCPacFlt.
INTREPID (CVS-11)
CVW-10 pilots, based at NAS CECIL FIELD, completed a week of training exercises aboard the Norfolk-based Intrepid off Florida.
SARATOGA (CVA-60)
Sara sailed from home port, May-port, Fla., bound for the Caribbean and a cruise that was destined to take her to the Mediterranean. The ship underwent an eight-month overhaul at Mayport, the first of its kind accomplished there.
On her seventh cruise to the Med, Sara was scheduled to relieve Forrestal in the Sixth Fleet.
Ens. Mitchell W. Davis, youngest pilot assigned to VA-106, made Sara's 105,000th landing in an A-4.
SHANGRI LA (CVA-38)
In preparation for a return to sea, 20 Shangri La crewmen attended a special lecture on celestial navigation at the Fels Planetarium, the Franklin Institute, Philadelphia. The subject was appropriate since the lecture was arranged especially for officers and quartermasters by Commander C. B. Crockett.
Shangri La is scheduled to leave the Philadelphia Naval Shipyard in May and return to normal operations with the Atlantic Fleet.