Naval Aviation News - July 1966 - Naval Air Reserve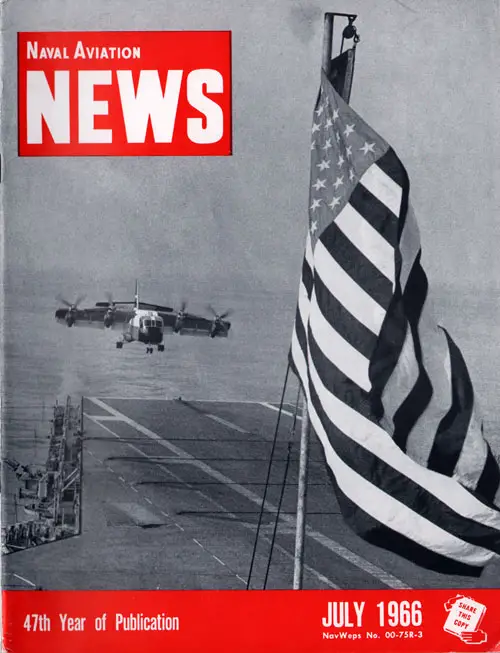 NAVAL AVIATION NEWS
FORTY-SEVENTH YEAR OF PUBLICATION JULY 1966
Front cover of the XC-I42A on USS Bennington (see pp. 20, 21) was taken by former NANews editor, Arthur L Schoeni, now with Ling-Temco-Vought.
IN THIS ISSUE
All the World's a Stage
... and members of the Naval Air Reserve have been in the wings for 50 years, ready to go on.
He's no Stranger
Vice Admiral Paul H. Ramsey, DCNO (Air), invited to Australia for the Coral Sea celebrations, is the first honor guest to have actually participated in the famous battle.
Go East, Young Plane
An East Coast squadron gets the E-2A Hawkeye, but the fact is that its pilots were trained on the. West Coast.
The AS is Here
It's a fortunate abbreviation for Aviation Support Equipment Technician, a new Navy rating for a job as impressive as its title indicates.
Sardinesville
The Navy and the Air Force are partners in aircraft storage.
Having its Ups and Downs
The XC-142A undergoes trials aboard USS Bennington, and another bit of Naval Aviation history is made.
FIFTY YEARS OF RESERVES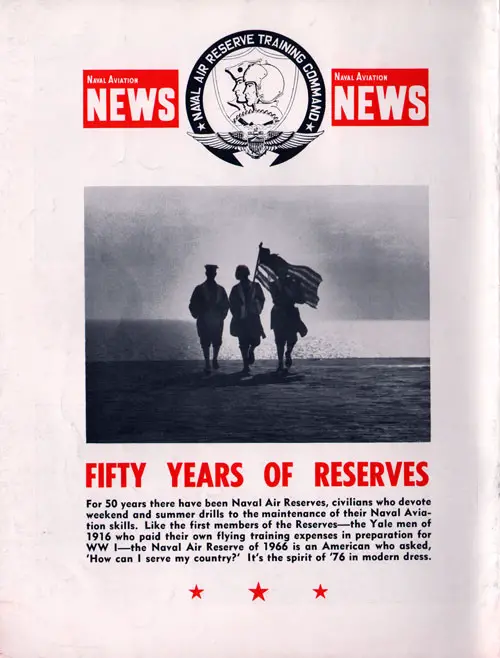 For 50 years there have been Naval Air Reserves, civilians who devote weekend and summer drills to the maintenance of their Naval Aviation skills.
Like the first members of the Reserves—the Yale men of 1916 who paid their own flying training expenses in preparation for WW I—the Naval Air Reserve of 1966 is an American who asked, 'How can I serve my country?' It's the spirit of '76 in modern dress.
The patriotic scene on the back cover (shown at right) was enacted one Fourth of July on the USS Shangri La (CVA-38).
THE STAFF
Captain Cecil E. Harris Head, Aviation Periodical Office
Captain Paul Jayson Editor
Izetta Winter Robb Managing Editor
Lt. Richard Booth, John D. Burlage, J01 : Associate Editors
Commander Walter Zebrowski, Harold Andrews : Contributing Editors
Dorothy L. Bennefeld Assistant Editor
Russell Pace Art Director
Issuance of this periodical approved in accordance with Department of the Navy Publications and Printing Regulations, NAVEXOS P-35
Published monthly by Chief of Naval Operations and the Naval Air Systems Command to disseminate data on aircraft training and operations, space technology, missile, rocket and other ordnance developments, aeronautical safety, aircraft design, power plants, aircraft recognition, technical maintenance and overhaul procedures.
Send mail to Naval Aviation News, Op-05A5, Navy Department, Washington, D.C. 20360, located at 4703 Munitions Bldg.; telephone Oxford 62252 or 61755.
Annual subscription rate is $2.50 check or money order l$1.00 additional for foreign mailing) made payable and sent to Superintendent of Documents, Government Printing Office, Washington, D. C. 20402. Single copy is $.25.
A LOGISTIC MECHANISM Above, a Sea Knight hovers over the USS Coral Sea after delivering supplies (photo by Jean Cote, PHI).
'In wartime, the Navy must have a logistic mechanism capable of supplying equipment, material and trained personnel to the right place, at the right time, and in the right amounts to support the Fleets in their actions against the enemy. The problem is not new—but its present dimensions are. Only in the last two decades has the flow of materials had to be projected 3,000 miles across one ocean and 7,000 across another.'
—John B. Ritch, Jr., Captain, USN, to the Naval War College at Newport, R. I.
AT SEA WITH THE CARRIERS
CIMARRON unreps Hornet and the destroyer Nicholas during operations in the South China Sea. CVS has returned from deployment.
PACIFIC FLEET
KITTY HAWK (CVA-63)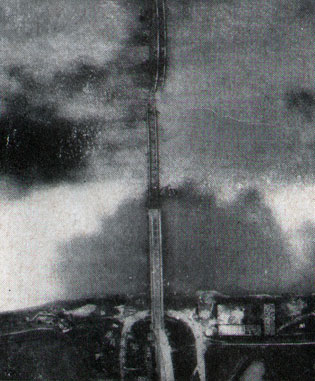 KITTY HAWK aircraft wrecked two spans of a bridge between Hanoi and Haiphong.
Kitty Hawk aircraft, on a strike over North Vietnam, cut the heavily defended Hai Duong rail and highway bridge that connected North Vietnam's capital city, Hanoi, with Haiphong.
Flying through intense antiaircraft and automatic weapons fire, A-6 Intruders and F-4 Phantoms dropped thousands of pounds of bombs on the target to destroy two of the bridge's five 258-foot spans and dump them in the center channel of the Song Thai Binh River.
Long considered a major transportation artery, the bridge was protected by the poor weather that hampered earlier attacks against it. The success of the Kitty Hawk aircraft strike, however, cut off river, rail and road traffic.
Comedian Danny Kaye and singer Vikki Carr were flown aboard Kitty Hawk to perform for the crew while the ship operated off Vietnam. Kaye and Miss Carr joined the growing group of entertainment personalities taking the time to raise the morale of American fighting men through personal appearances in and near Vietnam.
Kaye's only worry about coming aboard Kitty Hawk, it seems, was the arrested landing his aircraft made. "It was more like a controlled crash," he said.
Commander Murray C. Cook, C. 0. of VA-115 aboard Kitty Hawk, has been selected to receive the Navy League's 1966 John Paul Jones Award for "inspirational leadership." The award was to be presented to Commander Cook during the Navy League's national convention in Santa Monica, Calif.
Commander Cook did not win the coveted award through official channels. His name was put in the running for the honor by the officers and enlisted men of his squadron without his knowledge. A letter they sent to the Navy League read in part: "You can select a more famous candidate for your leadership award. Your choice can be a more popular one. . . .
"But you cannot select a better leader than Commander M. C. Cook. Nowhere will you find a man in whom is vested more complete confidence and utter admiration of his men. You could not honor a more deserving officer."
An RVAH-13 RA-5C Vigilante, piloted by LCdr. Raymond C. Vehorn, made Kitty Hawk's 50,000th arrested landing. Ltjg. John H. Hurlburt was RIO for the flight.
TICONDEROGA (CVA-14)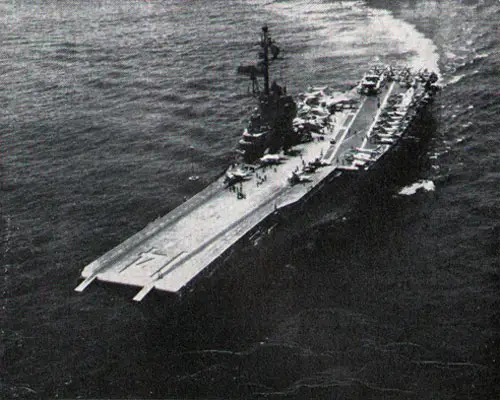 ANOTHER carrier back from the waters off Vietnam is Ticonderoga. CVA-14 returned to San Diego after second trip to the combat zone.
An eight-month deployment —the ship's second to the waters off Vietnam—ended when Ticonderoga returned to home port, San Diego, after aircraft of embarked CVW-4 flew 10,118 combat sorties in both North and South Vietnam.
Toward the end of the cruise, the 83,000th arrested landing was made aboard Tico by Ltjg. R. G. Lyon in a VF-53 F-8 Crusader.

ENTERPRISE (CVAN-65)

"Flights of A-1 Skyraiders, A-6 Intruders, F-4 Phantoms and A-4 Sky-hawks from the carriers USS Enterprise and Kitty Hawk hit a suspected communications structure and tower, railroad cars and warehouses, a railroad bridge, the Phuong Dien storage area and a boat facility. . . .
"Navy pilots from the Seventh Fleet attack carriers USS Kitty Hawk and USS Enterprise flew 44 strike missions against North Vietnamese targets. . . .
"In-country, Navy pilots from the Seventh Fleet attack carrier USS Enterprise flew 133 strike sorties against Viet Cong targets in the Republic yesterday. . . ."
As the daily summary reports from the Seventh Fleet detachment's public affairs office in Saigon indicate, Enterprise continued to be in the thick of the conflict.

CVAN-65 crew members were able to take time out from flight operations, however, to welcome aboard Danny Kaye and Vikki Carr, who made Enterprise another at-sea stop in their tour of the Vietnam area.
A CVAN-65 news release didn't say why, but Kaye evidently had the opportunity to play barber during his stay in Enterprise. During a special program over the ship's closed-circuit TV system, Kaye, the release announced matter-of-factly, "traded quips with As sistant Navigator (LCdr.) Leonard P. Kawalkowski while he shaved off the popular officer's beard."
Washington, D.C., visitors boarded Enterprise at sea when five members of the House of Representatives flew out to the carrier for an overnight stay.
Members of a special subcommittee of the House Armed Services Committee, the congressmen were visiting U.S. armed forces in Vietnam. They included Samuel S. Stratton (N.Y.) , Robert L. Leggett (Calif.) , Floyd V. Hicks (Wash.) , Charles E. Chamberlain (Mich.) and R. T. Stafford (Vt.) .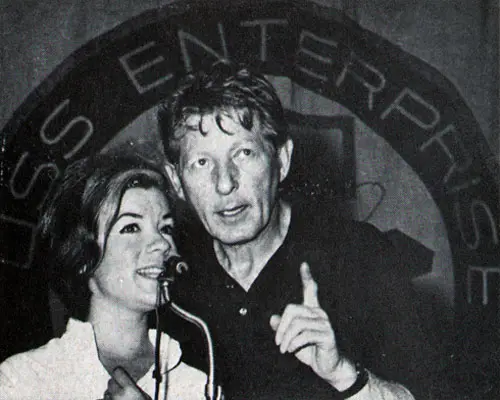 TEAMWORK is evident as Danny Kaye and Vikki Carr sing together during a show aboard Enterprise. Pair also visited Kitty Hawk.
BENNINGTON (CVS-20)
Danny J. Jackson, AG1, Bennington's first "Man of the Month," was honored by his C.O. during a ceremony before ship's company. Jackson received a $25 savings bond, a letter of commendation and personal congratulations from Captain Wiley B. Howell. He is also eligible for "Man of the Year."

CONSTELLATION (CVA-64)
Rear Admiral Ralph W. Cousins, ComCarDiv Nine, was presented the Distinguished Service Medal by Vice Admiral Thomas F. Connolly, ComNavAirPac, during a ceremony aboard Constellation while the ship was at NAS NORTH ISLAND.

The medal was awarded "for exceptionally meritorious service" while Admiral Cousins was commander of Task Groups 77.3 and 77.5. The citation that accompanied the medal, signed by the Secretary of the Navy Paul H. Nitze, read in part: "Under Rear Admiral Cousins' direction, carrier strike groups destroyed over 140 highway and railroad bridges, 300 trucks, 55 watercraft, and numerous barracks, supply dumps and logistic installations in North Vietnam. . . .
"During the height of the [enemy] surface - to - air missile threat, Rear Admiral Cousins developed anti-Sam tactics and directed the first successful strike against an enemy missile [unit]."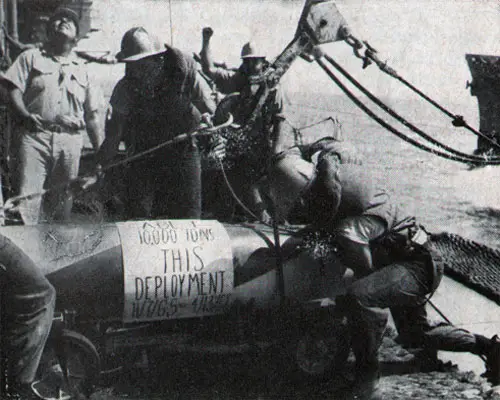 SACRAMENTO'S 10,000th ton of ammo transferred in five months of WestPoc operations came in the form of 2,000-16. bomb to Tico.
HANCOCK (CVA-19)
CVW-21 aircraft, embarked aboard Hancock, provided close air support and helicopter escort for American Marines engaged in Operation Jackstay, an amphibious assault designed to clear the Viet Cong from the Rung Sat Special Zone southeast of Saigon. The aircraft were controlled and directed by the Tactical Air Control Center aboard the USS Princeton.
KEARSARGE (CVS-33)
Captain Willard L. Nyburg is Kay's new skipper. He relieved Captain Merle M. Hershey during a ceremony held while the CVS was in Long Beach. Captain Nyburg's former command was the oiler USS Haleakala; Captain Hershey has been assigned to ComNavAirLant's staff.
ORISKANY (CVA-34)
Vice Admiral Lawson P. Ramage, ComFirstFlt, boarded Oriskany during. Operation Gray Ghost, an extensive First Fleet exercise off the Southern California coast. He was met by Rear Admiral Ralph Cousins, then in Oriskany as ComCarDiv Nine, and Captain John H. Iarrobino, CVA-34's skipper.
LCdr. Leon Edney, VA-l64, made Oriskany's 106,000th arrested landing during Gray Ghost.
PRINCETON (LPH-5)
Captain William McKinney relieved Captain John Westervelt as commander of the Seventh Fleet's Amphibious Ready Group during an informal ceremony aboard Princeton. The LPH is ready group flagship.
Andrew S. Fleming, QM3, has been selected Princeton's "Man of the Month." He was named on the basis of attitude, performance of duty, conduct and appearance.
RANGER (CVA-61)
RANGER is replenished from the air by a Sea Knight helo from stores ship USS Mars.
Ranger crewmen joined in donating 1,448 pints of blood for use by fighting forces in Vietnam. The donations were made while CVA61 was in Yokosuka, Japan, for a rest and recreation period that lasted ten days. Then the big carrier got underway again for the South China Sea.
With the carrier back on the line, Ranger pilots and those from Hancock hit designated targets in the North Vietnamese city of Vinh. A Ranger report said the combined attack against a storage facility for oil, petroleum and lubricant came just over a year after Ranger and Hancock aircraft joined forces for the first two-carrier operations against Vinh.
In February 1965, planes from the two carriers destroyed the Vinh radar complex and an army barracks. The second attack was reportedly considered even more successful. Besides the storage plant, a storage area in the outskirts of the city was destroyed, an antiaircraft battery was silenced and seven railroad cars were demolished.
VALLEY FORGE (LPH-8)
Valley Forge returned to home port, Long Beach, from a deployment to WestPac that lasted more than seven months. The LPH's duties as flagship for CTG 76.5 included participation in several combat operations, including Blue Marlin, Dagger Thrust, Harvest Moon and Double Eagle — the largest amphibious landing, a report said, since Inchon.
During the nearly five months Valley Forge was an Amphibious Ready Group LPH, more than two months were spent in combat operations, 8,578 combat sorties were flown and more than 17,500 troops were flown from the ship.
YORKTOWN (CVS-10)
Captain William M. McCulley, formerly skipper of the attack cargo ship USS Skagit, became Yorktown's C.O. during a changeof-command ceremony while the ship was in Sasebo, Japan. He relieved Captain James B. Cain, who was under orders to report as chief of staff to ComCarDiv Three.
ATLANTIC FLEET
AMERICA (CVA-66)
Vice Admiral C. T. Booth, ConnNavAirLant, was a guest aboard America for a day while the new CVA was bound from Beirut, Lebanon, to Valletta, Malta. He and his party were welcomed aboard by Rear Admiral James 0. Cobb, ComCarDiv Two.
Eight Air Force broadcasters from the Armed Forces Radio Service in Athens, Greece, boarded America while the ship was in Falirikon Bay to tape-record a remote show for use over AFRS Athens next day.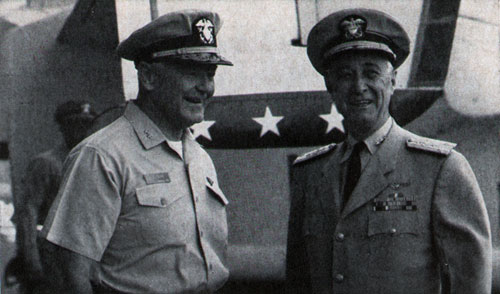 COMNAVAIRLANT, Vice Admiral C. T. Booth, is welcomed aboard America by Rear Admiral James 0. Cobb (L), ComCarDiv Two. Admiral Booth boarded deployed CVA at sea.
SARATOGA (CVA-60)
Two VA-46 pilots have been decorated for heroism and extraordinary achievement in combat over North Vietnam. Lts. Thomas J. McClard and Tames B. Abbitt were awarded Distinguished Flying Crosses in a presentation ceremony aboard Saratoga while the carrier was anchored off Valletta, Malta.
The lieutenants were cited for their participation in a highly successful attack against a surface-to-air missile site 50 miles southeast of Hanoi. At that time, they were attached to VA-164 embarked in Oriskany.
Sara's tenth "birthday" was celebrated by members of her crew while the ship was 4,000 miles from home port, Mayport, Fla. The historic island of Malta was a backdrop for the ceremony.
SHANGRI LA (CVA-38)
Medal presentations and preparations to leave the Philadelphia Naval Shipyard were the big stories aboard Shangri La.
David C. Swenson, SN, was presented the Navy and Marine Corps Medal by Rear Admiral G. P. Koch, ComCarDiv Six, during a ceremony aboard the carrier. The award honored Swenson's attempt to save a shipmate from an oxygen-starved space in the ship.
At the same ceremony, James H. Kendall, RD2, received the Navy Commendation Medal from Admiral Koch for rescuing a man who fell from a pier in Naples.
More than 500 Philadelphians were the guests of Captain August W. Elliott, Shang's C.O., during a reception held in honor of their city and its council as the carrier's crew prepared to take their ship out of the yards.
During the affair, Paul D'Ortona, president of the city council, read a resolution commending Captain Elliott and Shang's officers and enlisted men for their attitude and interest in community affairs during their six-month stay.
The carrier was scheduled to leave the shipyard for sea trials, then return to Mayport.
LEXINGTON (CVS-16)
Lexington crewmen have laid claim to the record for the most carrier arrested landings.
Reporting their ship was the first to log 152,000 arrestments, they celebrated the event with a ceremony and a ship's party which was hosted by Captain G. A. Snyder, the training carrier's C. 0. Guests included Vice Admiral A. S. Heyward, Jr., CNATra; Rear Admiral J. J. Lynch, CNABaTra; Ltjg. Mark D. Jarrett, an advanced student pilot assigned to VT-31 who made the 152,000th landing; and VT-31's C.O., Commander C. H. Sell.
Ltjg. Jarrett, flying a TS-2A Tracker, made the landing shortly before Lexington completed a week of carquals for advanced students from Corpus Christi. A VT-31 instructor, Lt. C. E. Collem, was copilot' on the flight.
Lexington reported the arrested landing record was actually broken when Ltjg. W. I. Harris made No. 151,085 in a T-2A Buckeye. His landing caused the VT-28 student pilot to pass the record reportedly held by Coral Sea.
Home-ported at NAS PENSACOLA, Lexington is assigned to the Air Training Command. Her primary mission is conducting carquals for basic and advanced student aviators of the Navy and Marine Corps. Additionally, the ship provides carrier services for refresher training of Fleet squadron pilots. Lex has held this job since 1962.
Those who contributed to Lex's record claim by making the ship's last three X000th landings were: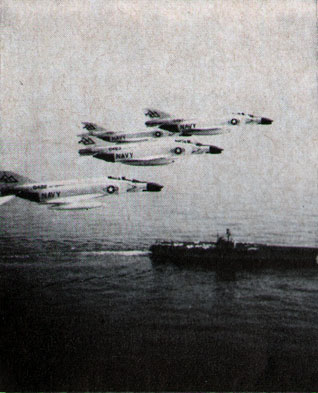 F-4 PHANTOMS from Forrestal overfly the carrier during her Mediterranean operations.
Naval Aviation Cadet Robert K. Doane, VT-5, NAAS SAUFLEY FIELD, 151,000th, in a T-28 Trojan.
LCdr. W. E. Ramsey, VA-44, 150,000th, in an A-4E Skyhawk. LCdr. Ramsey's father is Vice Admiral Paul H. Ramsey, DCNO (Air) .
Lt. Carleton E. King, Jr., VS-39, 149,000th in an s-2F Tracker. Lt. King's father is a Congressman.
Later, Ens. Richard Wendelken, VT-5, helped Lex pull away from the competition by making arrestment No. 153,000 in a T-28 Trojan.
FORRESTAL (CVA-59)
Captain Howard S. Moore was relieved as C.O. of Forrestal by Captain John K. Beling in a ceremony aboard the carrier at the Norfolk Naval Shipyard. Captain Moore had orders to become CinCPac representative, Strategic Target Planning, Offutt AFB. His relief reported from ComNavAirLant's staff, where he was force training officer and an assistant chief of staff.