Naval Aviation News - March 1966 - At Sea with the Carriers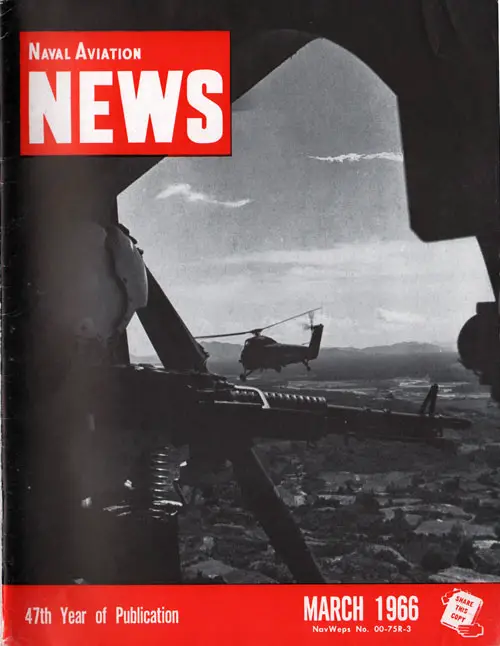 NAVAL AVIATION NEWS
FORTY-SEVENTH YEAR OF PUBLICATION MARCH 1966
Front Cover (At Right): Naval Photographic Center provided cover photo of Marine in helicopter returning to carrier during "Dagger Thrust."
IN THIS ISSUE
A Look at a New Way
NANews embarks on a series of articles designed to explain how the Standard Navy Maintenance and Material Management (3-M) System and the three levels of maintenance concept will assure that aviation maintenance will never be the same again—and why it shouldn't be.
Yes or No?
The heady art of decision-making gets a healthy assist from new technology.
Happiness is a Helmet . . .
Captain Roland A. Bosee, MSC, Theodore J. Post, and James F. Parker, Jr., hove put their heads together for a story about the latest in hardhats.
. . . And Elbow Room
A computerized control center assures pilots that "togetherness" is passe.
Signal-Caller
"Tacco" is the short name given the man who guides the P-5 Marlin crew.
The Modern Carrier
The Engineering Department and nuclear power come under scrutiny in this portion of the continuing NANews series.
Back Cover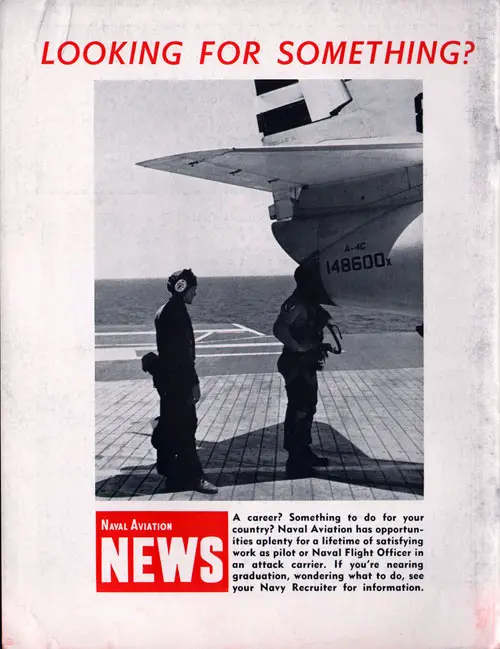 Back cover photograph was taken by Jack Weir, PH2.
LOOKING FOR SOMETHING?
A career? Something to do for your country? Naval Aviation has opportunities aplenty for a lifetime of satisfying work as pilot or Naval Flight Officer in an attack carrier. If you're nearing graduation, wondering what to do, see your Navy Recruiter for information.
THE STAFF
Captain Cecil E. Harris Head, Aviation Periodical Office
Captain Paul Jayson : Editor
Izetta Winter Robb : Managing Editor
Lt. Richard Booth, John D. Burlege, J01 : Associate Editors
Commander Walter Zebrowski, Harold Andrews : Contributing Editors
Dorothy L. Bennefeld : Assistant Editor
Russell Pace : Art Director
Issuance of this periodical approved in accordance with Department of the Navy Publications and Printing Regulations, NAVEXOS P-35
Published monthly by Chief of Naval Operations and Bureau of Naval Weapons to disseminate data on aircraft training and operations, space technology, missile, rocket and other aviation ordnance developments, aeronautical safety, aircraft design, power plants, aircraft recognition, technical maintenance and overhaul procedures.
Send mail to Naval Aviation News, Op-05A5, Navy Department, Washington, D.C. 20360, located at 4703 Munitions Bldg.; telephone Oxford 62252 or 61755.
Annual subscription rate is $2.50 check or money order ($1.00 additional for foreign mailing) made payable and sent to Superintendent of Documents, Government Printing Office, Washington, D. C. 20402. Single copy is $.25.
MEASURED RESPONSE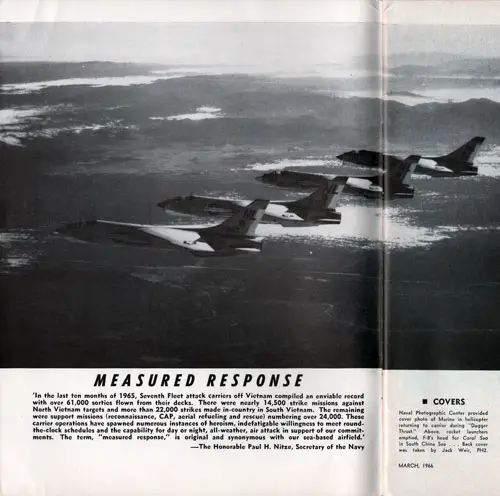 'In the last ten months of 1965, Seventh Fleet attack carriers off Vietnam compiled an enviable record with over 61,000 sorties flown from their decks. There were nearly 14,500 strike missions against North Vietnam targets and more than 22,000 strikes made in-country in South Vietnam. The remaining were support missions (reconnaissance, CAP, aerial refueling and rescue) numbering over 24,000.
These carrier operations have spawned numerous instances of heroism, indefatigable willingness to meet round-the-clock schedules and the capability for day or night, all-weather, air attack in support of our commitments. The term, "measured response," is original and synonymous with our sea-based airfield.'
—The Honorable Paul H. Nitze, Secretary of the Navy
Above, rocket launchers emptied, F-8's head for Coral Sea in South China Sea . ..
MARCH, 1966
AT SEA WITH THE CARRIERS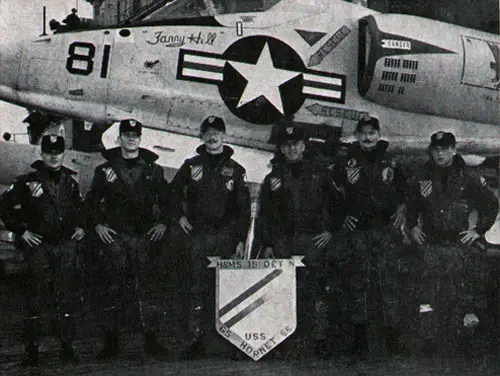 MARINE AVIATORS of H&MS-15 Det. November, normally based aboard Hornet, joined Midway's VA-22 for two weeks of missions.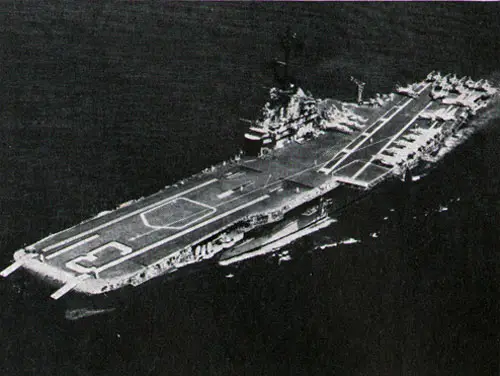 HER SECOND combat cruise off Vietnam completed, Bon Homme Richard steams towards home. Deployment included 276 days at sea.
PACIFIC FLEET
HORNET (CVS-12)
Seventh Fleet sailors — 2,111 of them—rolled up their sleeves and donated a pint of blood apiece for servicemen fighting in Vietnam.
The Army's 406th Medical Laboratory team made the request for the donations, and Hornet's hangar deck was selected as the central donation center. Sailors from Hornet and the destroyers of ASW Group One donated blood, as did Navymen from other ships then in Sasebo, Japan.
KITTY HAWK (CVA-63)
Robert H. B. Baldwin, Under Secretary of the Navy, and Charles F. Baird, Assistant Secretary of the Navy for Financial Affairs, boarded Kitty Hawk for two days while the CVA operated off Vietnam.
Other visitors to the ship included Mayor Sam Yorty of Los Angeles, Senator Henry M. Jackson (Washington) , Rear Admiral P. E. Hartman, Commander of U.S. Naval Forces in the Western Pacific, and actress - comedienne Martha Raye, who presented a show for a standing-room-only audience.
Kitty Hawk received a different kind of visitor when the nuclear-powered USS Enterprise joined forces with the conventionally-powered CVA-63 for a combined air strike against targets in North Vietnam.
BON HOMME RICHARD (CVA-31)
Bonnie Dick has returned to home port, San Diego, the first carrier to complete a second combat cruise off the coast of Vietnam. During her ninth deployment, the 21-year-old carrier's Air Wing 19 flew 12,328 combat missions. CVA31 aircraft dropped more than 11,000 tons of ordnance and expended more than 661,700 rounds of 20mm ammunition on communist targets.
More than 60 of the carrier's pilots became combat centurions, flying 100 missions or more.
Of the more than 1,200 medals and awards earned by Bonnie Dick and Air Wing 19 personnel, 38 were Distinguished Flying Crosses and nine were Purple Hearts. Also included was one Vietnamese Cross of Gallantry, presented to Ltjg. Charles Fredericks, VA-196, by the commander of the 37th Vietnamese Ranger Battalion. Ltjg. Fredericks led a flight of aircraft in support of ambushed South Vietnamese troops; his total disregard for his own safety led to the defeat of the Viet Cong force.
Bonnie Dick steamed nearly 110,000 miles during 276 days at sea. Nearly 14,000 tons of ammunition and stores were transferred during underway replenishments that were held on an average of one every 20 hours.
Among those congratulating Bonnie Dick after the ship returned was Vice Admiral Thomas F. Connolly, ComNavAirPac. His message to the ship read in part: "I commend you for your outstanding performance throughout . . . your second combat deployment. The achievement of your pilots carrying out more than 12,000 combat sorties is noted with pride.
"Hard work and diligent training of all hands of the Bonnie Dick is an inspiration to all who will follow. The fighting spirit and reputation of your predecessors who bore the proud name of USS Bon Homme Richard has been upheld outstandingly. We join in your prayer for those comrades in arms who have not returned with you. Their sacrifice strengthens our purpose and resolve that the people of the great United States will always oppose those who seek to deprive others of their freedom. Well done and welcome home."
TICONDEROGA (CVA-14)
Tico crewmen were presented a variety of entertainment, even though their ship was operating off Vietnam, when both Bob Hope and Martha Raye brought live shows aboard.
CVA-14 men were joined by crew members of the accompanying Turner Joy (DD-951) , Lymon K. Swenson (DD-729) , and Sacramento (A0E-1) , who were high-lined or flown aboard the carrier, when Hope presented his annual show on the flight deck. Included among the 85 entertainers and technicians who made the program possible were actresses Carroll Baker and Joey Heatherton; singers Kaye Stevens, Jack Jones, and Anita Bryant; Miss USA 1965, Diana Lynn Batts; and the dancing Nicholas Brothers, Jerry Colonna, and Peter Leeds.
Tico men also had an opportunity to meet a lady who was no stranger to servicemen stationed in Southeast Asia. Her name is Martha Raye.
Miss Raye boarded the CVA at sea to give two performances. Accompanied by a three-man Army combo, she entertained Tico men in shows on the forecastle and the flight deck. She was Tico's guest overnight.
A visit of an entirely different nature was made aboard CVA-14 when Francis Cardinal Spellman, Catholic Archbishop of New York, was flown aboard the carrier while he was en route to American military installations in South Vietnam.
Also Archbishop of all Catholics in the armed services, the Cardinal was greeted by Rear Admiral Ralph W. Cousins, ComCTG 77.5, and Captain Robert N. Miller, Tico's C. 0. The Cardinal conducted mass aboard the ship.
The crash of an F-8E Crusader aboard Tico provided Hope and members of his troupe with a first- hand look at the hazards of carrier landings and the teamwork and
efficiency of pilot rescue operations.
Ltjg. William S. Brougher, returning from a combat air patrol, was attempting a night landing when his plane crashed on deck. The pilot ejected from the F-8E and parachuted into the sea. He was picked up, uninjured, by a rescue helicopter.
Hope, Carroll Baker, Joey Heatherton, and several other members of the troupe were watching night flight operations when Ltjg. Brougher's jet scraped against the stern edge of the flight deck, skidded along the angle deck, and plunged into the sea. The anxious entertainers watched the rescue helo crew scan the water with a searchlight. There followed an announcement that Ltjg. Brougher was in the helo, the return flight to the carrier, and a routine check of the pilot by the ship's medical officer.
Then Miss Heatherton said to the VF-53 pilot, "Glad to have you back," and rewarded him with a kiss. Some think Ltjg. Brougher may have been more disconcerted by that incident than by the crash.
COMEDIENNE Martha Raye gets a wind- blown welcome after arrival aboard Tico.
ENTERPRISE (CVAN-65)
The following message was sent to SecNav, CNO, and other officials by Rear Admiral Henry L. Miller, then ComCarDiv 3 in Enterprise:
"I have the distinct honor and pleasure to announce to you that . . . the first nuclear-powered task group of your Pacific Fleet and the United States Navy engaged the enemy in South Vietnam. The USS Enterprise, with all-jet Air Wing Nine delivering the punch, struck hard against Viet Cong installations in the third and fourth corps areas. Enterprise was ably supported by the nuclear destroyer USS Bainbridge (DLGN-25) and the conventionally - powered destroyers Barry (DD-933) and Roberts (DD-823) of DesRon 24. Enterprise's memorable performance today testifies that she is worthy of the heritage left by her illustrious predecessor, CV-6."
The 50,000th arrested landing aboard CVAN-65 was made, during combat flight operations when LCdr. Edward S. Promersberger, VF-92, brought his F-4B Phantom II aboard. Ens. Louis R. Biosca was RIO.
Senator Stuart Symington (Missouri) was an overnight visitor aboard Enterprise after he was flown to the carrier from Da Nang, South Vietnam. He was greeted by Rear Admiral Miller and Captain James L. Holloway III, the carrier's C.O.
The pilot and RIO of an Enterprise-based F-4B Phantom II lost their lives when the aircraft crashed into the side of a ridge during a rocket attack against Viet Cong support activities. Cdr. Edgar A. Rawsthorne, VF-92 Commanding Officer, and Lt. Arthur S. Hill, Jr., were on a night armed reconnaissance mission when the F-4B crashed.
Command of CVW-9 and VA-93 changed hands in a dual ceremony aboard the Big E while the CVAN was at sea. Commander F. Taylor Brown turned over control of the air wing to Commander Tames L. Shipman. The former X.O. of VA-93, Commander W. G. Sizemore, relieved Commander A. J. Monger as skipper of the Blue Blazers. Both CVW-9 and the squadron are based at Lemoore.
PRINCETON (LPH-5)
Seven hundred dependents and friends of Princeton crew members boarded the LPH in Long Beach, Calif., to spend a day at sea. The occasion was Princeton's Dependent's Day Cruise. Visitors watched highline transfers, an underway replenishment with the destroyer De Haven, gunnery drills, and help operations.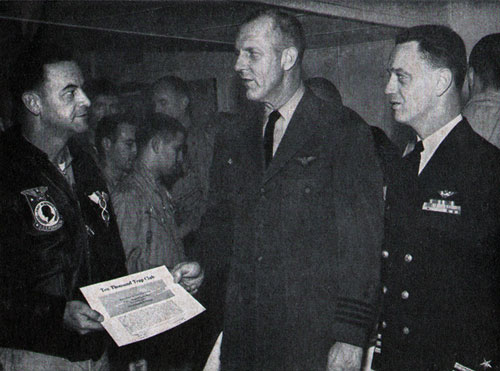 NEW MEMBER of the 10,000-Trap Club is Captain H. S. Moore, CVA-59 C.O. Cdr. 0. W. Oberg, CAW-8, presents certificate; Cdr. Burton Shepherd made milestone landing.
RANGER (CVA-61)
Ranger is operating again in WestPac waters, on her sixth Far East cruise in as many years. The carrier returned to home port, Alameda, in May 1965, from combat operations off Vietnam, spent five months in the shipyard at Hunter's Point, and conducted intensive underway training before deploying again.
Before the ship deployed, Vice Admiral Lawson P. Ramage, ComFirstFlt, and Pulitzer-Prize-winning writer G. D. Layman visited aboard.
A new world of television entertainment is being presented aboard Ranger. The carrier is reportedly the first Navy ship to incorporate a video taping system into its closed-circuit TV operation.
The video tape recorder, the first production model of a new series being placed on the market, was presented to Ranger's C.O., Captain Leo B. McCuddin, by the San Francisco Ranger Committee before the CVA deployed. The committee included Walter McNiff, manager of the Broadcast Communications Group of San Francisco; Harry Jacobs, chief engineer of KGO-TV, and C. Gus Grant, Ampex group vice president.
The video tape recorder may be likened to the standard audio variety, and it is just as versatile. Ranger's unit weighs only 80 pounds; by using it, personnel assigned to the ship's TV station, KRAN-TV, can tape live shows from virtually any point in the carrier for presentation later. Pictures caught by the TV camera and recorded on the machine are clear and indistinguishable from those in a live broadcast.
BENNINGTON (CVS-20)
Captain Wiley B. Howell relieved Captain Marvin E. Barnett as C. 0. of Bennington during a change-of-command ceremony aboard the CVS. The new skipper came from command of USS Guadalupe (A0-32); Captain Barnett was bound for duty as chief of staff to ComASWForLant in Norfolk.
CONSTELLATION (CVA-64)
Arrested landing No. 35,000 was made aboard Constellation by a ship's company officer, Lt. Jerry Healey, in a C-IA Trader.
CORAL SEA (CVA-43)
LCdr. William T. Majors (NANEws, June 1965, p. 20) has been presented the Distinguished Flying Cross for extraordinary achievement as a VA-153 pilot aboard Coral Sea. Despite intense antiaircraft fire, LCdr. Majors made two highly successful Bull-pup strikes against the Dong Phuong Bridge in North Vietnam. Winner of 11 Air Medals, LCdr. Majors is now attached to VA-125.
YORKTOWN (CVS-10)
A change-of-command ceremony for ComASWForPac was held aboard Yorktown during a two-day stopover in Pearl Harbor, before the CVS began an ORI off Hawaii. Vice Admiral J. L. Chew relieved Vice Admiral J. T. Hayward. The former came from duty as CornNavFor Japan, and the latter was ordered to relieve Vice Admiral Charles L. Melson as president of the Naval War College.
Commander Frank C. Gilmore, C.O. of VS-25, made his 500th carrier landing aboard Yorktown.
KEARSARGE (CVS-33)
John J. Sitar, Jr., SKI, is the most recent recipient of Kearsarge's Outstanding Bluejacket Award.
ATLANTIC FLEET
BOXER (LPH-4)
Captain Albert 0. Morton relieved Captain Walter M. Sessums as C.O. of Boxer. Captain Morton formerly commanded the oiler USS Kennebec; Captain Sessum's orders took him to duty as chief of staff and aide to ComASWGru Five on the West Coast.
ESSEX (CVS-9)
Essex arrived at home port, Quonset Point, R. I., after participating in a major Atlantic Fleet amphibious exercise involving some 50 ships and 12,000 men.
The exercise consisted of an amphibious landing and defense of an amphibious task force en route to and from an objective area. Essex aircraft flew almost constantly during the 18-day-at-sea period required by the exercise, providing ASW protection for the task force.
CVS-9 has a new C.O. Captain William E. Fly relieved Captain Donald K. Issitt during a change of command ceremony.
AMERICA (CVA-66)
Personnel assigned to HC-2's Det. 66 were called into action to help 1,000 America crew members get back to their ship. The men were stranded ashore in Livorno, Italy, by heavy seas that made boat runs impossible. America was scheduled to get underway the next morning, so the call went out to the detachment for assistance.
Det. 66 took to the air and, during a 12-hour period, logged 16 flights, 26.6 flight hours, and 183 landings. Detachment helo flights transferred 374 passengers, including members of the ComCarDiv Two Band, their instruments, and
6,800 pounds of mail and cargo.
Later, when seas calmed, boats were able to bring in remaining America personnel.
Belgium's Minister of Defense, Luc Moyersoen, was a guest aboard America when he boarded the CVA for an overnight orientation visit. He was accompanied by Ridgeway B. Knight, Ambassador to Belgium, and a party of Belgian officials.
Commander R. E. Loux, X.O. of VF-102, has logged his 600th arrested landing in America. He has more than 3,900 hours of flight time, 1,200 of them in the F-4B Phantom II.
SARATOGA (CVA-60)
The Mayport, Fla., based Saratoga returned home after 12 days of operations in the Atlantic.
Carrier personnel conducted qualification exercises for pilots from East and West Coast squadrons and marked the ship's 103,-000th arrested landing when Ltjg. Donald McCrory and Lt. James D. Tripp, VF-101, brought an F-4B Phantom aboard.
The extended at-sea period was Sara's first since completion of a $4.5 million overhaul at the May-port Naval Station. Vice Admiral C. T. Booth, ComNavAirLant, visited the ship to observe operations. He was greeted by Rear Admiral George P. Koch, ComCarDiv Six, and Captain Harold F. Lang, CVA60's Commanding Officer.
INTREPID (CVS-11)
Alter five weeks of refresher training in waters off Guantanamo Bay, Cuba, Intrepid returned to Norfolk. The training period was the first for CVS-11 crew members since their ship entered the New York Naval Shipyard.
During the operations, Vice Admiral Charles T. Booth II, CornNavAirLant, was flown aboard for a look at the refurbished Intrepid; his last visit aboard was made while the CVS was in the shipyard.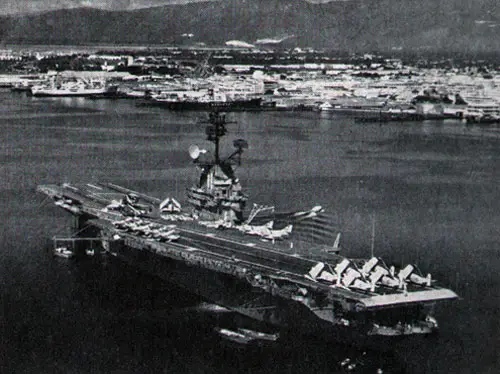 FIVE WEEKS of refresher training completed, Intrepid has returned home. Here, the CVS enters Kingston, Jamaica, harbor for a visit.
SHANGRI LA (CVA-38)
Chief Warrant Officer J. R. Woolyhand, Shangri La's Boatswain, has retired after 35 years of continuous naval service. The bos'n entered the Navy December 20, 1930, after completing two years at Loyola University in Baltimore, Md.
WASP (CVS-18)
Astronaut Scott Carpenter helped make USS Wasp Day a memorable occasion aboard the 22-year-old CVS.
Proclaimed by John A. Volpe, Massachusetts governor, Wasp Day honored the carrier on her "birthday." More than 1,500 invited guests and crew members participated in the event, as did Commander Carpenter. He made a brief speech during an hour-long ceremony.
A 30-pound bronze plaque inscribed by the governor and a citation from Boston's mayor were presented to Captain G. E. Hartley.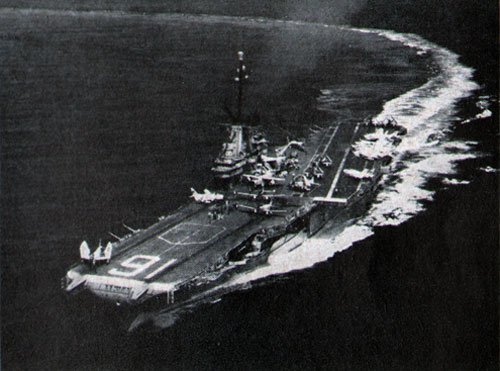 WITH 23 YEARS since commissioning behind her Lexington operates in Atlantic waters. The CVS serves as student pilot carqual ship.
F. D. ROOSEVELT (CVA-42)
Rear Admiral George P. Koch, ComCarDiv Six, shifted his command from USS Saratoga to FDR while CVA-42 was moored at NS MAYPORT, Fla. Recently returned from a 51/2-month Sixth Fleet deployment, FDR was scheduled to begin routine training operations in the Atlantic.