Naval Aviation News - October 1993 - Fighting Lady Lives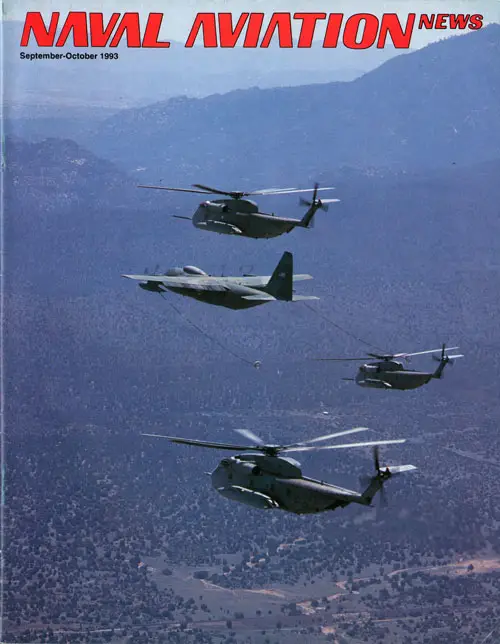 COVERS — Front: Rick Mullen, Malibu, Calif., received honorable mention in the bimonthly ANA Photo Contest with this refueling shot of HMH-769 RH-53Ds and an HC-130 of the California Air National Guard's 129th ARS over Arizona.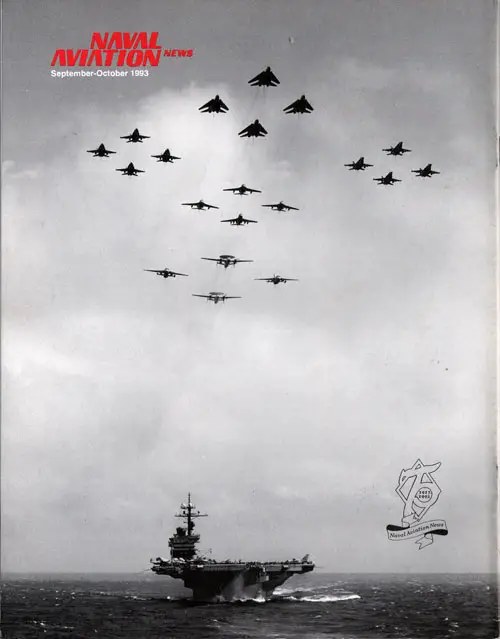 Back: LCdr. T. R. Prochilo captured a Carrier Air Wing 3 fly-by of John F Kennedy (CV 67).
Naval Aviation News, Flagship Publication of Naval Aviation
Oldest U.S. Navy Periodical, Volume 75, No. 6, September-October 1993
Features
Top Gun of the Pacific Fleet
Iwo Jima Decommissioned
7th Ranger Decommissioned
1993 Sailors of the Year
After OP-05 ... What Changed?
Enlisted Aviation Series: Aviation Antisubmarine Warfare Operator
Hank Caruso's Aerocatures Sketchbook: High Ener-G, High a - The Spirit of the U.S. Naval Test Pilot School
The Fighting Lady Lives - The National Memorial to Carrier Aviation
Naval Aviation in WW II: Fleet Carrier Combat Operations, 1943 to 1944 (A Photo Essay)
MCAS El Toro Command Museum: Preserving the History of Marine Corps Aviation
Departments
Flight Line: ANA '93 Symposium
Grampaw Pettibone
Airscoop
Naval Aircraft: The Amphibian Scouts, Part 1
People - Planes - Places
Professional Reading
ANA Bimonthly Photo Competition
Flight Bag
Publication Staff
RAdm. Riley D. Mixson
Director, Air Warfare
Published by the Naval Historical Center under the auspices of the Chief of Naval Operations
Dr. Dean C. Allard
Director of Naval History
Cdr. Mike Lipari
Director, Naval Aviation History and Publication Division
Staff
Cdr. Russ Jowers, Editor
Sandy Russell, Managing Editor
Charles C. Cooney, Art Director
Joan A. Frasher, Associate Editor
JOCS(AW) Theresa L. Dunn, Associate Editor
J01(SW) Eric S. Sesit, Assistant Editor
Associates
Harold Andrews
Technical Advisor
Cdr. Peter Mersky, USNR
Book Review Editor
Capt. R. Rausa, USNR (Ret.)
Contributing Editor
LCdr. Richard R. Burgess
Contributing Editor
Publication Policy:
Naval Aviation News considers for publication unsolicited manuscripts, photo essays, artwork, and general news about aircraft, organizations, history, and/or human endeavors which are the core of Naval Aviation. All military contributors should forward articles about their commands only after internal security review and with the permission of the commanding officer. Manuscripts will be returned upon request. Articles accepted for publication may be submitted on a diskette in Word Perfect 5.1.
Subscription Information:
Naval Aviation News (USPS 323-310; ISSN 0028-1417) is published bimonthly for the Chief of Naval Operations by the Naval Historical Center. Editorial offices are located in Building 157-1,addressgton Navy Yard, Washington, D.C., 20374-5059. Second-class postage is paid at Washington, D.0 , and additional mailing offices. Naval Aviation News Is for sale by the Superintendent of Documents, U.S. Government Printing Office, Washington, D.C. 20402, phone (202) 783-3238. Annual subscription: $10.00.
The Secretary of the Navy has determined that this publication is necessary in the transaction of business required by law. Funds for printing have been approved by the Navy Publications and Printing Policy Committee.