Naval Aviation News - October 1992 - Womanpower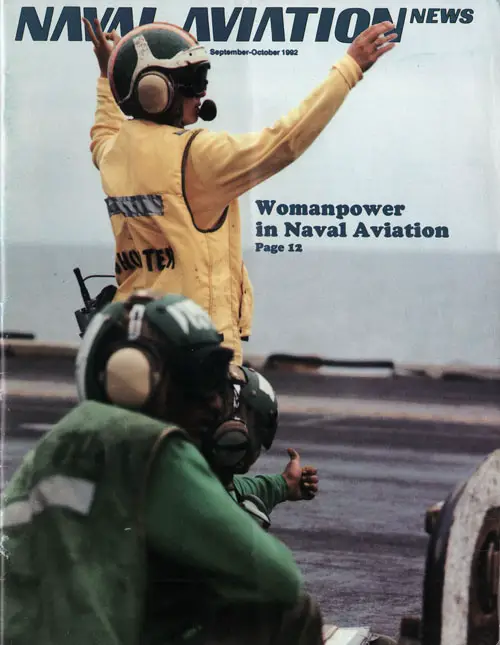 Front Cover, Naval Aviation News, October 1992: Shooter Lt. Robin A. Erichsen prepares an A-6 Intruder for launching from the flight deck of Forrestal (AVT-16) off the coast of Florida.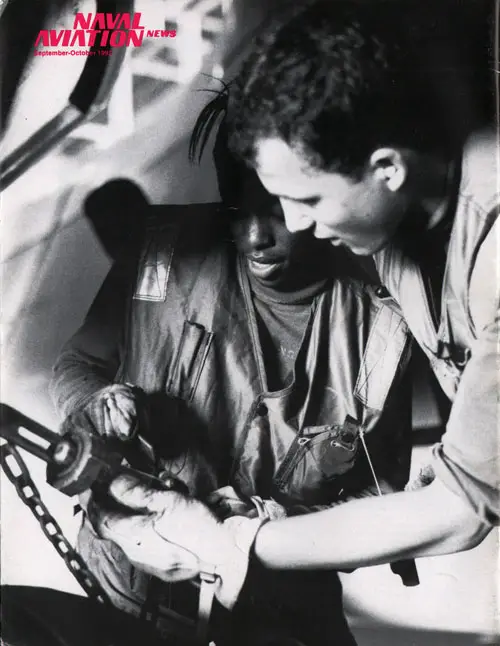 Back Cover, Naval Aviation News, October 1992: Forrestal air department crew members adjust aircraft tie-down chains. Photos by J01 (SW) Eric S. Sesit.
Flagship Publication of Naval Aviation
Oldest U.S. Navy Periodical, Volume 74, No. 6, September-October 1992
Featured Articles
Womanpower in Naval Aviation 20 Years of Progress
The Navy's Newest — George Washington Commissioned
Forrestal: Men + Women = Crew
Forrestal — Classroom of the Future
Shooter: One of the Last 'Firsts'
Naval Air Test and Evaluation Museum: for an Enjoyable Afternoon
Postgraduate Safety — The Navy Way
Naval Aviation in WW II: Patrol Aviation in the Pacific in WW II, Part 2
SAR Swimmers = Saviors
Departments
Flight Line: Perspective on Respect
Grampaw Pettibone
Airscoop
Naval Aircraft: P-59 Airacomet
People—Planes—Places
Professional Reading
ANA Bimonthly Photo Competition
Flight Bag
Publication Staff
RAdm. Riley D. Mixson
Assistant Chief of Naval Operations (Air Warfare)
Published by the Naval Historical Center under the auspices of the Chief of Naval Operations
Dr. Dean C. Allard
Director of Naval History
Cdr. Stephen R. Silverio
Director, Naval Aviation History and Publication Division
Staff
LCdr. Richard R. Burgess, Editor
Capty RusRausa, Managing Editor
Charles C. Cooney, Art Director
Joan A. Fresher, Associate Editor
JOCS B. A. Cornfeld, Associate Editor
J01(SW) Eric S. Seslt, Assistant Editor
Associates
Harold Andrews, Technical Advisor
Cdr. Peter Mersky, USNR, Book Review Editor
Capt. R. Rause, USNR (Ret.), Contributing Editor
Publication Policy:
Naval Aviation News considers for publication unsolicited manuscripts, photo essays, artwork, and general news about aircraft, organizations, history, and/or human endeavors which are the core of Naval Aviation. All military contributors should forward articles about their commands only after internal security review and the permission of the commanding officer. Manuscripts will be returned upon request.
Subscription Information:
Naval Aviation News (USPS 323-310; ISSN 0028-1417) is published bimonthly for the Chief of Naval Operations by the Naval Historical Center. Editorial offices are located in Building 157-1, Washington Navy Yard, Washington, D.C., 20374-5059. Second-class postage is paid at Washington, D.C., and additional mailing offices. Naval Aviation News is for sale by the Superintendent of Documents, U.S. Government Printing Office, Washington, D.C. 20402, phone (202) 783-3238. Annual subscription: $7.50.
The Secretary of the Navy has determined that this publication is necessary in the transaction of business required by law. Funds for printing have been approved by the Navy Publications and Printing Policy Committee.

Naval Aviation News Magazine
GG Archives Library
Naval Aviation News Magazine Archives
U.S. Navy Magazines
United States Navy Archives
Special Collections
Navy Stories