Navy Boot Camp Book 1981 Company 174 The Anchor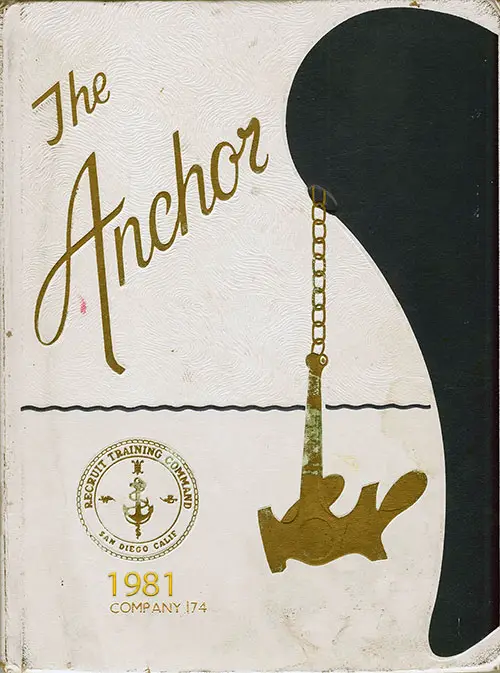 Roster and Photos for Recruit Company 174 for 1981, United States Naval Training Center, San Diego, California. Company Commanders: H. W. Kelly, HTC and B. D. Langston, GMT1. 79 Men Graduated. Training Dates Not Reported.
Company 81-174 Honors
Division #6 Officer: CW04 D. D. Rilchic
Barracks Efficiency Award: 1st, 3rd Week
Infantry Efficiency Award: 1st, 2nd, 3rd Week
Academic Efficiency Award: 1st, 2nd. 3rd Week
Athletic Efficiency Award: 1st Week
Company 81-174 Leadership
Company Commander: H. W. Kelly, HTC
Company Commander: B. D. Langston, GMT1
Company 81-174 Recruit Roster
R. M. Flores
Piano, Texas
Recruit Chief Petty Officer
C. C. Teeter
Judsonia, Ark.
RPO1
D. L. Reynolds
Modesto, Calif.
Yeoman
K. A. Tatum
Grcndbury, Texas
Master At Arms
Alkirc, Michael D. Jr.
Phoenix. Ariz.
Allen, Steven S.
Paris, Texas
Armstrong, Lester C.
Lakeside, Ariz.
Baldwin, Asa F. Ill
Fort Worth, Texas
Borger, Robert E.
Sacramento. Calif.
Brower. Steven C.
Clinton. Utah
Caparas. Nelson D.
Hartford. Conn.
Carbonard. Brian
Berlin. N. J.
Carron, James F.
Watcrbury. Conn.
Casey. Robert L.
Paradise Valley, Ariz.
Coleman. Lester C. Jr.
Greenville. Texas
Cooper. David M.
El Paso. Texas
Coria. Ignacio R.
Hollywood. Calif.
Coucy. Chris
Concord. Calif.
Crate. Clifford C.
Occanside. Calif.
Curry. David L.
Pine Bluff. Ariz.
Devoio, Kevin M.
Balch Springs, Texas
Etherly. Gregory L.
Pine Bluff. Ariz.
Forrester. William G.
Piano. Texas
Frausto. Alfredo
El Paso. Texas
Germer, Douglas T.
Canada
Hand, Deryl A.
Weldon. Calif.
Hearn, Clifford J.
Hayward, Calif.
Herbold, Julio C.
Mesa, Ariz.
Herring, Roger D.
Pine Bluff, Texas
Hicks, Alan D.
Daly City, Calif.
Johnson, Joseph S.
Augustine, Texas
Kirk, Shawn
Salt Lake City, Utah
Larsen, Jim G.
West Valley City, Utah
Lesher, Aaron A.
Bryan, Texas
Link, Andrew K.
Fallbrook, Calif.
Madsen, Steven R.
Fresno. Calif.
Mayo, Emmanuel M.
Philippines
McChristy. Albert J. IV
Fort Worth, Texas
McGrew, Bartlcy K.
Rio Vista, Texas
McKinn, Peter Hi
Phoenix, Ariz.
Miller. Ron
Sandy. Utah
Mueller. Charles M. V
Rockwall, Texas
Mulder. Raymond E. Jr.
Oakdale. Calif.
Mullins, Anthony C.
Arvin, Calif.
Murray, Ronald A.
Fort Lauderdale, Fla.
Nelson, Larry R.
Henderson, Nev.
Odowd, John S.
Onconta, N. Y.
Pacholke. Michael D.
Gainsville, Fla.
Parli. Mark D.
San Diego, Calif.
Piper, Steven B.
Mesa, Ariz.
Reisher, Pete A.
Logan, Utah
Rhudy, David W.
Piano, Texas
Rodgcrs, Richard F.
Star City. Ariz.
Rodriguez. Paul Jr.
Green River. Wyo,
Sanders, George J.
Mesquite, Texas
Sears, James D. Jr.
Orange, Texas
Scoring, John A.
Allaloma. Calif.
Sheets, David R.
Alta Loma, Calif.
Sheppard, Scott E.
Saint David, Ariz.
Slavik, Michael C.
Tucson, Ariz.
Soodeen, Prcmanano J.
Houston, Texas
Spencer, Ossie F.
Oakland, Calif.
Stephenson, Keith S
Kalua, Hawaii
Tanner, Kevin E.
Tcmby, Clayton L.
Sacramento, Calif.
Testa, Anthony J.
Sharron, Conn.
Washington, Alvin E.
Dallas, Texas
Watts, Reg G.
Wells, Timothy T.
Phoenix, Ariz.
Williams, Robert A.
Ramona, Calif.
Woodward, Michael K.
Murrey, Utah
LaFantasie, N. R.
Tolland, Conn.
Knigge. S. L.
Pine Grove, Calif.
Beechum. L. R.
Wilburn, A. W.
North Highlands. Calif.
Yeager. D. R.
Phoenix, Ariz.
Calon. E. R.
Pitisburgh. Pa.
Spencer, R. G.
Childress. C. L.
Boling Brook, III.
Navy Boot Camp Recruit Photos - Company 81-174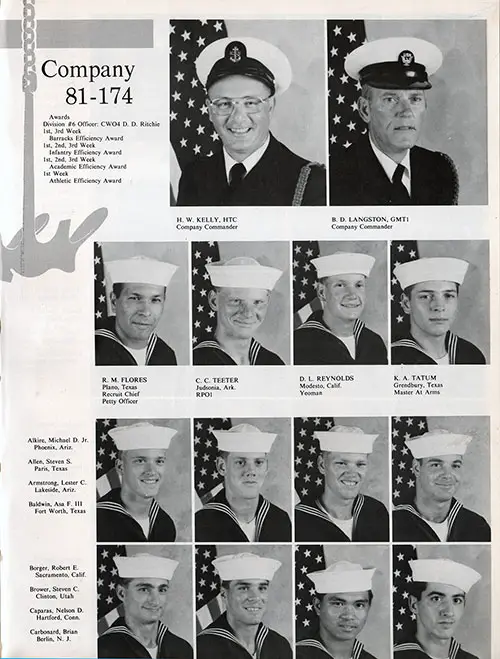 Company 81-174 Recruits, Page 1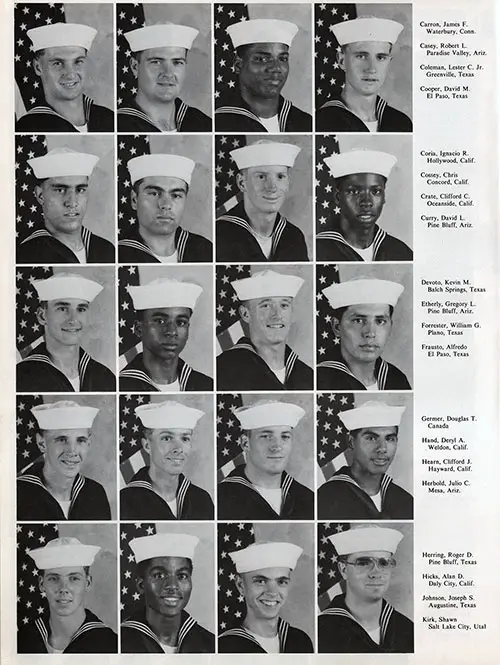 Company 81-174 Recruits, Page 2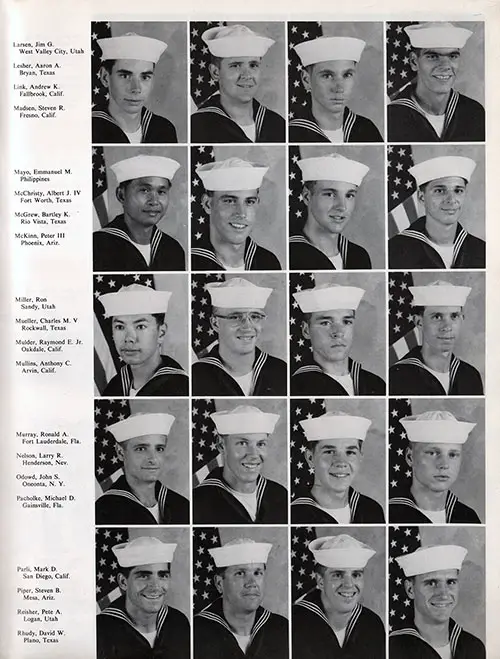 Company 81-174 Recruits, Page 3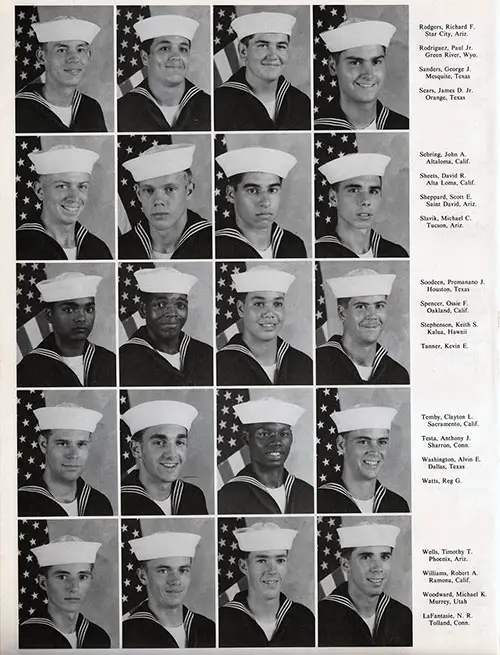 Company 81-174 Recruits, Page 4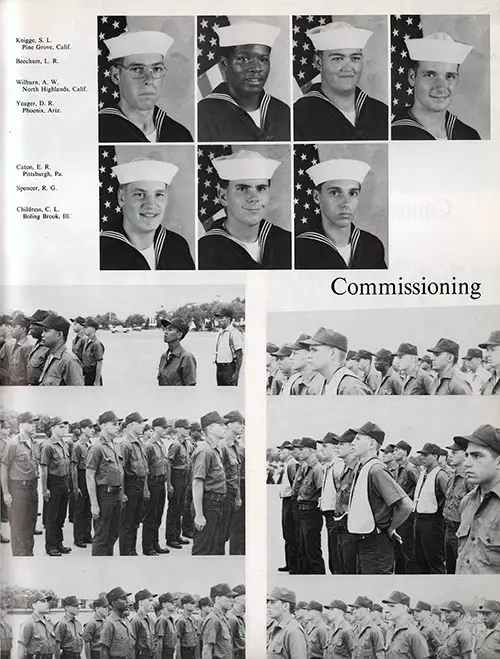 Company 81-174 Recruits, Page 5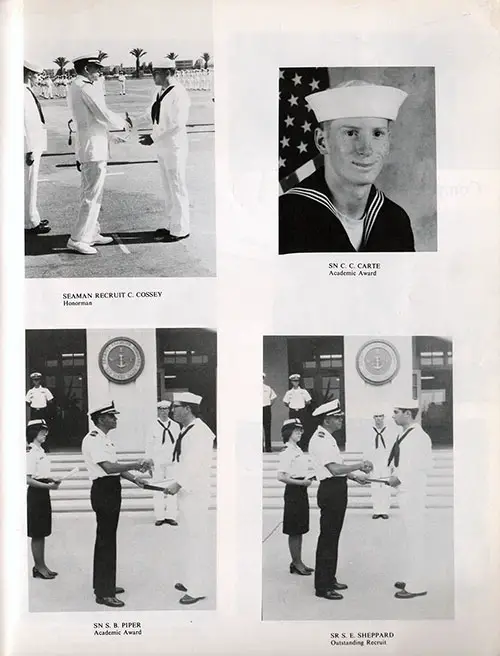 Company 81-174 Recruit Honors