Navy Boot Camp Book 1962 Company 587 The Anchor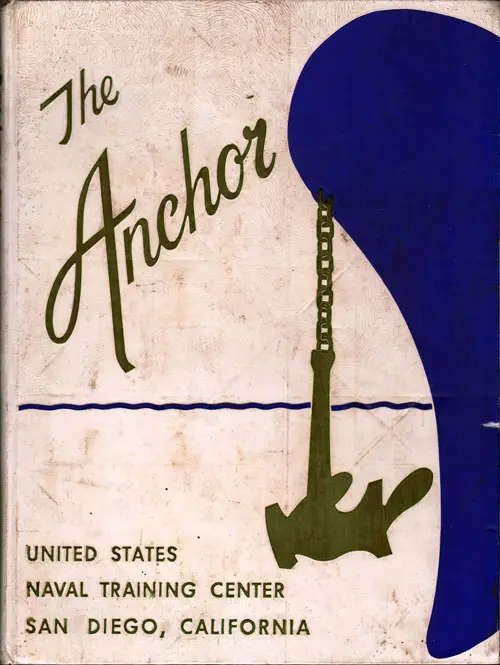 Roster and Photos for Recruit Company 587 for 1962, United States Naval Training Center, San Diego, California. Company Commander: Lesle C. Coles, EN1. 72 Men Graduated.
Company 62-587 Leadership
Company Commander: LESLE C. COLES, EN1
Battalion Commander: LTJG L. W. BAKER
Company 62-587 Recruit Roster
RICHARD R. CARSTENS
Recruit Chief Petty Officer
WALTER A. BENEKE, SA
Honorman
Adams, Leland R.
Hagerman, Idaho
Adkins, James L.
Vienna, Georgia
Alexander, D. E.
Houston, Texas
Atha, Kenneth D.
Doraville, Georgia
Avant, Harvey I.
Georgetown, S. Carolina
Bedford, Jackie
Burkburnett, Texas
Beasley, Will H.
Flagstaff, Arizona
Bolme, Robert J.
Cloquet, Minnesota
Hutka, Vernon J.
Pittsburgh, Pennsylvania
Borel, Roland L.
St. Martinville, La.
Brennan, Gerald
Jeffers, Minnesota
Brown, Richard L.
Eden, Idaho
Carter, Douglas
Sulphur Rock, Ark.
Croft, Lawrence
St. Paul, Minnesota
Downey, Robert R.
Cheyenne, Wyoming
Eggleston, C. R.
Chula Vista, California
Erb, Jack W. , Jr.
Oklahoma City, Okla.
Evans, Louis J.
Houston, Texas
Fadden, Michael
Belmont, California
Fourkiller, S. G.
Stilwell, Oklahoma
Gay, Darrel E.
Sulphur Rock, Arkansas
Gonzales, J. A., Jr.
Arcadia, Florida
Granger, Oscar R.
Aberdeen, S. Dakota
Hamaker, Chris
Ponchatoula, Louisiana
Heath, Ronald L.
Denver, Colorado
Hirschfeld, P. L.
Denver, Colorado
Hooker, H. K.
Tipton, Oklahoma
Hutchins, Bill B.
Houston, Texas
Peterson, F. M.
Douglas, Georgia
Puckett, Robert
Oklahoma City, Okla.
Reynolds, James
Foley, Minnesota
Rountree, A. D.
Cadwell, Georgia
James, Randall A.
Vienna, Georgia
Jelen, Ronald J.
Taunten, Minnesota
Johnson, J. R. , Jr.
Henrietta, Texas
Johnson, Robert
Kansas City, Missouri
Johnson, H. D.
Myrtle Beach, S. C.
Johnson, Jerry W.
Conway, S. Carolina
Juneau, Mark M.
Minneapolis, Minn.
Maddox, Carey L.
Dublin, Georgia
Marsh, Michael C.
Girard, Ohio
Martin, Jack D.
Cheyenne, Wyoming
McNeal, Tommy L.
Flagstaff, Arizona
McCart, Herman V.
Conyers, Georgia
Morerod, David R.
Picher, Oklahoma
Neinast, Ronald
National City, Calif.
Nix, Thomas E.
Cleburne, Texas
Noble, Doyle B.
Abilene, Texas
Ryan, Mark F.
Duluth, Minnesota
Sanner, Eugene T.
Velma, Oklahoma
Scott, Larry H.
Dublin, Georgia
Shreckengost, H.
Distant, Pennsylvania
Sims, Jerry L.
Henrietta, Texas
Smith, Maxie A.
Conway, S. Carolina
Smith, S. O.
Branchland, W. Va.
Starns, Donald P.
Baton Rouge, Louisiana
Stein, Thomas E.
Houston, Texas
Stitt, Thomas L.
Templeton, Pennsylvania
Strander, E. H.
Crookston, Minnesota
Taylor, Jackie W.
Melissa, Texas
Thompkins, D. L.
Georgetown, S. C.
Tyler, Dudley K.
Mill Valley, Calif.
Vereen, Gene W.
Conway, S. Carolina
West, Emory L.
Warner Robins, Georgia
Wheeler, K. A.
Jackson, Wyoming
Wieland, Duane L.
Nelson, Wisconsin
Williams, J. M.
Henrietta, Texas
Wright, Roy G.
Houston, Texas
Wyatt, A. L.
Borger, Texas
Zakharoff, Leo
San Francisco, Calif.
Navy Boot Camp Recruit Photos - Company 62-587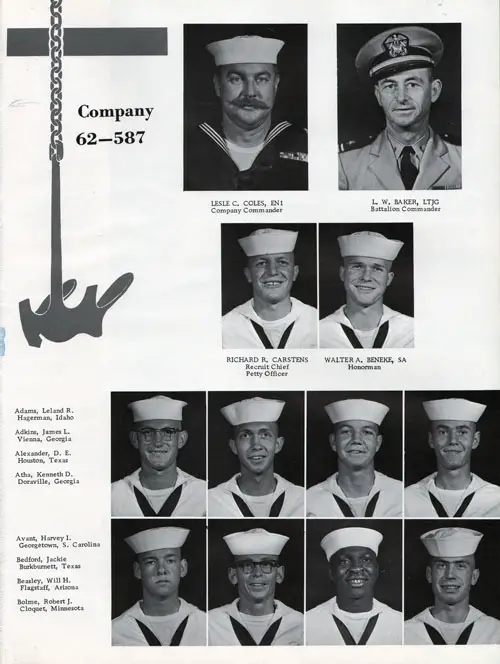 Company 62-587 Recruits, Page 1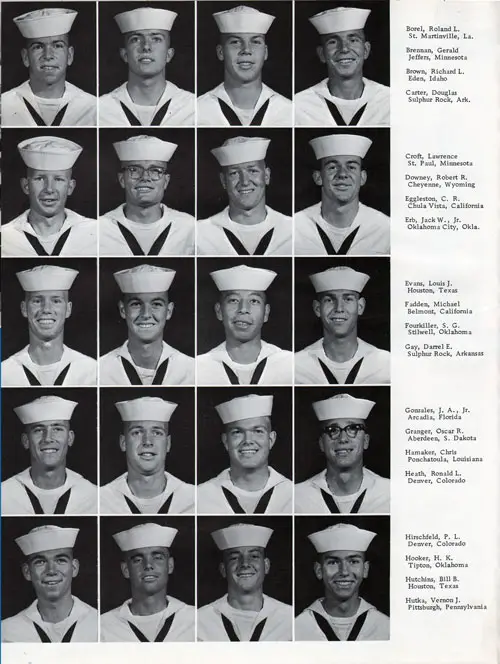 Company 62-587 Recruits, Page 2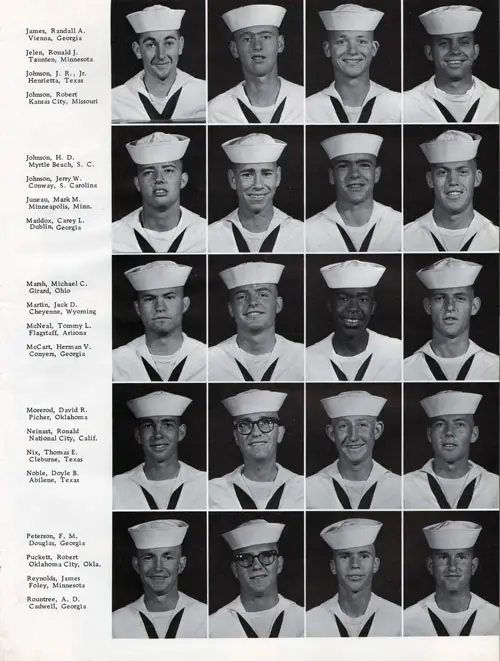 Company 62-587 Recruits, Page 3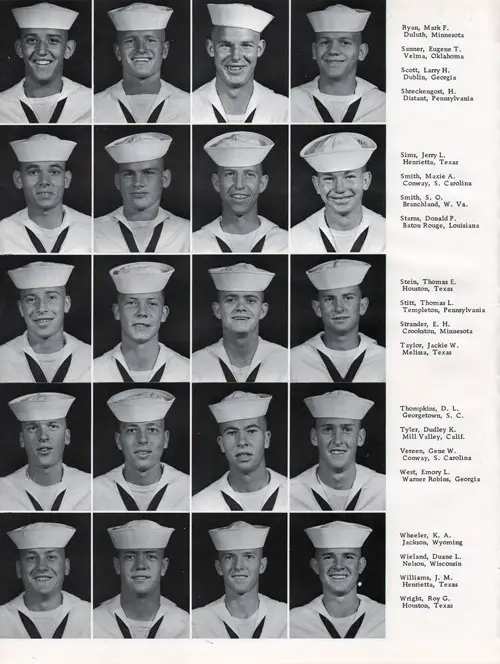 Company 62-587 Recruits, Page 4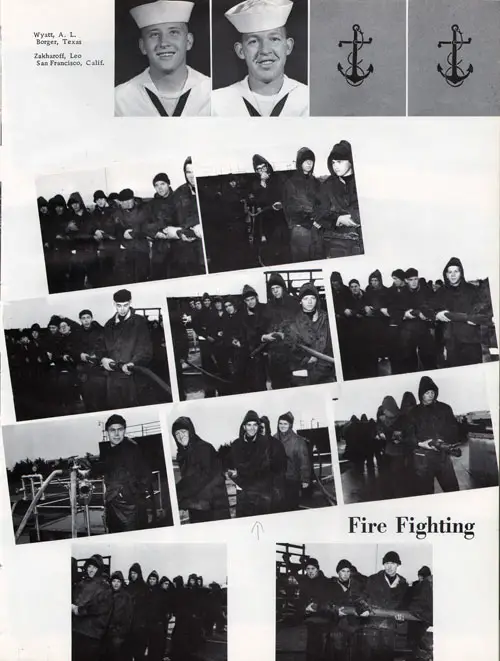 Company 62-587 Recruits, Page 5